Determined to lead a happy elderly life pursuing his dreams, 69-year-old Liew Yeng Sang has no regrets of his decision to quit his smoking habit of 49 years. It was something that seemed impossible, but he managed it within seven days!
At 4-ish a.m., while Kampung Baru Broga was still peacefully quiet, Liew Yeng Sang would leave the comfort of his bed, wash up, and set off to the rubber estate on his motorbike, armed with his rubber tapping knife and two packets of cigarettes.
After finished tapping a few rows of trees, he would take a cigarette break. Two hours later, when he had completed tapping, the sky would have turned bright and he would have smoked a pack of cigarettes. To him then, the cigarettes were his "buddies" which lifted his energy.
There were occasions when Yeng Sang forgot to bring his cigarettes. He would then leave the rubber estate and either return home to get his cigarettes or purchase them at the shop. His wife would then blame him for leaving the rubber estate.
Addicted to drinking and smoking
The burly and dark-skinned Yeng Sang is a simple and hardworking man born and raised in Broga. He quit schooling after completing Primary 5 education, and picked up rubber tapping. When he was 17 or 18, he switched to work as a welder in Kuala Lumpur in an attempt to make a better future. But there, he met some friends and was influenced to drink and smoke. As time passed, he realized the gap between them – he loved physical work but his friends, on the other hand, only indulged in a life of pleasure and had no passion for work. Thus, he quit his job and returned home to work as a rubber tapper once again.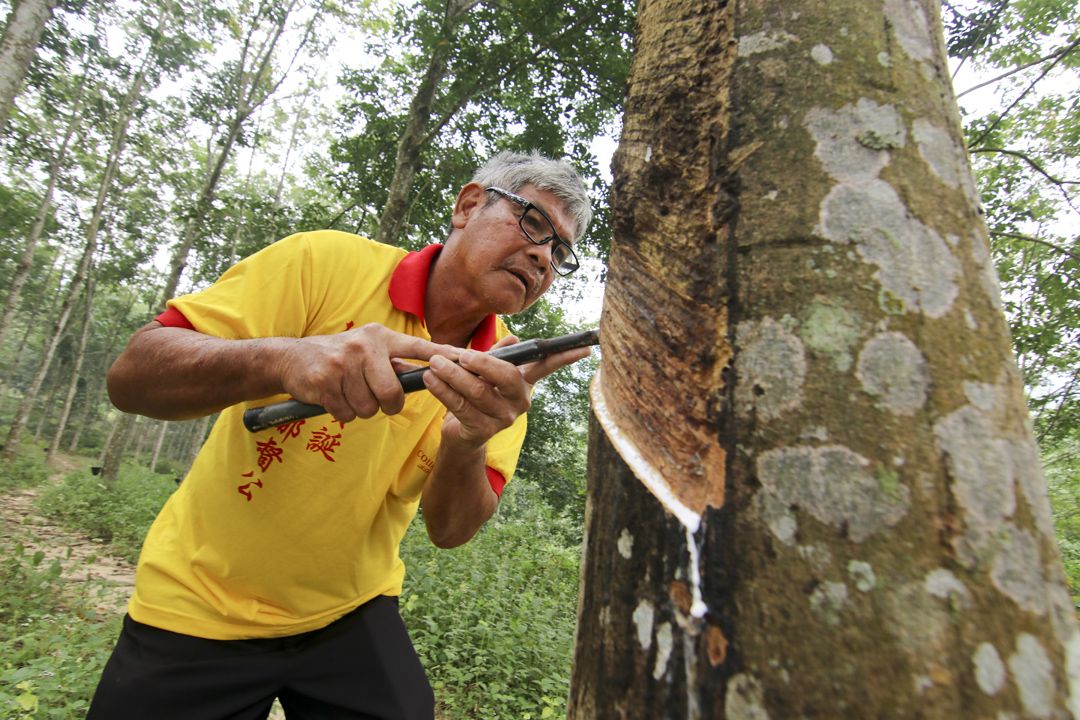 At 20 then, he was already addicted to drinking and smoking – habits which he carried on even after he got married and had three children. Later, he again left home to work in a sawmill in Kuala Lumpur, and a few years later, he moved to Sabah. After three years' stay in Sabah, he returned to work in a sawmill in Kuala Lumpur until his retirement.
After retirement, Yeng Sang worked as a street lamp post installer in his hometown. Seeing that his wife had to juggle between two jobs, that is, tapping rubber before daybreak and selling fruits after that, he decided to help her in the estate so that she could get more rest. He would return home from the estate and get himself ready for work before 8 a.m.
During weekends, he would meet his friends at Kajang or Semenyih for drinking, smoking or karaoke session after he finished work past 1 p.m. Sometimes, when he did not return home by evening, his wife would go looking for him, and they would end up in a quarrel as they returned home.
At times when Yeng Sang was too drunk, his wife would ride his motorcycle home while her friend sent him back. He would have interrupted sleep with vomiting and headache, only to feel sorry for not spending time with his family when he regained his senses the following day. However, that did not stop his urge for drinking on weekends.
Found the remedy
"Strangely, whenever I drank, I thought of smoking, and I got more and more addicted to the extent that two packets a day was common. That's my life back then. I had nothing much to do after work during the weekends, so I drank to kill boredom, resulting in quarrels with my wife. That affected my mood."
However, Yeng Sang continued to drink and sometimes, even on a weekday evening. That led to more quarrels between the couple, further disturbing Yeng Sang's mood.
In 2011, Tzu Chi set up a recycling centre at Broga. Yeng Sang would volunteer occasionally, but not proactively. One day, volunteers, Ee Kuang Kow, Koh Poh Lee, Ng Heang and Chew Lai Fon spotted him passing by the recycling centre while they were busily sorting out the recyclables. They called out to him saying, "There are many more recyclables waiting to be fetched, would you mind helping?"
He took pity upon seeing the female middle-age or elderly volunteers working so hard, and agreed to help. That moment of kindness resulted in a change in the later part of his life.
Kuang Kow recalled that back then, most of the villagers were either rubber tappers, farmers or operators of small businesses. Having to leave home for work early in the morning, and with house chores and children to attend to, not many of them could volunteer at the recycling centre. In order to raise their environmental awareness, Kuang Kow and fellow volunteers encouraged them to keep the recyclables and offered to collect them from their homes.
Yeng Sang, who is familiar with the neighbourhood and residents, enjoyed chatting with the residents on his collection rounds. Being the only male volunteer at the recycling centre, he would readily offer a hand for lifting and laborious tasks.
In 2014, Yeng Sang began to commit himself as a recycling volunteer, and it was only then that he had the intention to learn more about Tzu Chi. With only five or six volunteers at Broga, they had to travel to Tzu Chi community centre in Kajang or Sungai Long for fellowship sessions and other activities; and to KL Tzu-Chi Jing Si Hall in Kepong for large-scale activities and volunteers' training sessions.
Joining Tzu Chi's activities had exposed Yeng Sang to the destitute and physically- or mentally-disabled people. He felt for their predicaments and in reflection, was grateful for what he had.
Time for a decision
With his active participation in recycling activities, Yeng Sang had less time for drinking. Citing the "Ten Precepts of Tzu Chi" during volunteers' development classes also alerted him on the importance of abiding by the precept of "no smoking, using of narcotics or betel nuts". After much consideration and thought, he decided that it was time for a decision.
He related, "That was three years ago. I felt that I was silly indulging in drinking for the past decades. The effects of being drunk were unpleasant, and it was a waste of money and caused conflicts with my wife. So I decided to quit drinking."
It was not a difficult process as he hardly had any time left for drinking with his commitment to recycling. He was glad that with his changes, there was less quarrelling, resulting in a more peaceful and harmonious family.
However, it was not easy for Yeng Sang to quit smoking. He wanted to give it up in 2018, but failed to fight his urge. As he dared not smoke in front of the volunteers, he would hurriedly find a remote spot for puffing as soon as the activities ended.
Once when he was caught smoking by a volunteer, the latter gave him this advice: "Brother, smoking is not good for your health, better to stop it." He nodded embarrassingly, but it was not at all easy.
In 2019, Yeng Sang began to undergo training to become a certified Tzu Chi volunteer. Instead of hiding the truth, he confessed to his mentoring volunteer, Ngoo Kian Guan, about his smoking habit. He was grateful that Kian Guan did not blame him. Instead, he gently advised him to get rid of the bad habit so that he could have a healthy body to carry out Tzu Chi's work.
Quitting his smoking habit of 49 years was the hardest decision to make in Yeng Sang's life. He contemplated about it for ten days, during which he recalled the happy and fulfilling time he spent at the recycling centre protecting Mother Earth with his actions, and visiting care recipients, participating in group study, listening to Master Cheng Yen's Dharma talks, and so on, together with Kuang Kow and other volunteers.
He also recalled a Jing Si Aphorism by the Master: "Nothing is impossible with confidence, perseverance and courage," and the sharing by fellow volunteers on how they overcame drug and gambling addiction to regain a meaningful life.
He thought to himself: "Tzu Chi gives me the opportunity to use my healthy body for the benefit of others. Without a healthy body, can I still help others or do recycling?"
He will never forget a care recipient, who suffered from a stroke. He visited the latter with fellow volunteers and helped to clean his body, feed him food, and trim his nails and hair. Even after the care recipient's demise, his suffering look with bedsores and wounds with pus on many parts of his body lingered on Yeng Sang's mind. Thinking of the care recipient's conditions had evoked a sense of sympathy in Yeng Sang. What if no one was there to alleviate his suffering? All these spurred him on to make up his mind to give up on his much-loved cigarettes.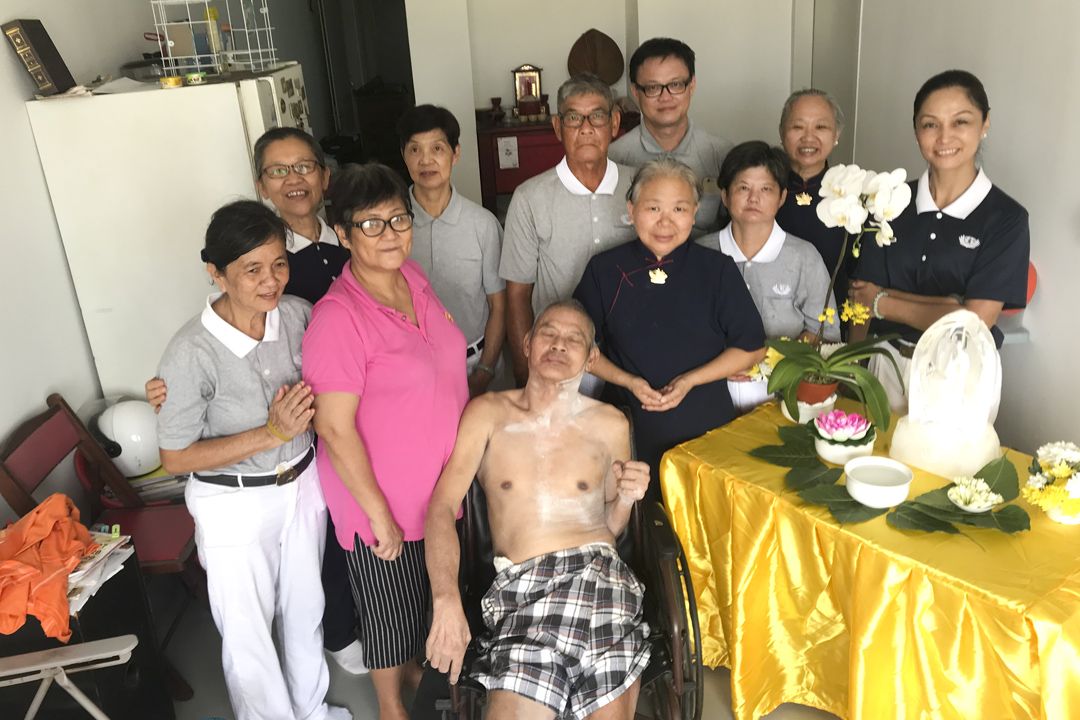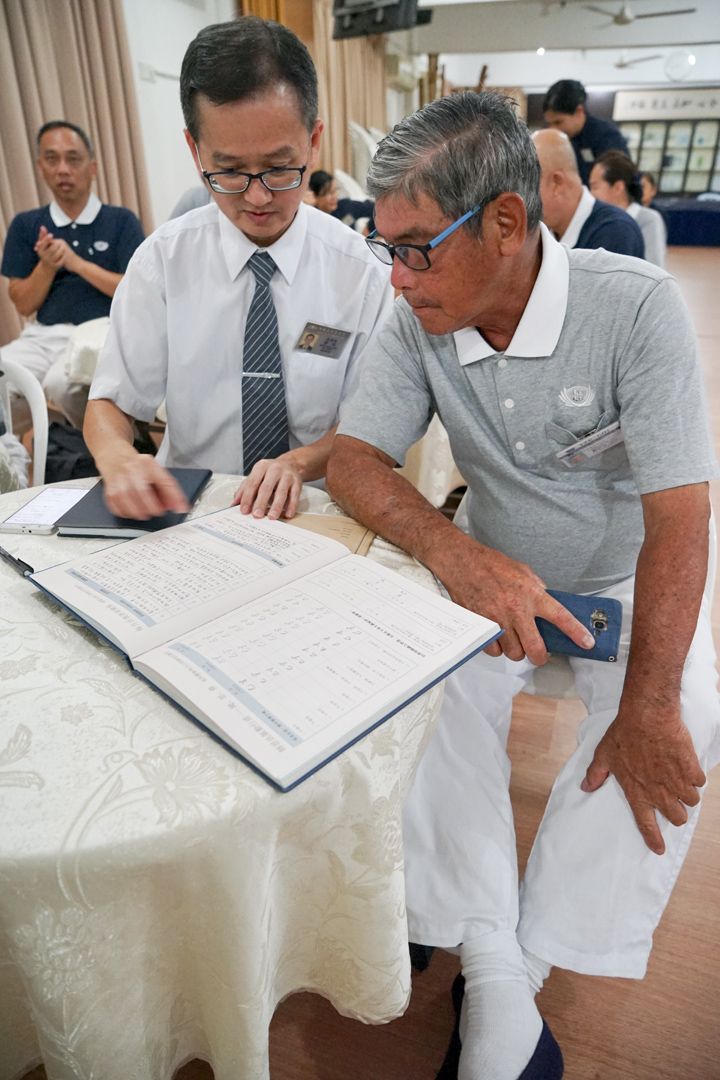 Never give up on dreams
Once decided, Yeng Sang planned for a "farewell" to his "buddies". He bought two packets of cigarettes and smoke one by one slowly. After finishing them, he gave himself a window of seven days to quit. Whenever he felt the urge to smoke, he would take candies or plums from his pocket and have them instead.
He had to resist the temptation while at the same time, bear with the effects of stopping his long-time habit, such as dry mouth and discomfort all over his body. Nevertheless, he insisted by reminding himself that he should cherish his life and maintain a healthy body so that he could continue to dedicate himself to Tzu Chi's voluntary work. He also kept in mind the Master's advice to "just do it, if it's the right thing to do." With such perseverance, he successfully bid goodbye to cigarettes.
In the past, his wife often complained that he reeked of alcohol and cigarette smell and asked that he kept a distance from her. Now, she stops complaining and would smile agreeably when he goes out for Tzu Chi's activities. Even if he returned home late, she would not argue with him, much less looking for him everywhere. In fact, he was moved to overhear his wife telling fellow volunteers, "I'm glad that Yeng Sang is doing Tzu Chi's work."
Although Yeng Sang is not well-versed in Buddhist teachings, with Kian Guan's patient guidance, he understood that one should refrain from all evil deeds and practise all good deeds. He also took the learning of Tzu Chi's etiquette seriously, such as not crossing his legs while sitting, wear the uniforms neatly, and speak softly.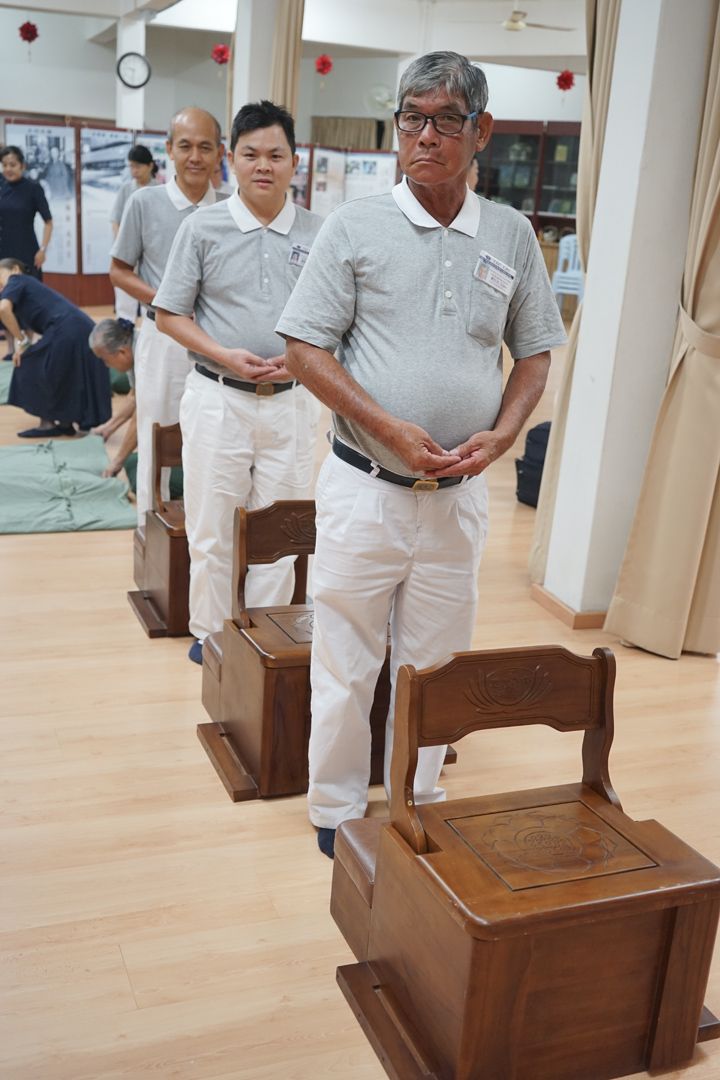 He also learnt to care for others genuinely. A few months ago, when a friend of his suspected that things did not go well for him because he had been under a spell and was so worried that he lost his appetite for food, Yeng Sang visited him daily for one and a half months to chit-chat with him, for fear that he would fall into depression.
He advised his friend to have the right frame of mind, and to think objectively and positively instead of being suspicious or falling into delusional thoughts. His companionship and positive energy helped to calm his friend's emotions and eventually he was able to overcome his undue worries. In order to thank Yeng Sang, his friend offered to treat him to grilled fish, but Yeng Sang, who had become a vegetarian, turned it down politely and explained that Tzu Chi volunteers always give without asking for anything in return, and suggested that his friend becomes a Tzu Chi donor and contributes towards the building fund of Tzu Chi International School or charity fund instead.
Yeng Sang also understood the significance of upholding precepts. He shared an episode where he lost his wallet with his identification card, driving license and RM700 pay in it while installing a lamp post on the street. He was relieved that a foreign worker found his wallet, but faced a dilemma as the latter refused his cash rewards and asked for a treat of alcoholic drinks instead.
He did not wish to break the precept or affect the foreign worker's health. When he shared about this with Kuang Kow, she suggested to him to compensate the foreign worker with some daily necessities, which would be of help to his health and life. Yeng Sang was thankful to have fellow volunteers to offer him guidance towards the wholesome path whenever he needs it.
•
Besides the recycling centre at Broga, Tzu Chi has also set up a recycling point at the carpark of SJK (C) Kampung Baru Broga. On the third Sunday of each month, Yeng Sang would visit the school to collect recyclables. He is particularly fond of the phrases on the school wall, which say, "Never Give Up Pursuing Your Dreams", which turned out to be a reflection of his life.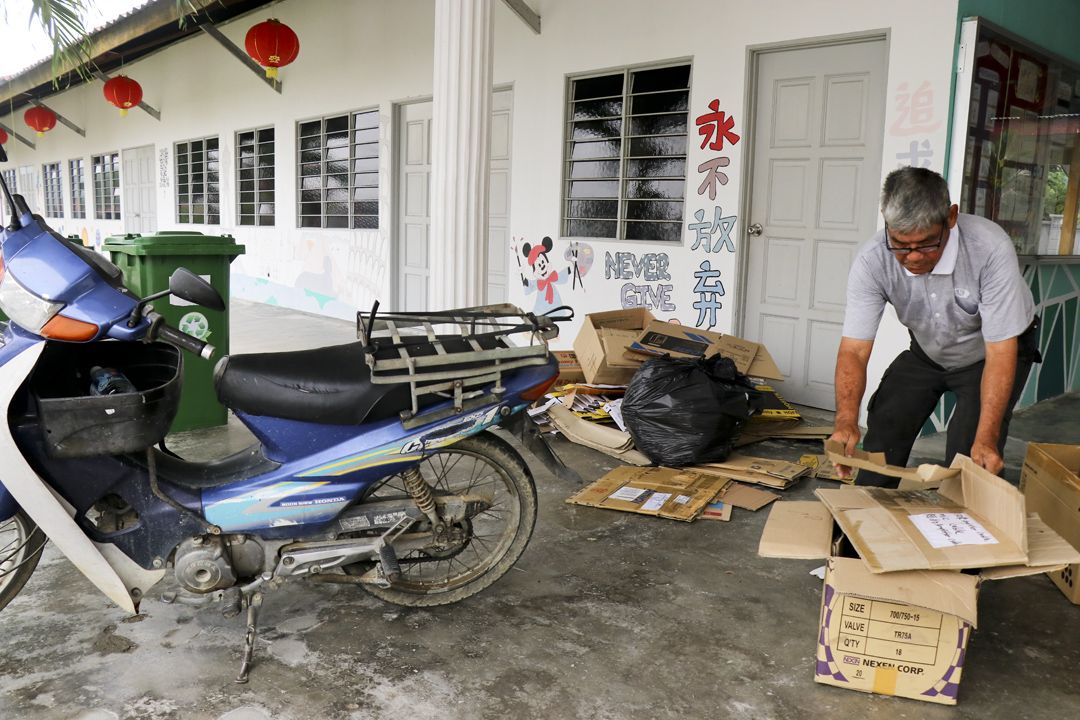 He said, "My children have grown up and have their own family or career. I also have three grandchildren. I'm happy with my life. My dream is simple – to not live a confused or aimless life. Volunteering with Tzu Chi and doing recycling are my dreams that I'll never give up."
He wishes to tell the Master when he sees her at the commissioning ceremony this October that, "Master, I've quit drinking and smoking. I'll carry out Tzu Chi's missions and recycling work diligently. Please have no worries!"