Is life bitter and full of suffering? Chong Ngoi Lee found that after enduring the biggest hurdle in life, suffering is no longer an issue. Is life fragile? Chong Ngoi Lee realizes that life is just like a candlelight, dancing with the wind. Life is within each breath. When his life took a turn for the worse, Chong Ngoi Lee could still see blue skies and white clouds. Hence, he found that he is still blessed…
On a Sunday morning, just a little over 7 am, there were few cars on the roads. One of the drivers was Chong Ngoi Lee, who was driving a modified car. He and his mother were on their way to Tzu Chi Damansara Damai Recycling Point with a car full of recyclables.
The recycling point is located next to the road. Every third Sunday of the month, Tzu Chi volunteers would make good use of the empty pedestrian pathway to set up a recyclable collection point. The tall, beautiful trees along the road provide a welcome shade and relief from the scorching sun, and are part of Ngoi Lee's favourite scenes.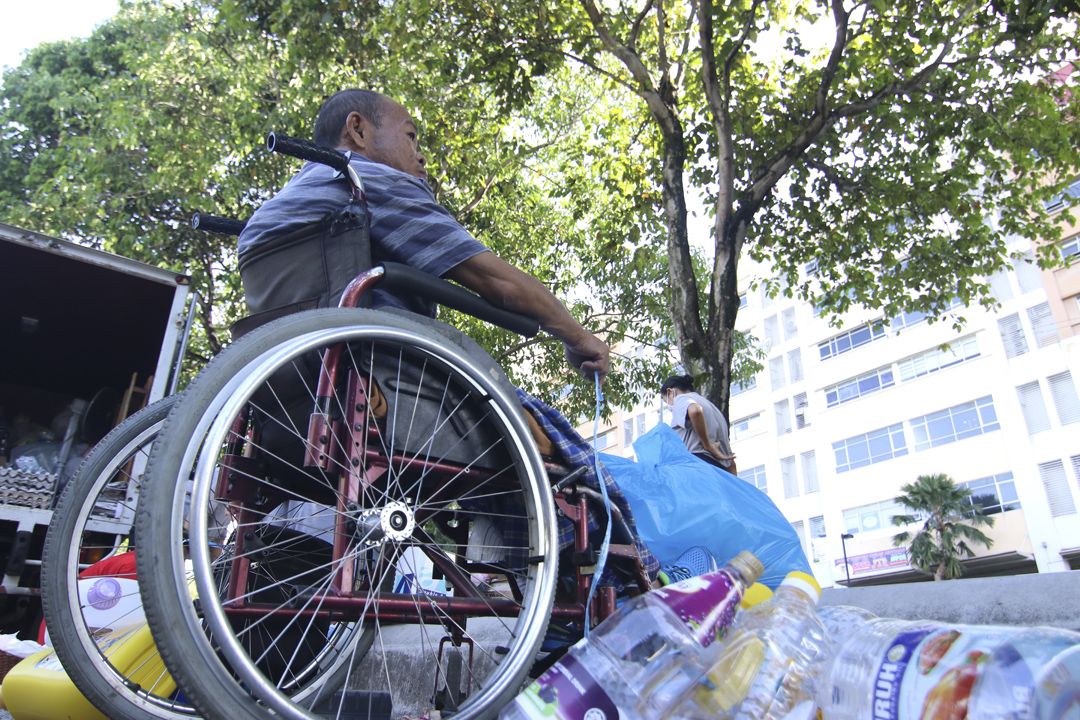 On recycling days, Ngoi Lee and his mother, Chan Kuan How, are always the first ones to arrive. After assisting Ngoi Lee onto his wheelchair, Mrs Chong would clean up the fallen leaves around the pedestrian pathway and road. By the time she cleans up the place, other volunteers would arrive as well.
Doing my bit to help the world
Upon seeing volunteer Koo Tuck Choy, Ngoi Lee would greet him warmly with "Amitabha and good morning brother!" Tuck Choy would then bring a stool over and sit next to him, exchanging stories and happenings in their lives. Ngoi Lee's face would light up with happiness, with a slight grin adorning his features.
When Tuck Choy and other volunteers are busily sorting out the recyclables, Ngoi Lee would help by stringing up a bunch of plastic bottles and tie them up together. Even though this is the only thing he is able to help with, he is still very happy. A simple act as this reflects his desire to give back to society. He feels good being able to contribute to the environment, however small it may be.
Whenever Ngoi Lee waits for volunteers to bring over the plastic bottles, he would look up and gaze through the tree branches to admire the beautiful blue sky and clusters of white clouds. While breathing in fresh air scented with the freshness of the tress, he would observe the passing cars and pedestrians. This is when his heart is most at rest and in peace.
Ngoi Lee has to undergo dialysis three times a week. On the remaining days, he would have to go for medical check-ups at the hospital. His daily interactions revolve around the sickbed and his senses are filled with scent of medicine and disinfectants. Only on recycling days would he be able to put aside his worries and concerns for his medical condition to gaze into the blue skies and enjoy the world around him.
Ngoi Lee recalled that ten years ago, a volunteer brought him to visit the Tzu Chi Bandar Sri Damansara (1) Recycling Point. Since then, he would volunteer his time there every month. Then, seven years ago, when another Tzu Chi recycling point was set up near his home in Damansara Damai, he began to volunteer there instead. Unless unwell and hospitalized, Ngoi Lee would be present at the recycling point together with his mother without fail.
He does not worry about how much he is able to do. Instead, he would focus only on contributing and giving wholeheartedly – this is Ngoi Lee's takeaway from doing recycling. He is always positive when dealing with his medical condition, and his outlook on life is to live each day to the fullest.
Continuous aid for 17 years
In recollection, Ngoi Lee carried no resentment, but a tinge of loss. Twenty-eight years ago, his life underwent a major change, followed by multiple misfortunes that caused his days to be filled with challenges.
Ngoi Lee would never forget his car accident back in January 1991. He and his relatives were driving back to their hometown in Sungai Siput, Perak. In that accident, his three relatives lost their lives while he survived. In June that same year, he was a pillion rider on his friend's motorcycle when they met with an accident. His friend passed away while he broke three vertebraes, causing major damage to his nerves. This resulted in him losing mobility in the lower half of his body. Back then, he was only 21 years old.
He recounted, "I had escaped death twice. Even though I survived, I had lost the ability to care and manage myself. I need my mother to help me with daily acts, such as going to the toilet. I rejected friends who came to see me, as I did not want them to see my disability…"
His memories of those days were fresh. In the initial days of being wheelchair-bound and unable to do anything, he felt there was no meaning in life. He kept to himself at home for five years. One day, his brother, who worked in Kuala Lumpur as a delivery person, brought him to town to see the sights. While having breakfast at a food stall, they met another disabled person on an electronic wheelchair. Upon hearing how Ngoi Lee spent his days cooped up at home, he encouraged him to go to Beautiful Gate Foundation to learn some life skills and craftwork.
Seeing how the other person was able to independently and easily manoeuvre through crowds, Ngoi Lee was filled with longing. He immediately thought of how he relied on his mother and brother to care for himself since his disability. His mother still had to tap rubber in order to support the family while also caring for him day and night. He could not bear seeing his mother exerting herself and did not want to become a burden to her. Hence, he decided to find ways to become independent. At that time, Beautiful Gate Foundation had yet to set up a centre in Perak. Therefore, he applied to learn at the centre located in Kepong, Kuala Lumpur.
At the Beautiful Gate centre, Ngoi Lee saw how others without legs were able to use their own hands to get on and off the bed, even getting onto the wheelchair was not a problem for them. He then realized that once he learns how to use the strength of his arms, he would be able to manage himself despite his disability.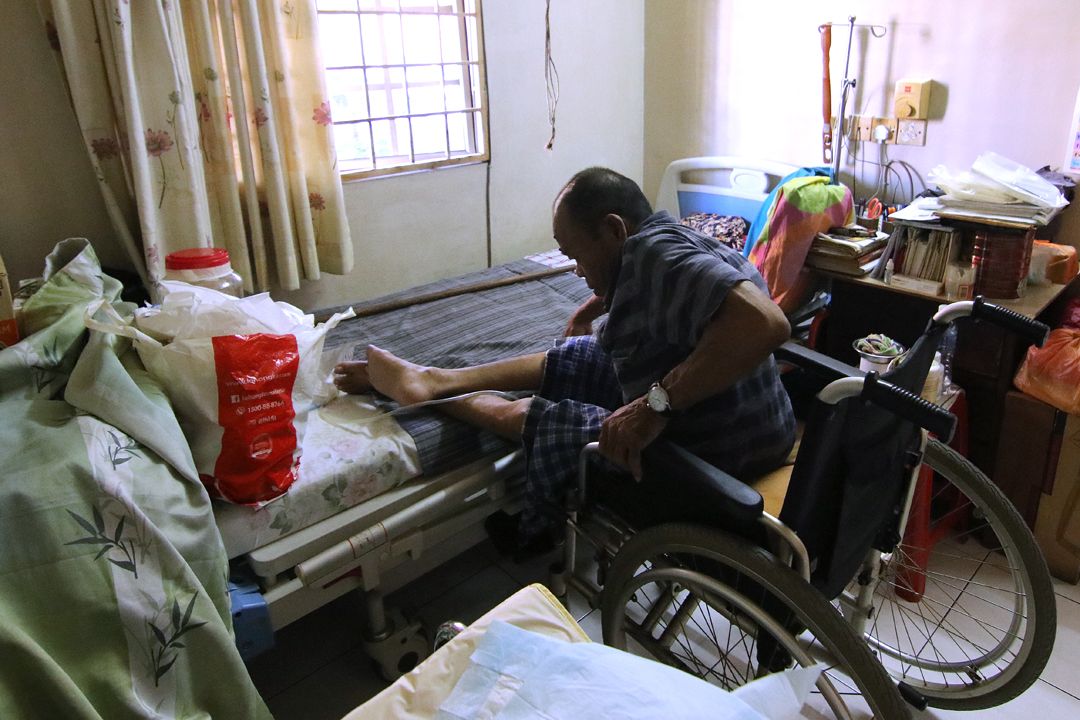 After moving into Beautiful Gate, Ngoi Lee worked hard to learn how to use his hands to overcome his limited mobility. He learnt how to cook, do laundry and basic daily housework. He even gained the confidence to go out to the market to buy groceries and also picked up handicraft skills.
When he was able to manage himself, Beautiful Gate Foundation helped to apply for a 3-wheeled motorcycle for him. After appropriate modifications, he learnt how to ride the motorcycle. Since then, he is able to go to the hospital on his own for his medical check-ups and he is also able to go around selling his handicrafts to make a living.
Ngoi Lee left the Beautiful Gate centre two years later, when he was able to sustain his livelihood relying on the sales of his handicrafts. He co-rented an apartment with his friends and started to live independently.
He remarked, "Most people sympathize with our disability and find that we are very pitiful. In actual fact, we are no different from normal people. We are still able to lead normal lives, work hard for a livelihood, and use a motorcycle to go to places and travel to take in different sights. We can still lead a happy life."
Ngoi Lee was then looking forward to a fresh start. Unexpectedly, misfortune struck again in May 2002. He underwent three surgeries due to kidney complications but was still unable to be cured. As a result, he had to start going for regular dialysis treatment. Even so, he did not despair or give up on himself. Instead, he accepted his situation and took the necessary actions.
Life is still worth rejoicing
When Ngoi Lee found out that dialysis will be a part of his life from then on, he knew he could not rely on his two brothers to assist him with the required fees as they are both regular employees, who just managed to cover their own family expenses. Therefore, he started to look for ways to be able to afford his dialysis needs. Ngoi Lee found out about Tzu Chi Foundation through a news article and contacted Tzu Chi for assistance. Upon receipt of his request, Tzu Chi KL & Selangor arranged for volunteers to conduct a home visit to evaluate his case, which was subsequently approved, and Tzu Chi started to support his dialysis fees.
He shared, "I have been doing dialysis for 17 years now with Tzu Chi's assistance from the start. When I could no longer earn a living by selling my handicrafts, Tzu Chi not only assisted with my dialysis fees but also my daily expenses, allowing me to lead my life without worries. I am so grateful."
After starting dialysis, Ngoi Lee's health started to deteriorate. He had two thyroid gland operations but was unable to completely treat his condition. He now relies on medications to control his condition. He also had fistula surgeries for both his arms and neck. Additionally, he had atheroma in his neck that required surgery. His wound was bleeding non-stop with unbearable pain and he had to go to hospital daily to have his wound cleansed.
Other than that, Ngoi Lee also suffers from asthma and must always have two or three vials of tracheal dilators with him. It is also common for him to be hospitalized due to bacterial infection. Once, his breathing was affected so badly that he was unable to drive and had to call for an ambulance to take him to the hospital.
Ngoi Lee is very grateful for the help and companionship from his family, friends and Tzu Chi volunteers. Seventeen years ago, Ngoi Lee was unable to afford his room rental due to high dialysis treatment fees and had to live with his elder brother. Later, his relatives borrowed the current house that allowed him to live together with his mother.
Ten years ago, when Ngoi Lee did not have enough strength to ride a motorcycle, his brother gave his car to him without a second thought. He was glad that he already had a driving license before his car accident. After modifying the car, he was able to quickly adapt to the new way of operating the car. Since then, he has been using the car for his hospital check-ups, ferrying his mother and going to the recycling point.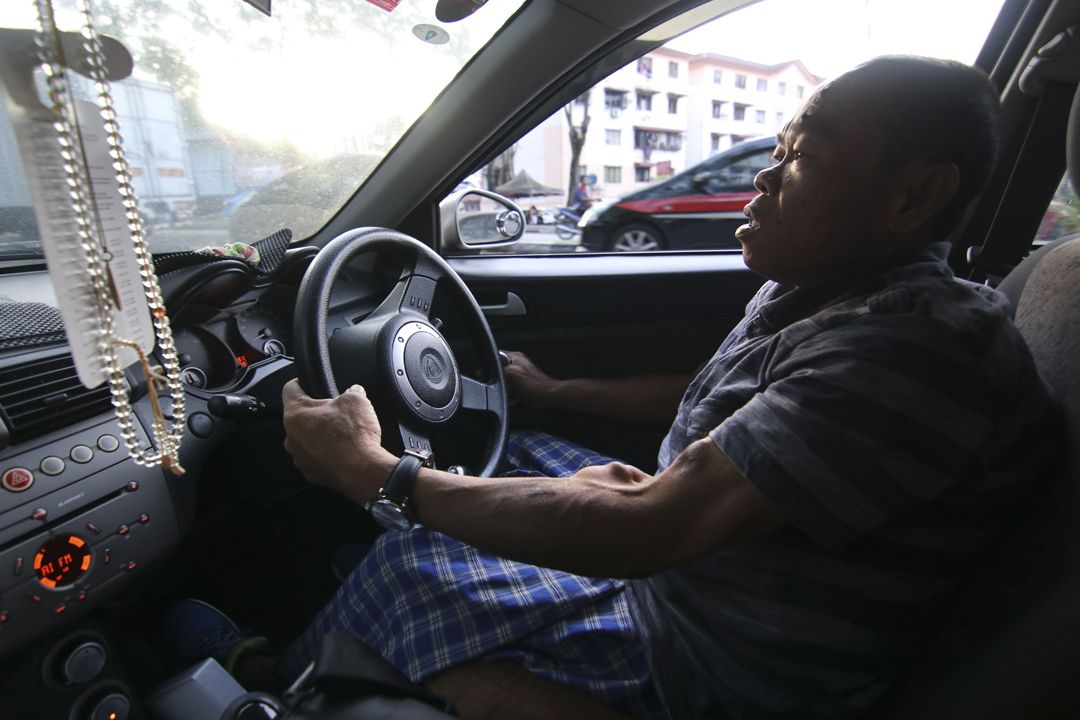 Despite being paralysed for 28 years and dealing with dialysis for 17 years, Ngoi Lee does not consider his life to be filled with suffering. His many illnesses and health conditions have numbed him towards pain and suffering. All he knows is that his health is deteriorating year by year and his immune system is also weakening. Even so, he is not afraid as he has already managed to survive fatal car accidents. Thus, he finds that there is no challenge in life that cannot be overcome.
Ever since undergoing dialysis, Ngoi Lee lost his strength and energy to spend time with his old friends and is unable to travel around freely. However, the opportunity to do recycling every month with other volunteers and being able to admire the blue skies, make him feel that life is still worth rejoicing.
Dharma cleanses suffering of the heart
Seventy-five-year-old Mrs Chong has accompanied Ngoi Lee for more than ten years. Ever since leaving her hometown to come and care for Ngoi Lee, she no longer plans to go back because Ngoi Lee needs her more.
She shared in detail the many things that she has to do each day. She has to bathe and settle Ngoi Lee's excrements, prepare meals, do laundry and other housework. When Ngoi Lee goes for dialysis treatment, she would accompany him. When he is hospitalized, she would stay there to care for him. When Ngoi Lee goes out, he requires her assistance in getting in and out of the car. Placing the wheelchair in and out of the backseat also becomes part of her chores.
"During the accident that year, Ngoi Lee was in a coma for a couple of days. The doctors did not know whether he would regain consciousness. I was so scared. Thankfully, he woke up. Even though he is paralysed, at least he is still alive," she said.
Mrs Chong had to raise her three sons on her own since her husband passed away when they were still young. Working as a rubber tapper, she worked hard to care for them. She lamented how her three sons had to drop out of school at a young age in order to work and earn a living. Ngoi Lee's paralysis and condition also became a pain and worry in her heart.
Back when she had to tap rubber and care for Ngoi Lee at the same time, Mrs Chong was stressed and filled with unrest in her heart. She lost sleep at night and tears flowed freely while she lamented her situation. Caught in such pain and suffering, she started going to temples to listen to Dharma talks. She could not understand it in the beginning but slowly, she began to grasp the meaning and workings of karma, and how one has to accept and face the challenges that arise in one's life.
She revealed, "I want to be happier. I cannot continue thinking about pain and suffering. Since I am destined to be in a poor family and Ngoi Lee has already been through so much, I have to accept it. I cannot break down. If I do, what will happen to Ngoi Lee? I cannot bear to leave him!"
Wisdom of Dharma is like a clear stream of water that washes away the layers of pain in one's heart. Whenever Mrs Chong feels depressed, she would go to the temple to listen to Dharma talks, help to clean the place and chat with other Buddhists. As time passes, the pain in her heart lessens.
Before Mrs Chong moved to Kuala Lumpur, Ngoi Lee and his brothers would go back to their hometown to celebrate Chinese New Year. At that time, Ngoi Lee who already had to undergo dialysis, was still able to ride his motorcycle back to Sungai Siput from Kuala Lumpur. The 200-plus kilometre journey would take up over three hours to complete, as he has to take multiple rest stops. Once, even though he was feeling unwell, he still insisted on riding his motorcycle home to reunite with his mother.
The mother's heart ached for her son and kept telling Ngoi Lee not to go back home for the Chinese New Year celebration and instead she would travel to Kuala Lumpur to reunite with her children. Later, when Ngoi Lee's health deteriorated and needed someone to care for him, she decided to stay in Kuala Lumpur permanently.
A pure mind and body feels no suffering
Recalling the past, Mrs Chong's tone was filled with longing for a better outcome for Ngoi Lee. However, she is happy to get to know Tzu Chi volunteers in Kuala Lumpur and the opportunity to install Da Ai TV in her home. She is now able to easily listen to Dharma talks and Master Cheng Yen's teachings. From the Tzu Chi monthly magazine, she also gets to learn more of Master's wisdom and teachings. Since then, it was as though she had found her spiritual sustenance and was deeply touched by Master's compassion and spirit of Great Love. She would regularly use Master's teachings to remind herself.
"Master says, you are suffering but there are others who suffer even more. I immediately understood. Master also says, we must say good words and practise good deeds. I remember it all," said Mrs Chong.
Smilingly, Mrs Chong shared how warm and touched she felt when attending Tzu Chi's year-end distribution event. The volunteers treated care recipients like herself with utmost respect and attention, bringing them food and drinks with the best service. There, she saw care recipients of all races lining up to pour their bamboo bank donations into the large container. Curious, she asked the volunteer next to her about it. The volunteer told her how the Master started Tzu Chi with 30 other housewives who saved 5NT cents into bamboo banks daily in order to help those in need. The story touched her and she immediately brought a bamboo bank home with her.
Since then, whenever she goes to the market to buy groceries, she would keep the coins and bring them home to donate into the bamboo bank. Once it becomes full, she would pass it to a volunteer or wait until Tzu Chi events to pour into the large container. Although the bamboo bank is only filled with coins, when it is poured into the large container, it joins other coins to build up a significant amount that can help so many people!
Mrs Chong always says that Master Cheng Yen's Great Love is helping the whole world while she can only do a little bit. However, every dropping of the coin into the bank brings joy in her heart because even though she is poor, she can still help others.
Mrs Chong also loves doing recycling. At the recycling point, she found out what a blessing it is to have strong working limbs and a healthy body. Laughingly, she said that since they started recycling, Ngoi Lee has also started to smile and laugh more. Meanwhile, she found peace and purity in her heart and body, and is no longer suffering.
Mrs Chong is very grateful for the past 17 years with volunteers visiting them each month. Whenever there is any need in the house, volunteers would help to either repair or rebuild. She felt like all the volunteers are close family members who she can have honest, open conversations with.
•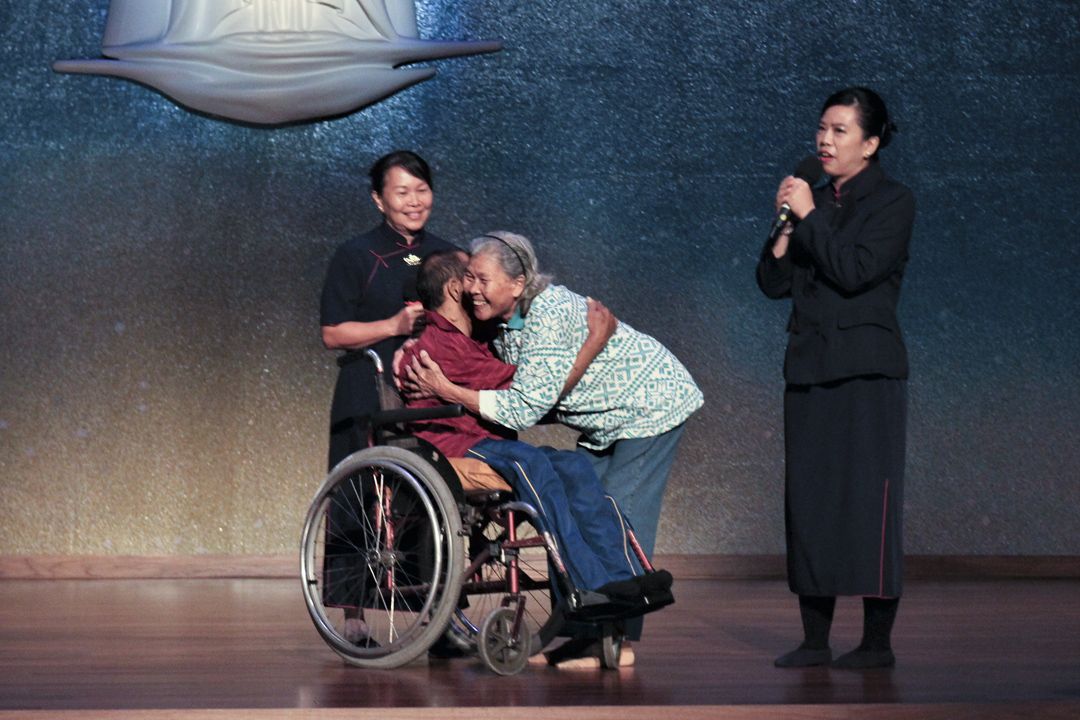 On December 16, 2018, Ngoi Lee and Mrs Chong visited KL Tzu-Chi Jing Si Hall for the Year-end Blessing Ceremony. On stage, Ngoi Lee shared his life story and encouraged others to be brave in facing illnesses and suffering. He also took the opportunity to serve tea to his mother in front of over 1,000 volunteers and public audience. Respectfully passing over the cup of hot tea, he also gave her a huge hug. With simple words of, "Thank you mum, for your care for these past ten years. You have been through a hard time," his deep gratitude was apparent in his expression and presence.
Mrs Chong shared that when Ngoi Lee served her tea and hugged her, she was very touched. At the same time, she also vowed to take good care of herself to extend her health. That way, she will be able to continue accompanying Ngoi Lee throughout the years…