"My hands will always be trembling while saying 'gan en' (thank you from the heart) to others. People will wonder what happened to me. I don't mind the curiosity. All I want is to grab every moment since I'm racing against time with my illness. I'm very grateful each and every day, at any time, and in every encounter." – Ng Heang
My name is Ng Heang, everyone in my village calls me "Ah Xiang". I am 68 years old, born and bred in Broga. I got married and raised my three children here too. They are all are married now.
I was living a comfortable life taking care of my family until 1998, when I lost my husband to lung cancer. Back then, my eldest son just joined the work force but both my younger children were still in school. I needed to work to support my family. Bringing up my children alone was not easy at all.
I was working as a rubber tapper in my village. When it was low harvest season, I would go to Singapore to work for two to three months before coming back to the village again. I did not mind waking up before dawn to go to work in the dark and I am not afraid of the hard work. But later, I decided to change my job due to the drop in latex prices. I then worked as a general worker at a furniture shop, and later as a confinement lady.
I would still tear up when recalling those days of hardship when I needed to support my family. I am glad that my children are all working now. My eldest son suggested that I retire to help him look after his children. From then I resumed the role of "housewife", taking care of my family. I was only a little over 50 years old then.
Contribute to the world with both hands
I like to occupy my time fully. Besides looking after my grandchildren, I would look for entertainment. Back then, I always frequented the only Karaoke joint in my village with my group of old friends, and enjoyed singing oldies for just RM6 per session. "Ah Xiang, let's go! Let's go singing." I could not contain my happiness when I got an invite from my friends.
My days were spent doing housework, taking care of grandchildren, and singing. I thought that it was such a blessing to live a life like this. In 2009, my neighbour Chen Sin Khuen who has moved to Kuala Lumpur to stay with her son, got to know about Tzu Chi. She felt it is a very good organization, and invited Tzu Chi volunteers to come to our village and arranged a get-together at her daughter's house. I was invited to that event. At the get-together, Tzu Chi volunteers shared stories about Master Cheng Yen's compassion in helping those in suffering, and about the 30 housewives who saved 50 Taiwanese cents from their grocery money each day into the bamboo bank as charity fund. I was so touched. Most of us expressed interest to become a Tzu Chi donor.
At that time, many villagers also decided to install Da Ai TV. I installed it too because I would like to know more about Tzu Chi's missions, and I also liked to listen to Master preaching the Dharma. From watching Da Ai Headlines, I was shocked to see so many disasters happening in the world and how so many people are suffering. I also became aware that recycling is very important, as it concerns our future generations and the survival of our planet.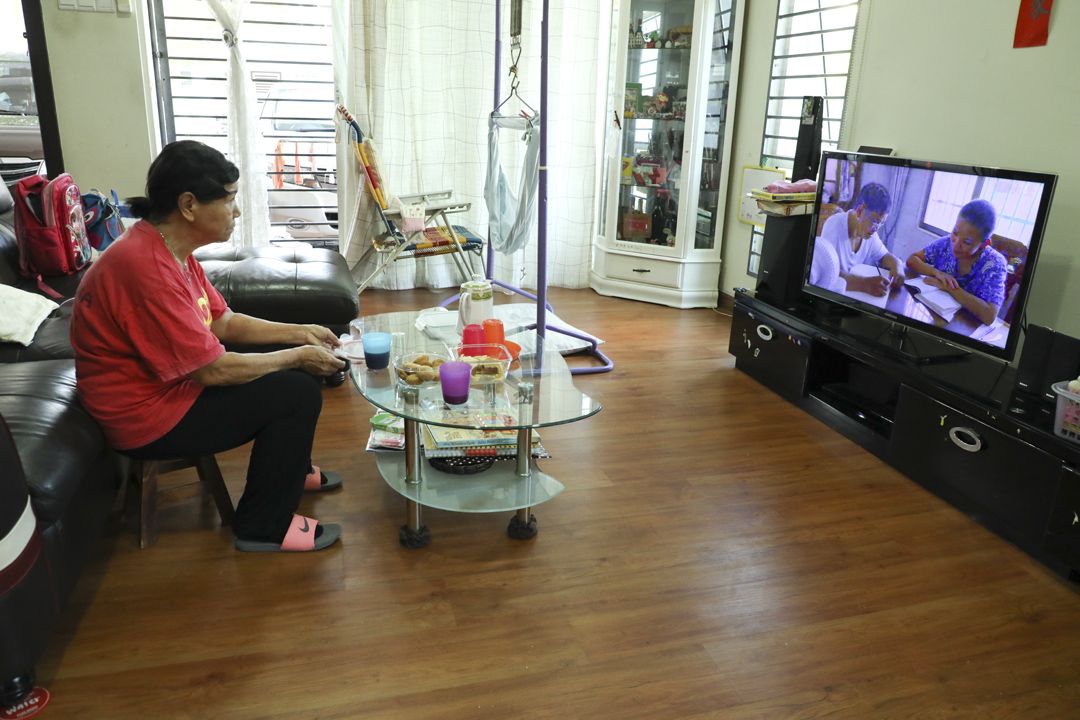 I was so touched to see elderly recycling volunteers in Taiwan working so hard. Likewise, one resident in my place, Koh Poh Lee, would ride her bicycle around to collect recyclables, and even turned her home yard into storage for these resources. I would have liked to follow what she was doing, but I did not know how. That was until one day when I was walking around the Sak Dato Temple located on a small hill in my village. While walking up the hill, I saw lots of rubbish, PET bottles and aluminium tins scattered amongst the grasses.
Broga had transformed into a tourist area. Our Broga Hill with local species of grass that grows abundantly, and the Sak Dato Temple, had become popular tourist attractions, which resulted in a build-up of rubbish left behind by tourists. I asked for a plastic bag from a hawker by the roadside to fill it with rubbish as I walked along. It got filled up very quickly, so I got another plastic bag from the hawker, filled it with more rubbish, and then carried both bags down the hill.
I realized that recycling is in fact very simple. From then on, I automatically picked up any recyclables that I can see whenever I am riding my motorcycle or while walking. I feel very satisfied and happy to see bags and bags of recyclables collected. Now, I share the same happiness felt by those recycling volunteers shown on Da Ai TV. The more we do, the happier we are. This proves that elderly folks like us are still able to do something to save our Mother Earth, and contribute to the world with both hands.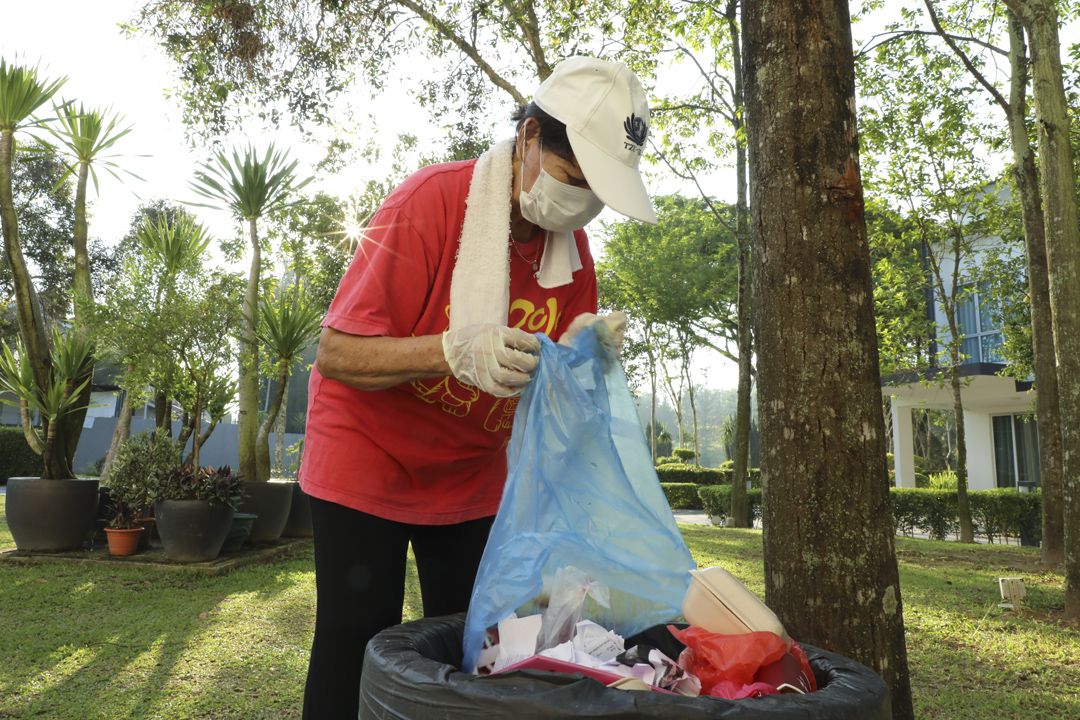 Segregation of recyclables
In 2011, Tzu Chi set up a recycling centre in Broga. I was so excited and thankful to Sister Ee Kuang Kow, who bravely made it happen. This is the year Sister Kuang Kow, Sister Poh Lee, Sister Chew Lai Fon and I became Tzu Chi recycling volunteers.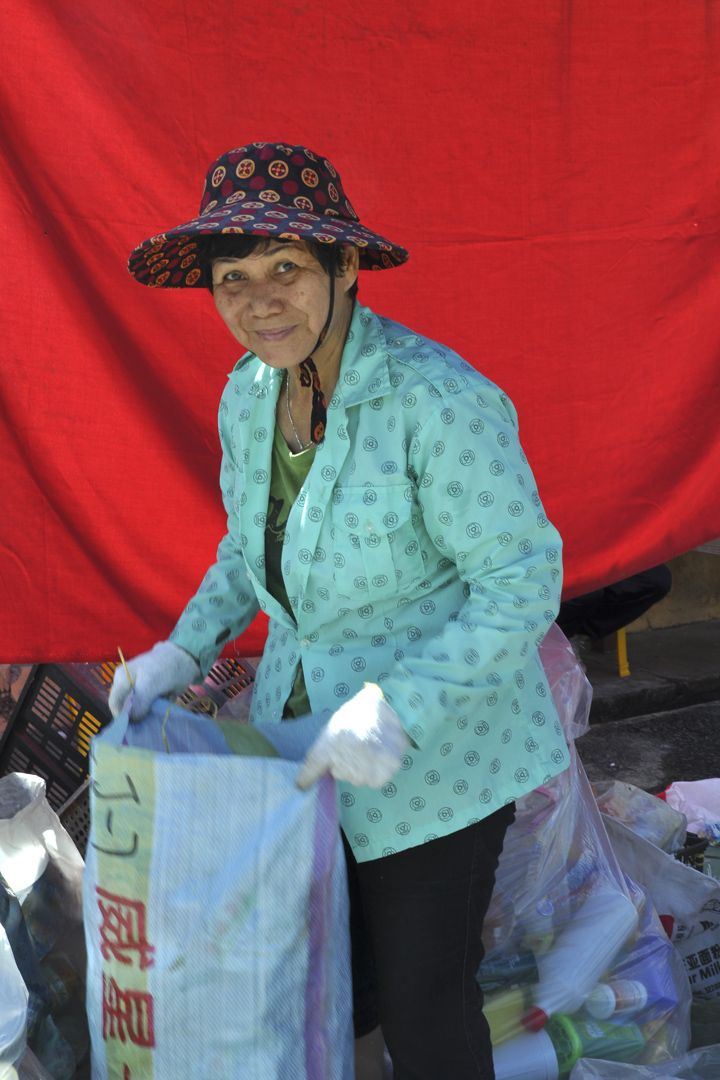 We were hoping to get more villagers to join in with the recycling work after the establishment of the recycling centre. But most people would only drop off the recyclables that they had collected at home. Very few people would join in to help with the segregation, and even if they did, they hardly persisted in their work. Only four of us were committed until many years later, when Brother Liew Yeng Sang joined us.
Initially, we did not know how to sort out the resources. Most of the time, we would just pack everything up into the lorry. It was not until a volunteer from Semenyih came one day to teach us the importance of correct segregation that we realized resources which are not separated correctly into various categories would often end up in the landfill. Some collectors also refused to collect resources that do not fetch a good price. Thus, recyclables will only be valuable when they are sorted properly.
Whilst sorting, I have come across some brand new clothes that were thrown out – some even with the price tags still attached. I felt bad seeing how wasteful we are. Consequently, every time when I help with the segregation, I would remind myself to be thrifty, and only buy what is needed instead of what I wish to have.
Five years back, I went to stay with my youngest son in Kajang to help look after his children, as both he and my daughter-in-law were working.
Since then, I would pick up any glass bottles, tins, PET bottles, cardboard box, and other recyclable items when I walk along the park while doing my morning exercise. I would also open up trash bins to look for any recyclables. Some people commented that it is not hygienic, but I only thought that all those recyclables are very precious and it is wasteful to just discard them.
I would also squat beside the lake to pick up any PET bottles that I could see. At times, people around were very concerned and kept asking me to be careful. I was very touched and responded that I would do it carefully and slowly.
When I got home, I would quickly handle the collected items. I would wash them one by one, and pack them in plastic bags once they were dry. The same goes with other recyclable items in my home. When I have collected the amount equivalent to a lorry-load, I will get a volunteer with a lorry to come pick them up and send them to the recycling centre.
Working tirelessly
Our Master always mentioned: "When you do recycling, you will have no worries!" This is very true. You will never get bored doing recycling work. I have been doing it for almost nine years, be it in Broga or Kajang. I have never stopped picking up and sorting out recyclables, and never thought of "retiring".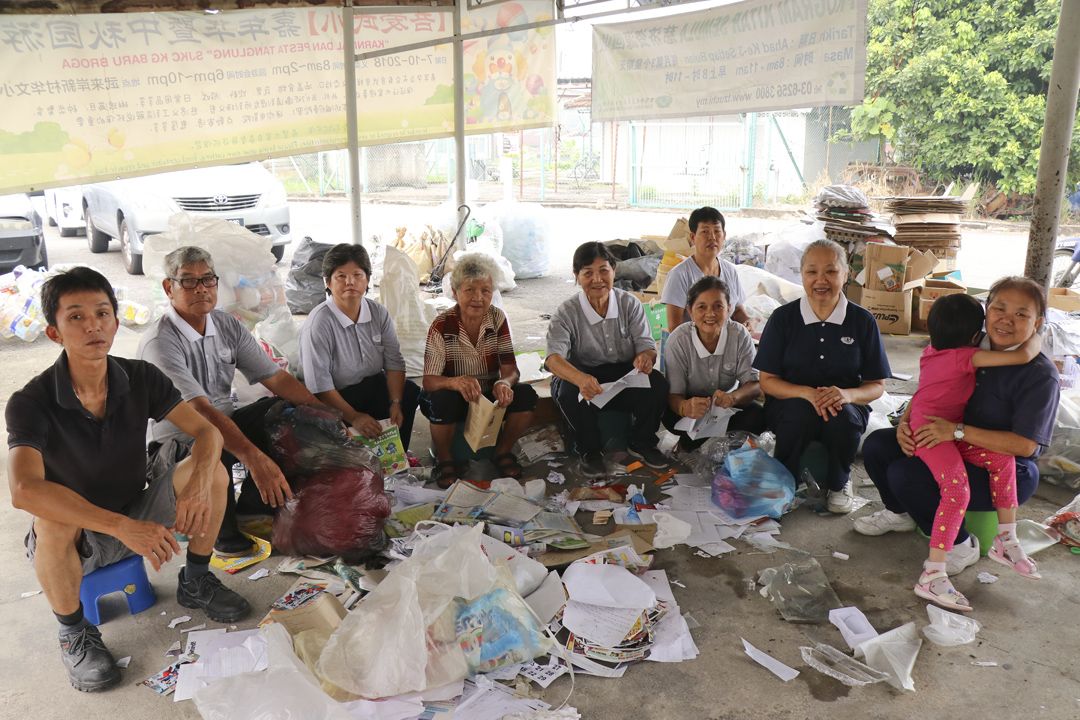 Occasionally, I still come across people who are curious seeing me picking up recyclables, while some praise me saying, "Auntie, you are so kind to do recycling!" I would delightfully invite them to join me, but none of them were willing to. I do not mind how others respond. I will do the right thing and adhere to it persistently.
Three years ago, SJK (C) Kampung Baru Broga offered its covered car park for Tzu Chi to set up a recycling point, which operates on the third Sunday of every month. I would arrange for my son to send me back to Broga prior to the recycling day to join in the segregation process of the recyclables.
I insisted on returning to Broga because there was only Sister Kuang Kow, Brother Yeng Sang, Sister Poh Lee, Sister Lai Fon and a few villagers manning the recycling point. There was so much to do at the recycling point, such as collecting recyclables, sorting them out, and loading them up into the lorry, in addition to handling those recyclables at the recycling centre.
Every time I see people coming with recyclable items, I would pause my work to go forward and ask them, "Can you join us to do the segregation? One hour? Half an hour? Or just 20 minutes?"
Usually, ten out of ten would decline. They would just want to send recyclables over, and claim they have no time to join in the segregation work. I would not be discouraged despite many refusals, and I was thankful that they at least were willing to collect recyclables at home and send them to us on recycling day.
I always told myself, even though I was rejected many times, I still got my youngest daughter's support. She would take a 20-minute drive from Mantin with her husband and two children to join in on recycling day every month. I was so glad with their participation and would always remind them before the recycling day. Sometimes my daughter would complain that I nag too much, but I did not mind at all. As long as they were willing to come, I was satisfied and grateful.
I would always give a smile to everyone at the recycle station including my daughter, son-in-law and grandchildren. I would say "gan en" to them. Even when the villagers declined to help us sort the recyclable items, I would still thank them with my palms pressed together.
Someone did ask, "Why do you keep saying 'gan en'?" I explained this is Tzu Chi's humanistic culture. Our Master always teaches and reminds us to be grateful. Furthermore, I do not think people would not like someone who is polite.
Always be grateful
Over these years, I am so glad that I have installed Da Ai TV at home. The programmes have become my spiritual sustenance, which I cannot do without them for even a single day. I also installed Da Ai TV in my Kajang home. My favourite programme is "Grassroots Bodhi". This programme shows the stories of many recycling volunteers, and they resonate with me. Besides that, the Da Ai TV series show motivational life stories, family ethical stories, relationship between mother and daughter-in-law, which all allow me to reflect and change my mindset.
I used to adopt an overly polite attitude while interacting with my daughter-in-law, so naturally we never felt close. From the Da Ai TV series, I learnt to love my daughter-in-law as if she is my own daughter.
Master stated that "Saying good words is like forming an invisible lotus from the mouth." It has become a second nature for me to say "gan en" to my daughter-in-law, and that has definitely improved our relationship. Now, my grandchildren would also emulate me and say "gan en" in response. When my youngest son gives me my living expenses, he would thank me for what I am doing for the family, and I would accept the cash with both hands while replying with a smile and "gan en".
All my children are very filial and my youngest son is very mindful. He would never interfere with my volunteer activities. Sometimes he would tease me, saying that my "business" was not good when I came home with fewer recyclable items than usual, which amuses me.
Initially, when Sister Kuang Kow invited us to attend volunteer training and commit ourselves to Tzu Chi's missions, I was worried about not being able to cope and find the balance between my home matters and volunteer work. I thought I would just be a recycling volunteer. However, I did not expect my daughter-in-law to be so accommodating to my schedule. She would arrange to stay home to look after the children when I have to attend Tzu Chi's activities like book study, charity home visit, housekeeping, and so on.
This October, I will go to Taiwan with Sister Poh Lee, Brother Yeng Sang and Sister Lai Fon for commissioning. My plan was not to stay back in Taiwan for long after commissioning, but to return home as soon as possible. But, my daughter-in-law took the initiative to get her sister to help look after my grandchildren, and told me not to worry. I am so grateful for her care and support.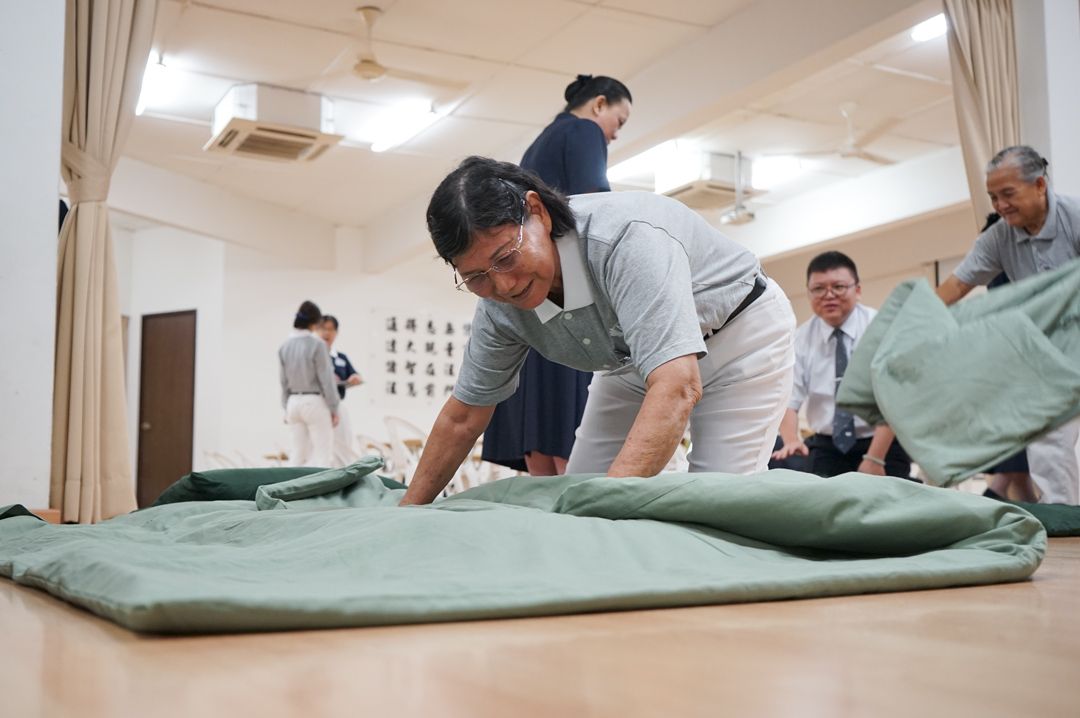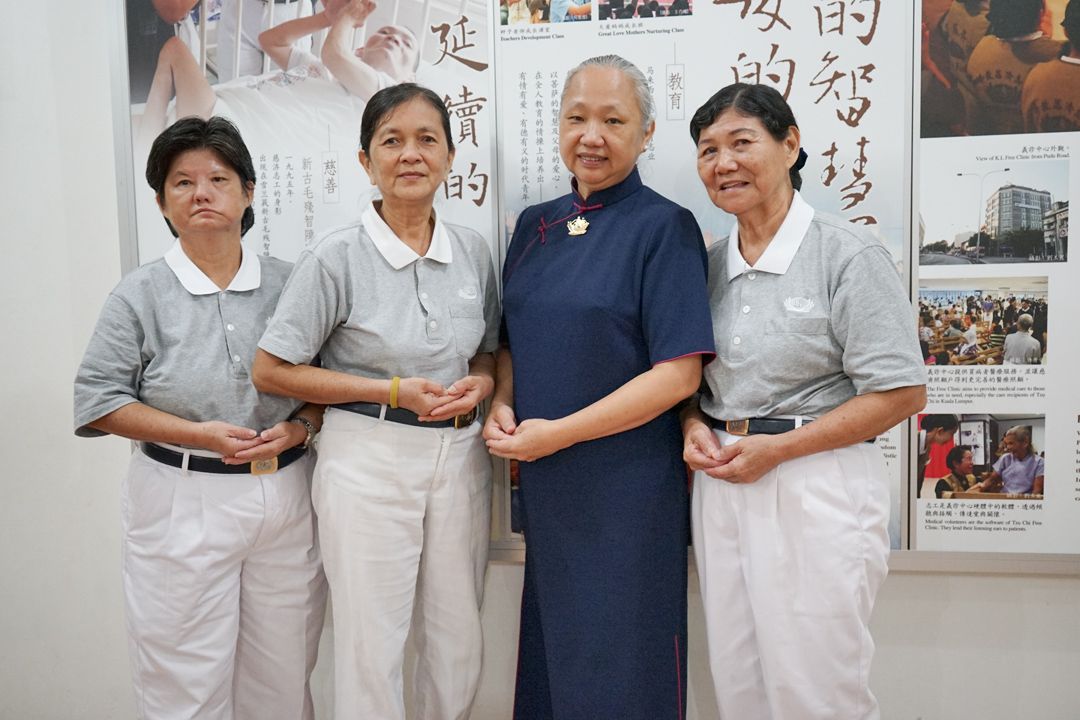 I became a vegetarian after joining Tzu Chi as a volunteer. I think it is a very important step to help conserve our Earth and to slow down global warming. My daughter-in-law did not object my decision. In fact, she offered that the whole family follows my vegetarian diet at home, and assured me that she would handle the cooking herself if her children did not want the vegetarian meals. I was truly grateful for that.
Now, almost all meals that we have at home are vegetarian. Some people ask me: "Why did you turn vegetarian at this old age?" I answered earnestly: "Back then, I did not know about karma, environmental conservation, and did not know to cherish every living being. Now that I have realized and understood, I must do it quickly. Environmental conservation is everyone's responsibility!"
I always promote vegetarianism. After being a vegetarian, my blood pressure has gone down, I managed to reduce some weight, and I feel very good. Most importantly, I hope that being a vegetarian would keep my Parkinson's disease from deteriorating.
No time to waste
In 2017, I discovered that my hands tremble when I put them down, and my right palm would not stop trembling. I thought it was a thyroid problem. But after a blood test, my report showed that everything was normal.
It was not until my right hand was shaking more and more that the doctor diagnosed me with Parkinson's disease. I could not accept this sudden news. Why me? I was depressed and frustrated, initially. Luckily, since I have become a part of Tzu Chi, I could recall our Master's teachings. I believe this is my karma. Since I am now diagnosed with this incurable illness, I want to resolve my karma in this life and as there is nothing else that I can do, I should accept it!
I am very obedient in taking my medication. This illness does not look serious to others, but when my hands start trembling, my whole body is affected and the feeling is hard to describe. The worst part is, I never know when it will happen. There is no warning before it happens and I never know how serious the tremors would be.
The doctor advised me to be relaxed, live happily, and to exercise regularly. I said I do exercise daily. I consider collecting recyclables and stepping on empty cans to flatten them as my regular exercise.
I have a friend who also suffers from Parkinson's disease. Her condition is worse than mine. Her limbs tremble a lot and she even has problem walking. Seeing this, I remind myself to quickly grasp the opportunities to do recycling and Tzu Chi's work before my condition worsens. I do not want to regret not being able to contribute when it is too late. I still think that what I am doing is not enough.
I am not afraid of my illness, although I am now racing against time with it. I hope to do as much as possible while I am still able to. This is why I try to participate in every activity. To me, time is very precious. I have no time to waste.
"Be grateful" and "be mindful" are the two phrases from our Master that touched me the most. They have become my mottos. I hope that when I go back to Taiwan in October, my hands will not tremble while being certified by Master, as I want to shake Master's hand. My wish may not come true though, as I was told that Master is very busy and she might not have time to shake everyone's hand.
I wish to hold Master's hand because I wish to give her my blessings. I would like to wish her a healthy and long life. I believe Master will also give me her blessings to be able to do recycling and Tzu Chi's work for the rest of my life. This is my greatest wish.