Jack Ma, the founder of online retail giant Alibaba, once quipped, "Performing the same ordinary, mundane task over and over again countless times culminates in a great accomplishment." Recycling volunteer Lee Yet May might not have a stellar educational background, but she is armed with a single-minded resolve to protect the environment and help impoverished families, and has never wavered in her commitment.
Under the scorching sun, an elderly woman with a hunched back was hobbling her way through the streets, vigilantly scanning her surroundings. She stopped occasionally along the route, at times bending down to retrieve bottles littered on the ground, besides peering into garbage bins to seek out recyclables. Before long, she was deftly weaving her way into and out of the apartment blocks nearby. She entered one of the blocks, and started sorting discarded paper, bottles and other recyclables stored in the space behind the staircase. Following that, she proceeded to another block, making her rounds along the corridors to gather any recyclables left on the residents' doorstep.
The elderly woman in question is 74-year-old Lee Yet May. She is no longer as agile as she was in her youth as her mobility is limited by the chronic pain in her legs. Yet, she has dedicated herself to recycling work for the past decade or so by collecting recyclables from in and around her neighbourhood, nearby shops and her workplace.
Never pass up the chance to do good
Back when a Tzu Chi recycling point was newly established in her neighbourhood, Yet May was introduced to recycling work by the volunteers. She started off by sorting household waste for recycling before progressing to sending the recyclables collected to the recycling point on Recycling Day every month and taking part in the sorting process with the volunteers.
She gradually expanded her efforts to the neighbouring blocks, collecting recyclables from floor to floor. As time passed, the residents took notice of her involvement in recycling work and began to compile their recyclables for her collection.
She collects recyclables from various locations – at home, other homes and shops in her neighbourhood, at different points on her way to work, and even the restaurant where she works in. Initially, she collected waste paper, cardboard scraps and used clothes. Later, she also collected glass bottles and plastic products in her collection rounds. As she branched out into a more diverse range of recyclable items, the volume of recyclable waste she had to manage inevitably increased as well.
The accumulating pile of recyclables eventually posed a problem for Yet May, as it occupied increasing space in her apartment, which is already starved for space to begin with. However, she found a solution in fellow recycling volunteer, Chan Yuet Chun, who lives in the same apartment. Yet May would deposit her recyclables at the designated space in Yuet Chun's unit to solve her storage woes, besides reducing the load of recyclables to be hauled back to her unit.
The area Yet May allocated for the storage of recyclables extends from her doorstep to the nearest stairwell, and continues to the neighbouring stairwell and the vacant space beside it, before ending at the open space outside the restaurant where she works. Despite space constraints in her apartment unit, Yet May has fully utilized the space outside by dividing it into three main storage areas as well as several temporary storage zones.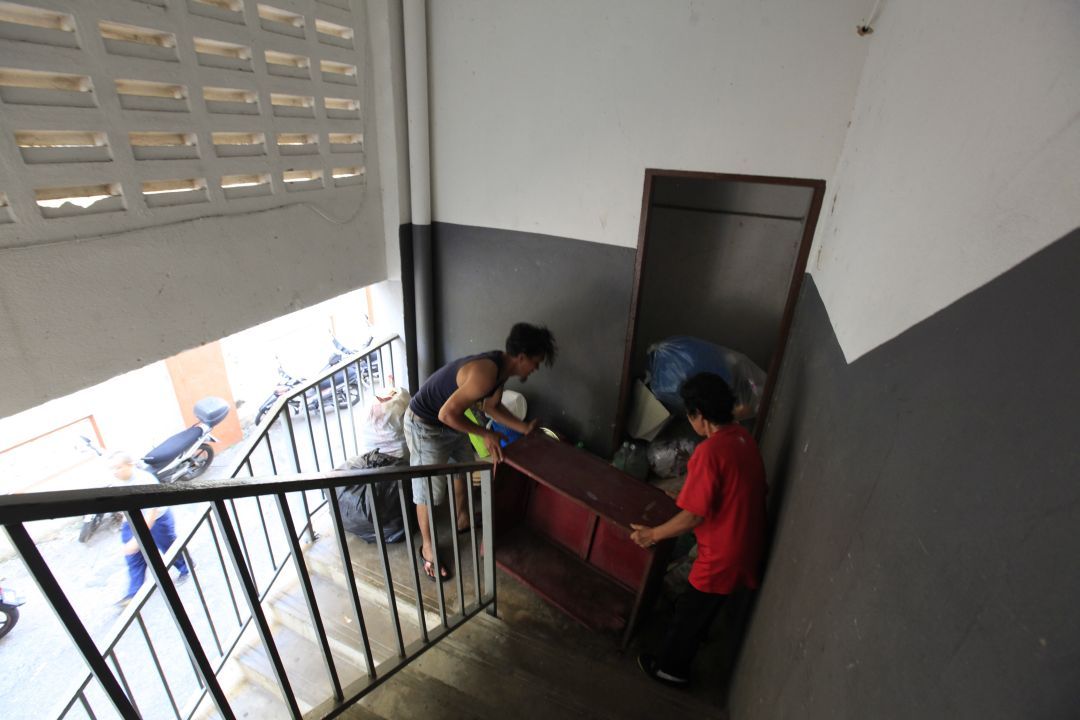 Cultivating lifelong wisdom
Yet May spends most of her time outside of work sorting recyclables at the outdoor storage site. She would settle herself on a bench beneath a tree and immerse herself in the task of organizing and sorting recyclables.
To protect recyclable paper products from the elements, Yet May stored them in waterproof plastic and polystyrene containers found among the waste. "I decided to store paper products in containers to keep them dry when it rains, and to enable easier handling when the volunteers come to collect them at the end of the month," she explained. She would fold the paper products into more compact sizes that fit into the containers to minimize the risk of damage to the recyclables, besides reducing the volunteers' burden. This rigorous process of handling recyclables proved time-consuming and strenuous, considering Yet May's physical limitations.
When faced with situation where there were garbage among the recyclables, Yet May would patiently separate the recyclables from the general waste and dispose of the latter in garbage bins. Some residents complained that the litter affects the appearance of the surroundings, motivating her to work even harder to ensure the recyclables were arranged in an orderly manner without obstructing the path.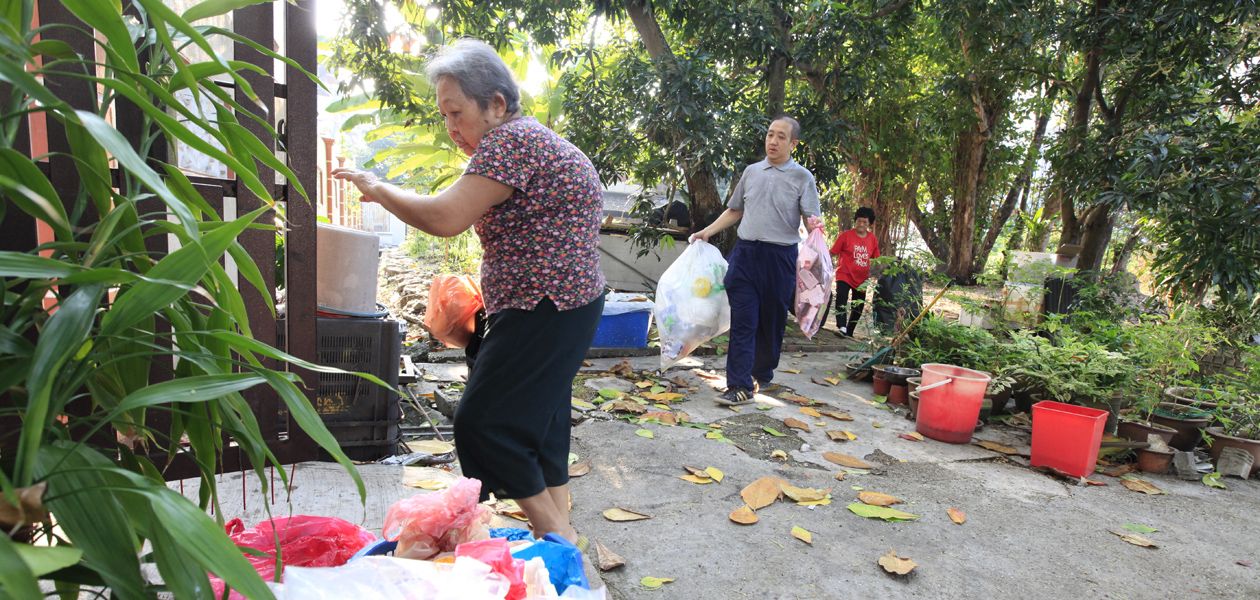 Some who knew of her intention of saving the recyclables for Tzu Chi's cause teased her for her apparent folly, saying, "It is difficult enough having to wash dishes to earn a living, yet you still willingly take on filthy, unpaid recycling work. If you were to sell the recyclables, you would have earned tens of Ringgit in extra income for yourself."
Every time Yet May received similar comments, she did not refute her detractors nor was she upset by them, as the experience she gained from carrying out recycling work had nurtured in her a wellspring of wisdom. "Back then, I would be embarrassed if any passersby caught me gathering recyclables, but not anymore. Now I couldn't care less. Instead, they should join me in protecting the environment and cultivating wisdom by performing good deeds," she mused.
A steadfast commitment to doing good
"I am delighted to see a truckload full of recyclables, as it means no resources have gone to waste. I come from a disadvantaged family, hence I support Tzu Chi's initiative of donating proceeds from the sales of recyclables to the poor. I want to help others to the best of my ability," said Yet May.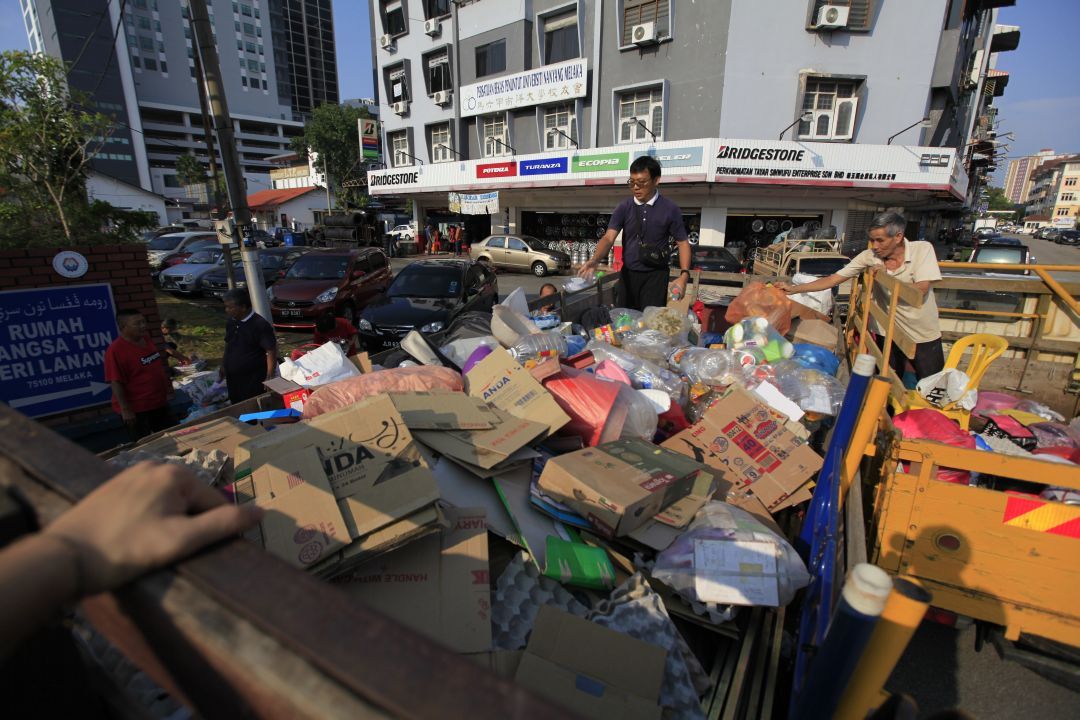 Having experienced the hardship of poverty, Yet May has insisted on making an independent living for most of her life. Although she is of limited means, she is determined to do her part, no matter how small, to help others. She also keeps herself updated on the latest environmental issues as she is dedicated to preserving a clean environment for the next generation.
She lamented that some quarters found sorting waste for recycling a hassle, causing waste to accumulate, citing recent news reports on Malacca's landfills that were filled to capacity. In addition to collecting recyclables at the restaurant where she works as a part-time cleaner, she would request her co-workers to transport any leftover recyclables back for her whenever the restaurant is tasked with hosting a wedding banquet elsewhere. She would rather go the extra mile, as she dreaded the prospect of having recyclable resources end up in the trash.
She once encountered a passerby leaving behind a bag of trash on the lid of a garbage bin, yet a foreigner passing by had voluntarily deposited the trash into the bin. This observation triggered Yet May's belief that education in the formative years is key in inculcating the habit of recycling amongst the public. When adults fail to lead by example, the younger generation will turn out to be equally ignorant, resulting in the buildup of waste dumped irresponsibly into drains that contributes to severe flooding due to clogged drainage systems.
Tan Sok Ten, Yet May's neighbour and close friend of more than 30 years, asserted, "Whenever I hear from Yet May that Tzu Chi volunteers will be arriving to collect the recyclables, I will waste no time in organizing my collection. She is steadfast in her resolve to cultivate merits by safeguarding an ideal environment for future generations."
An unwavering mind undeterred by physical challenges
"Every Recycling Day, the amount of recyclables she collects would fill the truck to the brim. It would take two trucks to accommodate all our recyclables combined!"
Each month, Yet May's fellow neighbour, Chan Yuet Chun and her husband manage to gather recyclables averaging two-thirds of the truck's capacity. Besides admiring Yet May's grit in handling a truckload worth of recyclables all by herself, Yuet Chun empathized with the laborious toil she endures in her commitment to recycling, which Yuet Chun found exemplary and worth emulating. "Every day after work, I see her carrying a bag full of recyclables – including heavy glass bottles – in each hand. I would ignore glass bottles on the street as I feel picking them up would make no difference, but she seems to think otherwise – she would never leave any recyclable item behind. She is wholeheartedly devoted to recycling."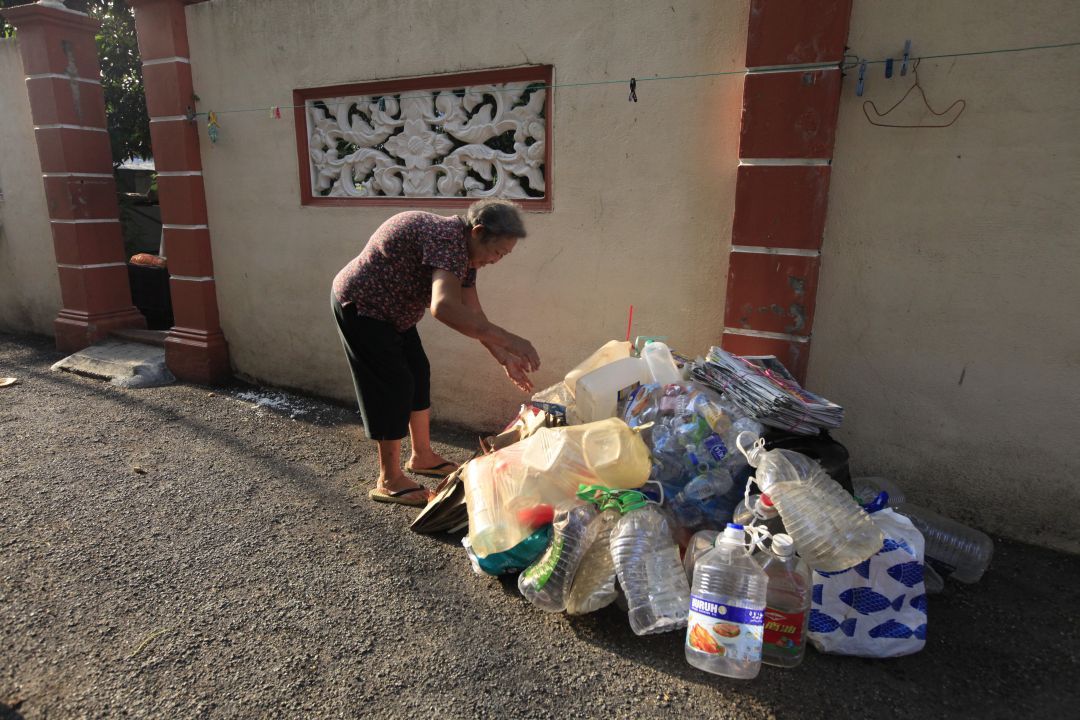 She added with a smile, "Glass bottles hold little recycling value, because they are heavy and are worth next to nothing. But since Tzu Chi accepts them for recycling, I must seize the opportunity and retrieve any discarded glass bottles, no matter how heavy they are."
She cherishes every opportunity to carry out recycling work, and would be so preoccupied to the extent that she becomes oblivious to her ailments and the passage of time. Her close friend, Sok Ten, however, is concerned about her devotion. "I always advise her not to exert herself too much as she frequently complains of aches all over her body. Yet, she spends most of her spare time on recycling work, sometimes continuing till late at night. I even have to remind her to go home. It breaks my heart," she confessed, on the verge of tears.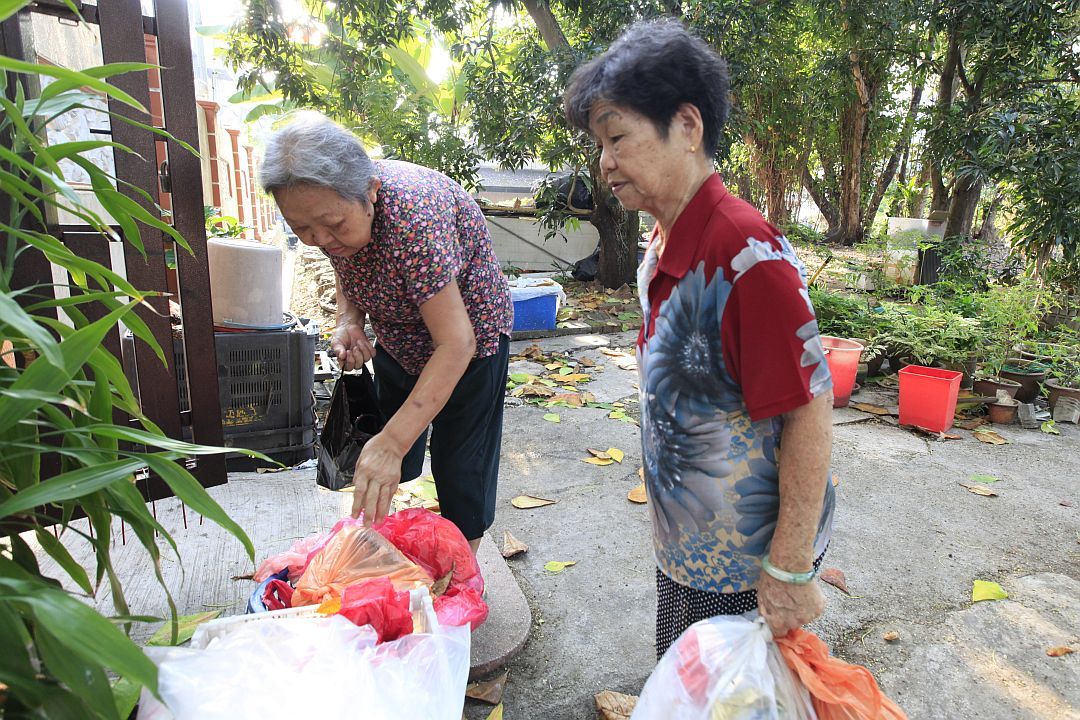 Yet May not only gathers recyclables within her own apartment block, but also collects recyclables from Sok Ten's apartment block. Appreciative of Yet May's efforts and diligence, the latter was inspired to start compiling recyclables in her own home. She would also help to retrieve any recyclables left on the doorstep of neighbouring units and deposit them at Yet May's storage area.
Sok Ten acknowledged that she felt obligated to lend Yet May a helping hand, as she found no reason not to when the latter is able to set aside her fatigue and persist in her recycling efforts. However, she admitted that although she does not mind lifting heavy loads, she has yet to overcome her aversion to getting her hands dirty. Hence, she remains hesitant in helping Yet May in sorting recyclables. Nevertheless, she looks up to Yet May's tenacity and determination. She believes that without firm conviction and genuine enthusiasm, one would find it difficult to persevere and reap the rewards of recycling.
•
More than a decade on, Yet May's back is not as straight anymore, nor are her limbs as nimble as before, prompting friends and family who are concerned for her well-being to advise her to work less and rest more instead.
Nevertheless, she reiterated, "If it were indeed an insufferable chore, I would have called it quits long ago. It brings me joy and keeps me active. Otherwise, I would be bored staying cooped up at home. Physical activity is beneficial to my health." The signs of her advancing years are showing, but so is the wisdom she has gained. Age is no barrier to her dedication to serving others and her zest for life.