Siti Rahayu has a pair of smiling eyes, and a big smile, too. She delights in every little thing around her. One may wonder whether it is her nature, or the hardship she had endured that gave rise to her being calm and composed under any circumstances.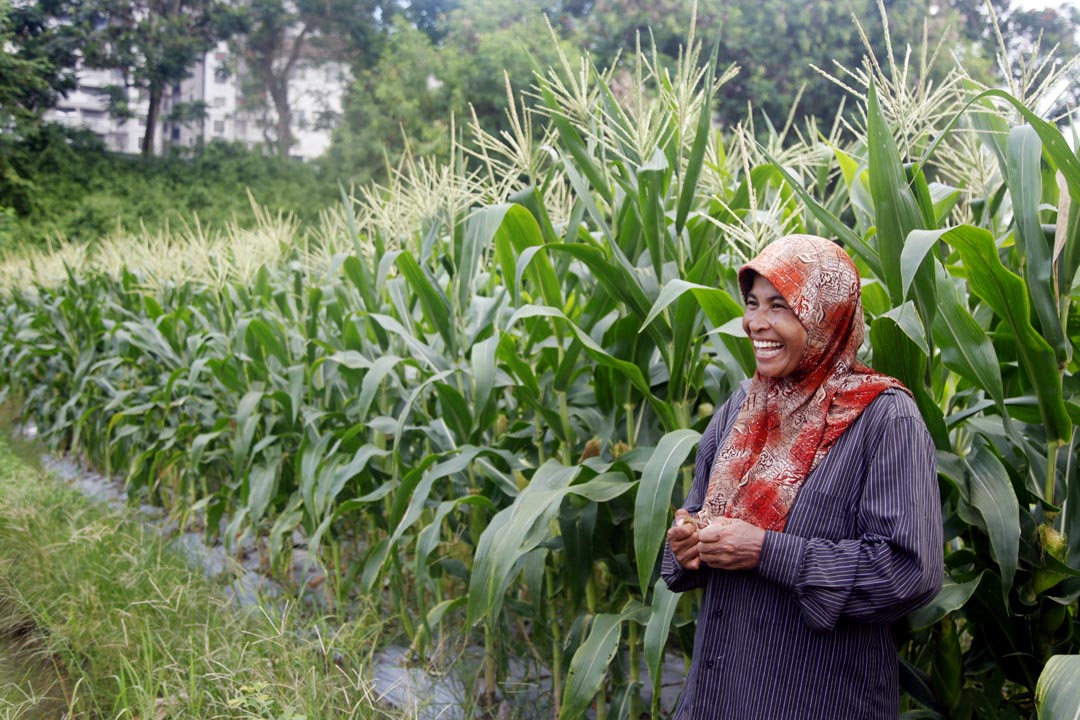 At 8 o'clock one morning, a few Tzu Chi Malacca volunteers arrived at a small wooden house half hidden by the surrounding crops and grasses, down a slope near Taman Cheng Ria.
"Siti! Siti!" They called out to announce their arrival, but there was no response. Volunteer Liew Fong Chiang then went ahead onto the trodden path and disappeared into the vegetable farm. After a long while, she reappeared with Siti Rahayu following behind, pushing a wheelbarrow that had a basket on it. The latter's signature big smile was the single most noticeable thing that came into sight.
"Hey, you got up so early to work?" A volunteer asked.
"Yes. I got up at 4 a.m. to harvest lady's fingers. Some customers are coming to buy them before noon." Siti replied.
"These, too?" The volunteer asked, pointing at bundles of roselle leaves.
"That is right. These are roselle leaves. People like it, that is why I planted a lot of it. A friend recommended me to plant this for sale. This type grows without bearing fruits; it is not the same as the one you all know. I will not be able to harvest fast enough if I were to plant both types." Siti replied and chuckled. Then, they all proceeded to go into the vegetable farm again.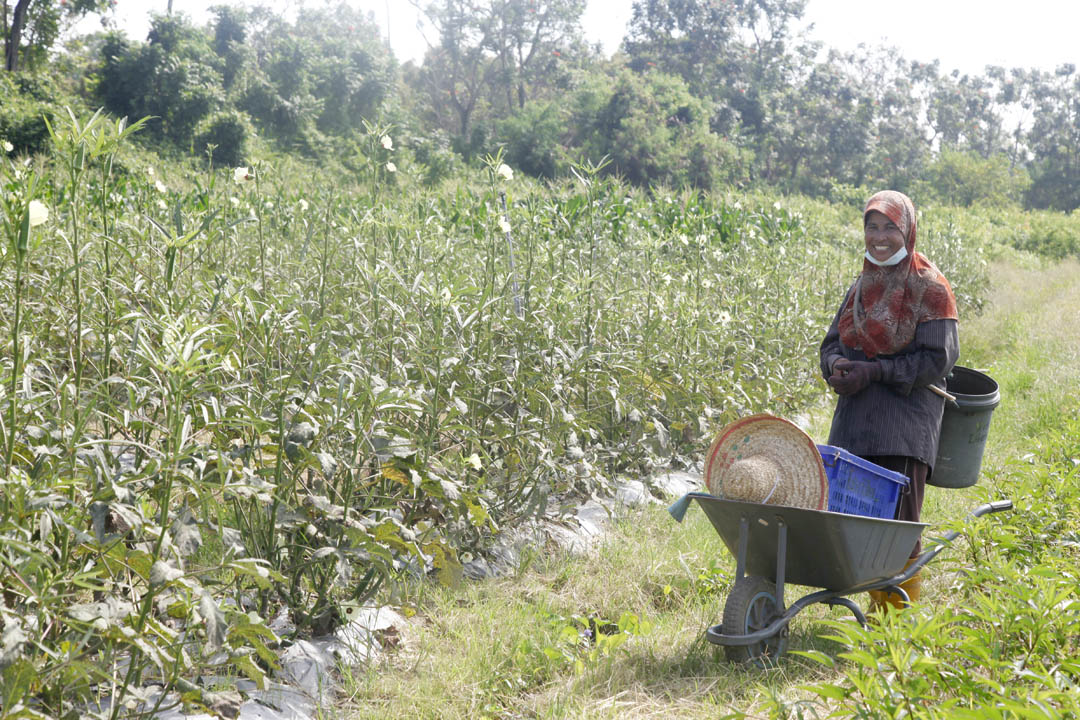 Middle-aged Siti had never imagined that she would be involved in vegetable farming for such a large part of her life. Back in her 20s, she embarked onto a ship from Indonesia, with a dream of making her life in Saudi Arabia. However, she ended up being asked to disembark at a Malaysian harbour, and eventually worked on a vegetable farm in Malacca.
Being a complete novice, it was exhausting at first, but with increasing experience and a great sense of accomplishment seeing the fruits of her labour, she was motivated to put in more efforts. In the four years working with her Chinese boss on the farm, she had observed and learned that persistence and hard work would bring reward.
Sometime later, she met an Indonesian man, who was much older than her and resided in Malaysia as a permanent resident. They returned to Indonesia when she was 29 and had their wedding before returning again to Malacca. As her husband was too old to be a construction worker, they found a job on a vegetable farm and toiled together. They were officially registered as a married couple when Siti was 40, and had a child later.
The morning sun never lasts a day. In September 2016, Siti's 70-year-old husband was diagnosed with terminal lung cancer, and passed away in January the following year. As Siti had to accompany him for treatments and could not work, she exhausted her savings, and there were outstanding bills, including surgical fees and rent of RM40.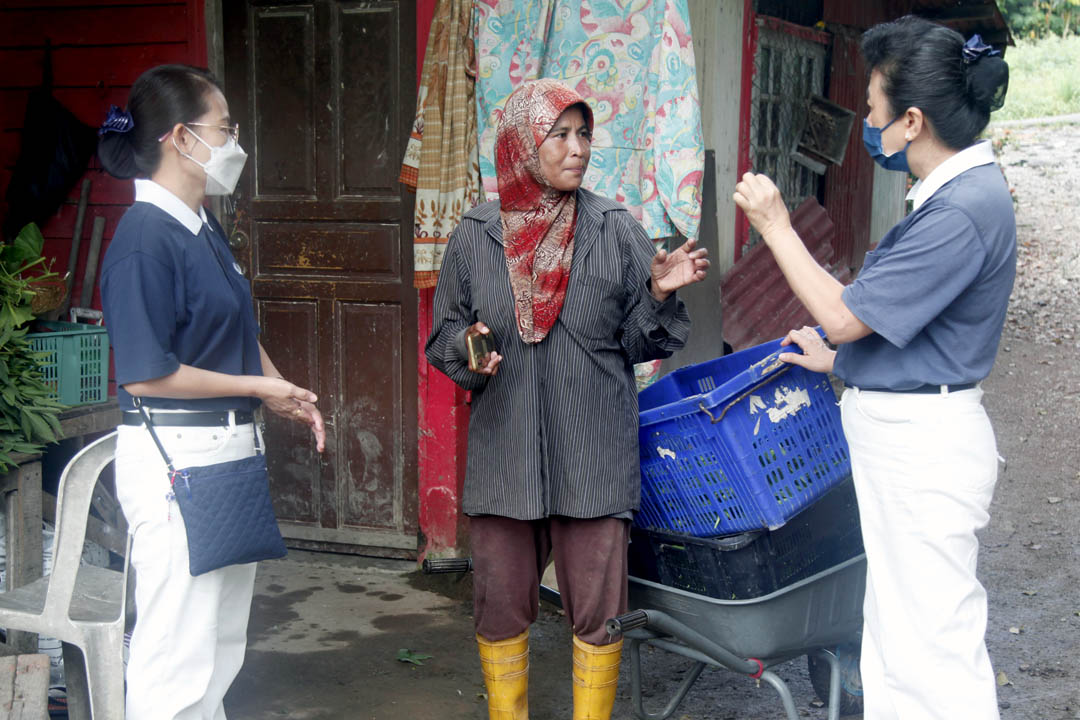 From their recollection, the volunteers remembered how sad, worried and helpless Siti was, when they first met her in 2017. Being a foreigner, she was not officially eligible for social welfare aid. It was her neighbours who extended a helping hand to her.
The volunteers' home visit report read thus: "The family had little milk powder, chocolate drinks and dried food left. They were running out of food supplies. Hence, the team accorded an emergency relief of RM300…"
◎ Vegetable farming for subsistence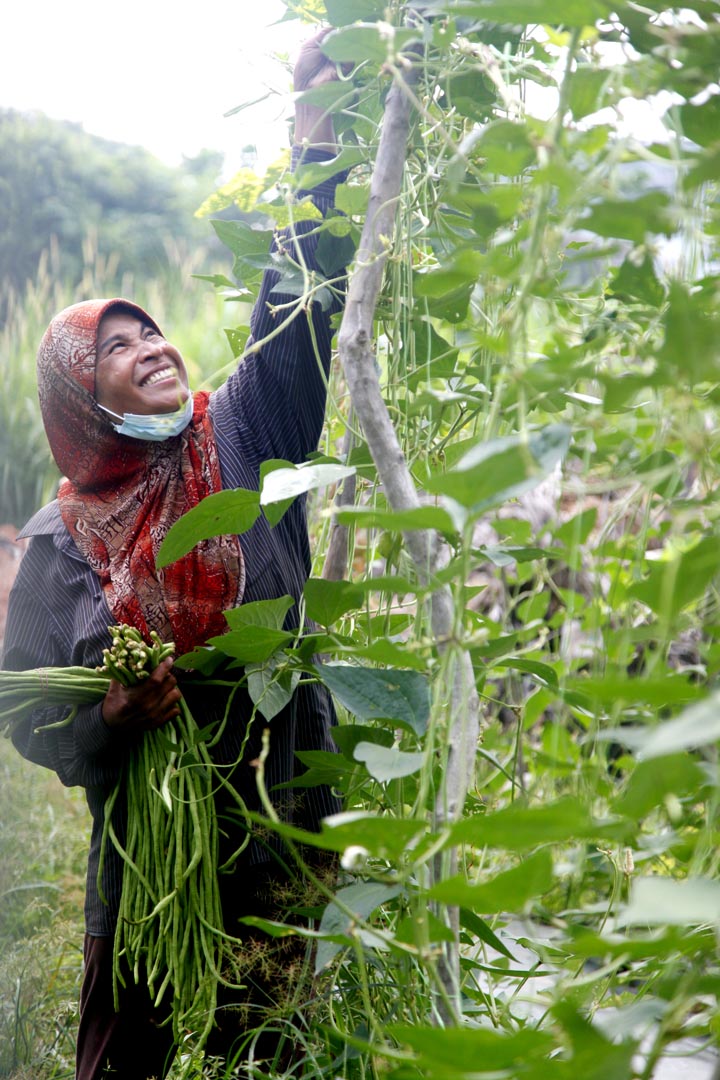 Siti was introduced to Tzu Chi by her landlord. At that time, her husband was declared incurable and sent home. Seeing that her husband was suffering, her landlord suggested that she borrowed an inflatable mattress from Tzu Chi Malacca. However, her husband did not last long enough to use it.
When volunteers paid her a visit, she expressed that she needed to take care of her baby, and she would have asthma attack if she was tired out. As such, her livelihood was affected. Consequently, Tzu Chi provided financial assistance to her for three years, until 2020.
During these three years, she had worked at a hawker centre and for her former employer. Nonetheless, the employments did not last long as she did not have a work permit and had a baby that needed her care. Knowing that she had tried to take charge of her life but was at a loss, volunteers then encourage her to grow vegetables on the empty land around her house. This way, she would be able to sustain her livelihood.
Now harvesting the lady's fingers on the farm, Siti said smilingly, "In the past, I did not have my family here with me, only some of my husband's relatives. Now, I am fortunate to have Tzu Chi volunteers who are like my family members."
Back when the volunteers suggested that she grew vegetables at home, she borrowed a ploughing machine from a neighbour to start the farm. Thanks to the fertile soil and her green fingers, she has had bountiful harvests of whatever she planted. Over time, her cultivation of vegetables spread across a larger area, with more and more varieties of vegetables, such as lady's fingers, sweet corns, water spinach, amaranth, choy sum, lemongrass and long beans. Not only were the harvests sufficient for her family, she was also able to sell the produce at the market through a middleman, or to regular customers. When she noted a demand for roselle leaves, she started growing them on another piece of land on the other side of her house.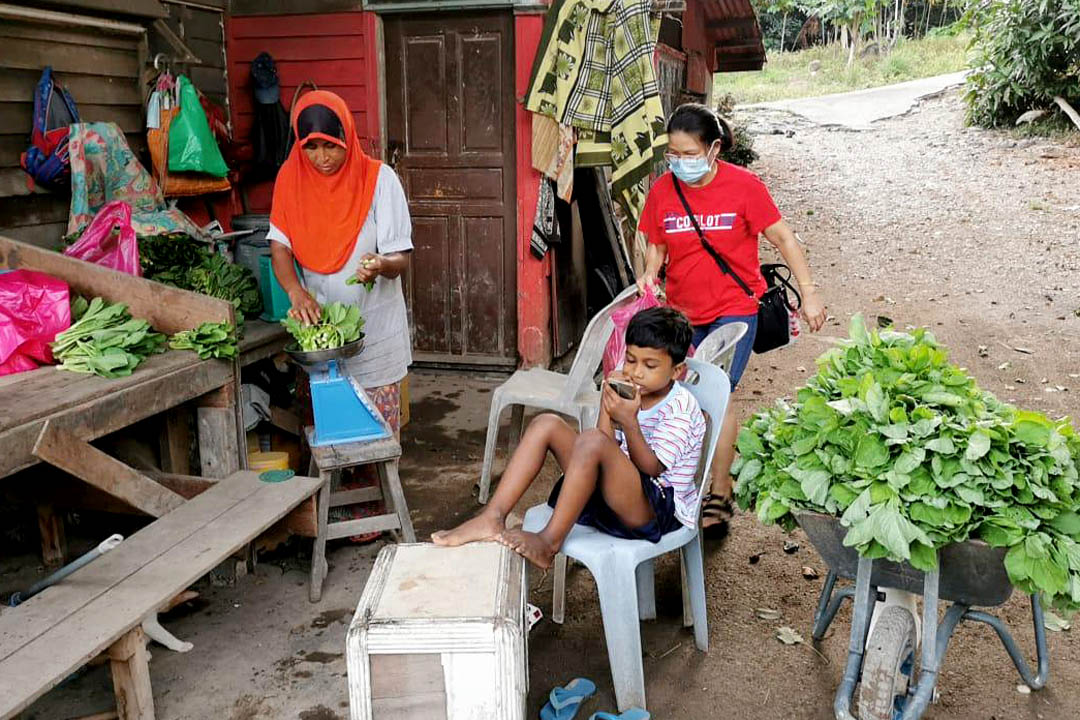 She does not have an exact idea of the size of land she has been cultivating. However, she uses whatever empty space to sow seeds. With her good relationships with others, her friends, late husband's relatives, and countrymen would voluntarily help her to improve the watering and irrigation systems, as well as during harvesting.
Siti toiled away day and night, for the farm was all she had. There were times when she experienced symptoms of heat stroke having worked under the sweltering sun, and times when she accidentally stepped into the mud as she strolled around the farm on nights that she could not sleep. She said that to ensure customers get her vegetables as fresh as possible, she would rise early to harvest.
Vegetable farming relies highly on favourable weather. She also has to face drought and floods, as well as fluctuating market prices. Once, when a flood destroyed her crops, she called a friend while crying, and was told to be brave and soldier on. Hence, she quickly dried her tears and went on to work again. Recently, her harvest dwindled due to the dry weather. She raced against time and tried to harvest as fast as possible despite observing Ramadan fast.
◎ Making the greatest effort as a mother
Tzu Chi volunteers offered her support as she strived to fend for her family. For example, when her farm produced excess demand, volunteers would go over to her farm and buy vegetables from her at market price. Also, noticing her happy-go-lucky nature, they guided her to carry out crop rotation to preserve soil health. Earlier, they even taught her how to plan out her revenue and expenses.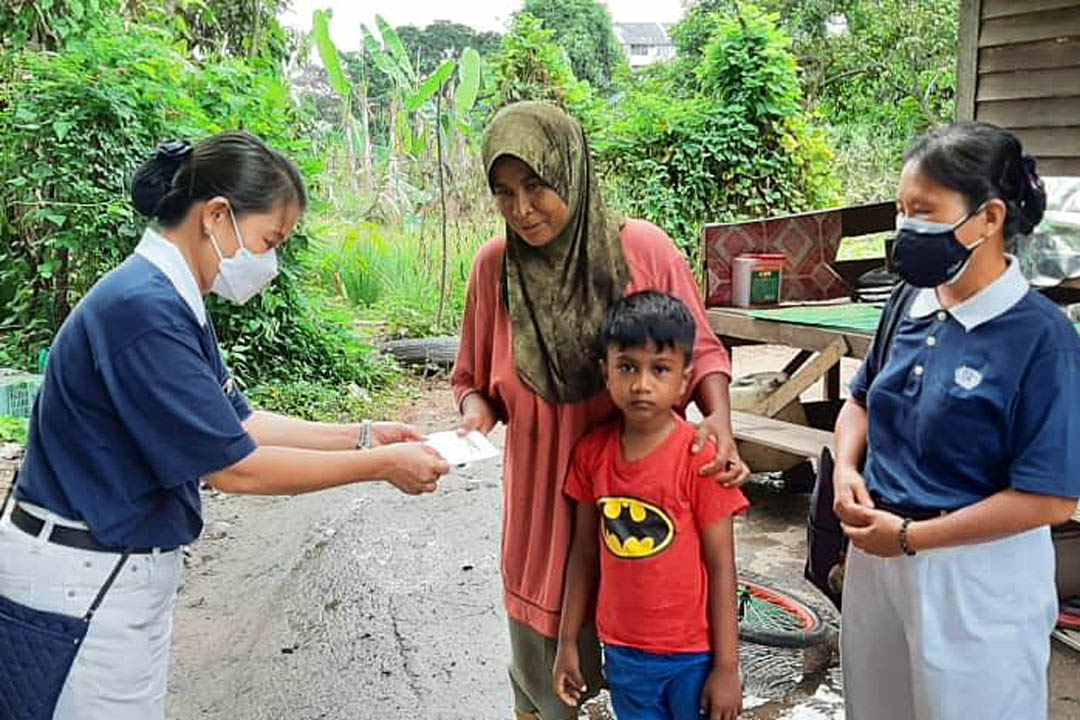 Even though she is no longer a Tzu Chi care recipient, volunteers have continued to care for her when her farm was flooded, but the only occasion she accepted an emergency cash aid from Tzu Chi was when she suffered a huge loss of crops.
In fact, she requested Tzu Chi to stop providing financial assistance on the second year of her being a care recipient, as she had become more settled in life. Nonetheless, considering that she was still not financially stable, the volunteers handed her a bamboo coin bank for her to save up and reciprocate in the form of donation instead. She has donated several times since then. In addition, she would also volunteer at Tzu Chi recycling point on recycling day, as her way of expressing her gratitude.
She said, "I am fortunate to have met so many benevolent people, including Tzu Chi volunteers, who have helped and befriended me. Even though I am not so capable, they care about me all the same. So, I am very happy every time I see them."
To the volunteers, Siti's cheerful smile is the best part of her nature. She is also smart, hardworking, positive and a tough cookie. Amazingly, she has even learned to speak some simple Mandarin.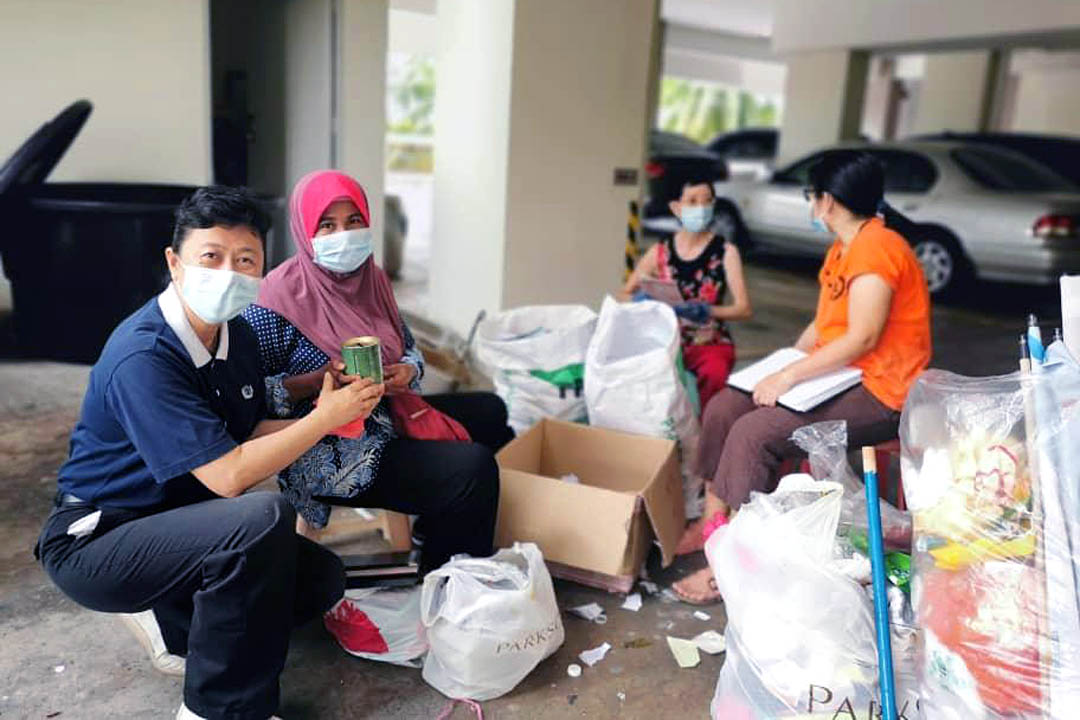 She has mentioned time and again that she likes to do vegetable farming because the flourishing greens and the trees full of fruits give her a sense of reward. Additionally, good harvest means good income, with which she would be able to plan a good future for her son, seven-year-old Ahmad Arrafiq Jamali bin Bura'i.
Siti once had a chance to return to Indonesia with funding from the Malacca Islamic Religious Council (MAIM). However, she rather gave up the rare opportunity after taking into consideration the citizen status of her son, who was born in Malaysia. When the volunteers asked about her future, she replied, "What is okay for my son is also okay for me."
Her son is the centre of her life. As a mother, Siti apparently has and will brave any challenges and do all she could, to ensure his wellbeing.