Years ago, doctors pronounced that Lee Ah Peng, who was struck by an illness, would be paralysed. This crippled his spirit and suicidal thought arose. Now, he takes recycling as part of his rehabilitation exercise, and aspires to benefit others through voluntary work.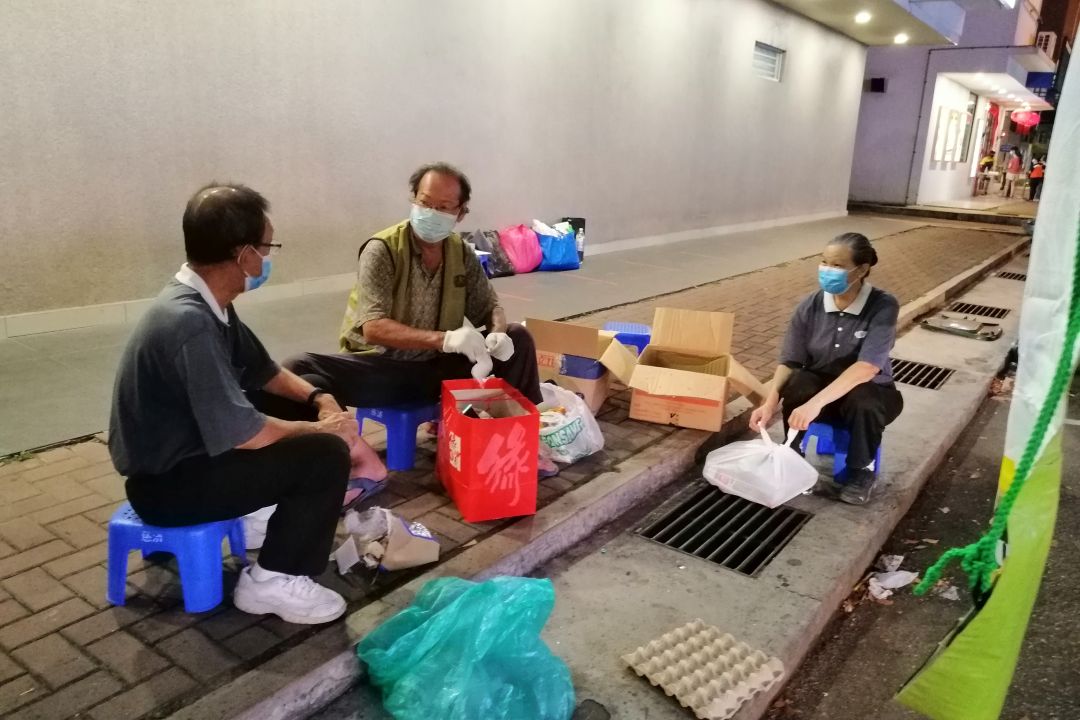 In 2018, a middle-aged Lee Ah Peng experienced a sudden numbness and weakness in his limbs, and had to suspend his job at a steel factory. He exhausted his savings seeking treatments everywhere, but both western and traditional Chinese medicine practitioners were unable to identify the cause of his illness.
His persistent illness, coupled with difficulty in managing his daily life and all sorts of stress, plunged him into severe depression. He recalled, "I was confined to bed most of the time and struggled to get up. The pressures of life—finance, physical body and other aspects—left me in a state of total despair. I even contemplated suicide."
◎ Losing all hope
Tortured by the illness, Ah Peng's weight dropped from 90-plus to 70 kilogrammes. He resorted to selling his valuable belongings or borrowing money from his friends and former employer to sustain his livelihood. It was not until a few months later that the doctors finally diagnosed him with cervical spine nerve compression. However, the only way to treat the condition was through surgery, the success rate of which was only 50 per cent.
As Ah Peng's friend, who suffered from a similar condition had a failed surgery, he chose not to undergo an operation. He struggled to get himself up and seek help on crutches. On April 29, 2019, Ah Peng applied for aid at Tzu Chi Malacca, and in early May, Tzu Chi volunteers paid him a visit to further understand his situation.
Recalling their first meeting, volunteer Poh Kee Sen shared, "He looked absent-minded. When we asked him questions, he either gave an irrelevant answer or was reluctant to reply. He also declined to provide a next-of-kin's contact number. These almost halted his application for aid. Fortunately, the volunteer team empathized with his situation and commenced the provisions of subsidy and care that same month."
Through their subsequent visits and interactions, volunteers learned that Ah Peng was dazed and muddled due to the many different medications he was taking. Moreover, he was home alone with no one to talk to. He always complained, "I will be bored to death if I do not recover soon." His uneasiness and restlessness made him unhappy and in low spirits.
◎ Finding strength to keep going
His predicament prompted volunteer Tay Heng Hee to specially install Da Ai TV channel for him, with the hope that the teachings by Master Cheng Yen and the touching stories around the world, could help broaden his horizons and open up his heart. Moreover, he could also learn from the inspiring real-life stories featured in Da Ai drama series.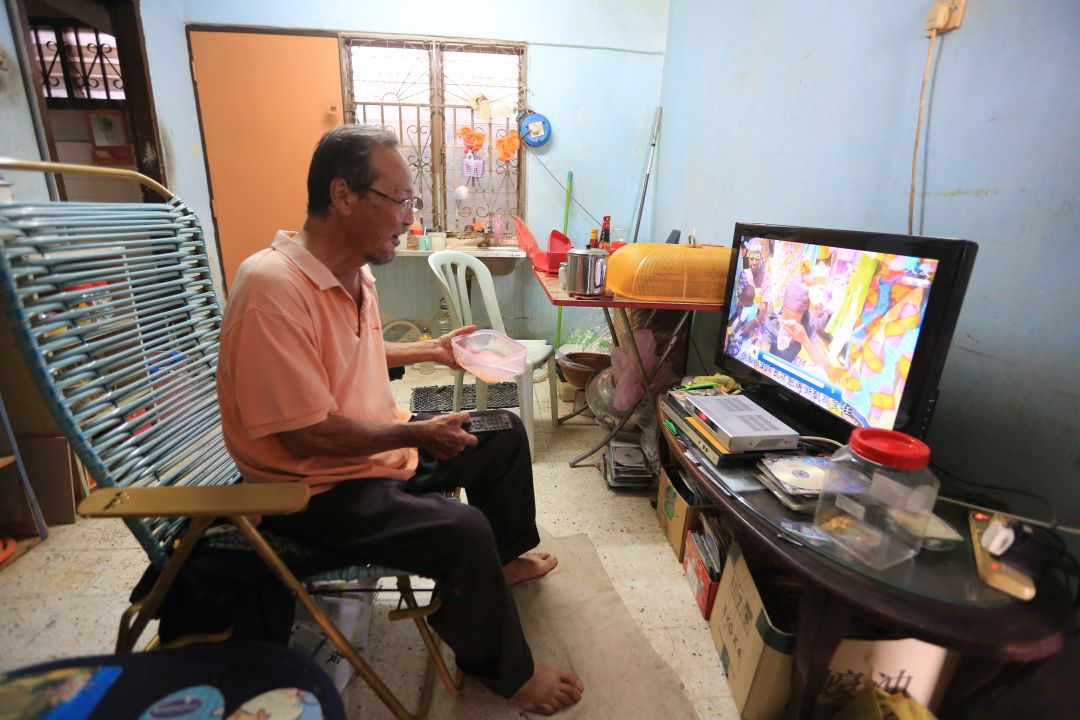 Heng Hee also encouraged Ah Peng to participate in the recycling activity held every Monday, which would help exercise his body besides protecting the Earth. Finally, after much persuasion, Ah Peng began to participate in recycling activities in November 2019, albeit always late and absent at times.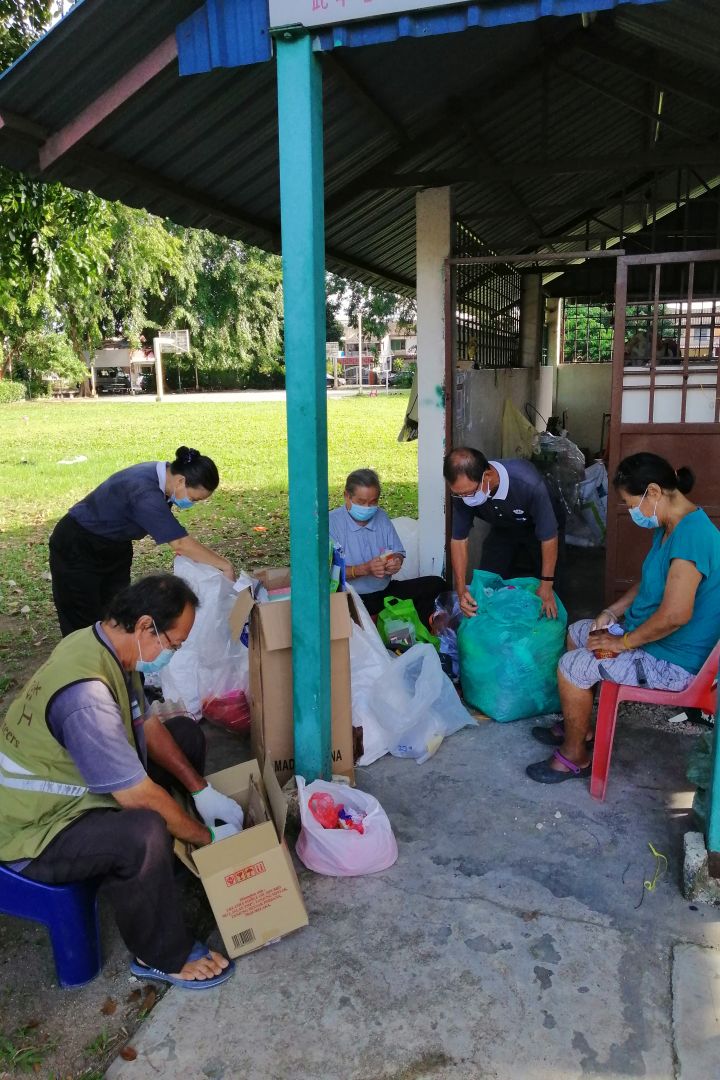 Heng Hee's wife, Tan Giok Kiat, remarked with a smile, "He was probably very reluctant and just dropped by when we were almost done, merely to show courtesy." Nonetheless, the volunteers were understanding. Heng Hee said, "The main purpose of us inviting him for recycling activity was to get him out of his home for some physical exercises. It would also help brighten up his mood while mingling with others. Hence, it did not matter what time he arrived."
Things changed a few months later—Ah Peng became more active and involved in the recycling activity. He would arrive punctually at 8 o'clock in the morning. When an evening recycling point was set up around his neighbourhood in March 2021, he began to dedicate himself to recycling work twice a week. By November, he started to spare another three days weekly to do recycling at Kampung Bandar Hilir recycling centre.
His transformation was evident to Giok Kiat, who witnessed him turning from a sorrowful man to one who would take initiative and is willing to mingle around. Additionally, Ah Peng also started to collect recyclables in his neighbourhood on his motorbike. He said, "I used to collect recyclables to supplement my income. After getting to know Tzu Chi and witnessing how the volunteers helped the needy, I decided to give the recyclables to Tzu Chi."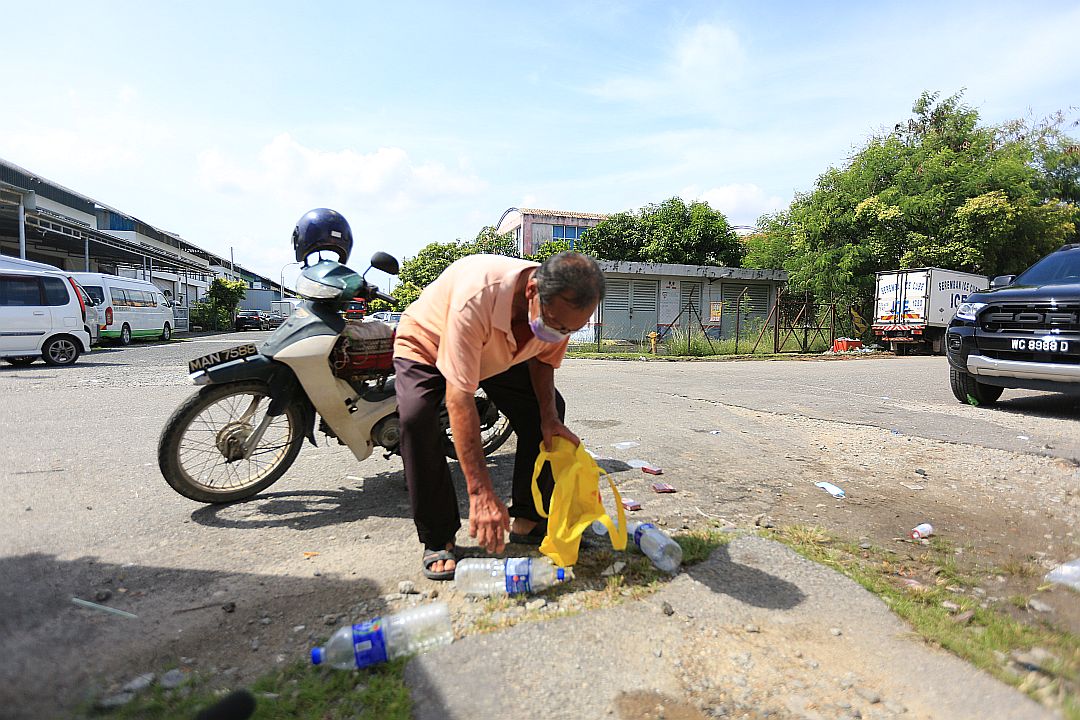 ◎ Selfless contribution creates miracle
In fact, Ah Peng has not regained his health. He still cannot use chopsticks, experiences giddiness occasionally, lacks the strength to stand properly, and is unable to bend his knees. As a result, he has been sleeping in the living room instead of his bedroom upstairs, and has reduced going out to minimize risk.
Despite all these, he has persisted in collecting recyclables daily. He related, "I ride motorbike to the nearby park for exercises daily, and I will pick up recyclables that I see. I just need to be mindful of my movements. The volunteers are my role models. What I can do is trivial, and I really envy them for being able to help others!"
Doctors once pronounced that without surgery, Ah Peng would have to rely on crutches to move around in three to four months' time, and would be paralysed and confined to bed one or half a year later. Fortunately, his conditions improved as he engaged in recycling activity, which allows him to exercise regularly.
He said joyfully, "My body has recovered about 30 per cent. I need to work harder, but I am already very grateful for this result!"
◎ Mutual care makes life beautiful
When volunteers learnt that a charitable organization was offering free vegetarian meals for the underprivileged three days a week, they forwarded the information to Ah Peng, hoping to help him save some daily expenses, and also, to introduce vegetarianism to him. With that, Ah Peng began taking vegetarian meals for three days weekly since March 2021.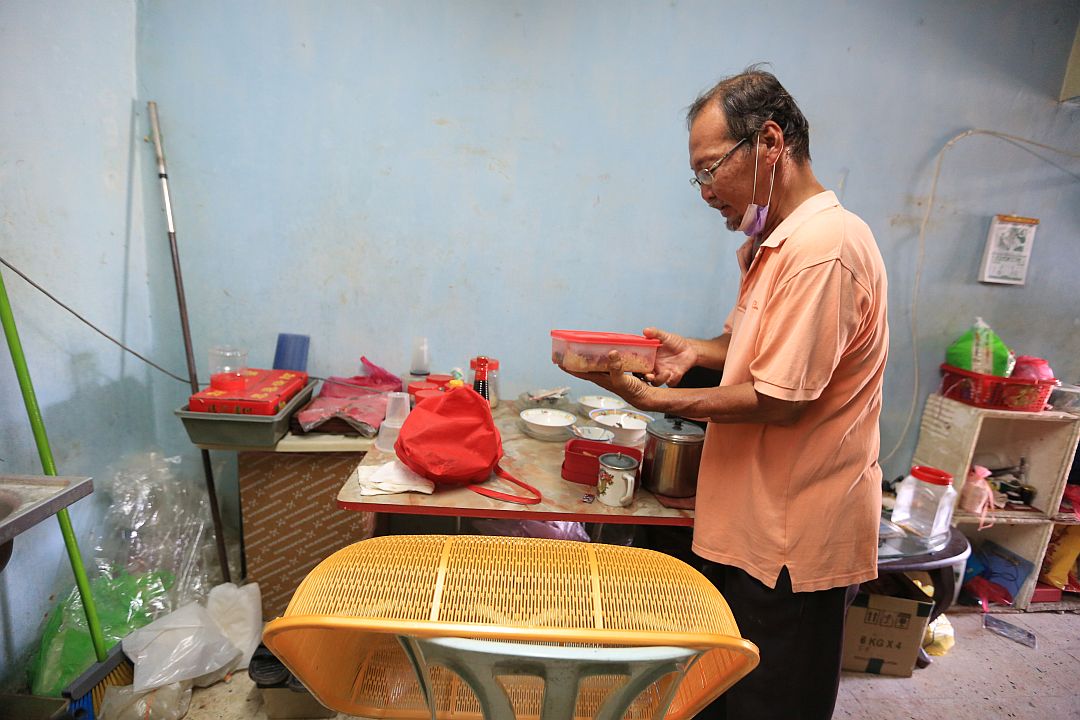 Around the same time, a nonagenarian recycling volunteer, Day Kim Wee, had just moved back home from the nursing home. As he was living alone and had not fully regained his mobility, volunteer Tang Yun Ci assisted in delivering meals and providing care for him. Then, when Yun Ci had to travel to Kuala Lumpur from Malacca for errands, Ah Peng, who volunteered together with Kim Wee at the recycling centre every Monday, willingly took over the task by claiming an extra meal box each time and delivering it to Kim Wee. For that, the latter was grateful. He said, "He is such a great help!"
Both of them had lived in the same community for over a decade, but only got acquainted because of Tzu Chi. Ah Peng admitted that back when he was healthy, he was guided by self-interest motives, always busy with work and did not bother much about the people and things around him. The ordeal of sickness opened his eyes to the beauty of mankind. He shared, "It was the volunteers who changed me and opened my heart to see the world in a different perspective! They are even closer to me than my own family. I will never forget their kindness and I certainly want to help others too, when I am able to."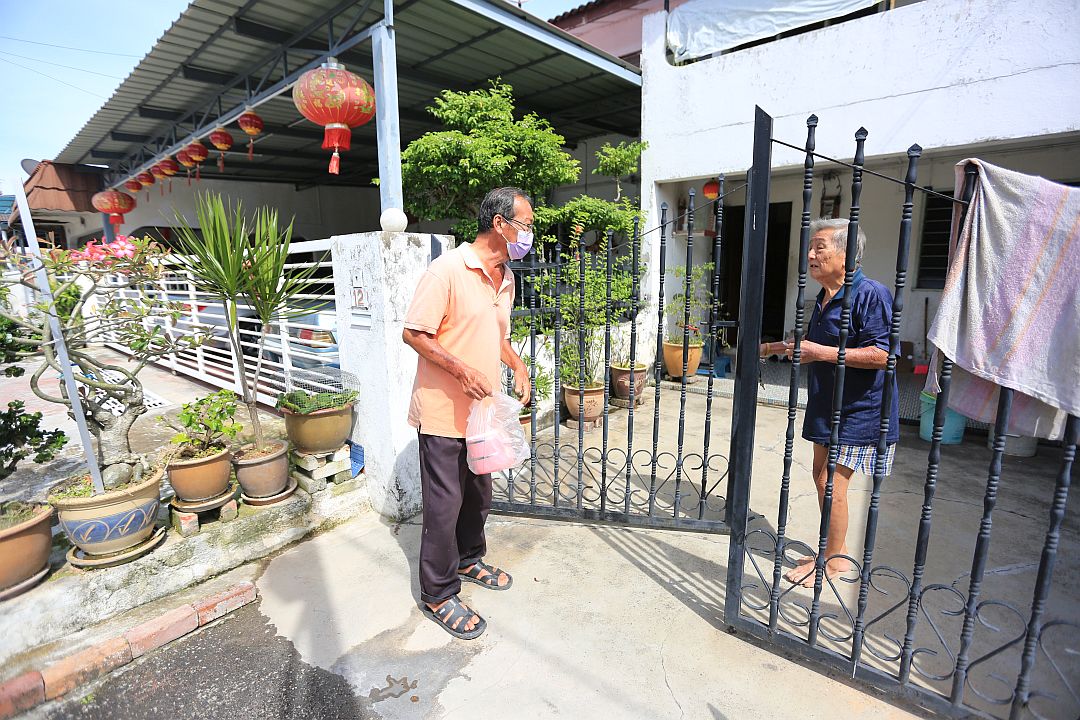 Ah Peng is not close to his family. They seldom visit him in the past ten years. When the adversity befell him, they were unable to offer much help due to their own family commitments. Thankfully, volunteers visited him monthly in the past two years, lending him a hand and extending care when he was in desperate need of assistance. He was touched by how Tzu Chi spreads love and kindness around the world, drawing on a strong team of volunteers. This expands his world and mind.
●
"I believe I would not have lived on, had I not met Tzu Chi. I was under immense physical and mental stress that even my family could not recognize me looking at my depressed appearance." He sighed in recollection.
Now, he is full of vim and vigour. Not only can he walk, but he also happily collects recyclables daily riding on his motorbike. Heng Hee is especially happy to witness his transformation.
When Ah Peng visited Tzu Chi Malacca in May 2021 for the Buddha Day Ceremony, volunteers took the opportunity to offer him a guided tour of the premises. Their sharing and photos shown had strengthened his will to volunteer. He also aspired to uphold vegetarianism, not just for the sake of saving money.
He said, "I wish for a speedy recovery of my health so that I can join the volunteers in their effort to help the needy, and contribute more to safeguard Mother Earth."