From being independent, her mother now has to rely on others for everything. From being hot-tempered to being innocent and smiling, her father, who had a stroke, is now incapable of doing anything. When her parents needed her most, Natasha has been staying with them to reciprocate their kindness, and taking care of them together with the siblings.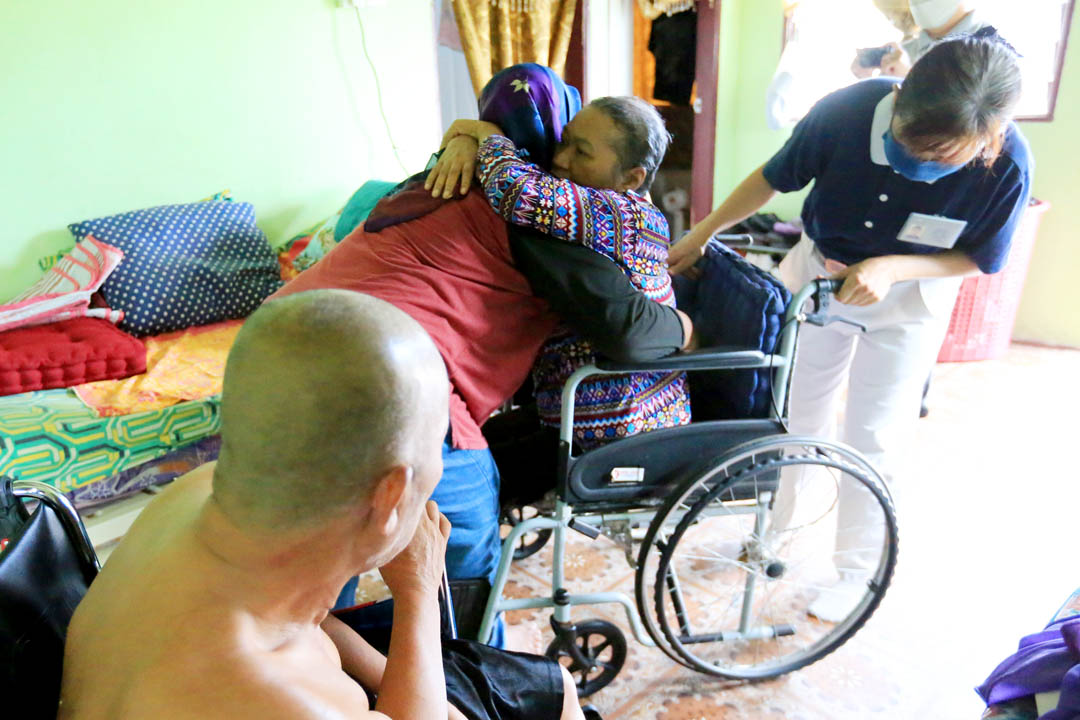 "Who takes care of the father, who had a stroke?" asked Angline Ho. "It is me," Natasha binti Abughani replied.
"Who accompanies mother to dialysis?" "It is me," came the same answer.
"Who helps them move around when they go to the bathroom?" The volunteer replied, "It is Natasha."
On June 24, 2022, Tzu Chi Malacca volunteers invited Angeline, a TIMA member, to visit Kamarudin bin Landot at Masjid Tanah, to provide advice on patient care. Angeline is a retired nurse, who also lives in Masjid Tanah. As soon as she arrived, she shared her identity as the child of a fisherman. Unexpectedly, Kamarudin responded with "Ha!" and uttered the nickname of Angeline's father. The volunteers were surprised and happy that he could speak again after suffering a second stroke!
Angeline initially thought that there was only one patient in the family, but it turned out that both the parents were ill. Having witnessed Natasha caring for both of them so skilfully, she could not help but gave her a thumbs-up. "Not many girls are like Natasha, so responsible and taking it seriously. She is doing a great job and I am willing to help them in any way I can!"
◎ Abandoned expansion due to a stroke
In 2016, Natasha, who was in her early 20s, returned home to Pengkalan Balak after completing her Diploma in Culinary Arts, only to find her father had suffered a stroke and had abandoned the house expansion work, which he had been doing little by little whenever he had the money. As Natasha's eldest brother was jailed for drug abuse, and her two younger brothers were working and studying respectively, Natasha chose to return home to take care of her parents.
In fact, Kamarudin is Natasha's adoptive father. Nevertheless, she did not complain of hard work nor considered it a burden having to take care of her adoptive parents now. Instead, she regarded it as her responsibility as a child. Returning to simplicity from a world of temptation, her world shrank to only a handphone, family and goats. Her parents felt sorry for her, but she responded heartily, "I am the best-suited candidate."
She said, "My third brother is responsible for maintaining household income and accompanying my parents to the hospital. My youngest brother and I take turns to care for our parents at home and massage them at night. If I am too tired and fall asleep, my brother would take over. When my parents' condition changes, I would inform my siblings. They are my pillars of strength. I am blessed to have them shoulder this with me."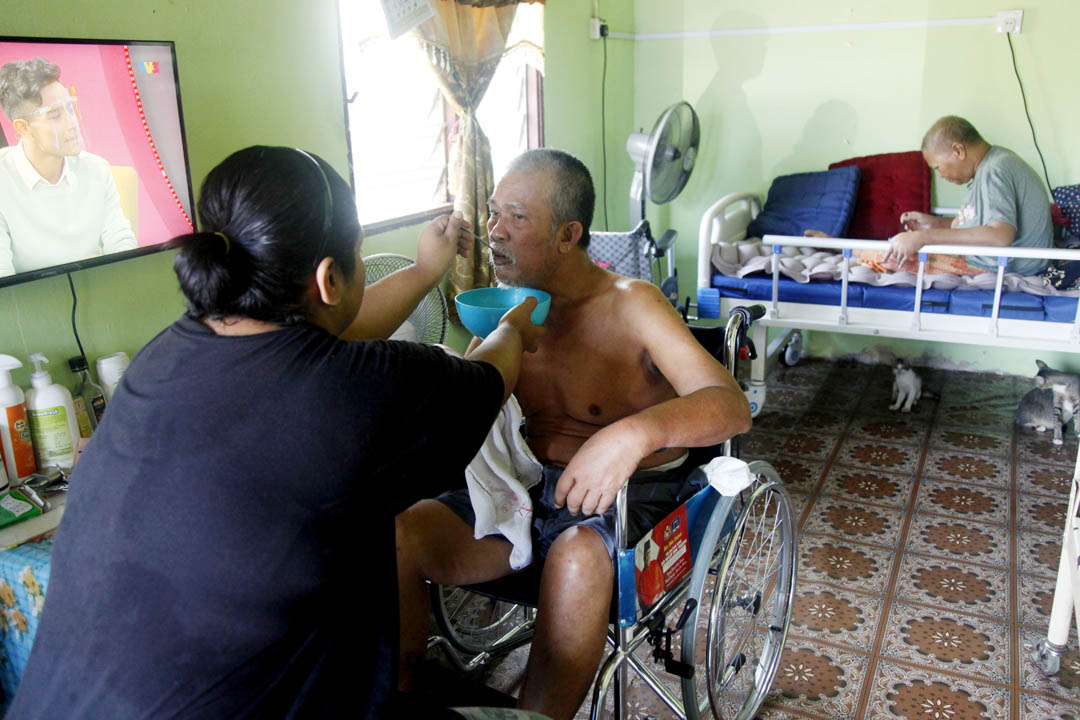 Natasha's father originally raised a monkey to pick coconuts. Her mother, Che Wan binti Yusof, made kuih and earned a meagre income to help support the family. When Natasha was studying in Kuala Lumpur, they saved and remitted money for her allowance over the three years. Life was simple but content for the family.
Since her father had a stroke and could no longer work, the monkey was released into the forest. Natasha and her mother worked together to sell traditional Malay kuih, earning 30 cents of profit per piece. However, that did not last, as two years later, 54-year-old Che Wan had kidney failure.
On top of the salary the brother earned, the family received financial aid from the Welfare Department, and food allowance from the Malacca Islamic Religion Council. The Social Security Organization (SOCSO) also covered 85% of Che Wan's dialysis expenses. The family lived frugally, but still could not afford the remaining dialysis fee of RM35, which became the last straw that crushed the family.
In order to raise funds, Natasha sold some goats and reached out to relatives, friends, associations and political parties for help. It was inevitable to receive scorns and shut doors. The tough circumstance left Natasha choked every time she thought about it. However, she tried to remain calm in front of her parents because if she broke down, they would be sad too.
◎ Good news! Tzu Chi offered assistance
In 2019, Natasha approached Tzu Chi Malacca. Volunteer Ng Siew Peng and husband, Tai Kim Long, and another volunteer visited the family, and soon, brought news of subsidizing the dialysis expenses. Noticing that Kamarudin's bed frame was unstable, they also hurriedly delivered a hospital bed to avoid injury lest the bed collapse.
"Actually, Tzu Chi had helped us solve a huge problem by subsidizing my mother's kidney dialysis. I did not expect Tzu Chi volunteers to pay extra attention to our other needs," the silent concern touched Natasha deeply.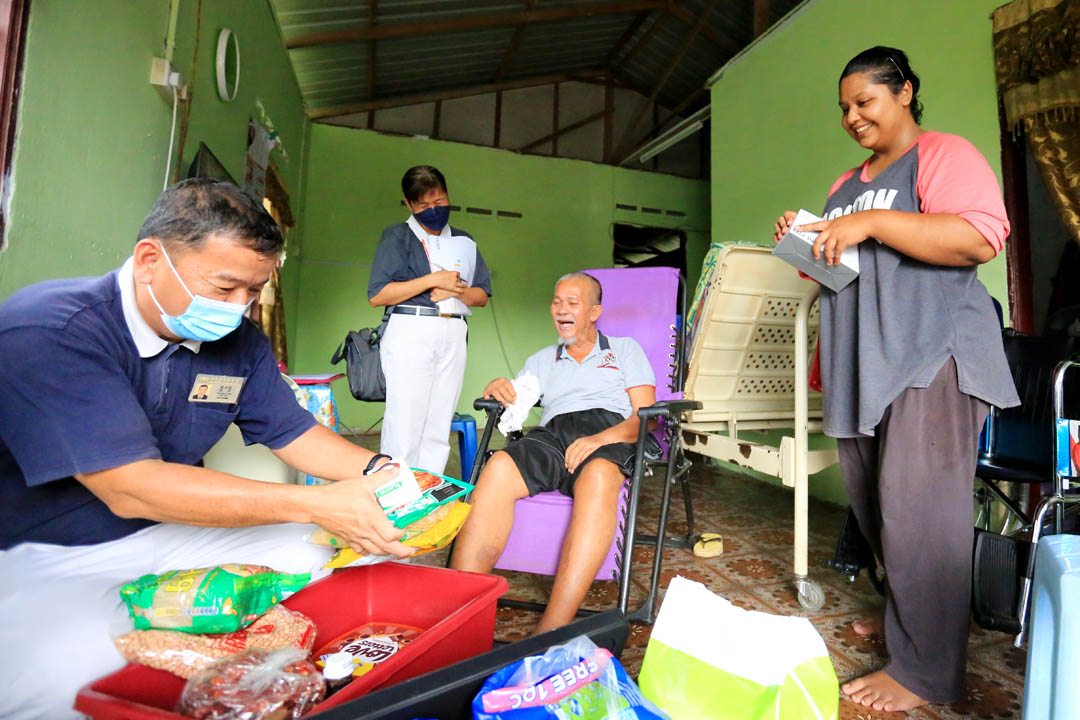 There is strength when someone cares. Each time they visited, the volunteers could feel Kamarudin's strong will to recover. Watching him progressed from being a hemiplegic to sitting up, to walking slowly with a cane, to using a machine to shave coconut and then fry the shaved coconut, to going out on a motorcycle, and planning to continue the expansion project of the house… Everything seemed to be improving, until another storm hit.
At the beginning of 2022, Siew Peng learned that Che Wan was diagnosed with Covid-19, and later, Kamarudin suffered a second stroke. Che Wan had a medical history of the three highs—high blood pressure, high cholesterol, high blood sugar. Although she had later recovered from Covid-19, her leg was amputated to the thigh due to a wound that could not heal as a result of diabetes. She had been depressed since then, often feeling the pain in the amputated limb.
Having to take care of her mother, and her father, who was unable to take care of himself or speak entirely, Natasha was occupied from morning to night, burning the candle at both ends.
One afternoon when the volunteers visited, it was sweltering hot in the house. Kamarudin sat on a reclining chair, accompanied by a TV and an air cooler, while his wife was on the hospital bed. Although there was a fan that was turned on full capacity placed next to the bed, the room was still hot and stuffy. The volunteers felt that it was not a conducive environment for patients with wounds.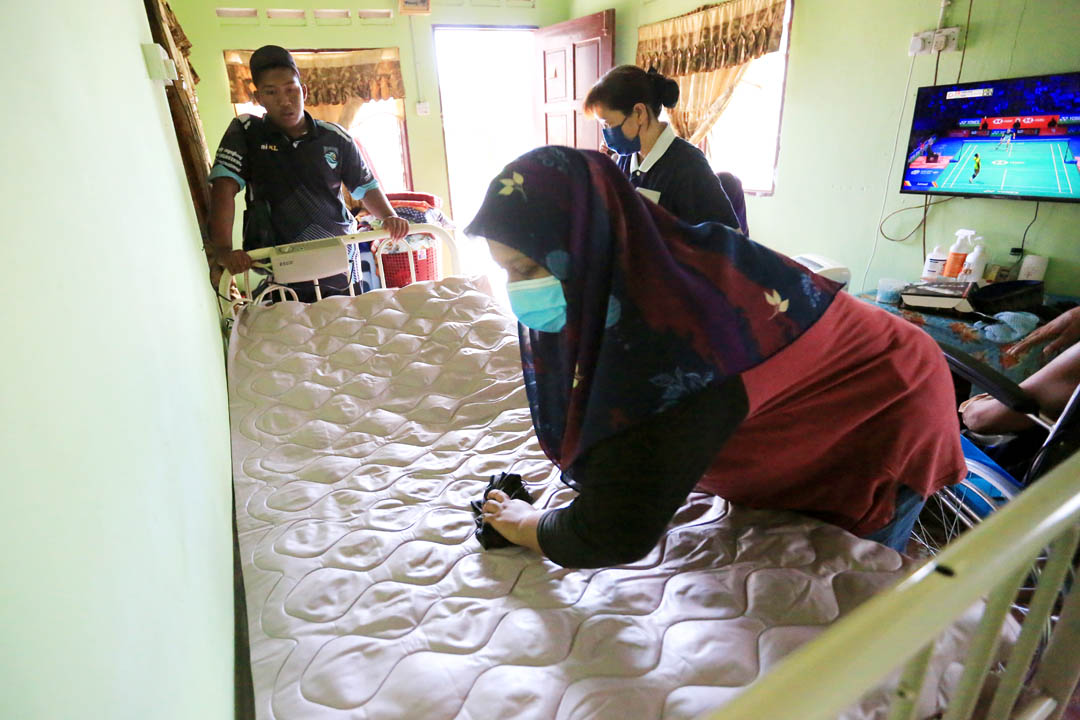 Two days later, a community group delivered a second hospital bed. Siew Peng, on the other hand, brought a standing fan from home and an air mattress from Tzu Chi. Che Wan felt the coolness and was in a better mood. She smiled, "The pain at my hip is much less now with the air mattress." Kamarudin was also amused by volunteer Kim Long, laughing like a child.
Seeing her parents happy, Natasha shared emotionally, "They are my parents, not a burden."
The siblings cherished the warmth the society had shown them. With volunteers' guidance, Natasha also learned to operate the washing machine gifted by her friends, hence she no longer has to hand wash the laundry now. When volunteers taught her to save, she and her mother donated their first Ringgits to Tzu Chi to express their gratitude.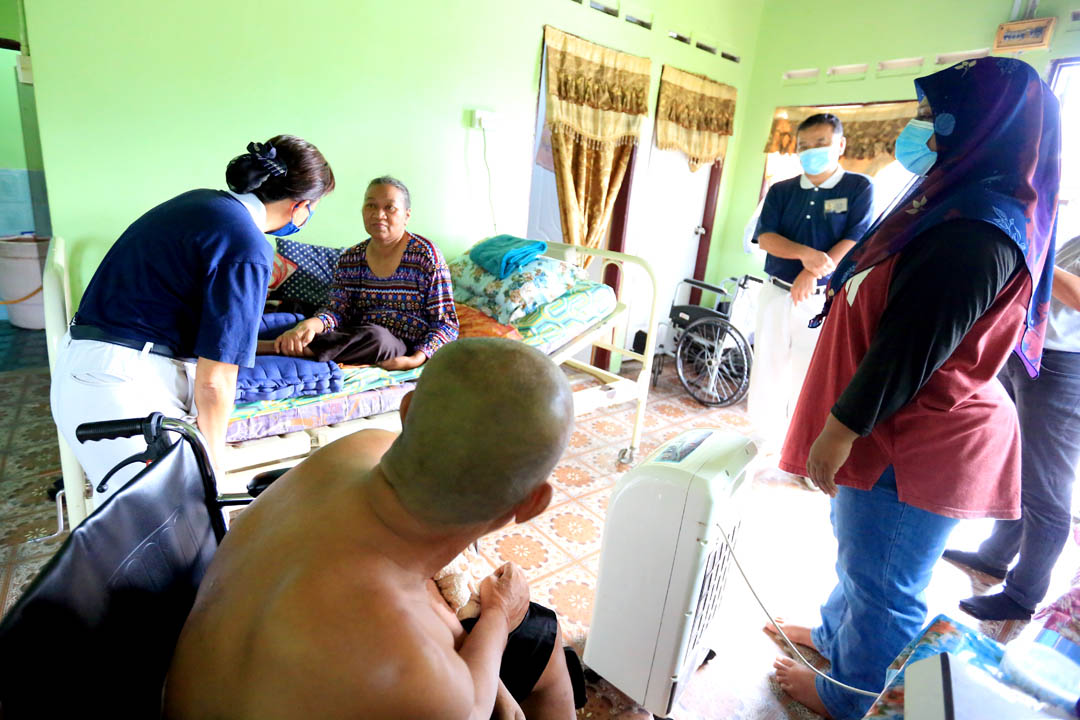 ◎ Another visit. Exercise, parents!
When Angeline interacted with Kamarudin, she discovered that the old man had a good memory, could express himself clearly in simple words and could feel his limbs. He had a chance at recovery. Hence, she immediately lifted him onto a chair and taught him how to exercise his arms and legs using a piece of sarung, to promote blood circulation while watching TV.
"Your limbs are slightly swollen because you have stayed seated for a long time. You must find a way to move them. It is like a car—if we do not start the engine, after a while it stops working," she advised the elderly.
She also encouraged Che Wan to endure the pain and courageously stand and keep her feet on the ground with her daughter's support, and to keep exercising to avoid muscle atrophy.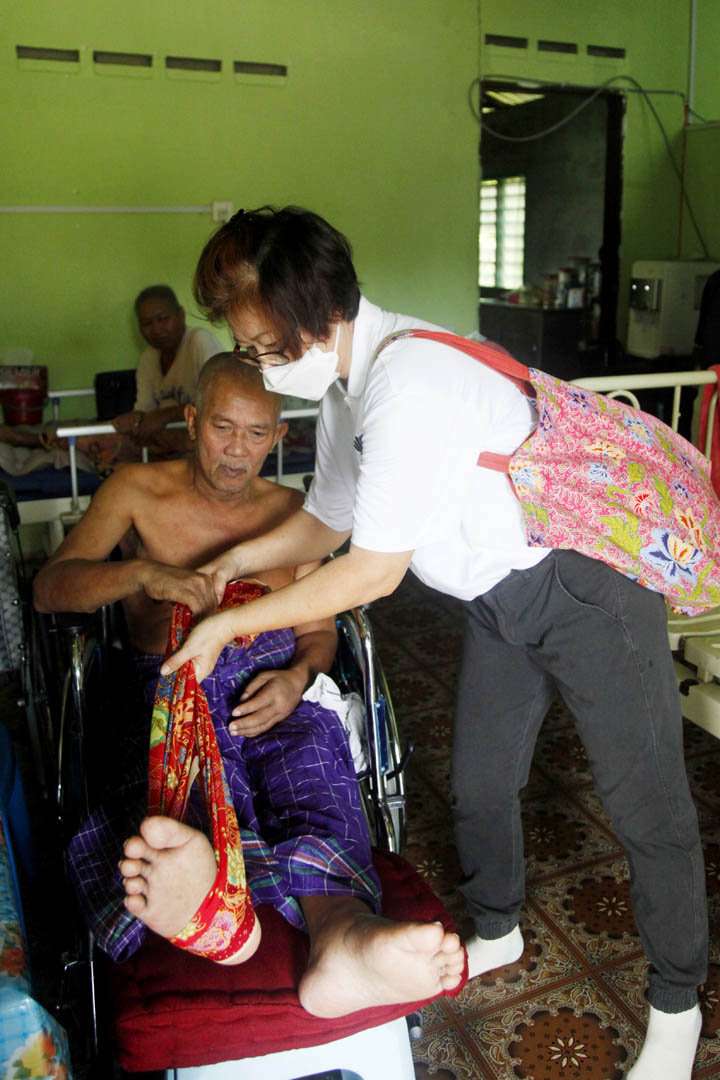 Angeline understood that it was not easy for those who experienced pain to re-learn basic skills. Nevertheless, she encouraged the elderly to stand up again on their own strength. She believed that as long as one of them could restore basic self-care function, their hope of reducing their daughter's burden would be achieved.
Natasha thanked Angeline for her guidance on rehabilitation so she could learn more about the correct way of caring. She said, "My father took four years to recover the first time he had a stroke. With Nurse Ho's assistance, I hope it would be much sooner this time."
●
The volunteers saw Nastasha's round face and sweet smile as the strength and optimism formed from hardships. She smiled, "The hard work in the past is different from now. In the past, my parents could work. Now, my brother and I are supporting the family. We do everything we can with all we have. I often think that although it is tough for us, some are in worse situations. When I encounter a problem, I face it directly, then find a way to accept it and manage it. This is life."
The process of caring for patients is also a learning opportunity—learning to slow down and to keep pace with the elderly. Natasha sincerely hopes that her parents are safe and healthy so that the siblings can be with them longer and create more beautiful memories.