Volunteer Teh Chew Khoon had served in Tzu Chi's various missions for over a decade, and even continued to do so following her cancer diagnosis. She pledged to donate her remains to the Silent Mentor programme, leaving behind a legacy of love, fondly remembered by family and friends.
It was a memorial service unlike any other. There was no mourning hall or casket in sight. This memorial service was held in remembrance of the late Teh Chew Khoon, who succumbed to cancer at the age of 49. It was held on April 13, 2019 at her residence in Jalan Paya Mengkuang, Malacca. A portrait of the deceased was on display, adorned by a floral wreath shaped like the lotus motif on Tzu Chi's emblem. In the portrait, Chew Khoon was pictured wearing the navy-coloured mandarin gown symbolic of certified female Tzu Chi volunteers and her trademark warm, affable smile.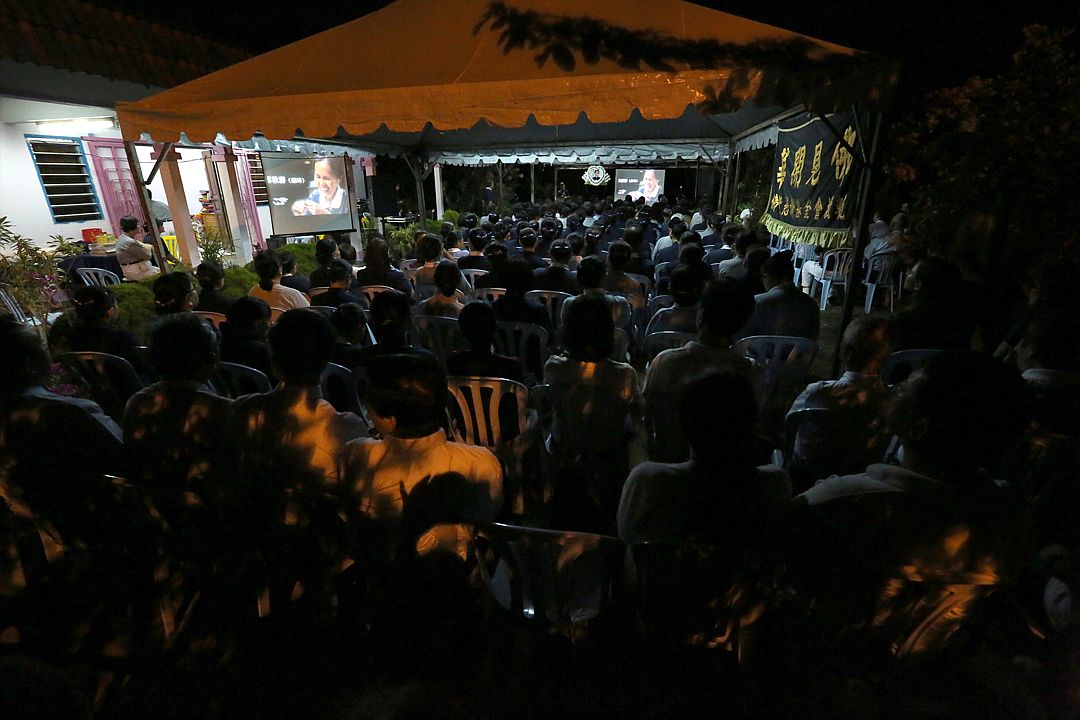 Volunteer Tan Kiat Hua could not hold back her tears as memories of Chew Khoon came flooding back to her at the funeral. She remembered Chew Khoon as the little girl selling pastries by the roadside who grew up to be a kind soul, devoting herself wholeheartedly to Tzu Chi. Chew Khoon would also engage Kiat Hua in home visits and recycling work. Chew Khoon was also the one who stayed by Kiat Hua's side through her mother's illness and guided her through trying times by imparting Jing Si Aphorisms.
"She was the kindest person I've ever met. She had never given up on me and fellow volunteer Chong Swee Ching, although we had been inconsistent in our involvement in Tzu Chi. She patiently stood by us over the past decade or so," reminisced Kiat Hua, choked with tears. She vowed to dedicate herself to Tzu Chi so that Chew Khoon could rest in peace.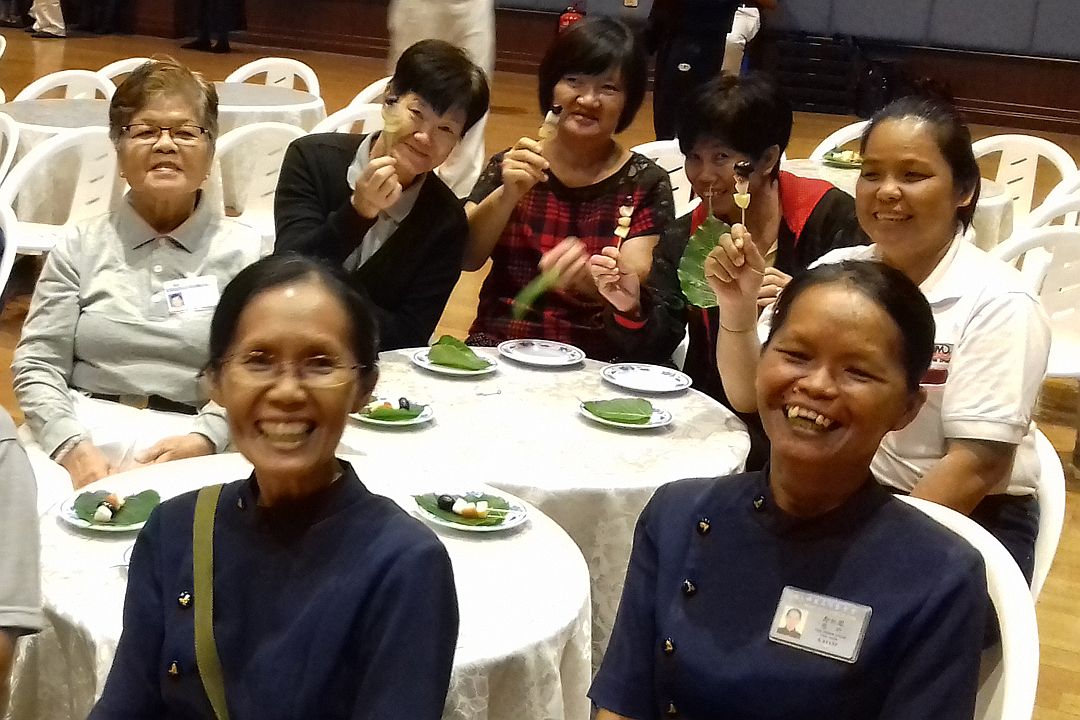 Swee Ching recalled the times when Chew Khoon would rush around to fetch her and Kiat Hua to the Tzu Chi Office to attend volunteer training sessions, despite her busy schedule. Such memories reminded Swee Ching of Chew Khoon's patience, as well as her gentle and easy-going demeanour.
Chew Khoon was a kindergarten teacher in her lifetime, and would encourage the parents of her students and even her neighbours to participate in Tzu Chi's activities. One of her former students, Wong May Yan used to follow her to various Tzu Chi events during her high school days.
"Teacher Chew Khoon was a kind person. She was gentle and soft-spoken. When I was young, my mother would make a call to Teacher Chew Khoon whenever I threw a tantrum. Even if I spoke to her in an ill-mannered way, she would advise me gently," recalled May Yan. Now that May Yan is caught up in the rat race, she has had to decline many invitations from Chew Khoon to participate in charitable activities. Nevertheless, she expressed her hope to perform more charitable deeds and serve those in need in remembrance of her beloved teacher.
Volunteer Ng Siew Peng led the funeral proceedings that evening. As a former cancer patient, Chew Khoon's demise came as a wake-up call for her. "The circumstances of the deceased remind us to value our health and to live life to the fullest," she noted wistfully.
Chew Khoon had led a fulfilling life by making full use of every living moment to dedicate herself to charitable deeds.
A can-do spirit
In 2003, Chew Khoon – who was talented in Chinese calligraphy and drawing – and her younger sister, Chew Hong, were invited to serve as judges for the Jing Si Aphorism drawing and colouring contest held in conjunction with Tzu Chi Malacca's 10th anniversary. This marked her first encounter with Tzu Chi. She subsequently chanced upon Da Ai TV and started taking an active interest in Tzu Chi's endeavours. She signed up as a Tzu Chi donor in 2005 and began getting involved in the Tzu Chi Teachers' Association, besides participating in the inaugural edition of the Association's teacher training programme.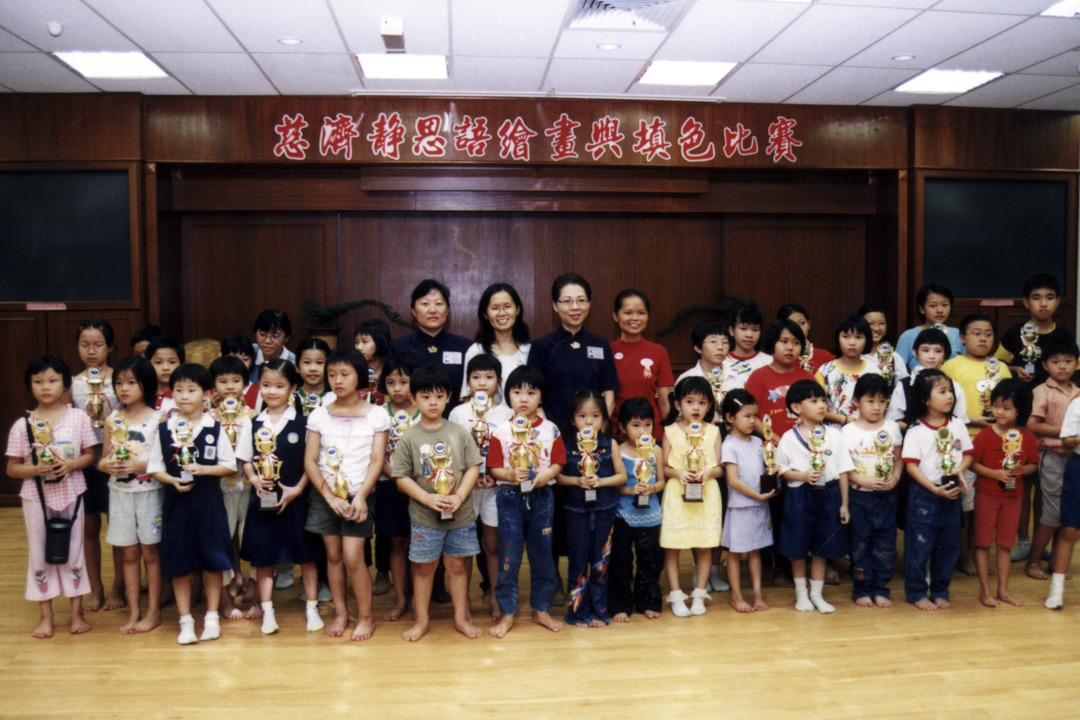 Chew Khoon and Chew Hong joined the ranks of Tzu Chi volunteers in 2006. After participating in recycling work at a nearby recycling point, the sisters proposed to the volunteers to establish a recycling point in their neighbourhood – a plan that was realized in October that same year.
Chew Khoon's petite size and mild-mannered disposition belied a resilient spirit. In the sparsely populated villages of Paya Mengkuang and Kuala Sungai Baru, the elderly and young children are left behind, while the youths seek greener pastures elsewhere. Chew Khoon initiated a Parent-child Bonding Class for the community out of sympathy for the children, with the aim of imparting positive values in line with Tzu Chi's educational ideals. She was even nominated as the assistant class coordinator. Although she was inexperienced, she took challenges in her stride with her spunky, can-do attitude. The initial reception towards the class was less than encouraging, as parents were hesitant to attend the class with their children. It was a thankless commitment, but she persevered despite the lack of support.
"We felt sorry for Chew Khoon and advised her against continuing with the class, but she carried on against the odds. She devoted herself wholeheartedly to a cause she believed in, and lived by her can-do spirit," said volunteer Tai Kim Long, in admiration of Chew Khoon's perseverance and resilience. Chew Khoon was indefatigable, and persisted in running the class until her declining health compelled her to take the final bow.
She would deliver well wishes to her friends and acquaintances almost daily, and greeted all she met with her constant displays of concern. Her tenacity was the driving force behind her relentless efforts to gather everyone in her community to serve as volunteers.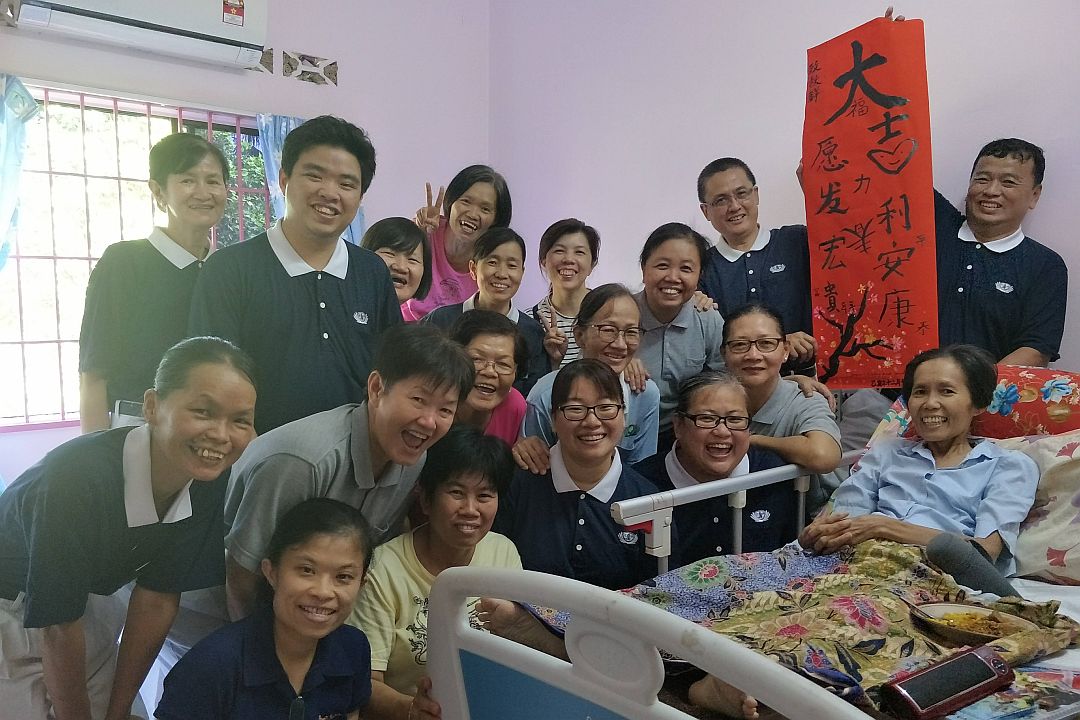 Braving the pain
Chew Khoon was beset by pain ever since being diagnosed with cancer several years ago, yet she braved the ordeal with sheer determination and insisted on driving herself to the office of the Tzu Chi Malacca Branch – a 45-minute journey – to participate in various activities.
"Her indomitable spirit is admirable. Having to drive such a long distance at night with hardly any streetlights to guide the way did not deter her from attending various events and meetings. She had never declined any of the volunteers' requests for help, including heavy labour," praised volunteer Pang Wan Ying, who used to collaborate with Chew Khoon during their time serving Tzu Chi's education mission. Wan Ying was on the verge of tears when recalling Chew Khoon's thoughtful gesture of offering massages to volunteers to ease any bodily discomfort they were experiencing.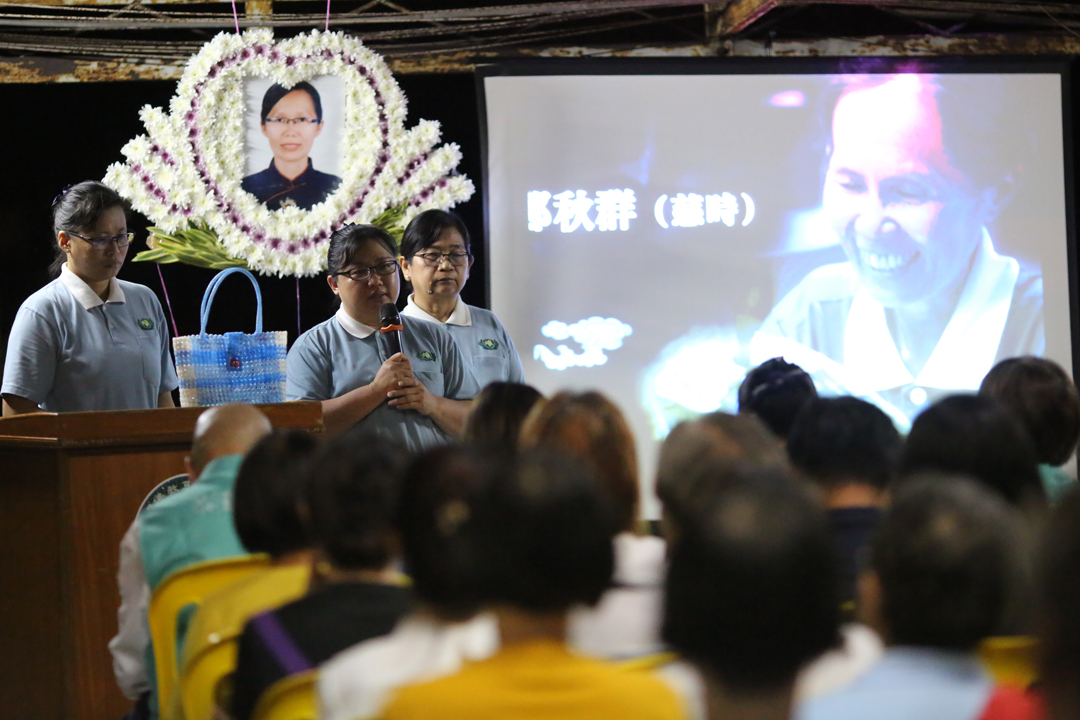 "Chew Khoon was already very frail when she participated in the bowing pilgrimage last year, yet she persisted every step of the way. Once, during a sutra adaptation performance, she was too weak to even raise her hands, yet she stayed on till the end. Even in her most critical state, she endured the pain until her final days without even asking for painkillers," said Chew Hong of her older sister's remarkable grit. It pained Chew Hong to witness her sister's suffering, as she had been caring for the latter attentively until her last breath, but respected her decisions nevertheless.
Chew Khoon had no choice but to wind down from her active participation in all Tzu Chi activities when her health failed her in December 2018. At the same time, she signed the pledge for the Silent Mentor programme with blessings from friends and family.
Chew Khoon breathed her last on April 11, 2019. By donating her remains to Xiao En Group's Academy for Silent Mentors for the benefit of medical students, her dedication to educational causes extends beyond her lifetime from her past tenure as a kindergarten teacher as she continues to educate in death.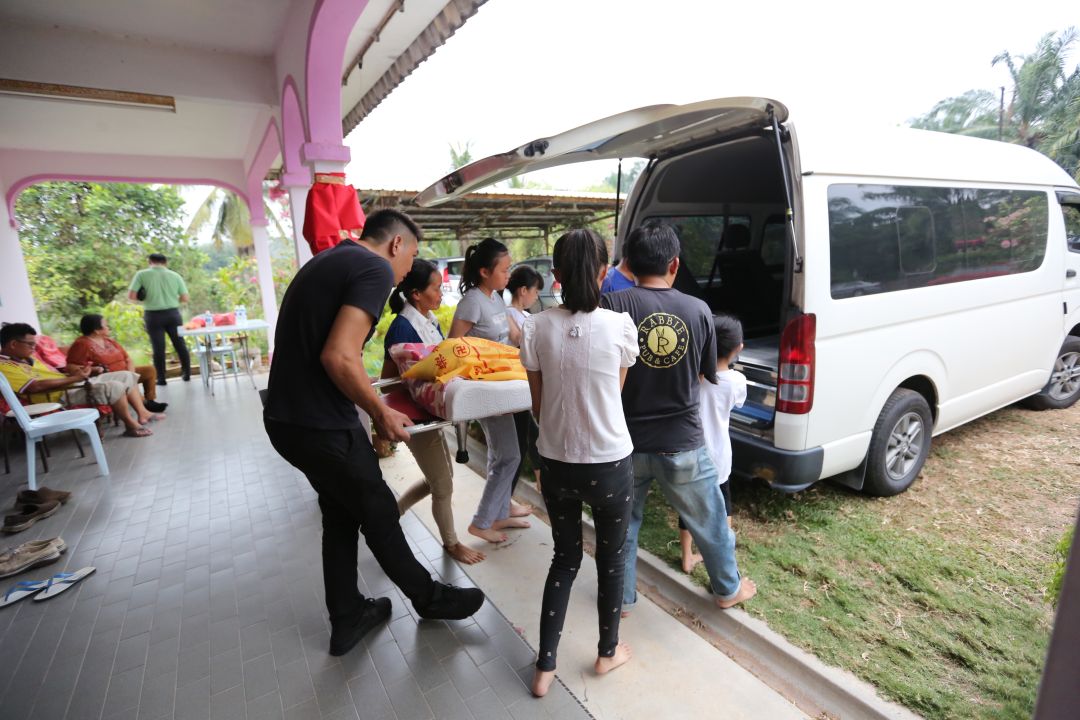 Mourning the loss of a kind-hearted soul
On April 10, 2019, a day before Chew Khoon's passing, a group of teachers and parents of Malay ethnicity, as well as a Malay supervisor from the Education Unit, visited the Tehs' residence. Everyone was teary-eyed as they bade farewell to Chew Khoon, who was lauded as an exemplary teacher whose patient, kind and loving nature transcended race and religion.
Shamsiah binti Ariffin, Chew Khoon's close friend of over 20 years, stayed by Chew Khoon's side from the day before her demise until her final moments. "She was unlike anyone I've ever met. She had a heart of gold," said a grieving Shamsiah, expressing her deepest condolences over Chew Khoon's demise.
Shamsiah was formerly a cook at the kindergarten Chew Khoon worked in. She was left to raise her young children single-handedly after divorcing her husband. She recounted that Chew Khoon would always be the first to lend her a helping hand or extend financial assistance whenever she was in dire straits. Chew Khoon also played a part in introducing Shamsiah to recycling work, as they shared a close bond.
Shamsiah's daughter, Nabillah binti Awaluddin, was Chew Khoon's colleague in the kindergarten, and currently serves in the same kindergarten as volunteer Teh Chwee Peng. Nabillah rushed over to Chew Khoon's home for the final farewell, and tears streamed freely down her face as she held Chwee Peng in a tight embrace.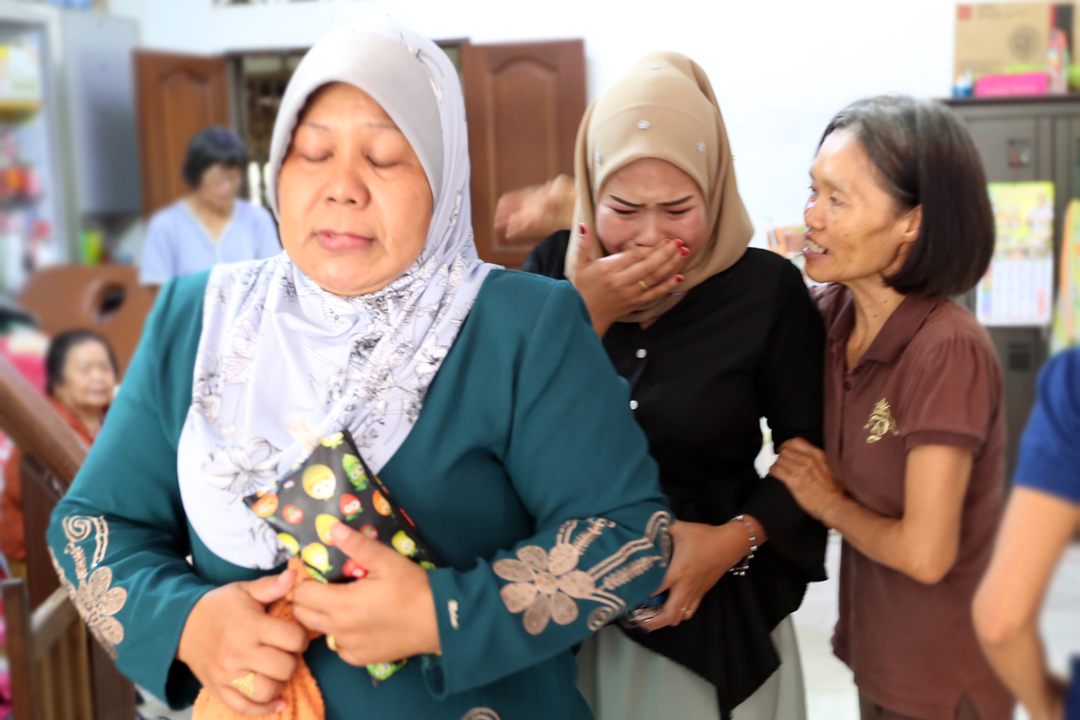 "Chew Khoon supported me through thick and thin. She was the kindest person I've ever known. Losing a cherished friend like her feels like losing a family member," she said, adding that she planned to travel to Kuala Lumpur to attend Chew Khoon's Silent Mentor initiation ceremony.
•
Master Cheng Yen has always emphasized that "We do not have the right to own our life, only the privilege of using it." Chew Khoon exemplified this notion with her selfless dedication to educational causes throughout her lifetime and her decision to donate her remains for the benefit of medical research.
Chew Hong quoted the Master in paying tribute to her sister: "Don't hesitate to commit to virtuous deeds. A life spent illuminating the lives of others with one's own wisdom will not be in vain."
"She had gone too soon, but she had lived the brief 49 years of her life to the fullest. Her legacy of love will live on in our hearts," added Chew Hong.