Besides distributing material aid to Myanmarese farmers, Tzu Chi volunteers reached further into their lives through home visits and learn more about their living conditions as it is equally important to bring spiritual comfort, love and care to the aid recipients.
"How far is your house from the distribution site?"
"Not far!"
Forty minutes into the journey, volunteers asked again, "Where is your house?" and the farmers would often reply smilingly, "Not far, it is just right ahead."
The "right ahead" took the volunteers half an hour to reach on foot. But to the farmers, it was a short distance because most of them could not afford a motorcycle and are used to travelling on foot. It was only then that the volunteers realized how troublesome it was for the farmers to travel.
During the rice seed distributions held from February 16 to 25, 2019, in Myanmar, the local volunteers, as well as their counterparts from Taiwan and Malaysia, paid visits to farmers, whom they observed required further care and aid.
Cultivating the field and the mind
On the first day of the rice seed distribution held at Kayan town of Yangon province, a farmer, U Kyaw Aung, came with a stack of cash. He received mung bean seeds from Tzu Chi in November last year and learnt about how Master Cheng Yen established Tzu Chi and carried out charitable work with small donations collected. Since then, he started saving 200 kyat (RM0.05) for donation daily. He said that an amount as little as 200 kyat, if saved over a month, would accumulate to 6,000 kyat, enabling him to also contribute towards good causes.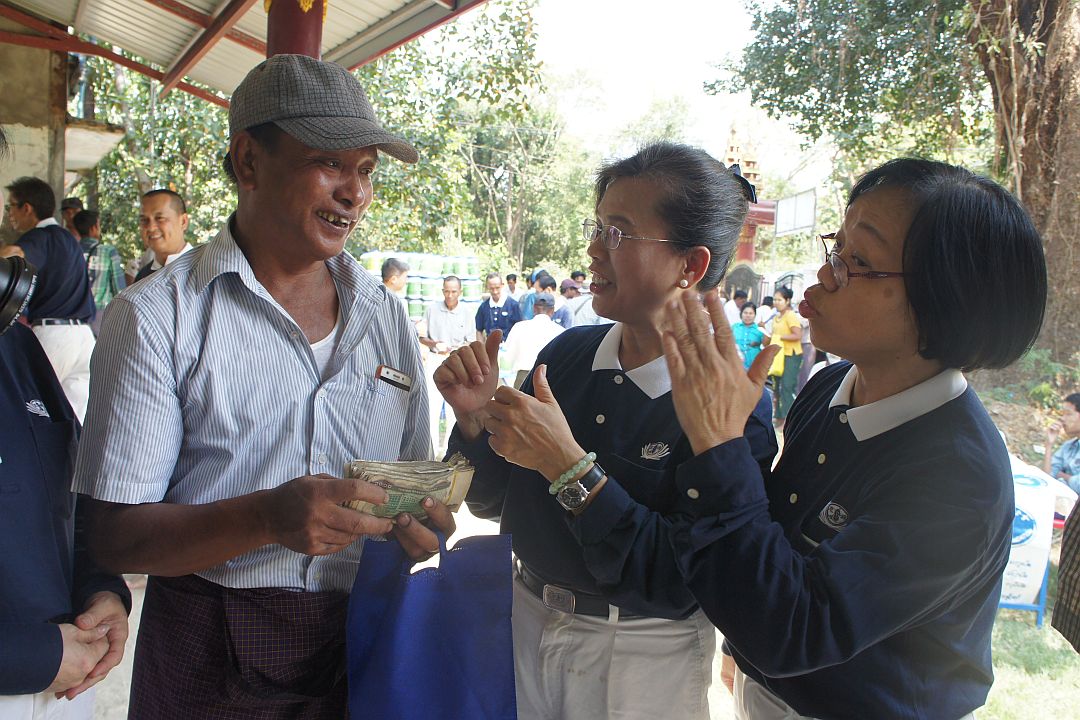 He also promised to donate another 300,000 kyat after harvesting the mung beans in March. He said, "My 20 acres of crops were all destroyed in the flood last year, resulting in me losing five million kyat. I am thankful for the mung bean seeds distributed by Tzu Chi, which helped relieve my stress. I will do what I can to repay the kindness when I am able to."
Having understood Master Cheng Yen's philosophy that one should not only perform good deeds oneself, but also evoke kindness in others so as to purify minds and bring peace to society and the world by extension, he invited fellow villagers to join him in performing good deeds. Now, many villagers are also saving rice or beans daily for donation.
He remarked, "When the act of kindness spread from one village to another, the power of kindness expands; and with the support, Tzu Chi will be able to help more needy people. I can only help a limited number of people with my individual capacity, but through Tzu Chi, the love can benefit people globally."
After the distribution event, U Kyaw Aung invited volunteers to experience the harvest and share his joy. Pointing towards the field with good yields of mung beans, he commended happily that the high quality seeds provided by Tzu Chi had led to the best harvest of mung beans for Kayan town this far.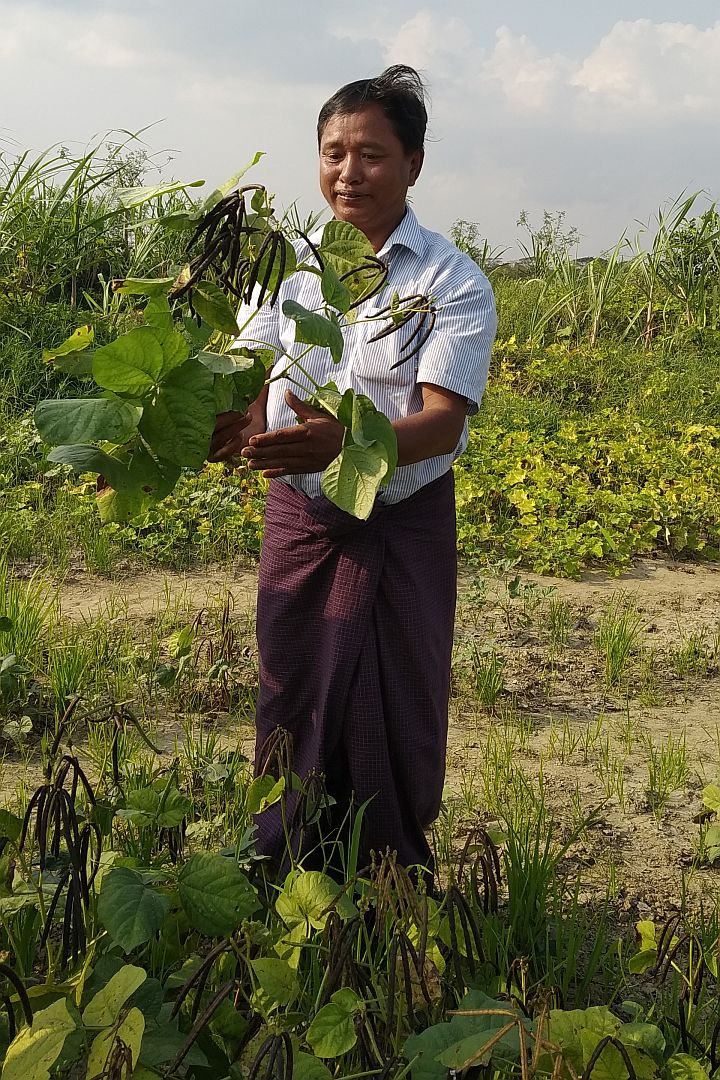 Not only did the harvest increased by almost 50%, there were less pests too. He believed it was due to their practice of the Master's teaching to always bear good thoughts and speak good words to the crops. "I am grateful for Master Cheng Yen's compassion to spread love to Myanmar and enable us to have a fruitful harvest," said U Kyaw Aung.
I feel for you
On February 17, the village chief led 13 volunteers on a home visit to 51-year-old U Thar Htway, who needed further care. As part of the road leading to his house was too narrow for a car to pass, volunteers alighted from the vehicle and walked to his wooden house built on stilts.
U Thar Htway has five children, four of whom are still schooling and the eldest works away from home to support the family. Everyone eats and sleeps in the same small living space, where cracks were seen on the ceiling, walls and floor.
Besides delivering Master Cheng Yen's blessing and care, Taiwanese volunteers, Chen Su Cheng and Kuo Chih Ting, also asked about the family's living condition. U Thar Htway said, "I lost 16 acres of rice paddies in the flood last year. With a few more floods after that, life was really difficult."
Volunteers felt for her and encouraged her to read the Jing Si Aphorisms when faced with hardship as she might be able to find the strength and solution to her problem. Local volunteer U San Thein shared, "My house is not much better than yours. I can understand what you are going through." He cited himself as an example, telling U Thar Htway that the flood in 2015 destroyed all his crops but thanks to the rice seeds from Tzu Chi, he had reaped a good yield in that year and his family's finance improved slowly. He encouraged U Thar Htway to persevere and have faith in overcoming the dilemma.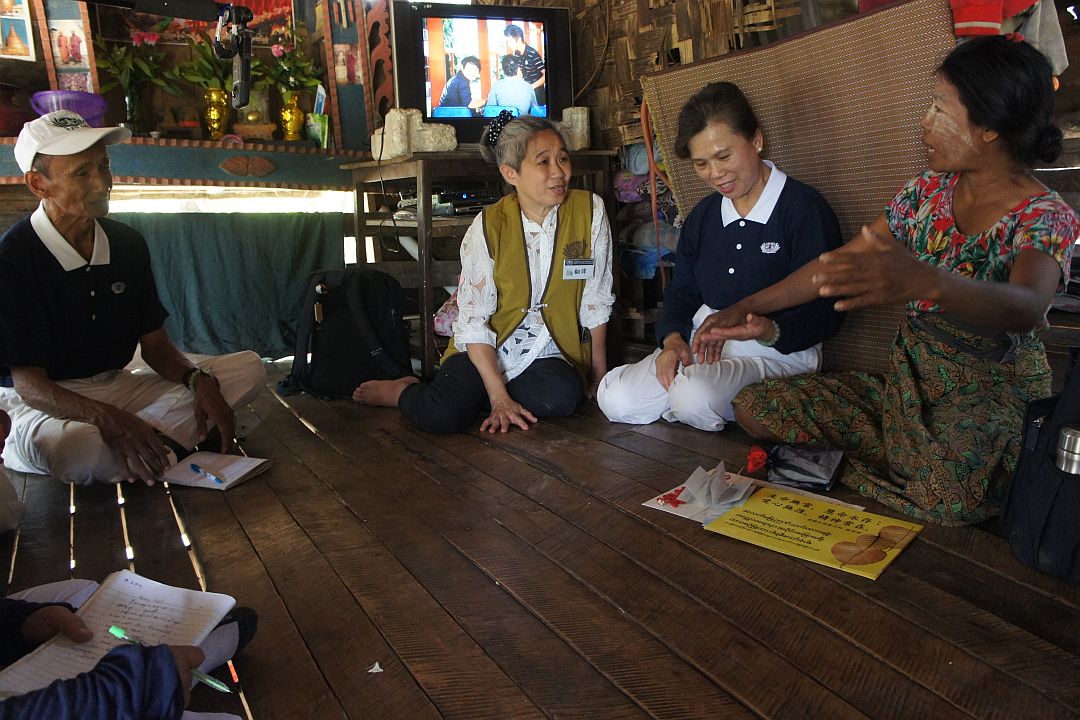 When volunteers sang the songs "We Are One Family", "Infinite Blessings", and so on, U Thar Htway said tearfully, "No one has ever visited my house. I am so touched that you brought not only rice seeds but care to us! I will remember this forever and help others too when I am able to."
The presence of the group of strangers (Tzu Chi volunteers) drew the villagers' curiosity and some of them gathered outside their homes to take a look. Before leaving the village, volunteers presented to each villager a card with a Jing Si Aphorism printed on it, and shared with the villagers the meanings of the quotes.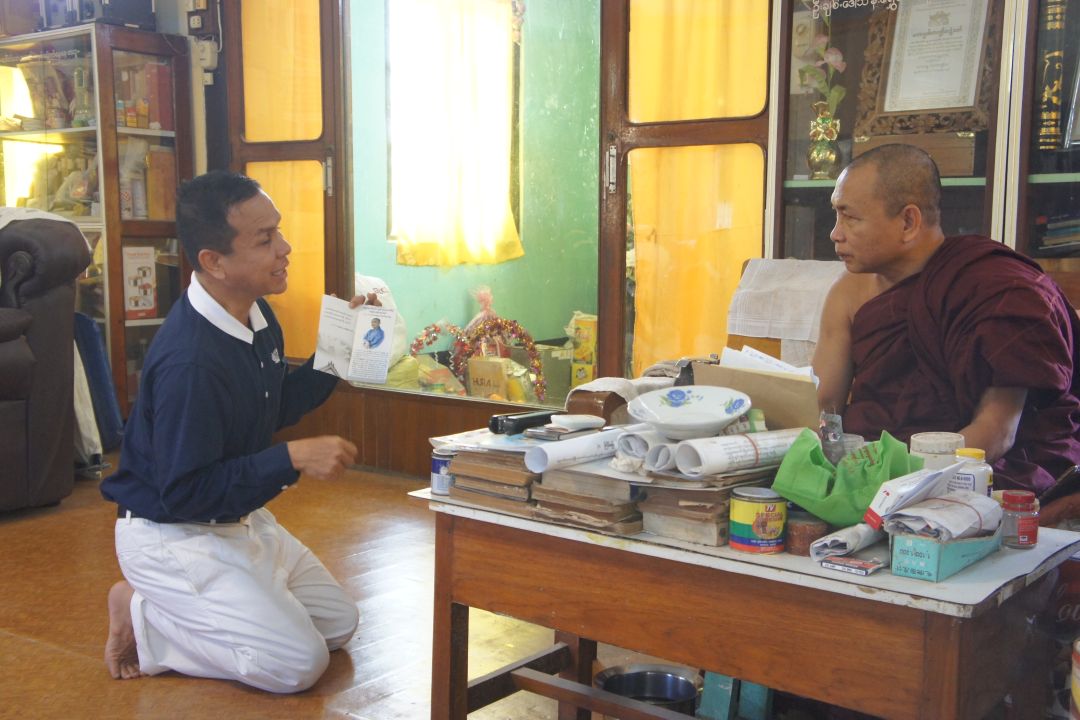 Harvesting the fruits of blessings
At the distribution event held at Kawa, Bago Province on February 19, a farmer, U Soe Than, moved slowly into the hall with his knees and hands on the ground. He rarely left home but felt excited receiving Tzu Chi's aid in the form of rice seeds for the first time, he spent 5,000 kyat on transportation to participate in the distribution event personally.
Being born a handicap, U Soe Than faces various challenges in farming. With the intention of learning more about his life, volunteers obtained his permission to follow him home. The road to his home at Nal Pan Kyone Village was winding and narrow. Volunteers even had to cross a paddy ridge and a bridge made of three bamboo sticks to reach his home. Holding onto the guiding rope, volunteers moved carefully while U Soe Than crossed effortlessly without the need of holding onto the rope.
U Soe Than stays with his parents, two sisters and two children. His eldest brother works abroad to earn a living. With no water and electricity supply, they need to carry drinking water from a temple nearby while using the river water for other purposes. The family lives a simple and self-sufficient life relying on farming and livestock rearing. It is physically exhausting to toil at the farm that is cultivated using human labour and cows, but despite his disability, U Soe Than still takes up the responsibility together with his sisters.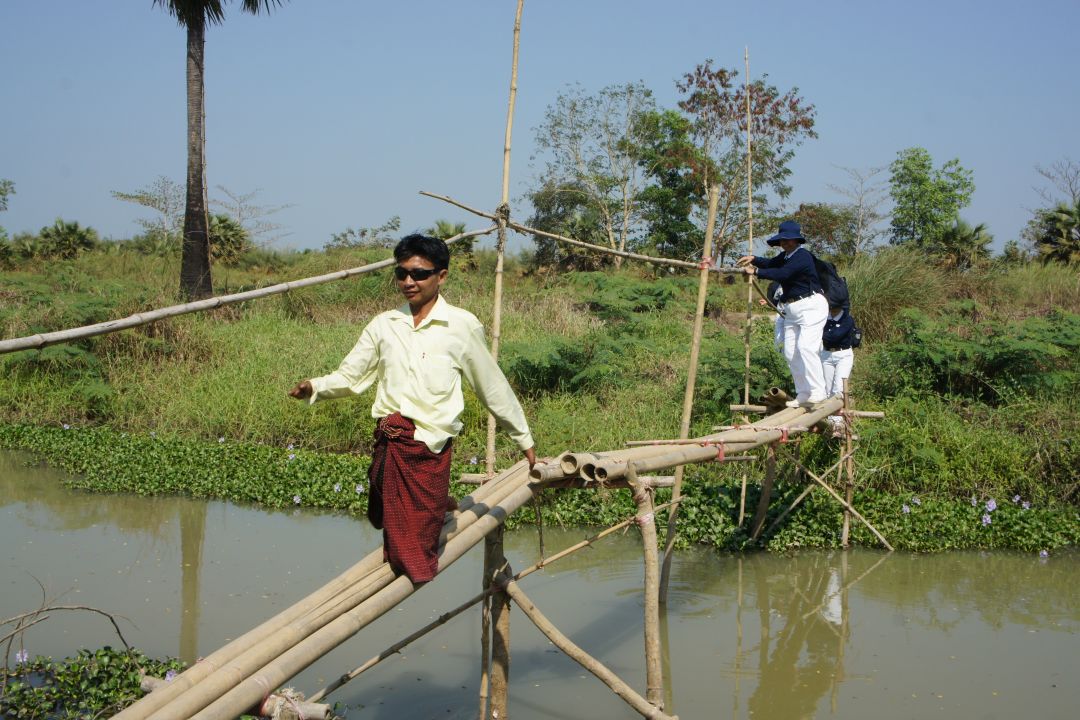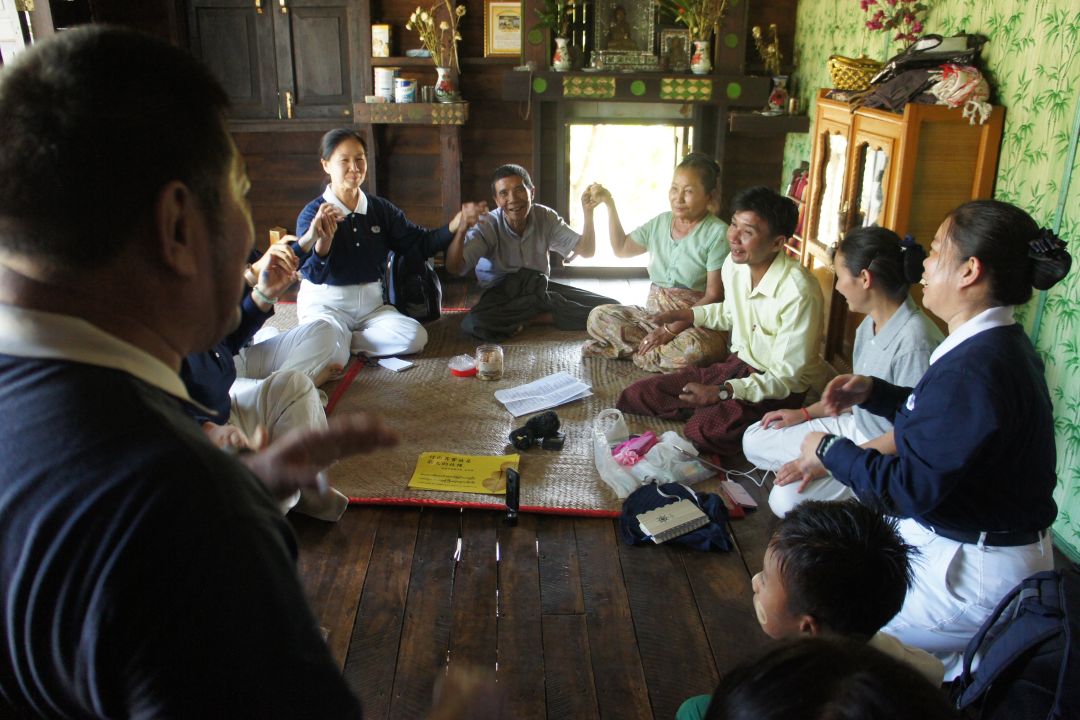 Although life has been hard, U Soe Than's family had never taken a loan like some other farmers because they knew that they could end up in huge debts if the weather was unfavourable for the crops. They would rather pawn their possessions or skip meals instead of taking a loan. He said gratefully, "Thank you Tzu Chi for giving us rice seeds. I hope it can change my family's life for the better."
•
Through the home visits and interactions with the local farmers, the volunteers knew that as they presented the "seeds of blessings" to the farmers, they also sowed the "seeds of kindness" that are blossoming in the farmers' hearts.