Repeated occurrences of natural disasters and the prevalence of pests have taken a toll on the income of local farmers in Myanmar. But the devastating floods of 2018 – the most severe in Myanmar's history – compounded the dire circumstances of impoverished local farmers. In November 2018, Tzu Chi volunteers were dispatched to the disaster zone to distribute mung bean seeds to the farmers. Tzu Chi continued to extend aid to the farmers by organizing a 10-day rice seed distribution mission from February 16 to 25, 2019, in an effort to help local farmers regain their livelihood.
Myanmar was hit by severe floods in 2018 following torrential monsoon rains that persisted throughout July and August, causing extensive damage to local rice crops approaching harvest season. This dire situation compelled the Myanmar Agriculture Department to enlist Tzu Chi's help in disaster relief. Volunteers arrived at the disaster zone to assess the aftermath of the floods, and discovered that most local farmers relied heavily on loans – either acquired from the government or private corporations – to sustain their agricultural activities. The local farmers were left high and dry following three consecutive flood disasters, depriving them of anticipated income from the upcoming harvest season. They barely had any capital left to resume their agricultural activities, even if they wished to. They even had to borrow rice from others to feed their families.
Master Cheng Yen issued instructions to distribute mung bean seeds to the affected farmers in November as a temporary measure to compensate for the shortage of crops and ensure that they are supplied with sufficient crops to sustain their livelihood. Then, from February 16 to 25, 2019, volunteers from Myanmar, Taiwan and Malaysia embarked on a rice seed distribution mission dispensing approximately 4,300 tonnes of rice seeds to 47,716 families across more than 500 villages in the districts of Yangon, Bago, Kayin and Mon, enabling the cultivation of 80,000 hectares of farmland.
A small gesture goes a long way
The rice seed distribution mission was conducted on a monumental scale, with many sessions lined up. The volunteers were divided into three teams, before being further separated into six sub-groups. Throughout the mission, the volunteers wasted no time in carrying out their tasks, moving from one distribution venue to the next without delay to ensure that the rice seeds were disbursed to the local farmers soonest possible. This time around, a revised distribution procedure that differed from the previous editions was implemented to enhance efficiency. Instead of collecting rice seeds directly at the distribution centres, the beneficiaries were issued a card of blessings to be used to redeem their rice seed allocation at the Agriculture Department of their respective localities.
The logistical arrangements varied from one distribution centre to another to make up for the limitations of each venue. The volunteers were faced with various challenges, yet they were able to overcome them by thinking on their feet: installing power generators in venues without electricity supply, responding to unforeseen delays between sessions, and modifying ice-breaking routines to accommodate cramped spaces.
Furthermore, an online database management system was deployed for the first time. Volunteers took extra care to ensure that the load exerted on the system by the high volume of information processed simultaneously and the unstable internet connection in remote areas caused minimal disruption to the distribution process. They also set up additional service counters at the distribution venues and requested the assistance of the village chief and Agriculture Department staff in managing the operations.
Despite the scorching weather, the farmers waited for their turn patiently, and even offered to help the volunteers carry heavy loads. One of the farmers, 78-year-old U Sein Han, saw a volunteer tidying up the venue and followed suit.
U Sein Han said, "I am inspired to do my part to help after observing the volunteers' efforts in cleaning up the venue." He has been tending to the rice fields since the age of 22. He was delighted and touched to have received aid from Tzu Chi, as he had never received any form of assistance from other organizations prior to this.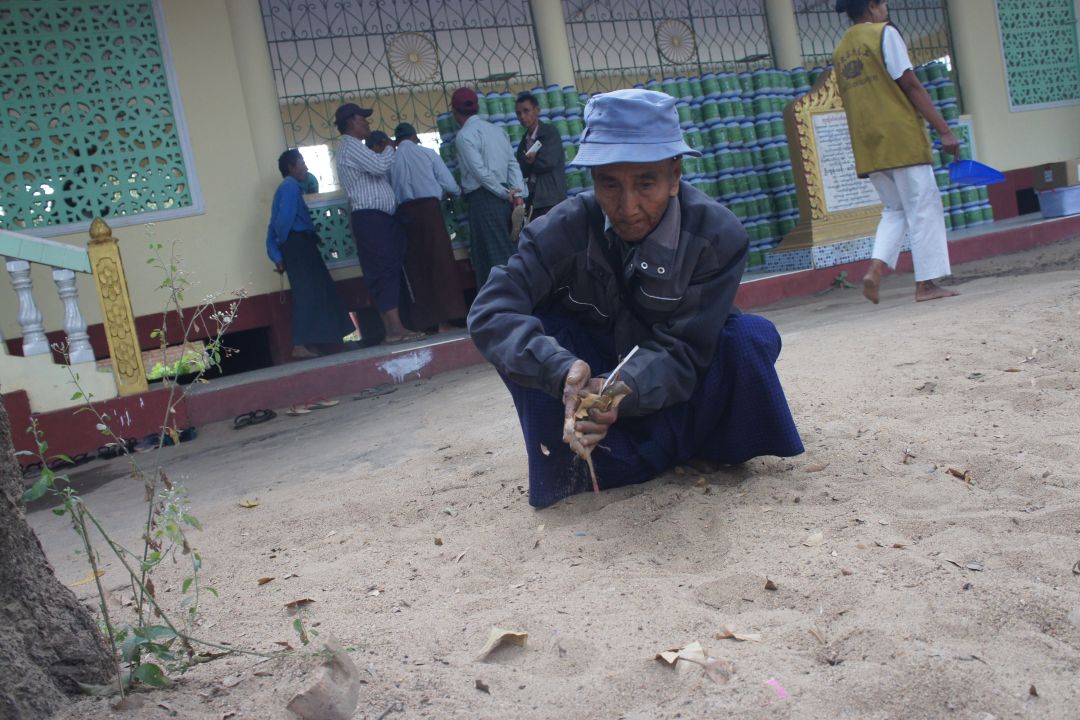 All four acres of U Sein Han's rice fields were submerged in floodwaters. Having lost his source of income to the flood, he managed to scrape by by cultivating vegetables and borrowing rice from his neighbours. He arrived early to join the queue at a distribution session on the 17th. He was glad to finally be able to start cultivating crops again and repay his neighbours' favours with the harvest. Life has been tough for him and his grandchildren as their source of income is at the mercy of the elements, but he never complained. He is satisfied with a self-sufficient lifestyle and continues to toil on the family land for a living.
One for all, all for one
The Bago district occupies a total area of over 2.8 million acres. It is a district with large coverage of farmlands, and is the region worst hit by the floods, incurring damage to 100,000 to 150,000 acres of farmland each year. The floods in 2018 however, left more than 500,000 acres of farmland destroyed, elevating Bago to the top of the priority list of regions requiring aid.
A local volunteer from Bago, Daw San Thit, led fellow local volunteers in evaluating the extent of damage sustained by each village in the Bago district. She proactively contributed to various tasks, including surveying the aftermath of the floods and participating in the distribution missions. Whenever her service is needed, she is always on hand to respond.
"Yangon is a distance away, so I advised the local volunteers to capture photos of the current situation there, and I will follow up on any changes to spare the Yangon-based volunteers from the inconvenience of long-distance travelling," explained Daw San Thit. Bago has only three certified volunteers, but Daw San Thit is always prepared to step up to the task, rallying her friends and relatives to help out.
Throughout the distribution mission, Daw San Thit never failed to work her charismatic charm on fellow volunteers and friends, leading them in completing various tasks with a warm, affable smile etched on her face. She would never hesitate to take up any responsibility, from arranging home visits and logistics to acting as an intermediary between the Chiefs of different villages. She found taking on such diverse roles challenging yet fulfilling. "All my efforts are worthwhile when I find it gratifying to be able to do my part for the villagers," she said.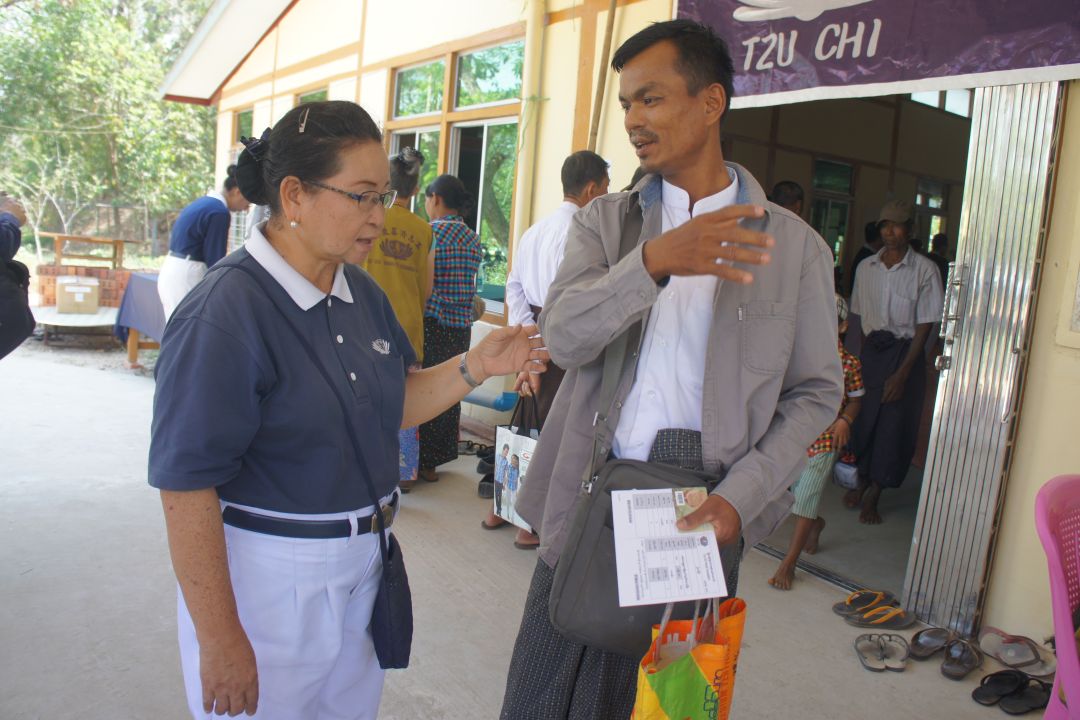 Showing gratitude for a bountiful harvest
The Minister of the Bago District Agriculture Department, U Hla Myint, paid an exclusive visit to the distribution centre in Kawa town. He went on stage to share that the Bago District Agriculture Department has a spare inventory of 13,000 baskets of rice seeds to cope with emergencies, but current demand has far outweighed supply, owing to the large extent of damage in the wake of the floods. He also expressed his gratitude to Tzu Chi for extending relief to the local government by distributing 149,000 baskets of rice seeds worth 1.5 billion kyat to local farmers.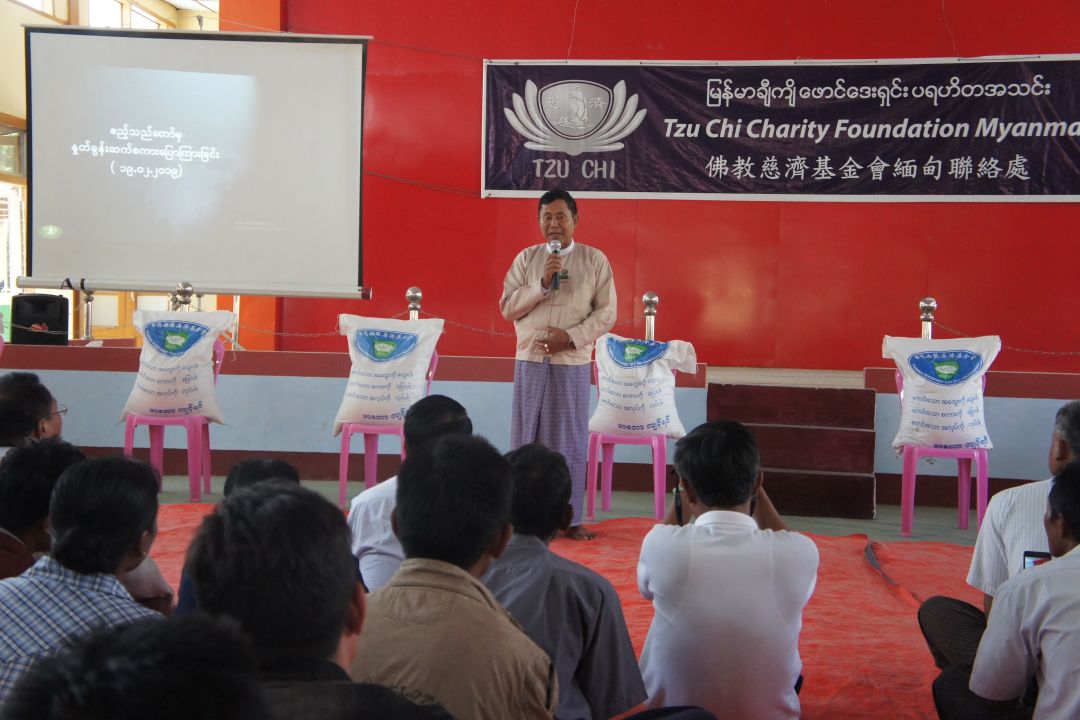 Director-General of the Yangon District Agriculture Department, U Kyaw Kyaw, who was also present at the Kawa distribution centre, was wholly supportive of Tzu Chi's relief efforts. He commended the efficiency of the cloud-based database system used in facilitating the registration procedure for the distribution sessions, after being briefed on it by Liu Zong Yan, a staff member of the Tzu Chi Department of Religious Affairs, and volunteer Huang Qiu Liang.
U Kyaw Kyaw also conveyed his gratitude to Tzu Chi and Master Cheng Yen for extending aid to the farmers. Thanks to the high-quality mung bean seeds provided by Tzu Chi, an additional three to five baskets of produce could be reaped for every acre of land, translating into an increased income of 120,000 to 200,000 kyat for every acre of land. Hopefully, the mung bean seeds and rice seeds, distributed in stages, will help the farmers to progressively escape poverty by becoming self-reliant.
U Kyaw Kyaw encouraged the farmers to emulate Master Cheng Yen's commitment to serving Buddhism and all sentient beings, particularly with Myanmar being populated by a Buddhist majority. He hoped that the farmers would be motivated to transition from being a beneficiary to a benefactor after reaping the harvest of their crops, stirring ripples of kindness by helping those in need.
Standing by each other as a family
At the distribution event, U San Thein and U Thein Tun, who were beneficiaries of Tzu Chi's disaster relief efforts in the wake of the Cyclone Nargis disaster back in 2008, shared the impact of Tzu Chi's assistance on their lives and the joys of becoming a Tzu Chi volunteer.
Volunteers read aloud the consolation letter composed by Master Cheng Yen to deliver encouragement to the farmers and bless them with the fortitude to rebuild their homes. The letter was translated into the Burmese language and distributed to the farmers. A booklet containing 20 Jing Si Aphorisms was enclosed with the letter to be perused by the recipients when faced with doubts in life.
Volunteers also led the farmers in a lyrical sign language interpretation of "The Spirit of Great Love" and "We Are One Family", as well as a lively song-and-dance session, offering the farmers a rare opportunity to get together as a reprieve from the daily rigours of farming. The farmers, though slightly reserved, followed the lead of the volunteers and enjoyed themselves, making it a merry occasion.
Khin Nyo Myint, who is 55 and single, has been single-handedly shouldering the responsibilities of caring for her family and labouring on the farm. The pressures of being the sole breadwinner of the family took a toll on her, compounded by the frustration of having no one to turn to for support. After having felt deprived of affection for most of her life, she was moved to tears by the comforting words and actions of the volunteers. "I couldn't believe there are such kind-hearted souls on Earth. I am deeply touched by the Master's compassion," she said.
She neglected to attend the briefing on the distribution mission held several days earlier by the village chief, as she was sceptical of such generosity. Out of curiosity, she joined her fellow villagers in making the trip to the distribution centre in rented vehicles, not expecting to receive three sacks of rice seeds. She cried tears of joy at the pleasant surprise, prompting local volunteer, Win Win May to comfort her with sympathetic tears, "We are family. We will lend you a shoulder to cry on!" Win Win May also highlighted to Khin Nyo Myint that suffering abounds in this world, and encouraged her to participate more often in Tzu Chi's activities, through which she could witness the plight of the suffering to remind herself to count her blessings. She immediately signed up as a Tzu Chi volunteer and was pleased to be a part of the Tzu Chi family.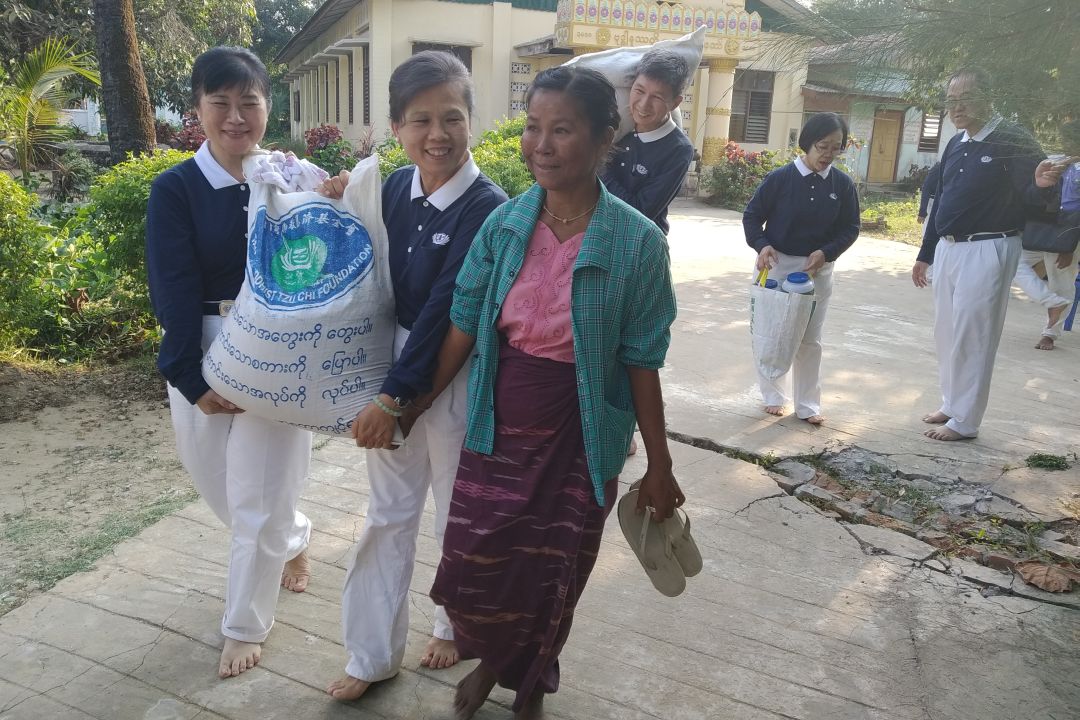 Breaking the chain of debt
Daw Tin Dhn, a 62-year-old farmer, lives with six other family members under one roof. The family relies on the seven acres of farmland they own as their main source of income. Yet, they remain mired in poverty, as Daw Tin Dhn and her husband are both advancing in age, and the family's livelihood largely depends on their son, who tends to the farm, and their daughter, who peddles sundry goods. Daw Tin Dhn brought home seven sacks of rice seeds from a distribution session with the help of volunteers who sent her home, bringing joy to her family.
"I am very grateful to Tzu Chi for providing my family with mung bean and rice seeds. Every day, I would contemplate the Jing Si Aphorism I received from the previous distribution mission that reads, 'Every initiative starts with a seed of conviction.' I am grateful for the Master's compassion. I will pray for the Master's good health daily," said Daw Tin Dhn, pointing towards the Jing Si Aphorism pasted on the wall.
Inspired by volunteer U San Thein's sharing at last year's distribution session, Daw Tin Dhn followed his example by maintaining the harmonious co-existence between her crops and other elements of nature, without affecting the quality of the harvest. She was thankful for the Master's blessings, embodied in the mung bean seeds. Her commitment to speaking kind words, cultivating kind thoughts and performing kind deeds ensured a bountiful harvest.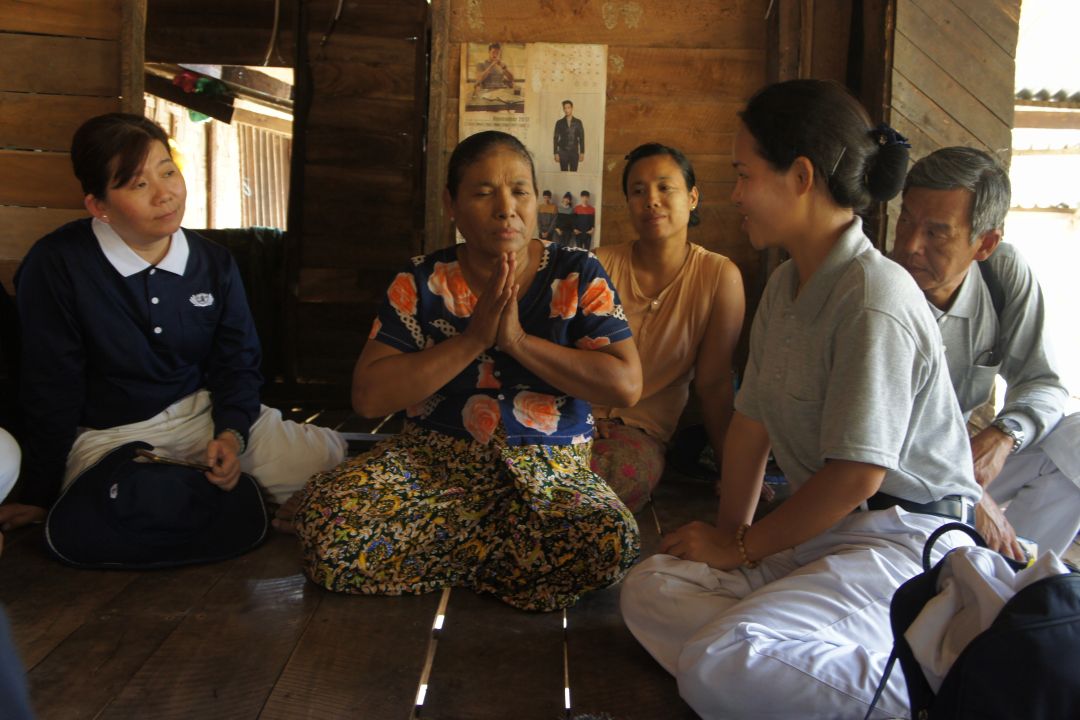 "I would like to show you the mung bean plants; they are growing very well. But the road leading to the farm is rugged, and it takes 30 minutes to travel on foot – not to mention wading across a river," enthused a visibly excited Daw Tin Dhn, somewhat apologetically.
The volunteers, however, were undeterred, and were eager to visit the farm. Not long into the journey, they found themselves treading through a muddy path, soiling their white shoes along the way. Upon arriving at the farm, the volunteers were delighted to see mung bean pods sprouting in abundance as Daw Tin Dhn regaled them with stories about her family.
All of Daw Tun Dhn's crops were destroyed in last year's floods, which saw floodwater levels rising to a storey high. In addition to three sacks of mung bean seeds provided by Tzu Chi, she bought two more sacks, which cost her 200,000 kyat. Unfortunately, the crop yields for the past four to five years had been discouraging, bringing no relief to her unsettled loans. She borrowed a loan of 200,000 kyat last year at an interest rate of 800 kyat for every 10,000 kyat, trapping her family in a never-ending cycle of debt. However, the mung bean seeds disbursed by Tzu Chi solved her family's debt woes temporarily. They no longer have to acquire loans, and the expected profit yielded from the latest batch of mung bean crops is sufficient to repay four months' worth of loans and 16,000 kyat in interest.
She anticipated this year's yield of mung beans to be of satisfactory quality. Each basket of mung beans harvested could potentially fetch a market price of 42,000 kyat, while each acre of farmland yields 70 to 80 sacks of mung beans. With the profit gained after deducting overhead costs, she could finally settle a portion of her debt. She hoped for an equally abundant harvest of rice this year to enable her to clear the remaining debt.
•
Year after year, the major flooding that strikes Myanmar is every local farmer's most pressing concern. By distributing mung bean and rice seeds to local farmers after the floodwaters have subsided, the volunteers hope to restore hope for a fresh start to the farmers and liberate them from the stifling bond of debt. The relationship between the farmers and the land they cultivate is a profound one, which is evident in the resilience of the farmers and their faith in letting nature takes its course. Another distribution session is scheduled to take place following the first session, with more heart-warming stories waiting to unfold.