Ngo Thi My Tai, a Vietnamese, lost her Malaysian husband to cancer in 2011, and was thrust onto a tumultuous journey where she found herself alone with her two children in a foreign land. Beginning a new chapter would have been immensely scary and challenging had it not been for the comforting presence and support of Tzu Chi volunteers.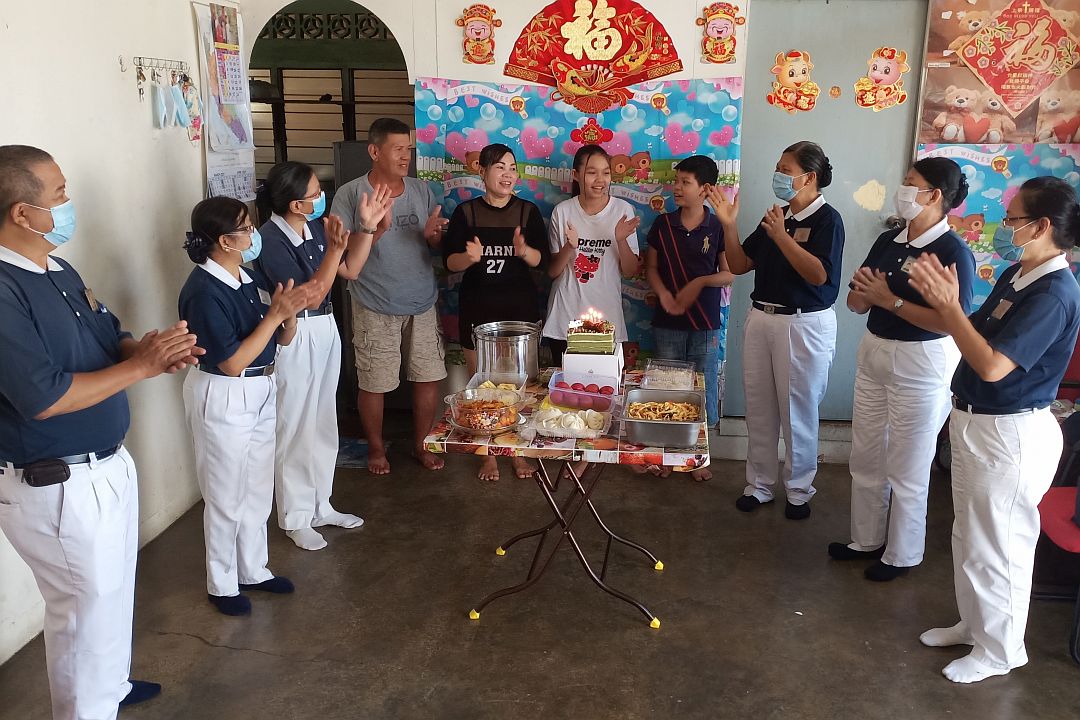 Two weeks after her husband's demise, Ngo Thi My Tai returned to her home in Ho Chi Minh, Vietnam, along with her daughter and son, aged four and two, respectively. Then a month later, they returned to her late husband's hometown in Titi, a small township in the Jelebu district of Negeri Sembilan, after considering better options for her children's education and herself.
The local church offered her a job as a kitchen helper, and her children free education, at the kindergarten. However, with her meagre income, she had struggled to fend for her family.
In July 2012, the village head shared My Tai's plight with Tzu Chi. After a preliminary home visit and assessment, Tzu Chi accepted My Tai as a care recipient, and she was given monthly living subsidy from the organization. Meanwhile, Siow Kim Yen, a volunteer with the Jelebu Social Welfare Department (SWD), also helped to apply for financial aid on My Tai's behalf. As My Tai is not a Malaysian, Siow assumed guardianship for her children who are below age 18, and delivers the monthly cash assistance from the SWD to the family.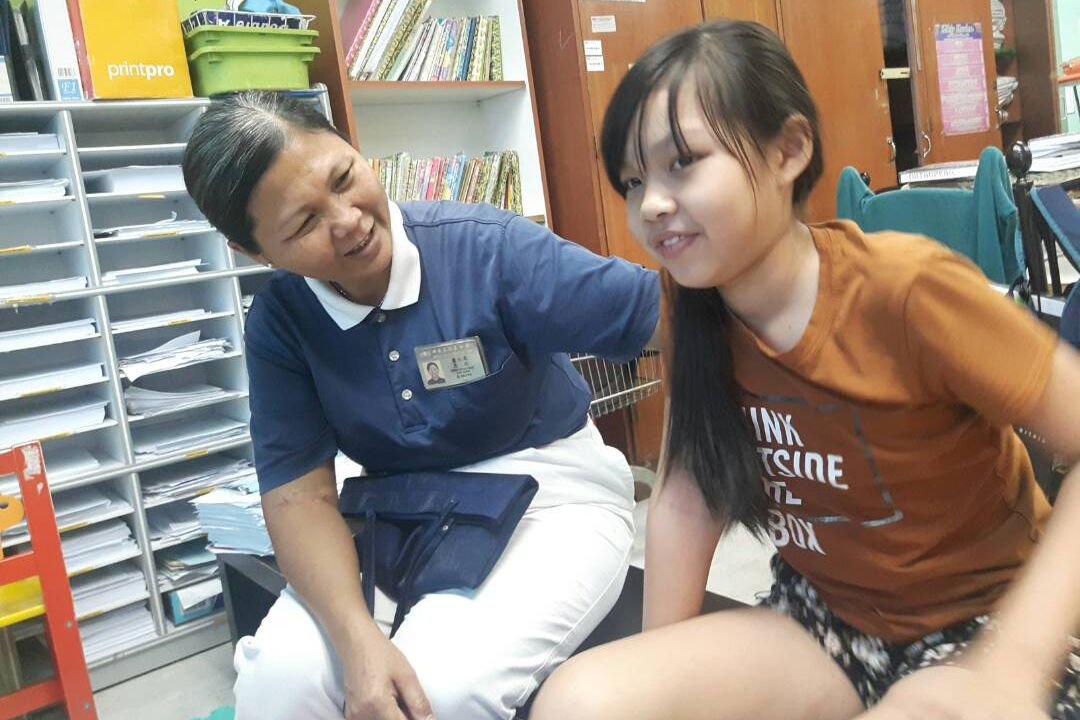 Two years later, My Tai remarried. As her financial situation improved, the living subsidy was no longer necessary but Tzu Chi continued to extend care to the family. When the children started attending primary school, they became beneficiaries of Tzu Chi study aid.
By 2015, My Tai started selling Vietnamese pastries and snacks near the neighbourhood market to supplement her income.
Slowly but surely, the clouds were dissipating.
◎ An unexpected diagnosis
When her daughter, Pei Shi, was two years old, My Tai noticed that the girl's legs were uneven in length. Owing to financial constraints, she did not take her to the doctor. As Pei Shi grew older, the discrepancy became increasingly visible.
When Pei Shi was in Primary 4, her stepfather took her to Hospital Tuanku Ja'afar Seremban for an examination. The diagnosis shattered her little world—she had bone cancer. When Pei Shi was referred to Hospital Kuala Lumpur (HKL) for further examination, volunteer Siew Nyuk Man offered to accompany both mother and daughter, so that she could help bridge the communication gap at the hospital. This time, it was good news—the tumour was benign.
By the time Pei Shi turned 13, the discrepancy in her legs had grown to five inches. The doctor at HKL suggested a corrective surgery at the Universiti Malaya Medical Centre (UMMC). With the appeal filed by Tzu Chi volunteers to the HKL Welfare Department on My Tai's behalf, the surgery cost was reduced from over RM8,000 to RM3,400. However, Pei Shi was told that she would need to have screws inserted in the other leg. Fortunately, My Tai had enough savings to pay for the additional cost of RM1,100. Nyuk Man and fellow volunteers were glad that My Tai was now able to manage the cost independently without financial support from Tzu Chi.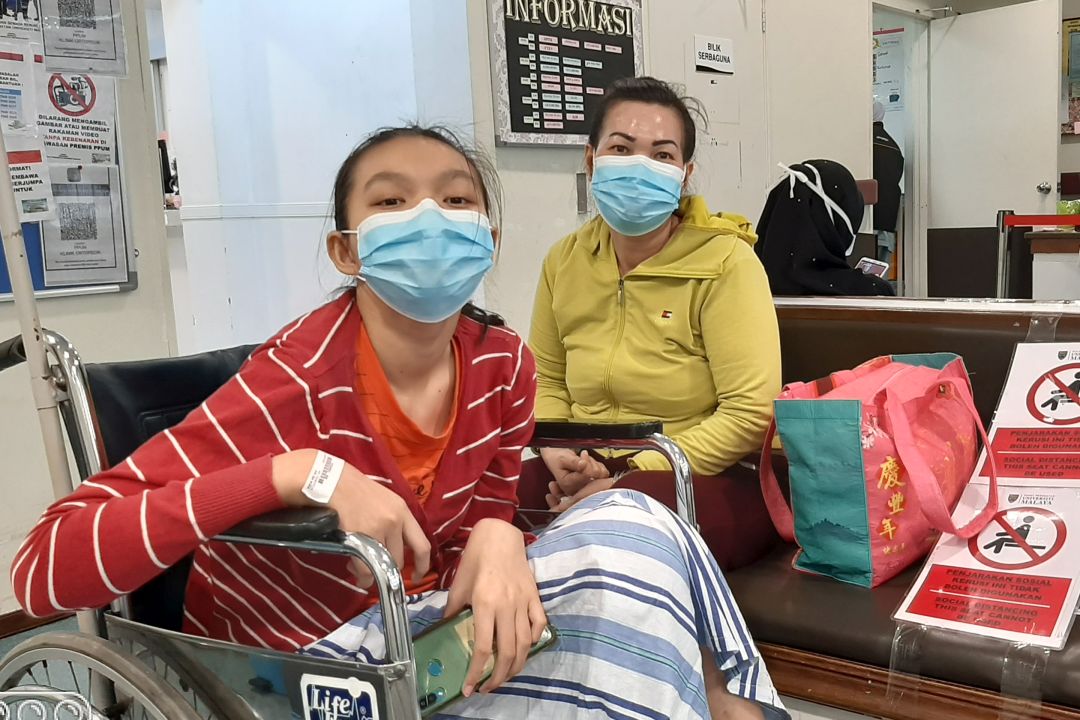 In November 2020, just two days before the surgery, Nyuk Man and her husband, a fellow Tzu Chi volunteer, sent My Tai and her girl to UMMC for various pre-operative examinations. Tzu Chi KL & Selangor volunteer Kuan Mun Jen helped arrange free homestay near the hospital so that My Tai could take care of Pei Shi during her hospitalization.
Mun Jen also took the initiative to prepare dry food, vegetables, fruits and other supplies for them. For that, My Tai expressed, "I am truly touched by the volunteers' love and assistance towards us. Thank you, everyone!"
After the surgery, Nyuk Man and her husband continued to drive them for follow-up visits, despite the long distance from Seremban to Titi to fetch Pei Shi and her mother, and then to UMMC.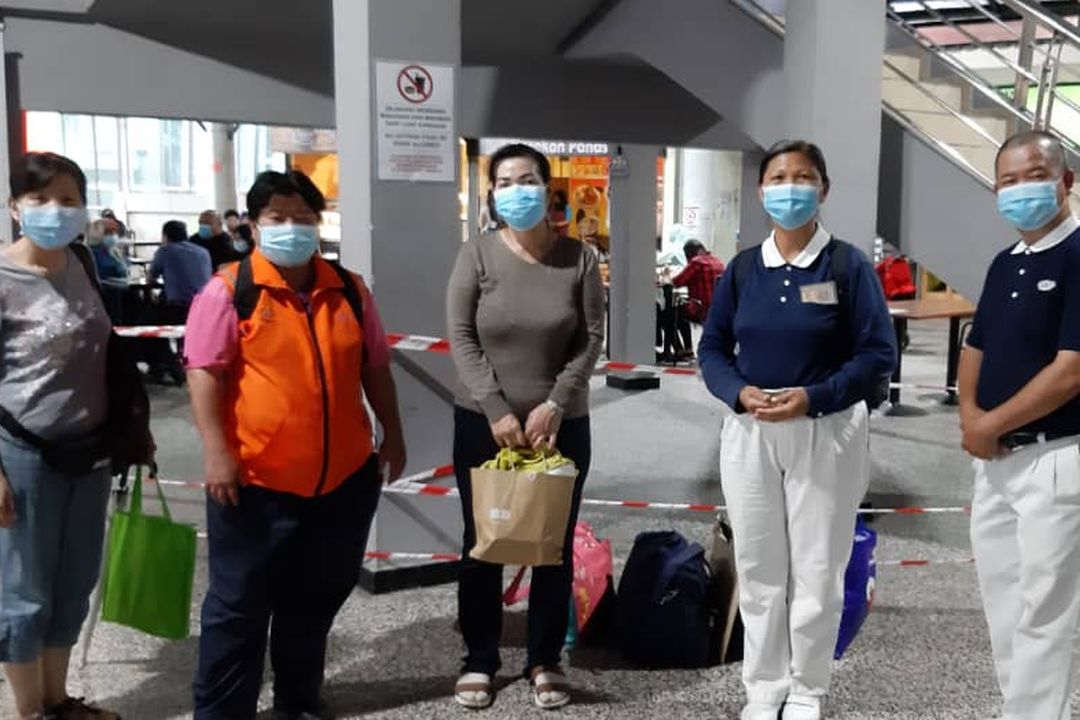 ◎ 'I can finally walk like a normal person'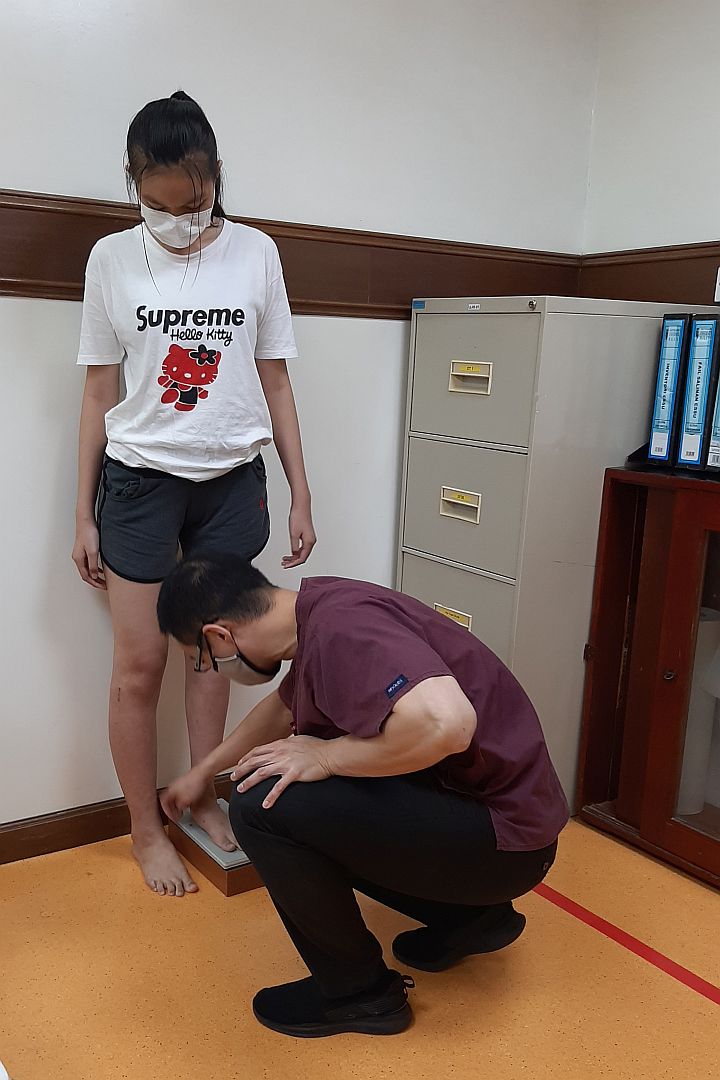 At Pei Shi's first physiotherapy session at UMMC on January 26, 2021, the discrepancy in her legs had reduced to two inches. It brought much joy to Nyuk Man seeing the girl walking with both her feet firmly on the floor. The doctor informed that another corrective surgery will be needed when Pei Shi reaches the age of 18.
With help from Nyuk Man, Pei Shi had her custom-made shoes done. The girl exclaimed, "I can finally walk like a normal person!"
On April 10, seven volunteers, including the persons-in-charge of Tzu Chi Seremban, visited Pei Shi with home-cooked vegetarian dishes to celebrate her birthday. Volunteer Wong Chiew Yoke gave her a pair of cotton socks, while Nyuk Man represented the volunteers in presenting her with a red packet filled with their warmest blessings. Pei Shi was moved by their outpour of kindness and love. She said, "Never in my life have I had so many people celebrating my birthday for me. I am truly surprised and happy! There are so many delicious dishes besides the cake. Thank you!"

My Tai, too, could not be more thankful. "Tzu Chi volunteers are so loving and kind to help my family, taking my daughter for hospital visits. You all are like my family members. I am touched."
◎ Reciprocating through recycling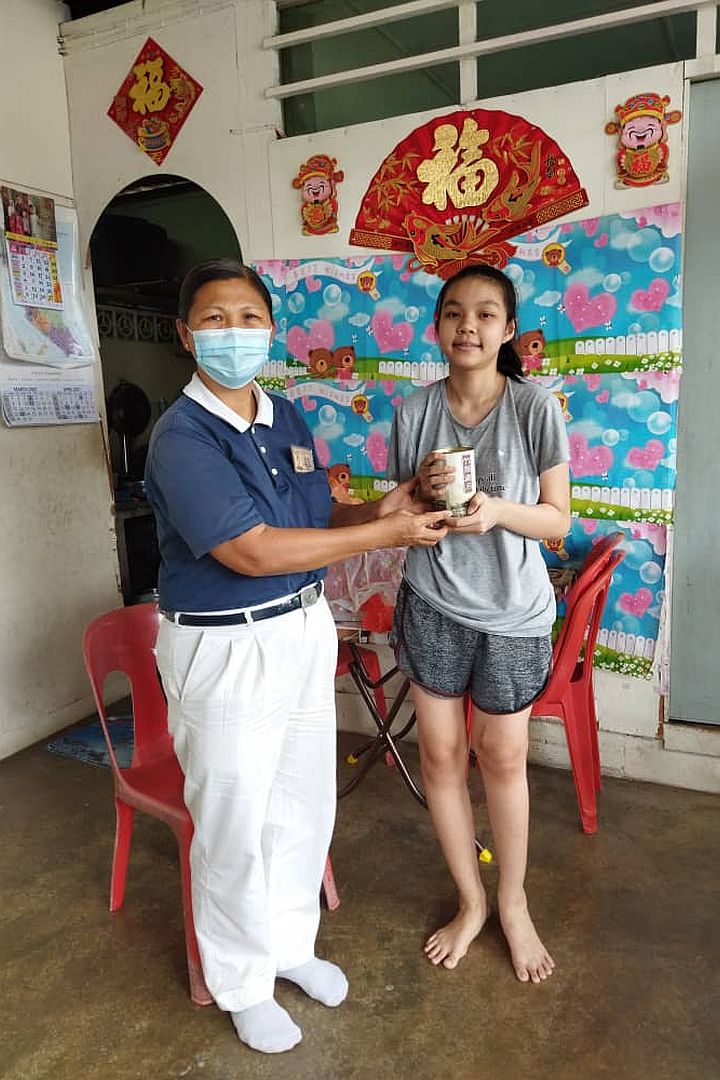 During the Covid-19 MCO, My Tai had to halt her food stall business. After obtaining the inter-state travelling pass, volunteers delivered rice, cooking oil, vermicelli, biscuits, flour, potatoes, canned food, laundry detergent, and other supplies to her family, thereby relieving their hardship. Besides this, volunteers also sent her for her Covid-19 vaccination.
As her single-storey wooden house was infested by termites and the ceilings had become shaky, Tzu Chi volunteers, together with Siow, applied for renovation subsidy from the local state assemblyman.
Having been in contact with Tzu Chi for close to a decade, My Tai and her children have gained a deeper understanding of Tzu Chi's vision and mission in helping others and protecting the Earth. Hence, they also collect recyclables at home and sort them out before sending them to the recycling centre. In addition, Pei Shi and her brother, Guo Tai, would save a part of their pocket money in the coin bank and donate to Tzu Chi to help others. They also help out at the Kuala Klawang recycling point on the monthly Recycling Day, which falls on the third Sunday.
Guo Tai said, "After sorting, those useful items can be given to those who need them, while the rest could be recycled to reduce waste. In doing recycling, we are not only helping to conserve Mother Earth, but we are also reaching out to the needy by contributing the proceeds from the sale of recyclables."
For volunteer Nyuk Man, the journey of ten years has been a fulfilling one. She shared, "We encountered numerous problems over the years, but we also learned how to overcome them one by one. I, too, have had the opportunity to grow through the process. I always help without expecting anything in return. I hope I can light up their paths, and that Pei Shi can walk like a normal person after her corrective surgery at age 18."