The Covid-19 pandemic has greatly impacted the tourism industry, causing loss of income to trishaw riders and bringing further hardship to their already hard lives. Therefore, on December 2, 2020, Tzu Chi Malacca volunteers began distributing cash aid amounting between RM400 and RM600 to help them tide over their plights.
In 2020, more than two weeks after the conditional movement control order (CMCO) was lifted, the Dutch Square that used to be a bustling tourist hot spot on weekends, was quiet with only a handful of pedestrians. The nearby hotels and cafés were also quiet. Gone were the days of busy scenes before the pandemic. Trishaw riders waited at the tourist sites with no sight of tourists. They were destined to go home with zero income for that day.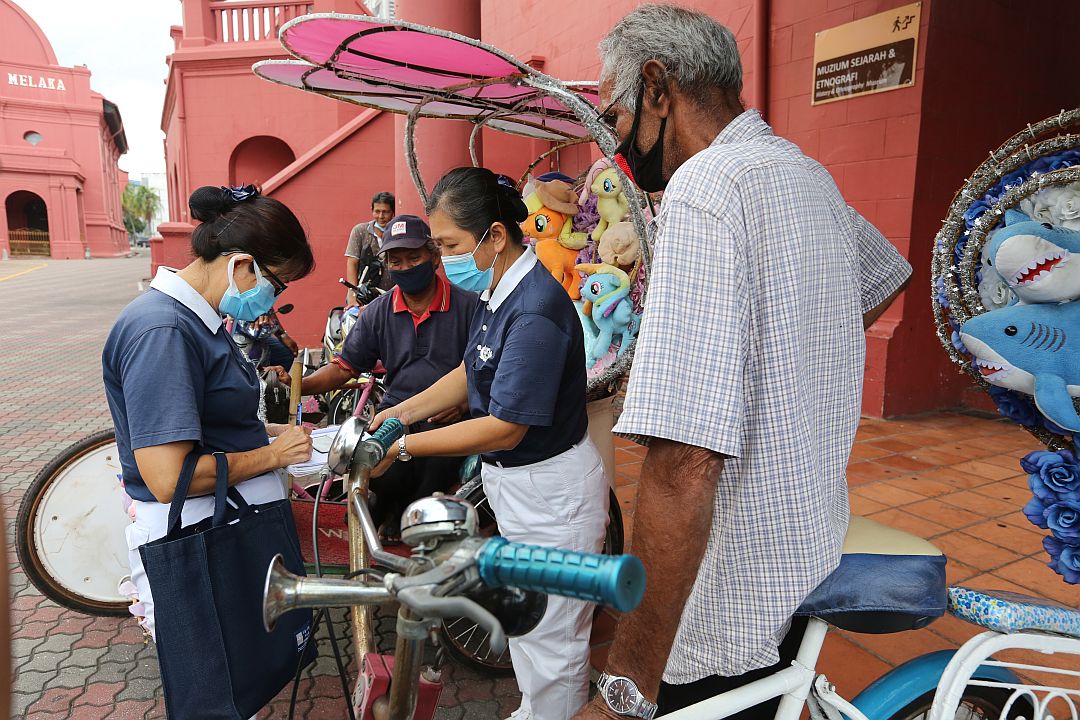 Since March 2020, with the rising of Covid-19 cases, tourism and its related services have been badly affected. Businesses struggled to cope and survive after the uplift of CMCO. Before they could recover, the Government re-imposed CMCO in November because of increasing concern over rising Covid-19 cases. Malacca was amongst the many states in the Peninsular affected by the order, which also banned interstate travel. The ban stopped domestic tourists from visiting Malacca, hence aggravating the trishaw riders' predicament.
When Tzu Chi volunteers read about the hardships faced by the trishaw riders in media reports, they sought the promotion manager of Malacca Tourism Promotion Division, Lim Swee Kiang, to recommend a list of trishaw riders in need of help. Manager Lim expressed, "The trishaw riders requested help from us to which I had no solution. The only thing we could do was to seek sponsorship for supplies of goods for them. When I received the phone call from a Tzu Chi volunteer offering help, I was so grateful."
According to her, there are 329 licensed trishaw riders in Malacca, many of whom have temporarily switched to other industrial work or taken up odd jobs to sustain their livelihoods because of the pandemic. Although they could still feed themselves, some older riders, or those who have no other skills, or whose families had encountered unexpected events, were in dire need of social assistance. She readily helped compile a list of really poor trishaw riders struggling to cope financially, for the volunteers to conduct home visits and assessments before providing appropriate assistance.
With the name list, the volunteers took over a week to visit 27 families, and after due assessments, 17 households were given relief aids. Starting from December 2, 2020, volunteers went out in batches to present the relief cash, amounting between RM400 and RM600, to each household. The total relief fund disbursed was RM25,500.
Caring for families in difficulties
Other than reduced household incomes, some families also faced additional hardships brought forth by illnesses or other unexpected events during the pandemic, hence rendering them badly in need of social assistance and support.
Lee Yong Soon has been a tourist trishaw rider for the past 30 years. Prior to that, he worked in the construction industry. During a downturn of the construction industry, he discovered that it was possible to earn more than RM100 daily as a trishaw rider, if one was willing to work diligently. He was convinced upon seeing some of his relatives faring pretty well as trishaw riders, so he decided to join them. However, little did he expect that he would be hit by Covid-19 pandemic nearing his retirement age. The rising number of Covid-19 cases prevented him from going out to work. Fortunately, Tzu Chi came to his rescue. Both he and his 71-year-old uncle, Lee Kim, received cash aid from Tzu Chi.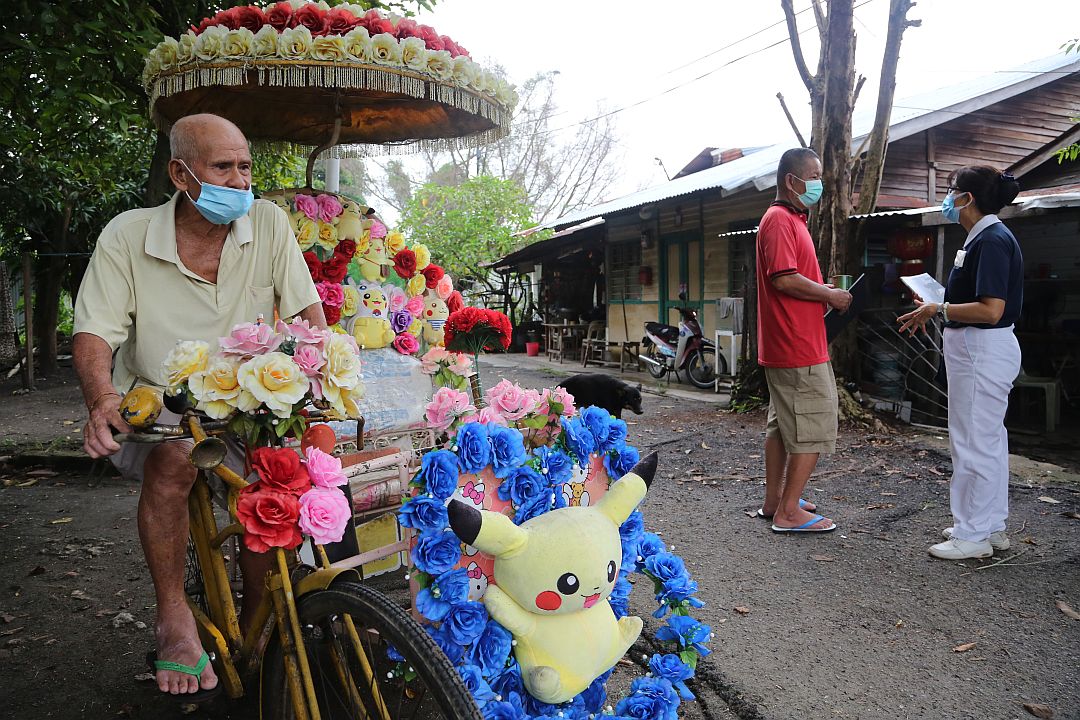 During the home visit, volunteers noticed that his uncle's ankle was injured. It was caused by an accident while he was on the way to a house-call for water pump repair job. The wound was not well-taken care of, and it was swollen and red. The volunteers immediately arranged for a TIMA member, Chong Kiew Moy, to help clean the wound. When the volunteers visited him again a few days later to present the cash aid, they noticed that his wound had healed and he was able to walk with ease.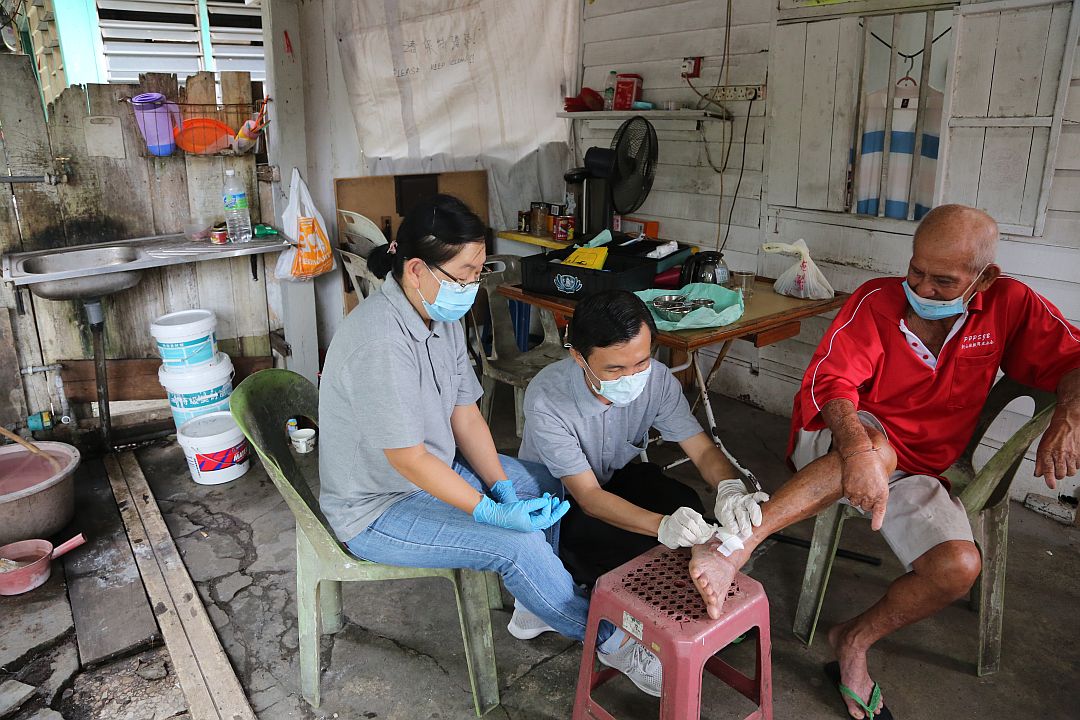 Another trishaw rider was 21-year-old Nurul Izzati binti Abdul Karim. Her eldest son was four years old while the youngest was an infant. Her husband was arrested and jailed for drug abuse before the first MCO. She was expecting her youngest child then. She felt so helpless, especially after giving birth, as she could not pay for the baby's milk powder. A double bed in the mother-in-law's living room was the only resting place for her and the children.
After her confinement, she started riding her husband's trishaw to earn some income. However, as she had to help her mother-in-law prepare meals and do household chores during the day, she could only work at night. Business was not good; sometimes, she only managed to get customers in one out of three days that she went out to work. She had tried to find jobs in restaurants, but was rejected as the owners could not afford to employ more workers.
She was helpless and sad beyond tears. When volunteers learnt that her husband was in jail and that she had not registered the birth of her infant, they made a video call to another volunteer, Tang Dee Hui, who has experience in handling such a similar situation, to guide her on the application procedure. Dee Hui told her that she could apply for birth registration by presenting her baby's health appointment record card and the jail visitation record card to the officer. She was advised to do it as soon as possible to avoid complications. Upon learning that the problem that had worried her for so long could be settled by just presenting the relevant documents, she decided to visit the National Registration Department that afternoon to submit the application.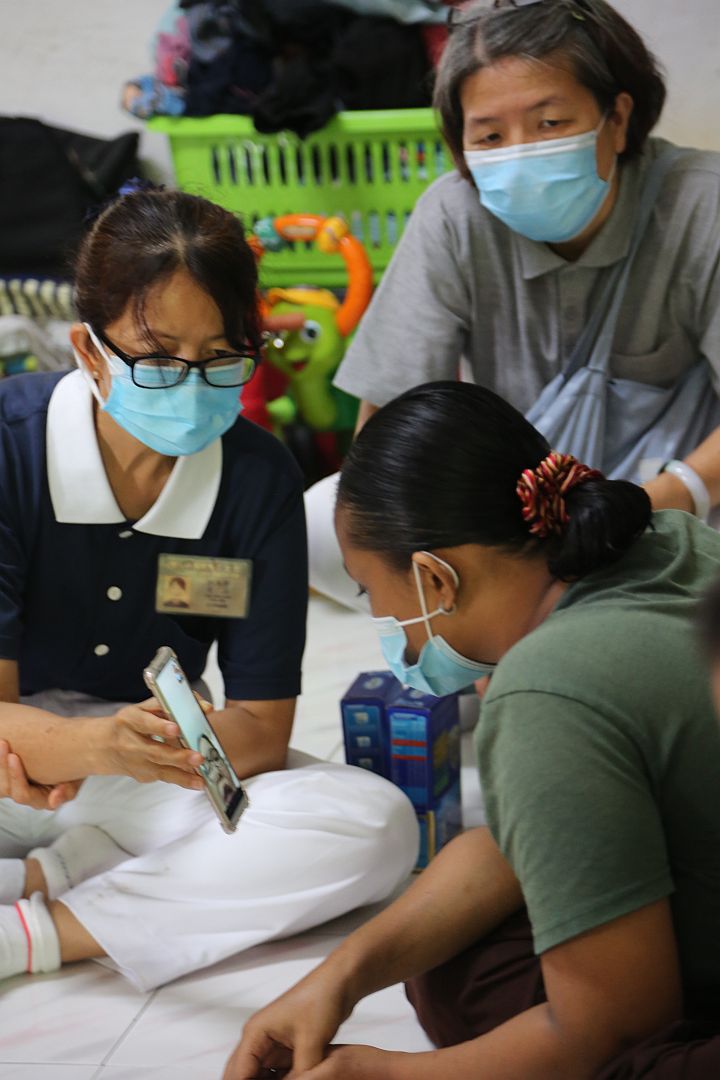 Nurul Izzati was grateful to receive the cash aid and infant milk powder from the volunteers. She said the money would come in handy for the 13 members in her mother-in-law's and her family.
We will always be there for you
Eddy Shahrizal bin Abdul Karim lived in a rented low-cost apartment. As the bedroom was packed with all kinds of things, his family of four slept on mattresses placed in the living room.
Months after struggling to earn an income, Eddy finally managed to get a job as a cook in a restaurant. Unfortunately, two weeks into the job, his wife was hospitalized for a week, and he had to apply leave from work to look after his children. He reported to work immediately upon his wife's discharge from the hospital. With a meagre salary, providing food and tending to his children's needs became his top priority. Long overdue water bill payments had resulted in disconnection of water supply to his house. So, each day he had to transport a big bucket of water on his motorbike from a mosque located some ten-minutes away from his house.
After learning of his predicament, volunteers brought him cash relief and advised him to settle the water bills first. He said with gratitude, that he truly needed the money to solve his immediate problem, and promised that he would repay the kindness by helping others one day. On hearing that, volunteer Lau Bok Lan took out a bamboo bank and told him that he could help others now even with a small amount of 10 or 20 sen. "You must believe that receiving help from others is only temporary. One day, you will be able to stand on your own, and help others who are more in need than you." She assured him. Eddy immediately asked his eldest daughter to get some coins from the room, and he and his children each deposited a coin in the bamboo bank, feeling happy that they too, had the ability to help others.
Volunteers also visited Azhari bin Mohd Tamin. Upon entering his house, they saw him, looking frail and bony, lying on the mattress in front of the television and groaning in pain.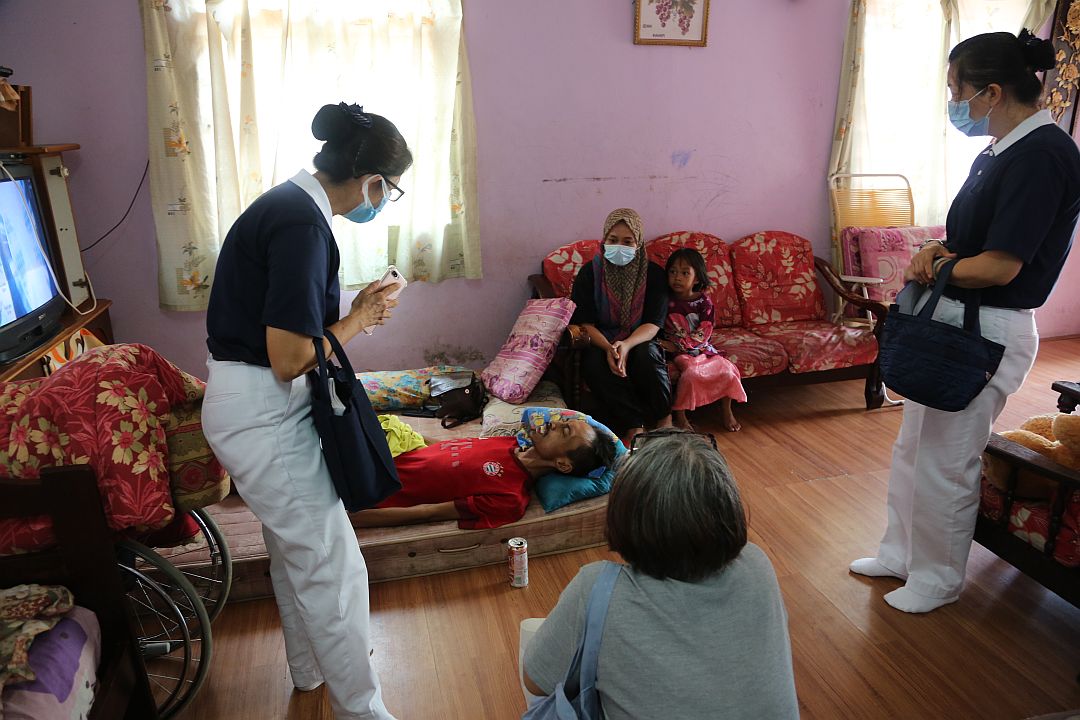 He had been sick for several months. Initially, he only experienced pain in both his legs. As he was jobless, he endured the pain and continued to take odd jobs to earn some incomes. It was not until mid-November 2020, when he was in such immense pain that he could no longer walk, that he went to the hospital to seek treatment. After diagnosis, the doctor told him that he was suffering from bone cancer. Before the doctor scheduled for his chemotherapy, he requested to return home.
With four children and an elderly mother-in-law under her charge, his wife, Ain Noorasikin, felt helpless and lost. She had also run out of milk powder to feed her three-year-old child. On seeing Norasikin's predicament, the volunteers duly provided milk powder on their subsequent visit.
Noorasikin felt sad and worried at the sight of her husband losing so much weight. she was also troubled by the preparation that she had to do for her husband's follow-up hospital visit the following month, and other nitty-gritty matters that her duty called for. Other than visiting and calling her to show their concern, the volunteers also assured her that they will always be there for her if she ever needed help.
When the volunteers handed her the cash aid, she thanked them with tears in her eyes, "I am deeply touched. Thank you very much Tzu Chi, and thanks to everyone who has helped us." After the volunteers' visit that day, Azhari succumbed to his illness that very night. The volunteers consoled his wife over the phone, and made another visit to extend their care on December 5, 2020.
With the three-month relief aid programme, volunteers were able to provide help according to the needs of each household. Hopefully, the warmth of love will stay with them and bring them lasting hope for better times.