As the pandemic has impacted the lives of some indigenous people, Tzu Chi volunteers delivered relief supplies and extended care to them. Volunteers also grabbed the opportunity to share the concepts of recycling and environmental protection.
Situated by Sungai Beban in Kota Tinggi, SJK(T) Ladang Sungai Papan is a small-scale primary school with only seven students – two Indian and five biracial children of Chinese and indigenous Orang Seletar.
In early 2020, P. Thenmoly, the school headmaster, requested her teachers to seek help from Tzu Chi Kota Tinggi for education subsidies for the underprivileged students. Hence, accompanied by the teachers, Tzu Chi volunteers visited each of the families. After their assessments, Tzu Chi offered the subsidies to six students, and will extend care especially to the indigenous people living in crude floating wooden houses and relying on the sea for sustenance.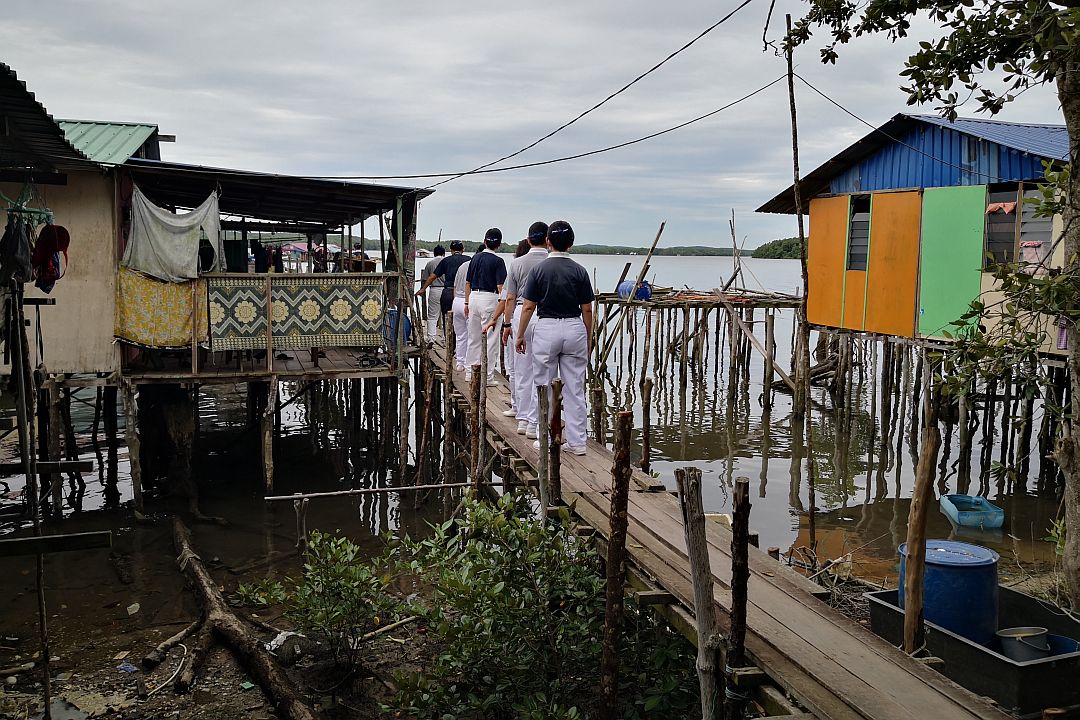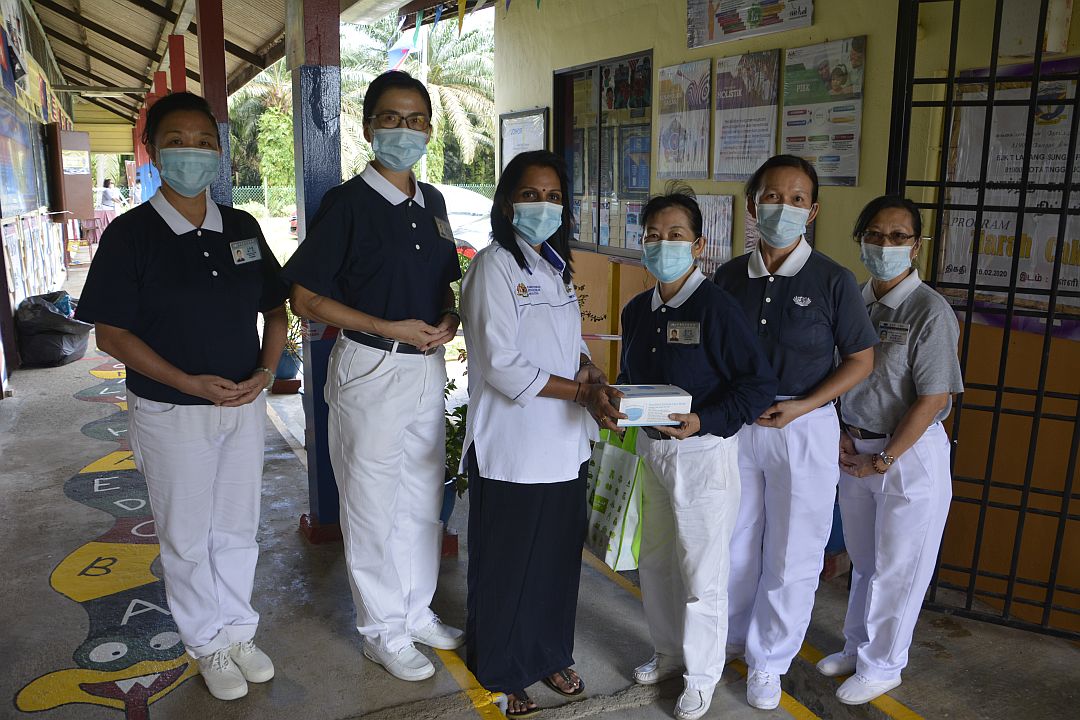 On August 31, Malaysia's National Day, after an hour journey through rugged palm oil estate to Sungai Beban, volunteers had to cross a shaky wooden bridge to reach the families. Besides giving face masks and hand sanitizers to the indigenous people, each student beneficiary was given a bamboo bank and encouraged to save some coins daily to help others like themselves.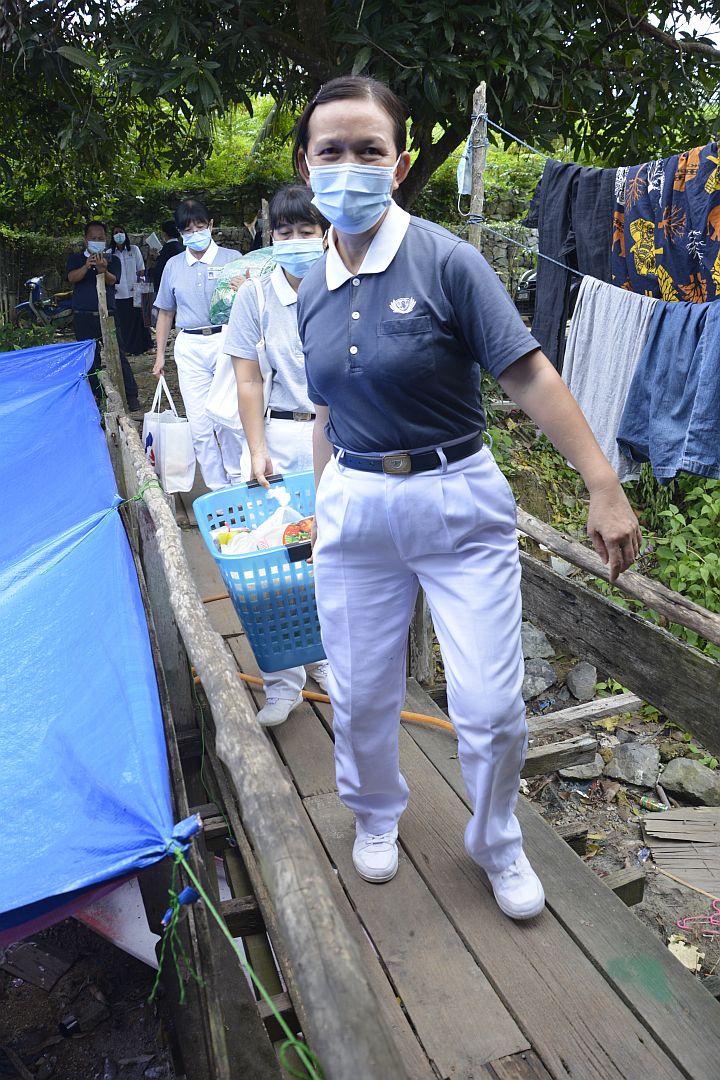 Distributing food to alleviate their burdens 
Due to poor economic situations, the demand for seafood has dropped and this greatly affected the incomes of the indigenous people. As this compounded their already difficult lives, volunteers also rendered short-term relief to help them get through the tough times.
Living in a remote area with poor mode of transportation, it is not easy for the residents to get fresh supplies of fruits and vegetables. Hence, the indigenous people mainly consume seafood as their staple food. In order to include some fresh fruits and vegetables in their diet, volunteer Yeo Yoke Lin made the purchase along with rice and other food supplies. In the afternoon of October 11, together with ten other volunteers, they revisited to distribute the food supplies. The indigenous people were pleased to receive them and thanked the volunteers profusely.
Tee bte Achai, a 58-year-old grandmother, has been living by Sungai Beban for 36 years. Together with her husband, they relied on the sea to raise their nine children. She was grateful for the food supplies which formed part of their daily necessities.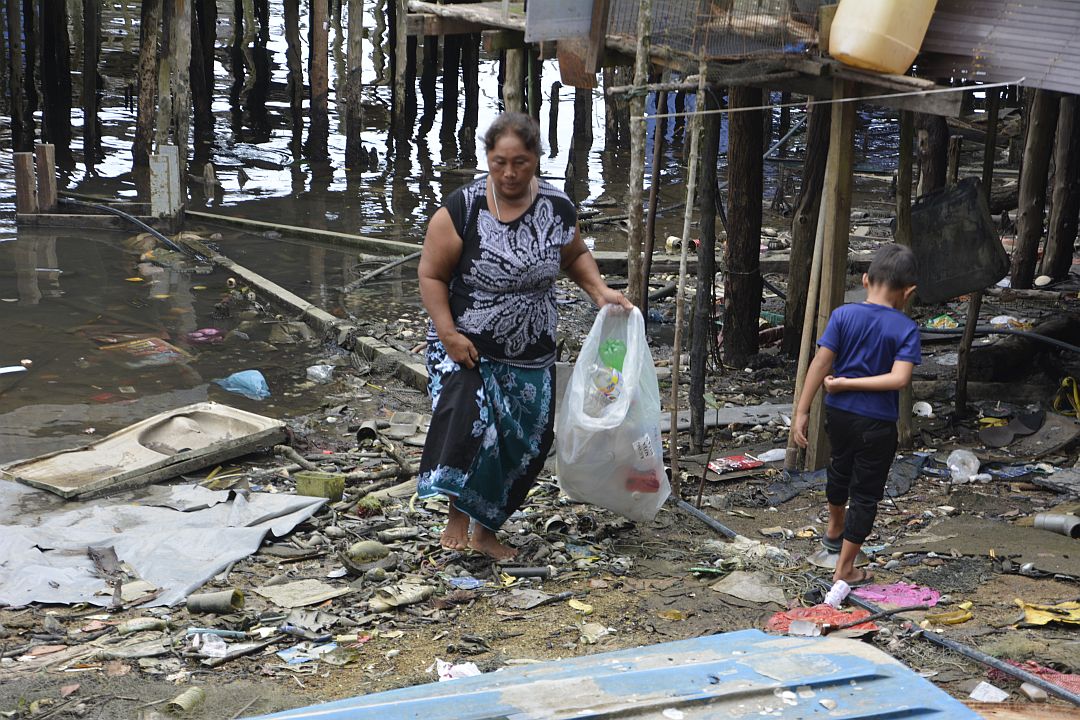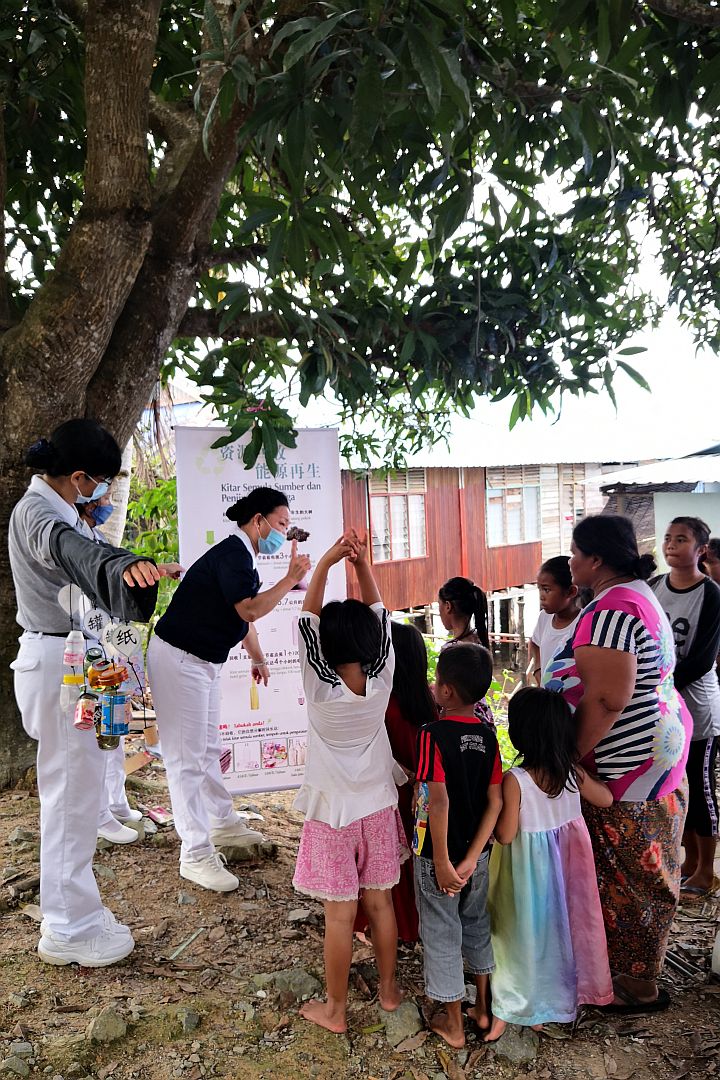 Nooraoni, a tanned-looking lady with a defined facial contour, is Tee's daughter-in-law. She has six school-going children. Her husband is a fisherman, who also hunts occasionally for some extra income for the family. "Thank you for your help. Sometimes we really don't have anything to eat. Life has been very difficult." These food supplies came in time to lighten their household burden.
Learning to recycle for a cleaner environment
The indigenous people live by the sea. Each time as the tide recedes, it brings rubbish from the sea to shore, accumulates along the coastline thereby polluting their living environment. While there to distribute the food supplies, the volunteers took the opportunity to share about recycling as a protection to their environment, keeping it clean and free from pollutants.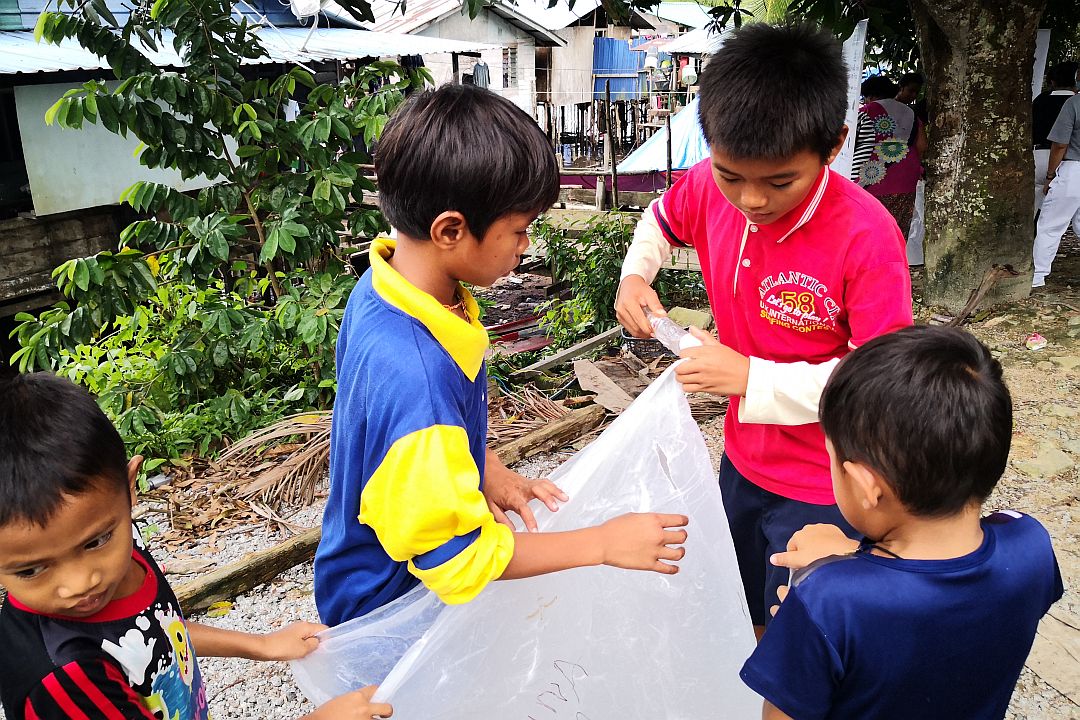 With a poster on the branch of a mango tree, volunteers gathered the indigenous people. "By recycling 50 kg of papers, we can save a 20-year-old big tree. By recycling an aluminum beverage can, we can conserve enough energy to run a television for three hours..." Volunteer Heng Kwe Lang shared about littering and its threat to the environment and marine life. Throwing rubbish into the sea only pollutes the ocean further. She urged them not to litter, but instead to collect recyclable items which can later be sold to supplement their income or if they wish can be donated to Tzu Chi to help others in need. Everyone present was listening intently, eager to learn more.
The volunteers then led Tee, her two daughters-in-law and more than a dozen grandchildren into a recycling activity. They picked up rubbish in their surroundings, sorted the rubbish collected and cleaned the recyclables. With the environmental awareness created and knowledge imparted, it is hoped that they can work together for a cleaner home and environment.