An application for Tzu Chi Study & Awards Scheme led volunteers to enter their home, and then with love, they enter their hearts, guiding the children to let go of the hatred of being abandoned and to inspire more thoughts of gratitude.
"I don't have a mother. My grandma is my mother. Please don't ask any questions anymore."
Tan Yong Lie said the above to her teacher when she was asked to write "My Mother" for an essay exercise a few years ago. To the ten-year-old, the word "parents" is only a noun. Her mother left her and her siblings when she was over two months old, and wrote a letter claiming the end of their relationship. Later, she started another family. Her father, on the other hand, had deserted them. The three siblings were left to their grandparents, Tan Bee Kuang and Kang Soi Lay.
"I hate my parents." Tan Yong Qua, 12, had privately confided in volunteer Koo Seng Kiaw. Occasionally, Seng Kiaw would bring Yong Qua and Yong Lie to visit other volunteers' homes and share their stories with the siblings, guiding them to let go of hatred, "You can't hate Mum and Dad. You still have your grandparents' love! Look at aunty and uncle's family. They had to overcome a lot of hardships before living such a good life. You're very lucky. Cherish it!"
Yong Qua's elder sister, Yong Kim, had also been doubtful of her parents' absence although she had never raised it to prevent upsetting her grandparents. At the beginning of 2019, she tagged along with volunteer, Tan Lee Yee and helped to serve drinks to guests at the year-end distribution event. The scene of family's joyous gathering touched her, and when she could no longer hold back her tears towards the end of the event, she hugged Lee Yee and asked in between sobs, "Why does everyone, but me, have parents?"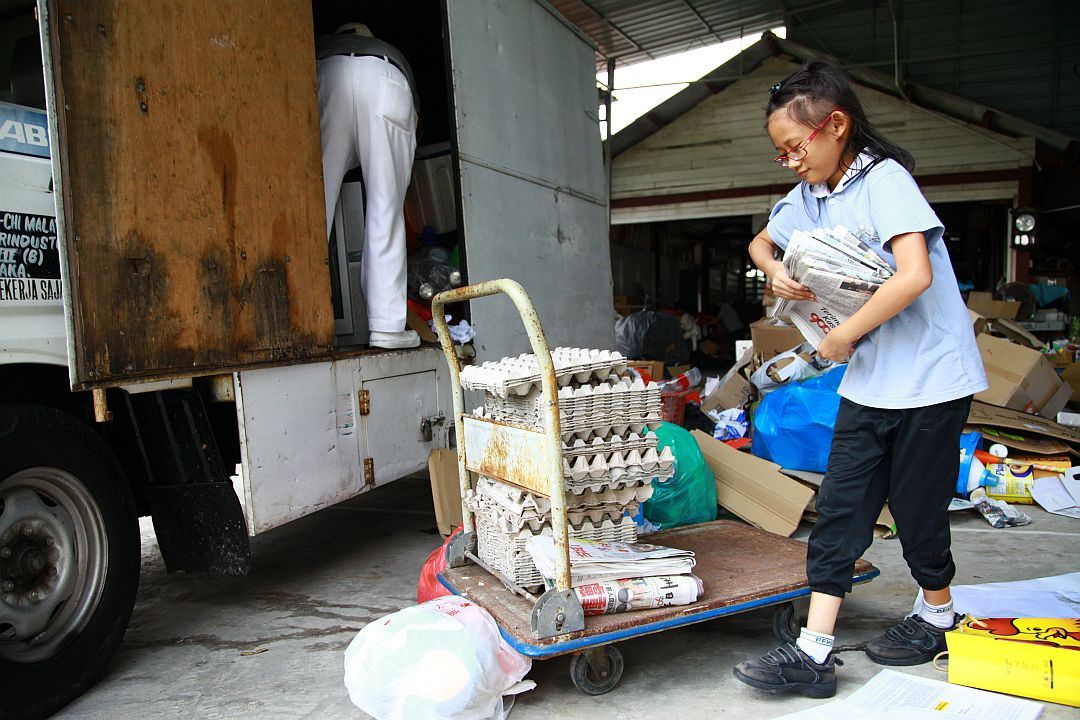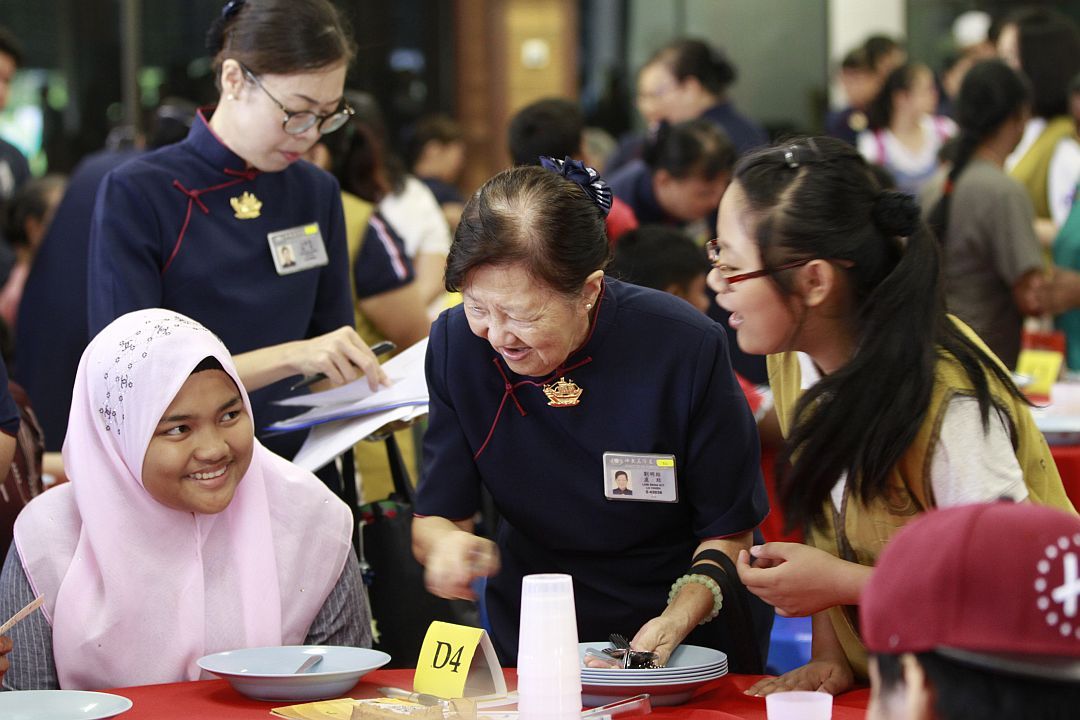 "Every family has its own ordeal. You have grandparents who adore you and aunty uncle (Tzu Chi volunteers) who love you. Isn't this another kind of blessing?" Lee Yee hugged the girl tightly and comforted her softly.
The power of the booklet
About five years ago, Soi Lay slipped while mopping the floor and hurt her spine. She tried massage therapy but unfortunately it compounded the injury, resulting in an emergency surgery. On the other hand, Bee Kuang has diabetes that weakened his legs. Hence, he opted for early retirement. The entire household depended on Soi Lay, who works as a school cafeteria helper, assistance from friends and family members, and welfare support. But these were barely enough to cope with the living expenses and the grandchildren's school fees. Since Soi Lay's admission to the hospital, the family faced financial difficulties. With the school principal's help, Yong Kim and her younger siblings have been receiving study aid from Tzu Chi since she was in Primary 4.
Yong Kim was particularly rebellious in her Primary 5. Every time her grandparents said something, she would talk back, believing that they favoured the youngest. With the guidance of "Self-assessment Booklet" – a record booklet distributed to all study aid applicants – plus reminders from teachers, volunteers and friends, she became more and more mindful of her behaviour, leaping from receiving Academic Progress Award to the Morality Award this year.
"My greatest improvement is becoming better behaved, setting a better example," the girl shared confidently.
Before continuing to secondary school end of 2017, the school helped her to apply for bus fare subsidy under the Tzu Chi's Happy Schooling Scheme, thus solving her transportation fee issue. Since then, volunteers have been guiding the siblings to help in house chores during their monthly home visits. Given how rare the meeting took place, it was not as impactful; the real change happened when they left the children's home.
"I told my grandchildren that because Tzu Chi has helped us so much, no matter what, they must return the favour. Yong Kim said that since she has received Tzu Chi's assistance, she would like to contribute by doing recycling; permission granted." It did not matter how tired or how busy she was, Soi Lay would always prepare pastries and drinks for the volunteers on their visits to express her gratitude. She also encouraged the siblings to help out at the nearby Tzu Chi Bemban Recycling Centre, to repay Tzu Chi's help.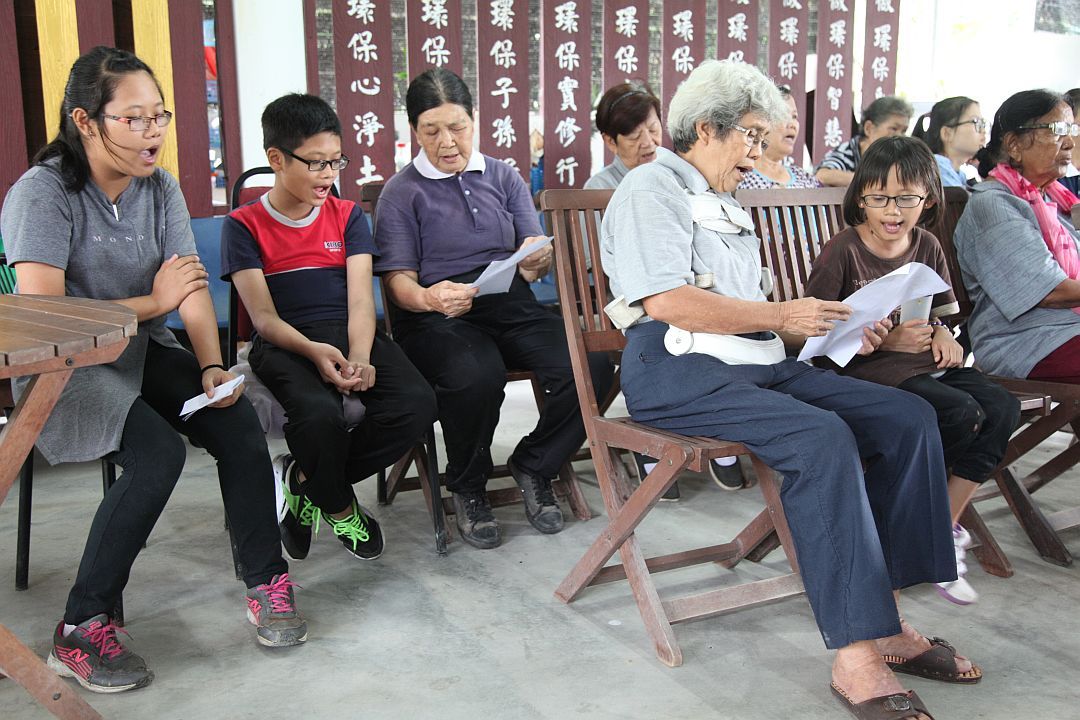 Lessons at recycling centre
Since the three young ones joined the Bemban Recycling Centre, many volunteers were given their own nicknames, many of which by Yong Lie, the youngest: for example, Koo Seng Kiaw, her favourite Aunty Banana and, Aunty Fragrant for Chin Yoon Heong.
When they first got there, the siblings were like postmen, assisting volunteers who were too tired to stand up to unload recyclables, or simply too old to move around. They loved to hang around Seng Kiaw, who drove a truck, and helped her collect recyclables or send them to the required stations.
Seng Kiaw would always arrange for the siblings to do their preferred tasks and educate them as and when opportunities arose. She said, "After such a long time, I treat them like my grandchildren. I guide them patiently."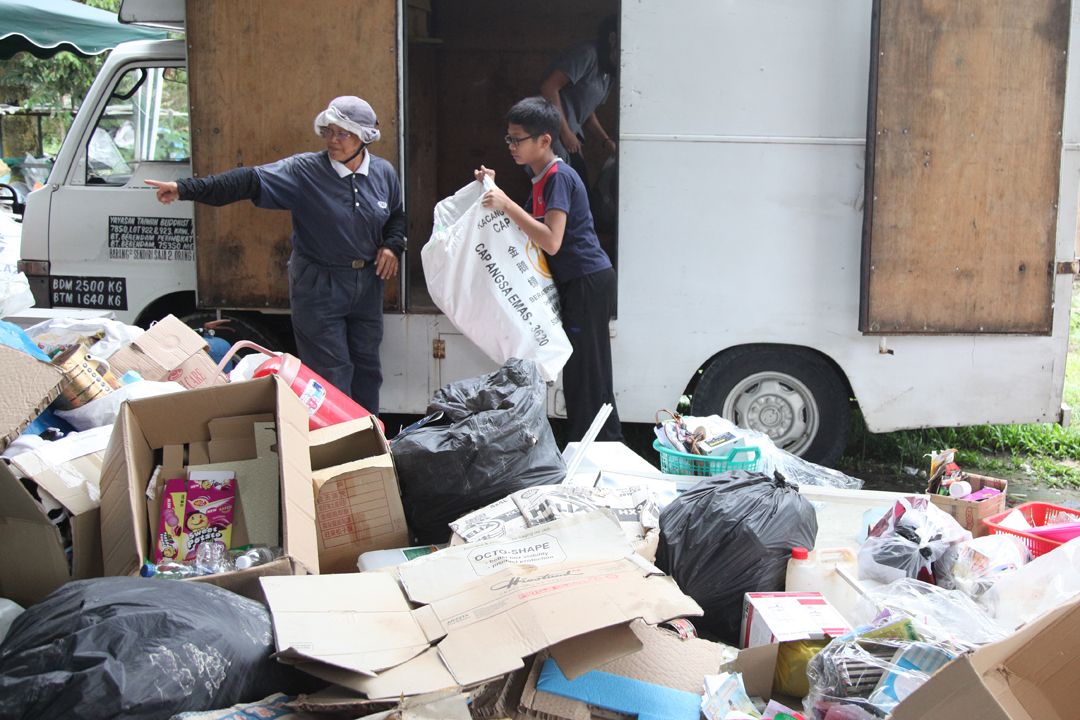 Once, she assigned Yong Lie to handle Tetra Pak. As soon as the latter took over, she squeezed the drinks packet and the remaining juice squirted, messing up the place. Seng Kiaw laughed, "Look at Yong Lie! She is trying so hard! It's much easier to use the scissors!" The girl understood and picked up a pair of scissors to continue her work, quickly and efficiently.
"She tries really hard, but the method isn't right. Let her feel appreciated, affirm her work, then suggest improvements so that she will do better next time," Seng Kiaw shared.
Yong Qua enjoys dismantling items. Once, he asked Seng Kiaw for permission to disassemble an item and promised to reassemble it but he did not. Seng Kiaw asked gently, "What have you promised?" He teared up and vowed to fix it. A week later, he presented the item that had been successfully reassembled to Seng Kiaw, fulfilling his promise.
On another occasion, the boy, who enjoys eating durian, wanted to pick durians from the durian tree next to the Bemban Recycling Centre. Seng Kiaw reminded him, "Have you got the landlord's permission? If you haven't, then that's stealing…" She taught the kids to be honest and respectful of others. Every mistake is an educational opportunity; the volunteers agreed that the kids are improving in their behaviour.
Not only has Yong Qua learnt to repair his own things, he has also assumed the responsibility of the School's Recycling Association's Vice President. He would assist teachers with recycling at school and speak to visiting students from abroad on environmental protection. The teacher was elated and spoke highly of him.
Lessons at recycling centre
Seng Kiaw would educate the siblings timely as they became closer. They would spend their school holidays at Seng Kiaw's home; and as they trusted her, they were willing to share their troubles with her.
Upon realizing that the children harboured hatred for their absent parents, Seng Kiaw would counsel them, "You do have parents. It's just that your karmic affinity with them has ended. When you meet again, you still have to greet them. You are considered fortunate to have your grandparents looking after you."
Seng Kiaw believed nagging had no effect, and that it was necessary for them to witness suffering in order to understand how fortunate they are. After meals, she would bring them out for walks to the homes of other volunteers and share their life stories, so the siblings understand that everyone has their own paths, and that they should cherish their happiness.
When volunteers visited them at their homes, they would also advise their grandparents to reduce their criticism of their son and daughter-in-law, so that the children could reduce their hatred for their parents with everyone's guidance and company.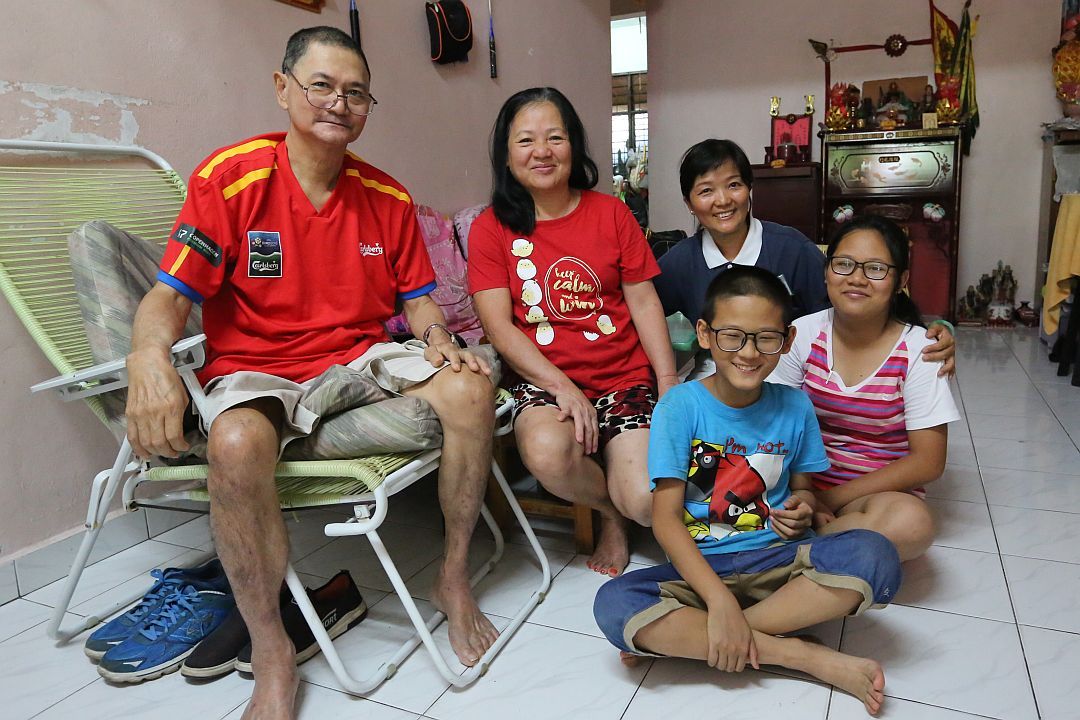 Under Seng Kiaw's advice and teachings, the children also applied what they have learnt at home. At soon as they reached home, they would divide the work to help their grandma prepare the ingredients and share the workload for house chores. During Yong Lie's free time, she would take the initiative to care for an elderly woman, who lives alone at the corner of the street, helping her run errands and carry things.
Bee Kuang smiled, "She is a helpful girl. She walks up to elderly people and hold their hands when she sees them with walking difficulty. I wonder where she picked that up, she adores the elderly."
Despite many complained that recycling is dirty work and advised him against allowing his grandchildren to go there, Bee Kuang shared, "They have learnt a lot with the Tzu Chi people." In fact, they have learnt more than just environmental protection.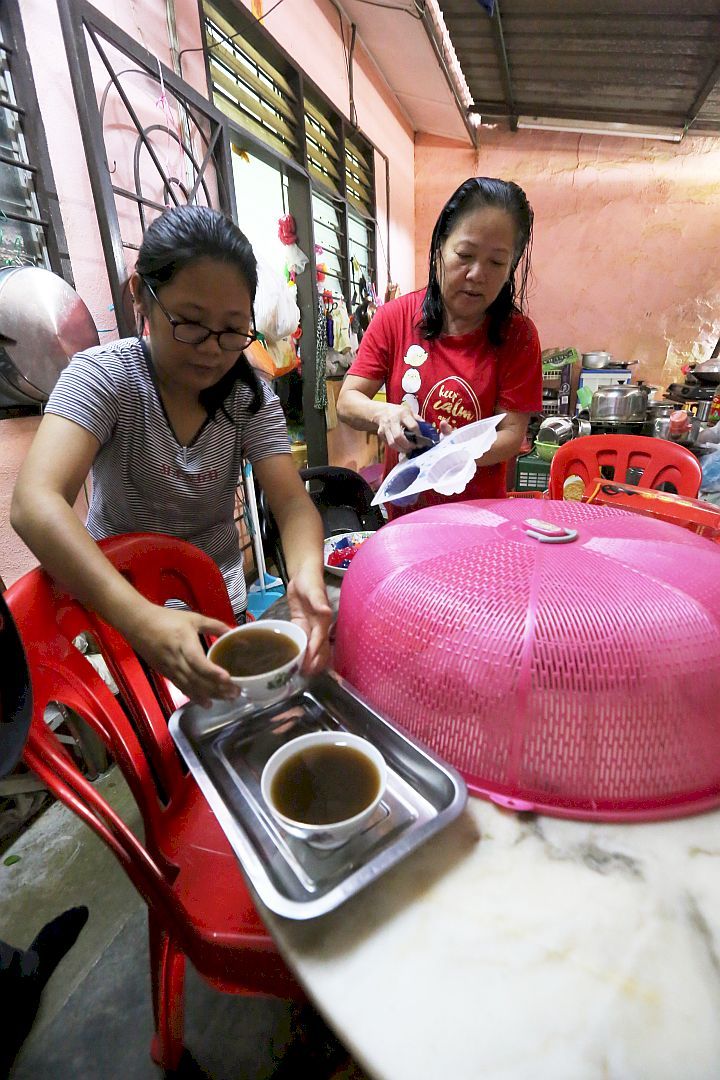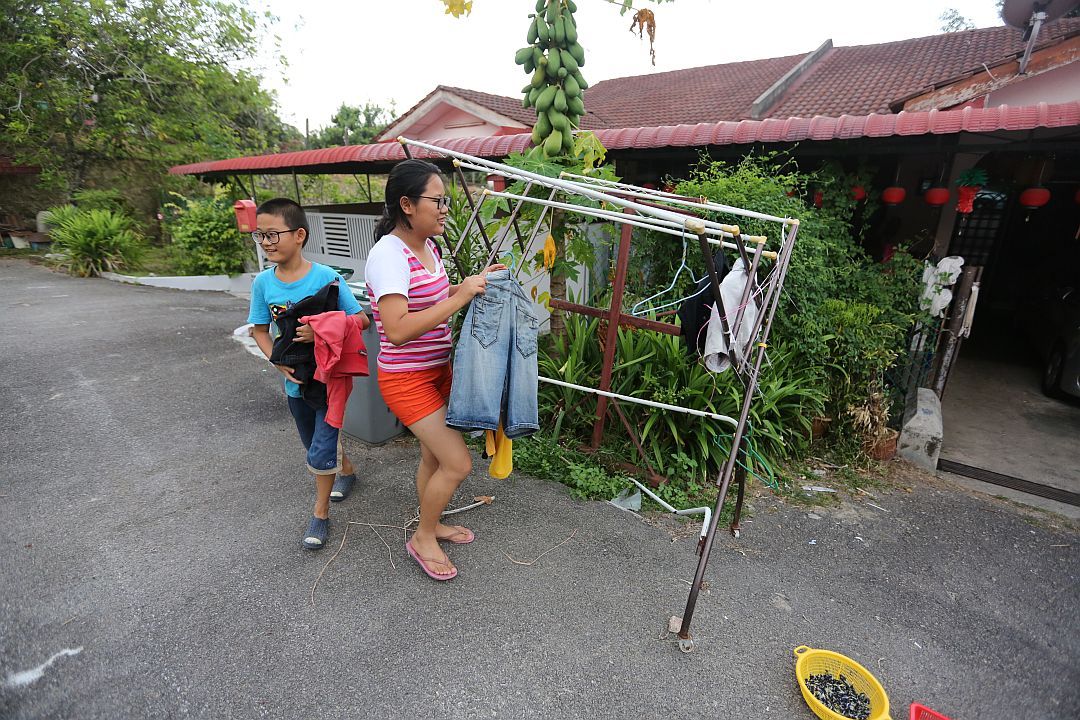 Family love
At every available time, Yong Kim would contact Aunty Fragrant (Yoon Heong) or tag along Big Sis (Lee Yee) on Recycling Day to do environmental protection work. As soon as she arrives, she would begin her work – stepping on PET bottles to flatten them, or learn to sew and mend recycle bags from Aunty Goddess (Chuo Sen Yew).
With the education on environmental protection slowly instilled in her, Yong Kim, who loved soda, began to cut down on soda consumption to reduce the amount of trash when she realized how much discarded beverage containers there were. From a lack of understanding to participating in recycling, she has become a "green soldier" who saves recyclables.
"Grandma, don't throw this away. This can be recycled." Yong Kim removed a can from the rubbish bin, washed it and took it to the recycling centre. "Don't use plastic, they aren't environmentally-friendly," she said. She would insist on using reusable tableware.
Once, Yoon Heong shared that she would carry a set of utensils with her and called for everyone to join her on this initiative. The siblings, who were listening to the sharing session, remembered her words; they surprised Yoon Heong when they brought their own tableware to a wedding reception.
To Yong Kim, the recycling centre is not only the place that inspired her love for the Earth, it is also her second home. "Every time the volunteers see me, they would ask, 'How are you?' and together, we talk about the problems we face. I speak to them about my worries and they advise me accordingly. They give me the love of a family."
Yong Kim would talk and share her feelings with Lee Yee each time she faced unpleasantness; she would hug her to cry before picking herself up and start over again. "We are concerned about them, like our children. It is important to be by their side and care for them," Lee Yee shared.
Yong Kim, who is considerate and sensible, has won many awards, including the Model Student Award. This year, she will receive the Morality Award from Tzu Chi.
• 
"I have always wanted to find the answer, and now I know it." Yong Kim has gradually relieved her concern of having no parents. Grandparents' love, company of Tzu Chi volunteers, the companionship of teachers and friends, whose guidance and assistance have influenced them; and eventually, they let go of hatred.
In the past two years, Yong Kim and siblings volunteered to join recycling. Although they started out of curiosity and fun, thanks to the volunteers and their guidance and companionship, more good thoughts were planted.