"I have a coin bank in my closet that I want to donate to Tzu Chi. The volunteers have not come for two years. Before my partner's demise, he told me to donate RM10 monthly. I now owe Tzu Chi RM240 over the past two years. Please remember to hand over the RM240 to Tzu Chi after I depart this life…" – Heng Bak Nam
Eighty-five-year-old Grandma Heng Bak Nam was admitted to the Sungai Buloh Leprosarium (also known as the Valley of Hope) at the age of 15. She got married, had children, and spent most of her life there. Recently, she was transferred to the critical care ward owing to deteriorating health—she was diagnosed with an enlarged heart, which could affect her brain and take her life anytime. Despite her life being as fragile as candlelight in the wind, she was not afraid. Being of staunch Christian faith, she described that moment as "returning home".
Nevertheless, something lingered in her mind. She entrusted Tan Ean Nee, a council member of the Sungai Buloh Settlement Council with this request: "I have a coin bank in my closet that I want to donate to Tzu Chi. The volunteers have not visited for two years. Before my partner's demise, he told me to donate RM10 monthly. So, I now owe Tzu Chi RM240 over the past two years. Please remember to hand over the RM240 to Tzu Chi after I depart this life…"
Ean Nee, who has cared for the elderly residents at the leprosarium for over a decade, then posted some updates about Grandma Heng and what seemed to be her last words on Facebook. At the same time, she contacted Tzu Chi volunteers Tan Chee Wei and Koay Si Hui, hoping that the volunteers could visit Grandma Heng at the leprosarium.
Over the past two years, the leprosarium had suspended services by voluntary groups due to the raging Covid-19 situation. Tzu Chi volunteers were also concerned that their visits would increase the risk of infection towards the elderly residents. Hence, they halted their monthly visits, which had been consistently ongoing for more than 20 years.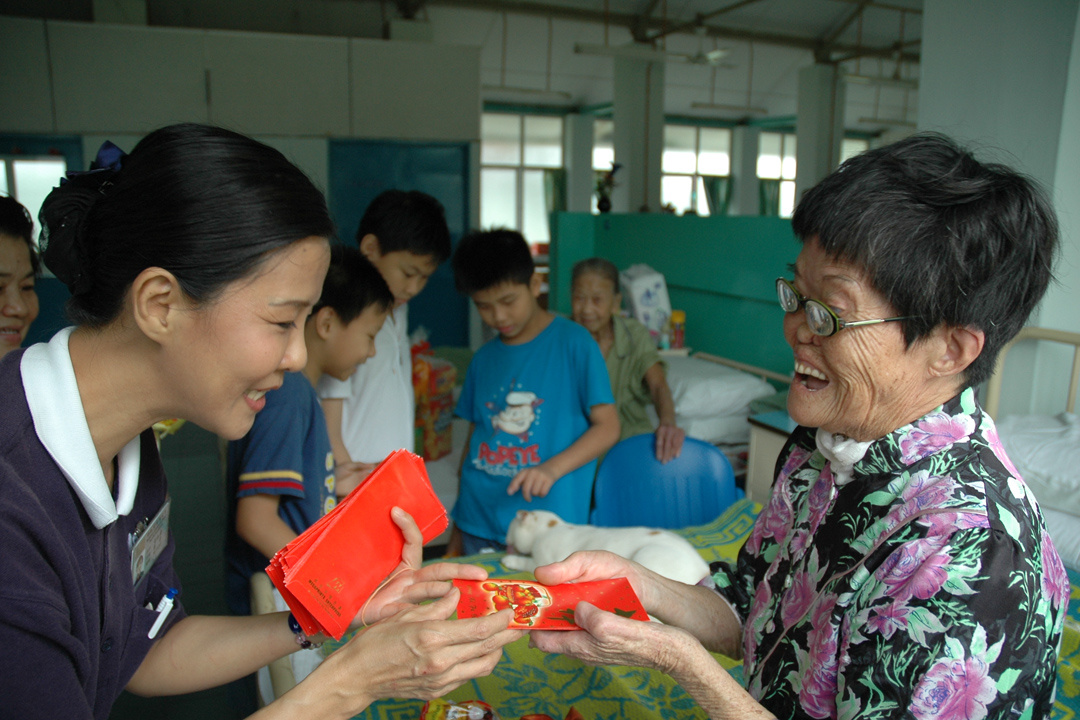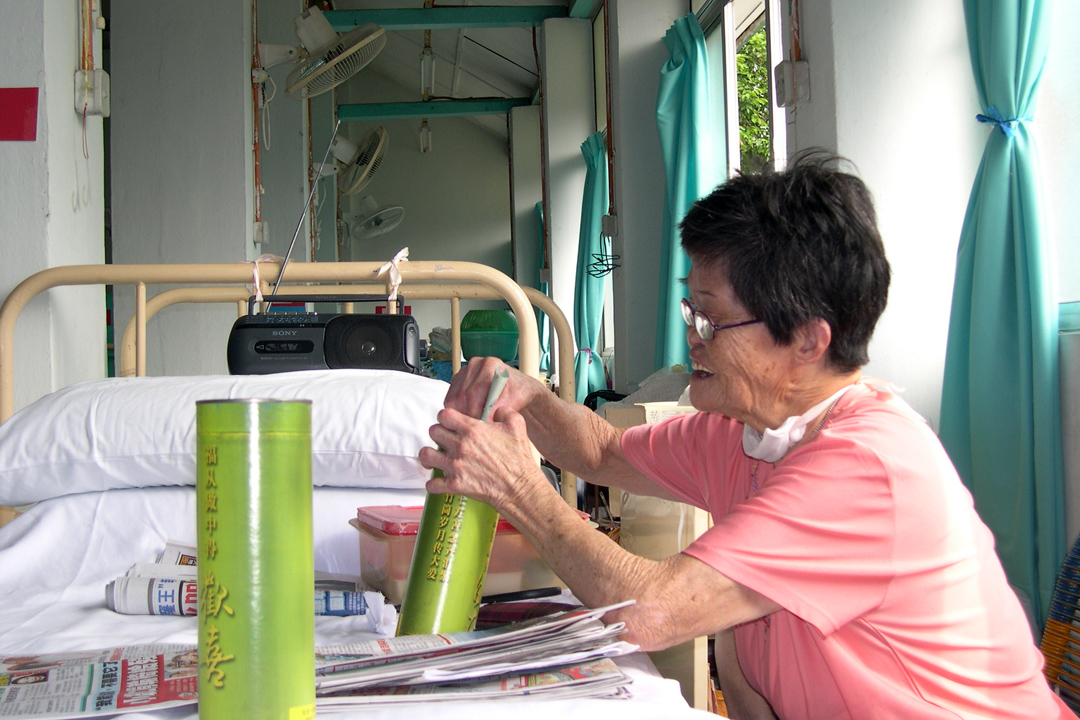 ◎ A much-anticipated reunion
On January 24, 2022, with Ean Nee's arrangement and special permission from the leprosarium, Chee Wei and Si Hui visited Grandma Heng. The familiar blue and white uniform they donned, brought back fond memories of the granny's first meeting with Tzu Chi volunteers back in 1997. Jolting her memory with clarity were volunteers like Tan Eng and Wang Yue Juan, who gave her warm hugs.
She recounted her wish to do good deeds by saving money in the bamboo coin bank. "When the coin bank became full, I would give it to Tzu Chi volunteers. In the past, Tzu Chi volunteers would bring us to the hall at Chong Hwa High School or Thean Hou Temple for a year-end distribution event, where vegetarian food would be served. Later on, when the KL Tzu-Chi Jing Si Hall was built, they put us in wheelchairs and pushed us around to visit…"
Grandma Heng recalled that be it an external venue or Jing Si Hall, there was always a vegetarian reception, performances, and a bamboo bank corner at the annual year-end distribution event. On numerous occasions, she took the opportunity to pour her savings collected over the whole year from her coin bank into the large collection urn. She described gleefully that she could feel the joy of helping others when she saw the gathering of love and kindness in the urn.
In addition, Grandma Heng and her husband also became Tzu Chi donors, contributing RM10 monthly since they got acquainted with Tzu Chi volunteers. She has continued to donate after her husband's demise. Even during the volunteers' absence in the past two years, she has persisted in putting aside and safe keeping the monthly donations.
Now that the volunteers have come to visit her, she gladly handed the filled coin bank and accumulated monthly donations totalling RM240 to Si Hui. She expressed her utmost happiness in seeing Tzu Chi volunteers again, which also allowed her to personally handover her contribution to them.
She also reiterated what she had told Ean Nee regarding her funeral arrangement wishes—she wanted to have the mourning hall set up in the Gospel Hall within the Valley of Hope, and three Christian hymns playing in the background.
Her calm demeanour towards death moved the visiting volunteers. Chee Wei responded that arrangement could be made for the volunteers to be there to sing the "Prayer" for her final farewell.
When Si Hui respectfully presented a red envelope of blessings and wisdom from Master Cheng Yen to Grandma Heng, the latter admired the envelope closely. Although the design has changed slightly with the addition of rice grains on top of the commemorative coin, she could feel that love has continued to resonate.
During their conversation, Grandma Heng said that she had not heard Master Cheng Yen's teaching for a while, and she missed it very much. As there was no television in the critical care ward for her to listen to the "Prayer" and Master's talks, Chee Wei encouraged her to say what she wanted to say to the Master, and he would record it using his mobile phone.
Grandma Heng pressed on her throat wrapped in white cloth (*refer to Note) and said, "Master Cheng Yen, I am sick now, so I cannot watch your Dharma talks on television. I can relate to your teachings very well. Perform good deeds, do not stop and do them quickly. When we perform good deeds, we feel happy, and we do not need to be rewarded. It is very true. Master, how are you? Are you in good health? Wishing you Happy Chinese New Year, and may everything go well with you. Lead many (volunteer) bodhisattvas to follow you. This is my wish. Thank you, Master!"
As soon as the short video clip was shared with the staff of Tzu Chi KL & Selangor, they were very touched and decided to fulfil Grandma Heng's wish. They recorded the "Prayer" and the Master's Dharma talks on a portable player, so that the granny could turn it on to listen anytime, anywhere, and arranged for Tan Eng to visit Grandma Heng for a proper catch up.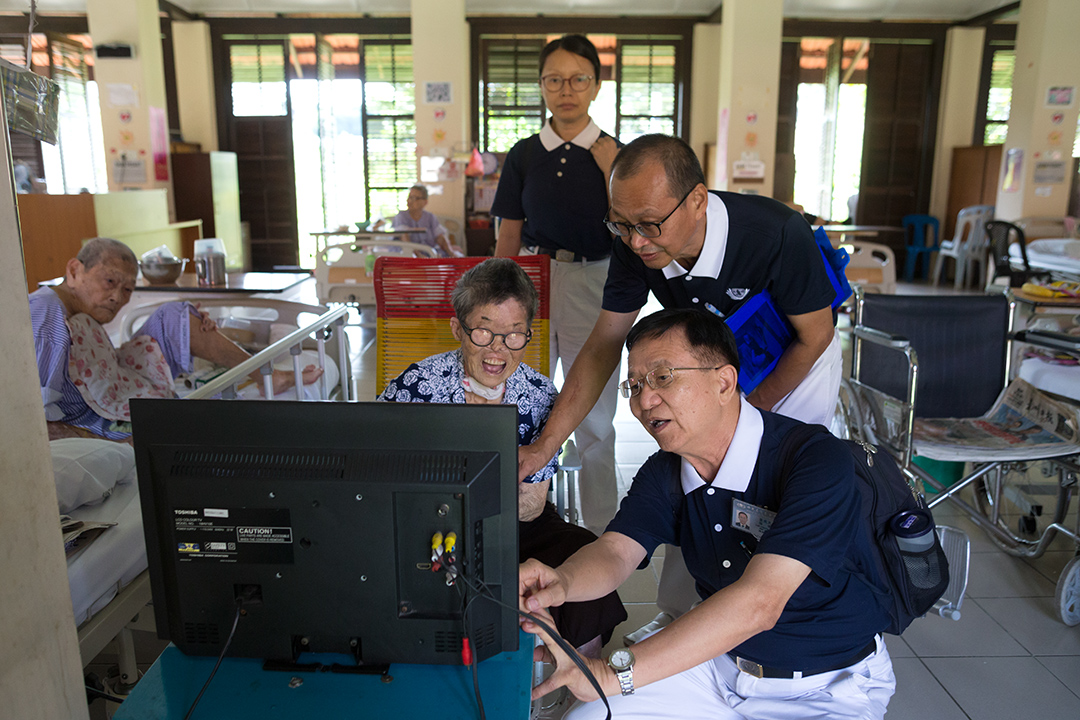 ◎ Holding firm to her initial aspiration
On January 29, Tan Eng arrived at the leprosarium in her Tzu Chi uniform. Her presence caught Grandma Heng by surprise. She took out the portable player and taught Grandma Heng how to use it. When the song "Prayer" was played, Grandma Heng brought the player closer to her ear and said happily, "I have not heard this song for weeks! This is my favourite song. My mood will calm down whenever I listen to this song."
She was amazed to learn that there were a series of Dharma talks by Master Cheng Yen after the "Prayer". Listening to the familiar voice of Master gently expounding the principles of dealing with people and matters, she could not help but murmur, "Master! It is really Master who is preaching!"
Due to shortness of breath, Grandma Heng was unable to engage in a long conversation. Tan Eng stroked her back and softly urged her to rest. Looking around, Grandma Heng recalled that when the volunteers first served at the leprosarium, there were over 200 residents, but now, there are less than 40 of them.
Noticing a hint of sadness on her face, Wee Yong Ching, a Tzu Chi staff present, hurriedly took out three bamboo banks of different sizes and asked the granny smilingly which one she liked. Grandma Heng enquired with surprise, "Is this for me?" It turned out that she did not have a coin bank with her since handing hers to over Si Hui.
Yong Ching then showed her a video clip, of Si Hui, on Grandma's behalf, pouring the money from the latter's coin bank into the large collection urn at the Jing Si Hall. A smile formed on the granny's face as she watched her kindness flowing into the 'sea of merit' at Tzu Chi, and she exclaimed, "This is great! This is great!"
She then selected the largest of the three coin banks placed on her bed and said with a smile, "This is big and can hold more money." After saying that, she took out a red packet, which she had just received, from a box placed at the end of her bed, pulled out a RM20 note and put it into her new coin bank. She said with anticipation that she would gather more love in the coin bank and pass it over to the volunteers when it is fully filled.
Grandma Heng's persistent kindness touched the volunteers present. Despite the lapse of time and changes that have taken place, two things remain unshakable—her great respect for the Master, and her initial aspiration to perform good deeds.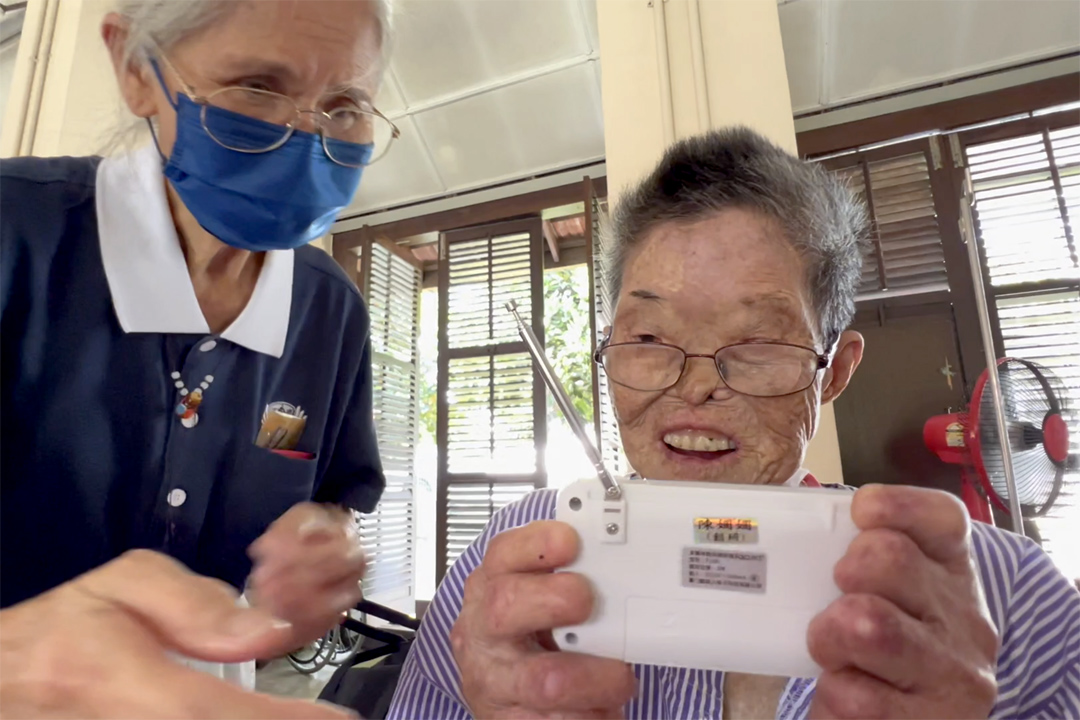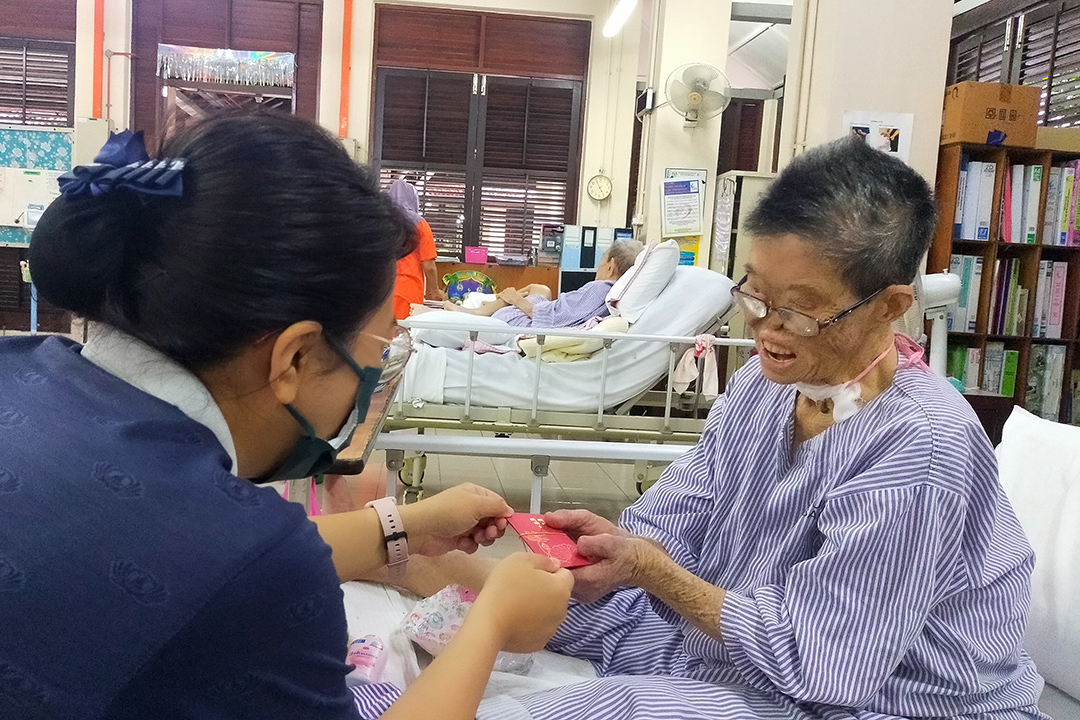 Note: Due to asthma and breathing problems, Grandma Heng underwent a tracheostomy when she was younger. So, she sometimes needed to cover the tube opening to allow the vocalization of speech.
Postscript: Grandma Heng passed away peacefully on March 8, 2022. More than ten Tzu Chi volunteers attended her memorial service on March 10 and offered final blessings through the singing of "Prayer".