Tzu Chi Miri Liaison Office organized their second free medical outreach this year on November 3, 2019, to benefit the locals at Kuala Baram Jeti Lama.
Kuala Baram Jeti Lama, located 23 km away from Miri, used to be a bustling pier. With the cessation of ferry and speed boat services, the pier has turned into a place for traders of second-hand goods and garments during weekends. As many foreign workers and low-income villagers live around this area, Tzu Chi volunteers chose it as the venue for their free medical outreach.
The free clinic opened for registration at 7 a.m., and by 10.30 a.m., there were already 257 patients registered. At the end of the day, the medical team had served 716 patient visits. This included 86 general checks; 88 eye checks; 78 dental checks; 49 traditional Chinese massages; 257 blood pressure checks and 158 blood sugar checks. The haircut service had also attracted 140 people.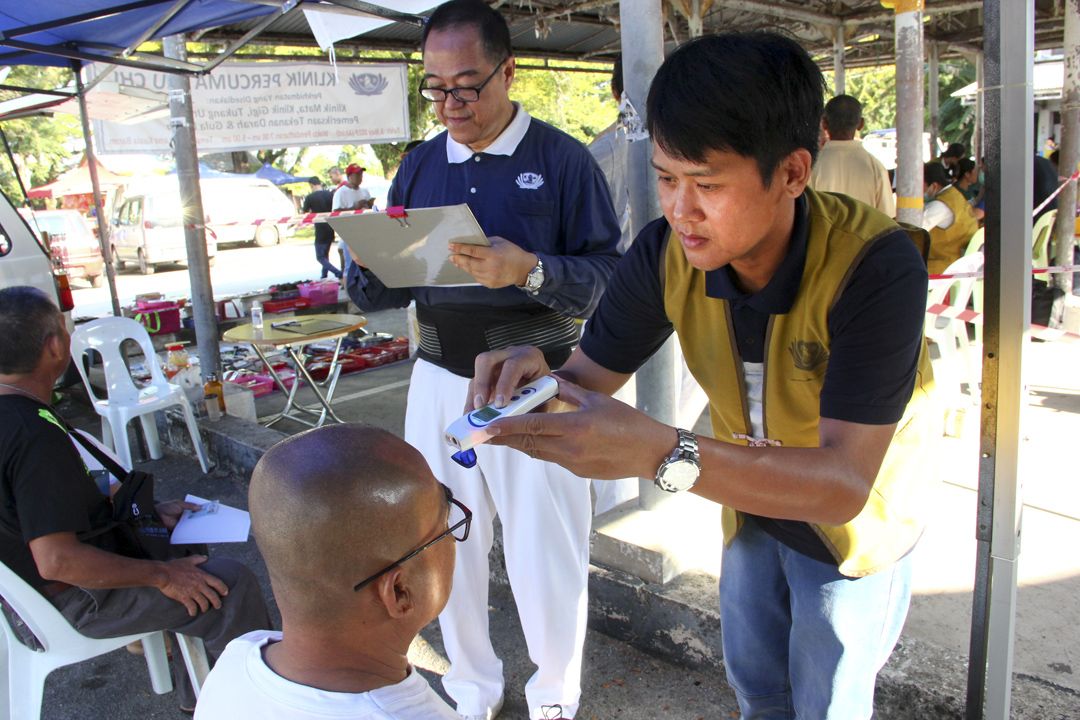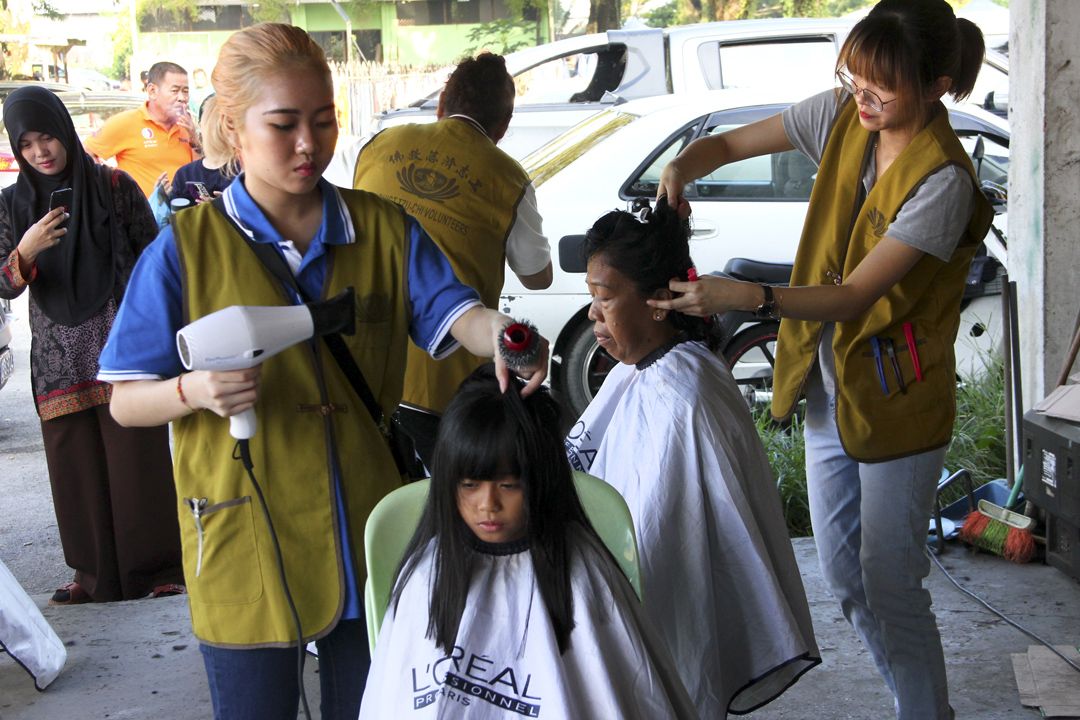 Relieve from prolonged toothache
Kasruddin, a foreign worker from Indonesia, who works in a sawmill, had finally found relief for his prolonged toothache. Due to the high cost of getting dental treatment, he had to endure the pain for more than half a year. During that time, he was only taking normal painkillers to temporarily relieve some of his pain.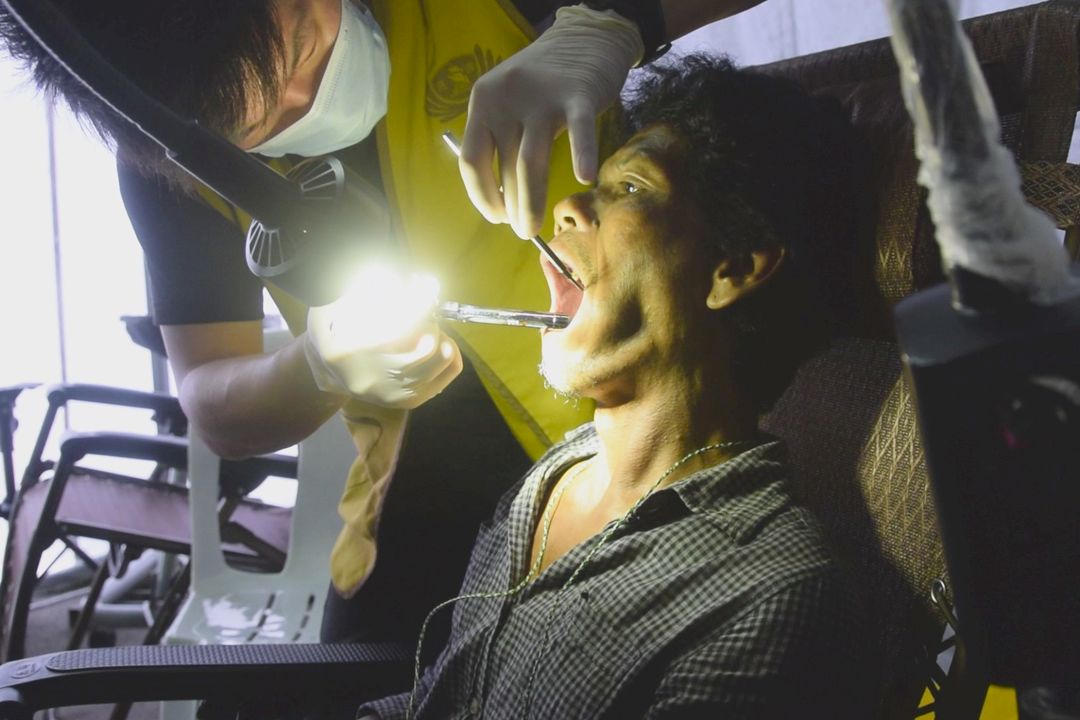 He described his suffering as unbearable. When the pain occurred, he could not eat or sleep. He was thankful that some of his colleagues who always frequented the pier, informed him of the free clinic. He had four teeth extracted in total at the dental clinic, and was finally relieved from severe pain.
Chung Ming Mei, coordinator for this free clinic, mentioned that through experience from the previous outreach, many foreign workers in this area were not financially able to get dental and eye treatments. They needed to pay a certain amount even if they decided to get treatment from government hospitals. Therefore, tooth examination, extraction and filling services were provided.
On March 17 this year, the first medical outreach was held at SK Kuala Baran II. Tzu Chi volunteers promoted the free clinic and managed to get more than 200 people registered. But on the day of the free clinic, only 100-plus people came to seek treatment. It seemed that the venue of the free clinic was quite a distance from their residential area, and many of them had problems with transportation.
This time, the organizing team decided to shift the whole free clinic to a more locally concentrated area. However, as it was an open area without electricity and water supply, volunteers had to set up powerful generators to provide air-conditioning in the tent, to operate dental equipment, and other purposes. The operating cost was no doubt much higher. But for the benefit of the locals in mind, who were desperately in need of medical treatment, volunteers worked hard to overcome the problems.
Miri Hospital's Ophthalmology Department also joined Tzu Chi to provide their services in this free clinic. Volunteers had an agreement with the department that should there be any cataract cases detected, the patient would be referred to the hospital for further treatment. If the patient could not afford the cost of the operation, Tzu Chi would step in to assess the patient's financial situation and provide the necessary assistance, including subsidy for the lens and transportation fees to the hospital.
Serving without boundaries
Antonius from Indonesia has been working in Kuala Baram for nine years. This was the second time he visited a Tzu Chi free clinic. He was very grateful to Tzu Chi for providing free medical services regardless of race, religion or nationality. He had skin complications due to his occupation that requires him to have close contact with wood. After using the medicine prescribed to him by the doctor at the first free clinic, he had recovered. This time, he was here for an eye check.
On each occasion, Antonius would bring his family with him to seek treatment at the free clinic. When he saw that there was traditional Chinese massage available, he brought his wife, who was still in confinement, to get a massage as she was suffering from backache and knee pain.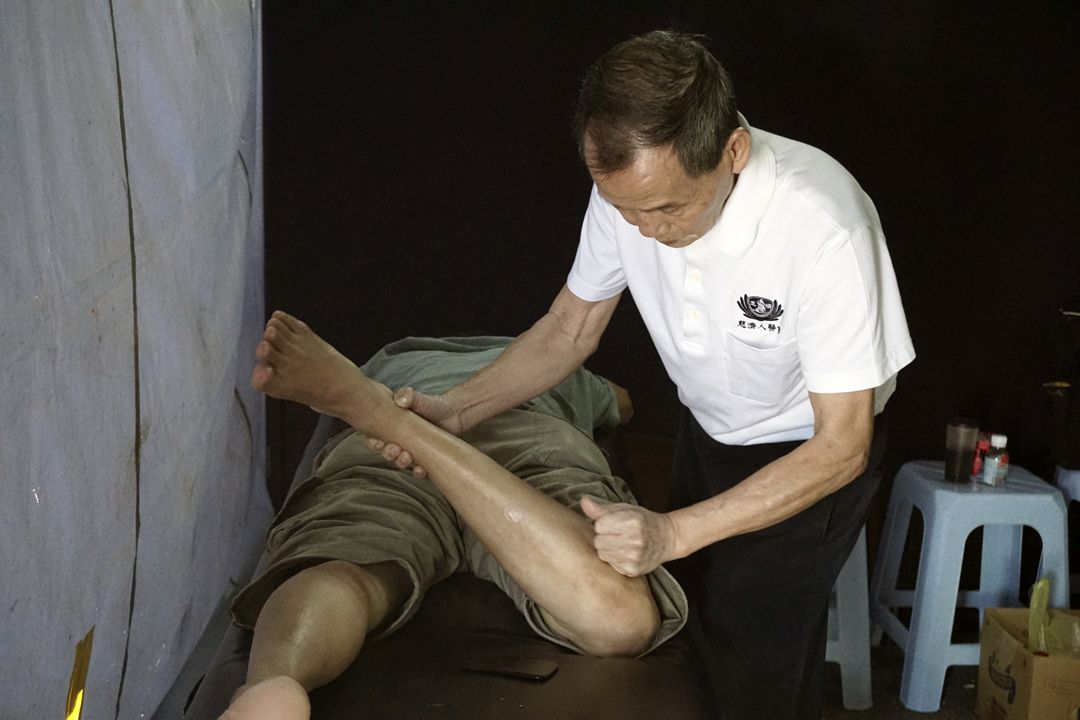 An elderly Malay woman, Chinta, was suffering from backache for the past five years. When the pain occurred, she could hardly move her neck and back, and she would feel unbalanced, as if she would fall. Despite doing exercise and physiotherapy, the problem persisted. But, after receiving a traditional Chinese massage at the clinic, her condition improved tremendously. She was, therefore, very happy.
Medical aid from healthcare professionals
Dr Tun, a Myanmarese who had served in Marudi Hospital for decades prior to his retirement, was enthusiastic about participating in the free clinic. In addition to seeing patients, he also helped with the dispensing of prescriptions and distributing medicine.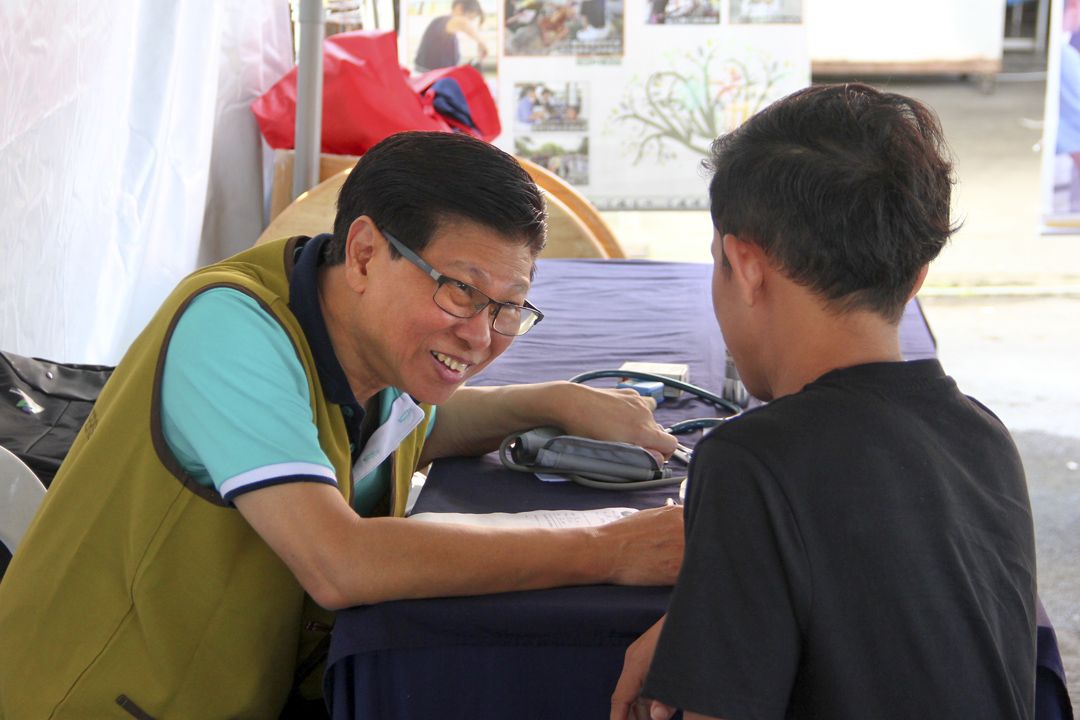 Bright Smile Dental Clinic and the Klinik Kesihatan Tudan sent dentists and nurses to serve at the free clinic. The former also bore all the medication costs for this free dental clinic. In addition, dentist Sim Ruoh Hean from this clinic also participated in this event for the third time. This time, two other dentists and two dental assistants from Bright Smile Dental Clinic also served at this free clinic.
Dentist Sim was touched and inspired by the spirit and mindfulness of Tzu Chi volunteers. Hence, he would never reject an invitation to partake in an outreach. He said that many foreign workers' teeth were not properly taken care of because they lack knowledge in dental hygiene and have financial constraints, which prevented them from seeing dentists. They also do not know where to seek assistance when they have toothaches. Therefore, this dental free clinic has indeed helped many foreign workers.
This was the first time the free clinic was held outdoors in a tent. It started out fine, but towards the afternoon and under the scorching heat, the temperature in the tent kept rising despite the air-conditioning. Nevertheless, the sweating dentists still worked hard and completed their tasks.
Restoring vision
International Optical Company sent optometrists and assistants to provide eye checks at the free clinic. They also sponsored 100 pairs of reading glasses for long-sightedness, and 50 pairs of spectacles for near-sightedness. Thirty short-sighted and 17 long-sighted spectacles were given out at the free clinic.
The company's owner, Tiong Chiong Sing, has been participating in the Lions Club's rural medical outreaches for over ten years. This was his first participation in Tzu Chi's medical outreach, and also his first medical outreach that provided services to foreign workers. He had known about Tzu Chi for a long time and is also a Tzu Chi donor.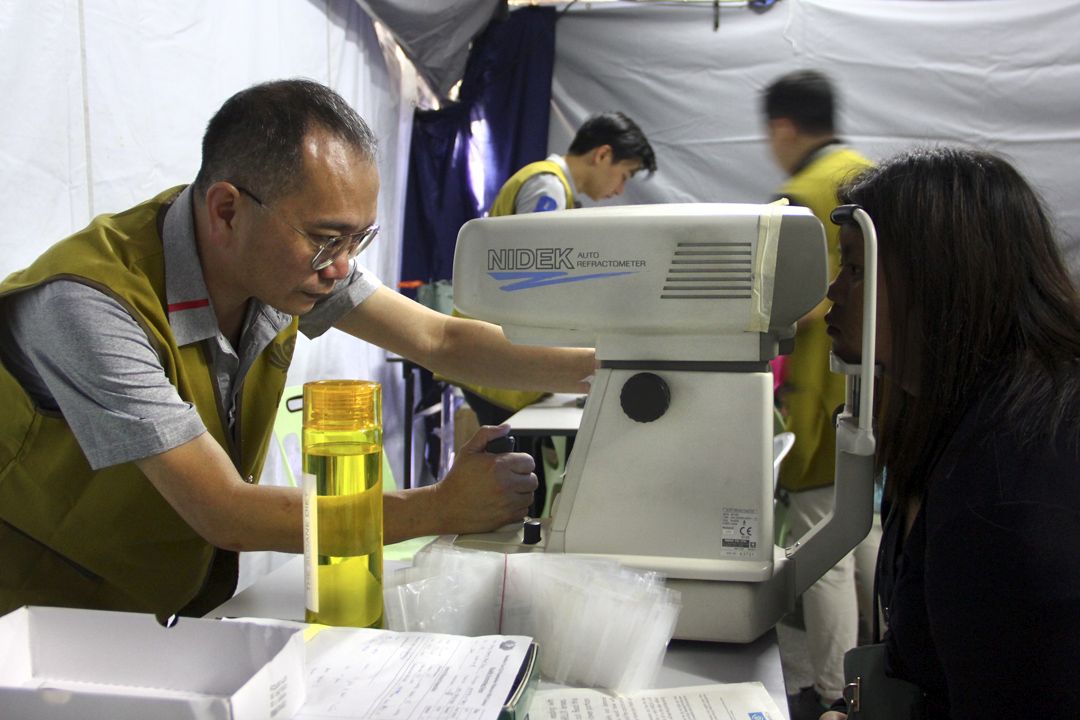 Support and assistance from KPJ
KPJ Specialist Hospital is opening soon in Miri, but they were already sending healthcare professionals to join the medical outreach. A total of three staff and nine nurses were sent to help with blood pressure checks, blood sugar measurements and BMI checks. 
Its Public Relations Officer, Derek Beh, informed that this was Miri KPJ Specialist Hospital's first participation in a Tzu Chi free clinic. They were glad to be involved in this meaningful activity and to render their services to the public.
Derek is looking forward to future collaborations with Tzu Chi in organizing bigger scale medical outreaches. He told volunteers that Miri KPJ Specialist Hospital is working towards a paperless administration, and would like to seek help from Tzu Chi to provide some environmental knowledge and education to its employees. At the invitation of the hospital, Tzu Chi volunteers gave a talk on how to separate and classify different types of recyclables on November 9.
A hairstylist with Tzu Chi for 13 years
Josephine Ch'ng, an instructor at a hairdressing school, has been joining Tzu Chi in providing her service to those who need it for the past 13 years. She has been to old folks' homes, special children's centres, orphanages, and other institutions to give free haircuts. Her passion for charity work grew since she started providing her services in Tzu Chi. Although it is tiring, she feels happy being able to help those who could not afford to visit the hair salon.
Sixty-three-year-old Jennifer Wong started her hairdressing career when she was 16 years old, but stopped working for quite a while to take care of her children. She is now back in the field. She has known about Tzu Chi over a decade ago and was very touched by Tzu Chi's missions, but did not get the chance to join the organization due to her career and family commitments. Eventually, she became a Tzu Chi donor a year ago, and this was her first participation in this meaningful activity.
• 
"The ones who are dealt a good hand should reach out to those in need." Tzu Chi volunteers came to realize the true meaning of this teaching from Master Cheng Yen while serving the needy. This seemingly simple phrase has a profound truth. Poverty is the main issue faced by these foreign workers and villagers. Basic things like getting medical attention and transportation have become so difficult for them. Only by seeing those in suffering do we realize how blessed and fortunate we are. We should continue to do good deeds and benefit humanity.