Starting this April, borders were lifted and restrictions relaxed. Life unreels to its pre-pandemic pace, reopening a world without borders. Tzu Chi KL & Selangor resumed the long-anticipated Buddha bathing ceremony at KL Tzu-Chi Jing Si Hall, while volunteers and members of the public made their way back to their spiritual homes in several states of Malaysia, fulfilling the Buddha bathing ritual meant to purify hearts and minds.
At the foyer of the KL Tzu-Chi Jing Si Hall, the ambience was exceptionally calm. The illuminating soft lights from the crystal-clear Lucite Buddha statues cast a mesmerizing peace transcending earthly cares and woes. These statues lined the circular Buddha-bathing platform where participants bowed in unison, with clasped palms and prayerful postures, offering their silent wishes and confessions.
"We bow to Buddha's feet. We bow to adopt a vegetarian diet. Blessings and well wishes to all."
Under the guidance of the emcees, everyone prayed in reverence, wishing for a peaceful world. The congregation resembled a magnificent lake of lotus flowers in full bloom, radiating their light and hope to all.
The post-pandemic landscape gives renewed hope and vigour. With the slowing down of Covid-19 cases and high vaccination rates, the Malaysian Government has signalled a return to normalcy by reopening businesses and borders. The only thing that remains is the unmistakable mask, now a familiar fixture to our faces.
On May 7 this year, Jing Si Hall sprang to life when Tzu Chi KL & Selangor conducted a Buddha bathing and prayers ceremony. As a spiritual fortress of Tzu Chi volunteers, it continues to inspire compassion and love which define one's interactions with the community.
This time the Buddha bathing ritual was simpler, without the mass ceremony but nevertheless solemn and tranquil. More than 3,000 attendees took turns to reverently pay homage to Buddha, The Great Awakened One of the Universe. Bowing to the feet of Buddha, the devotees repented their past and visualized the water of wisdom cleansing their defilements and afflictions, and made a vow to maintain their pure nature.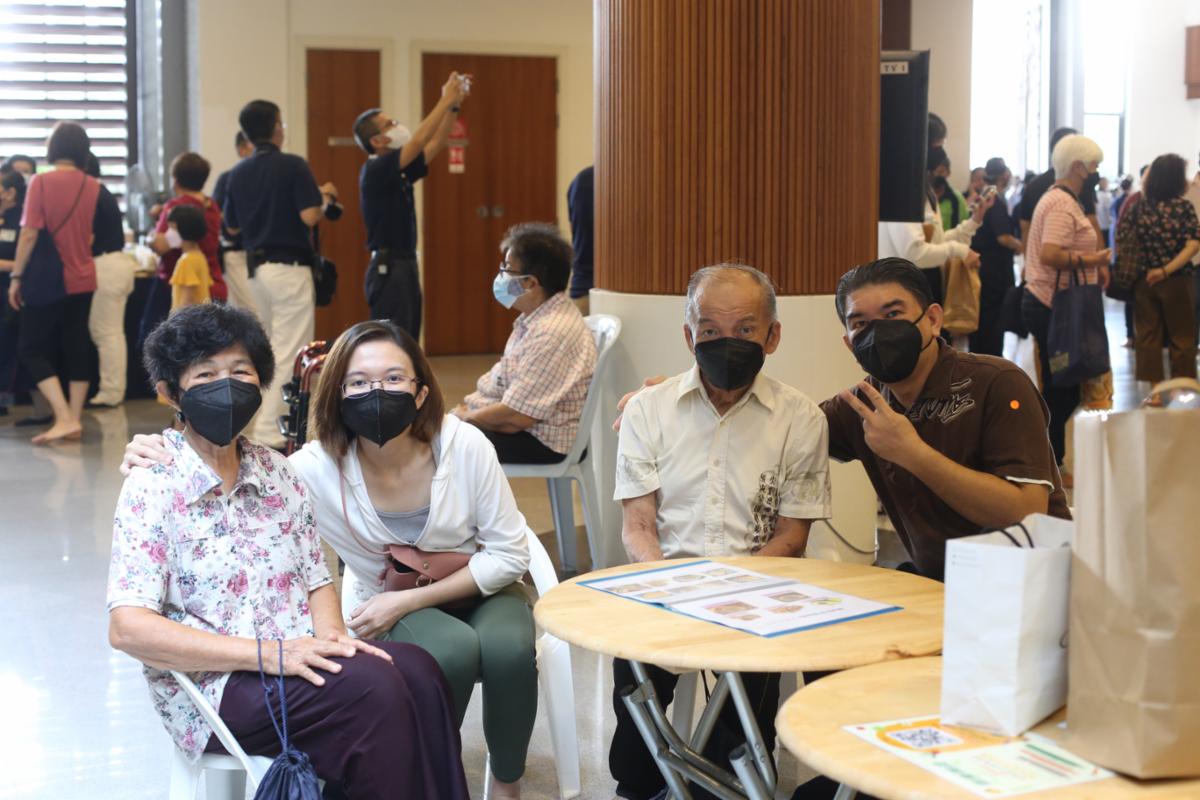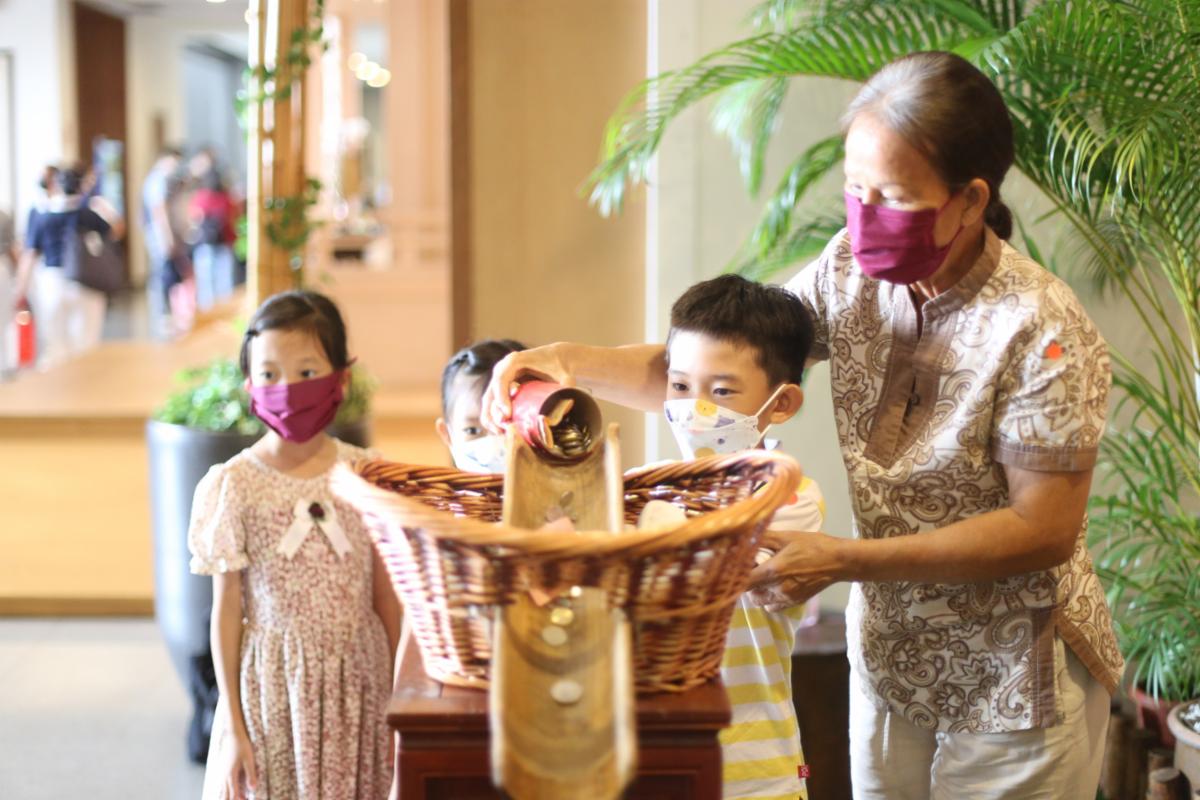 ◎ Sharing the Dharma joy
Tan Sri Lim Wee Chai, founder of Top Glove Corporation, who accompanied some honourable guests to the Buddha bathing ceremony, said, "Since the Covid-19 outbreak, I have not been able to come to Jing Si Hall for the Buddha bathing ceremony. I am very happy to be able to 'come home' and attend the ceremony today. I am glad to see everyone safe and sound, surviving this challenging time."
Lim Wee Chai, a Tzu Chi volunteer, is sympathetic about the impact of the pandemic on many families, and understands that life is not easy for many. "Now that the government has fully opened up various economic sectors, I hope everyone can gradually resume their normal lives. I believe that the situation will gradually improve."
The Buddha bathing ritual purifies the heart and inspires good thoughts. Despite his busy schedule, Lim Wee Chai has continued to apply Master Cheng Yen's teachings in his daily life. He has also led by example—repaying society during the pandemic.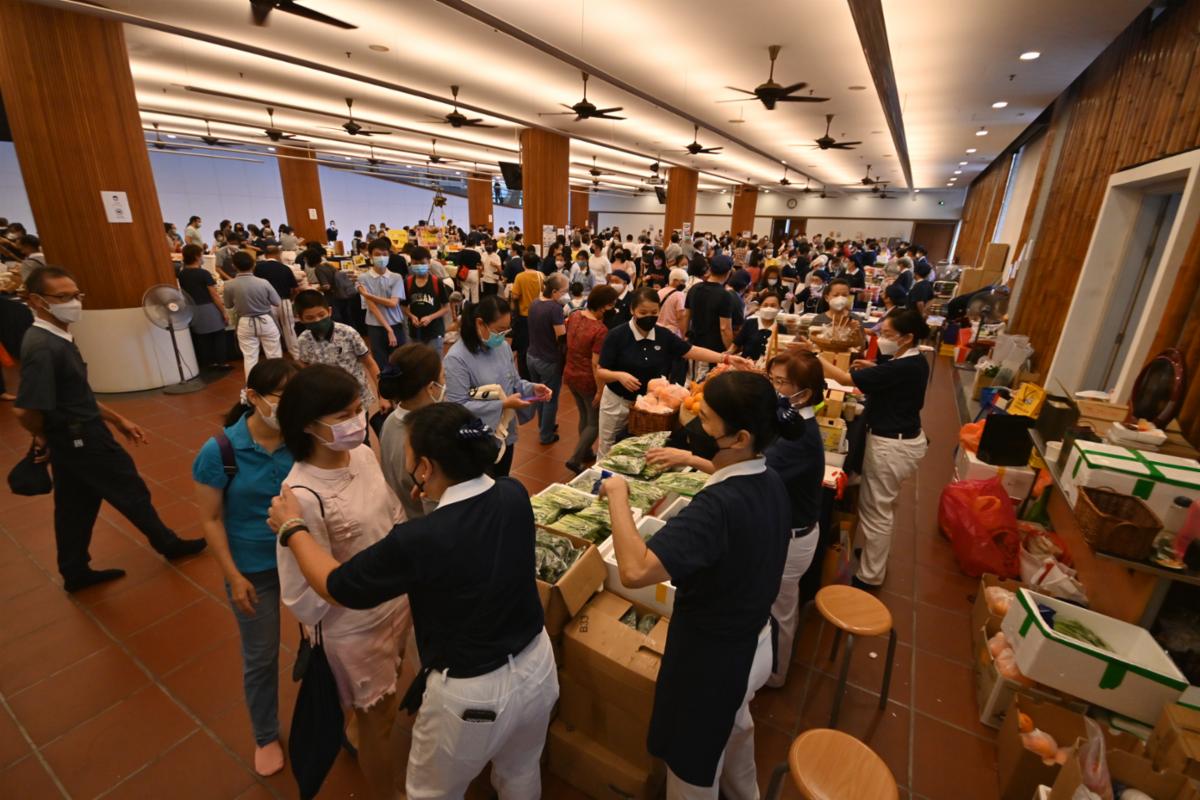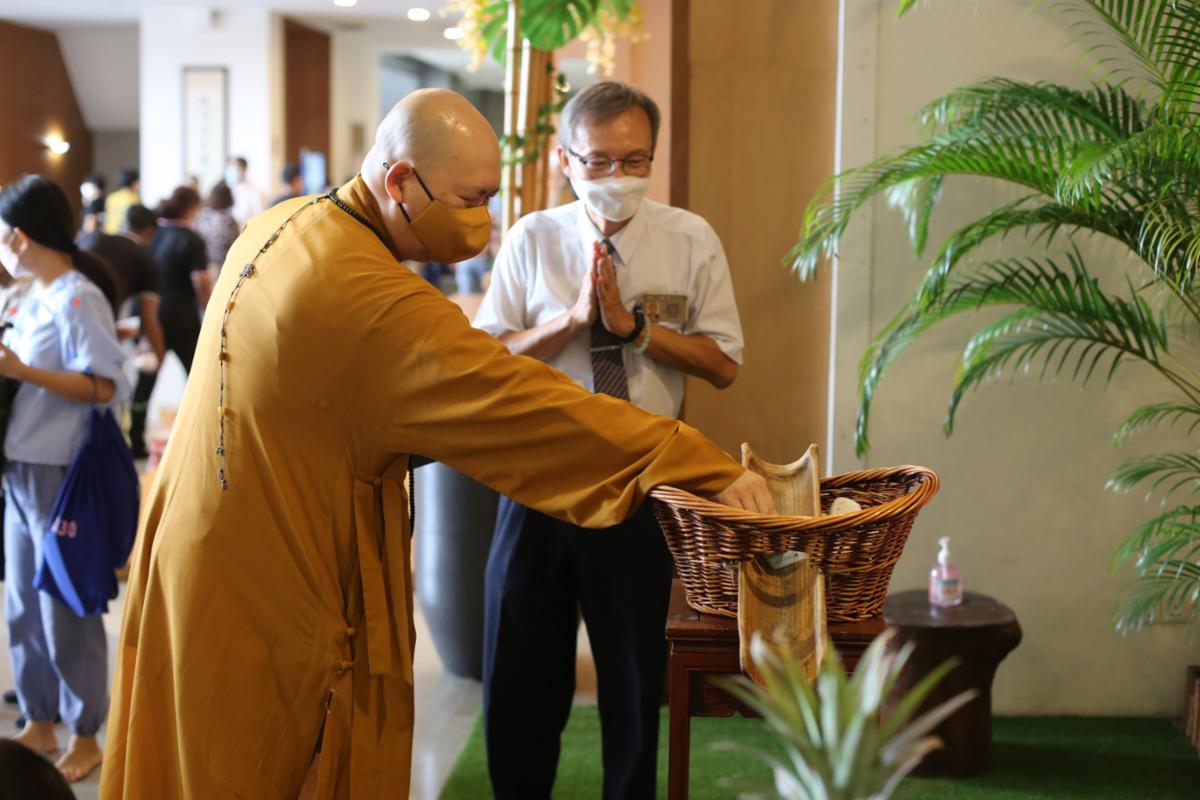 As the Russia-Ukraine war rages on, Master Cheng Yen urged Tzu Chi volunteers worldwide to consolidate their strengths to help the displaced Ukrainian refugees. On this day, a charity food bazaar was also held at the KL Tzu-Chi Jing Si Hall.
Chairman of the Malaysian Buddhist Association (Selangor & KL Branch), Venerable Ming Ji, attended the Buddha bathing ceremony at Jing Si Hall, accompanied by Venerable Zhen Hui and two assistants.
When Venerable Ming Ji arrived at the charity food bazaar, volunteers warmly welcomed him, and some even offered food to show respect. Sharing the aims of the bazaar, the chairman poured in his contribution. It fortified the volunteers' motivation to continue promoting kindness and vegetarianism for the well-being of the world.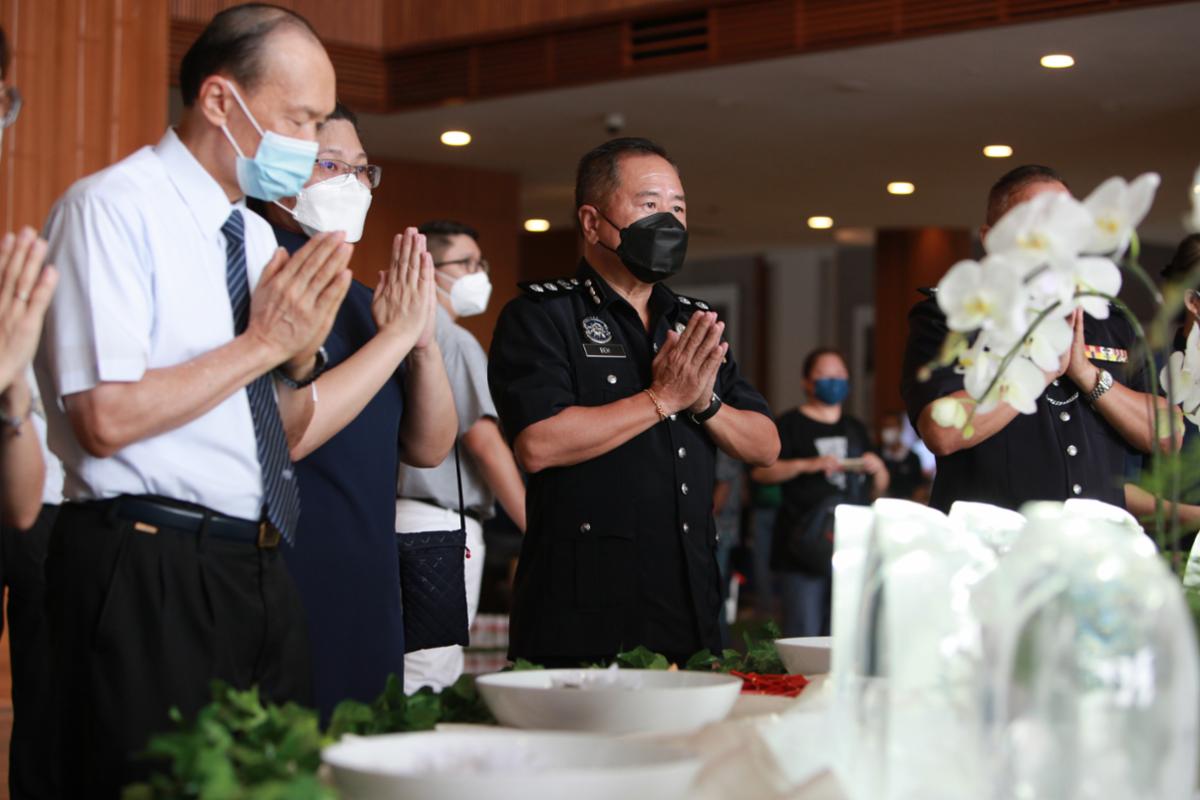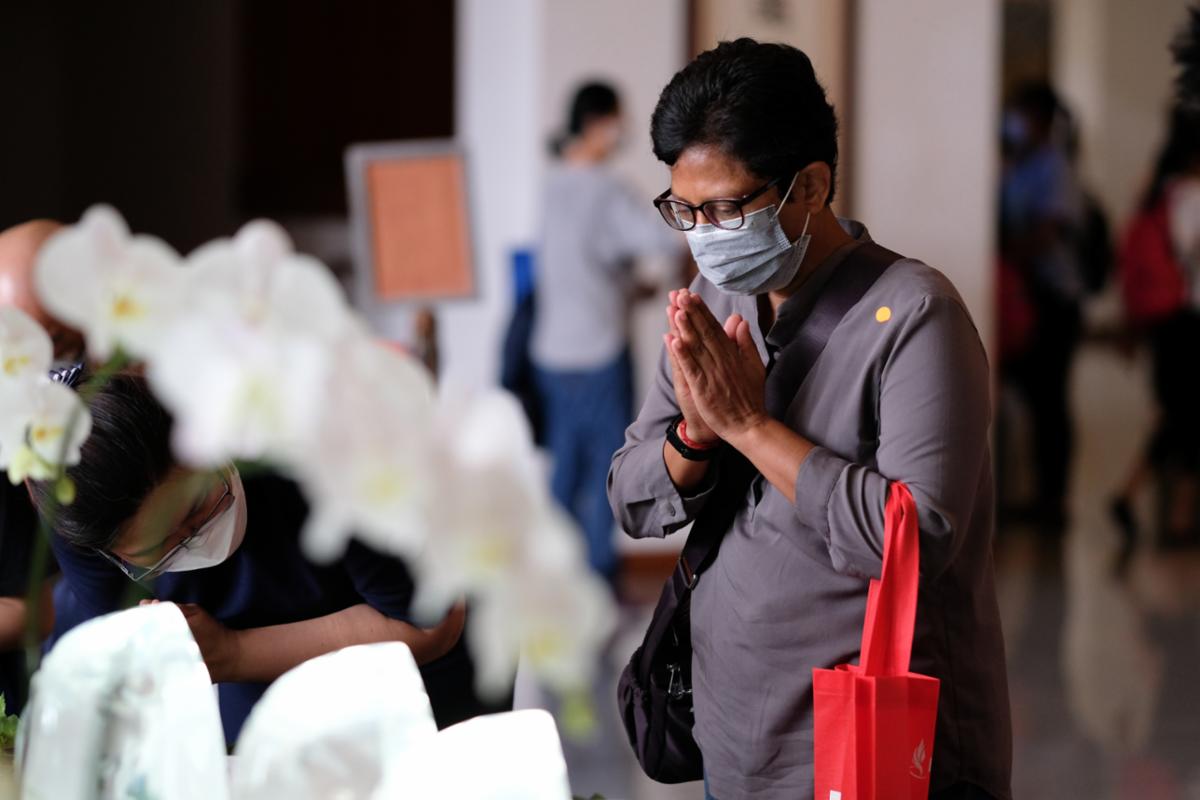 Sentul District Police Chief ACP Beh Eng Lai invited ten of his colleagues to participate in the Buddha bathing ceremony for the first time. After learning about Tzu Chi's charitable actions during the pandemic, he hoped the police could learn from Tzu Chi to reach out to the needy, embracing impartiality and selflessness, regardless of race and religion. He also looked forward to co-organizing activities with Tzu Chi in the future, as his gesture of repaying society.
The Malay version of the Tzu Chi song "One Family" sung by Dato Sri Siti Nurhaliza moved ACP Beh. He said, "I hope Tzu Chi can play this song in every charity event. It is very meaningful and inspiring. We must work together towards this [care and support one another like a family]."
Louisa Mark, an Indian Christian, visited the Jing Si Hall and attended a Buddha bathing ceremony for the first time. She was moved to learn about the history and development of Tzu Chi.
She shared, "I feel calm and joyful being here. Today is especially meaningful because not only do I participate in the Buddha bathing ceremony, but I also get to learn more about Tzu Chi's efforts in propagating Buddhism and benefitting humanity, as well as perform a good deed through the charity bazaar."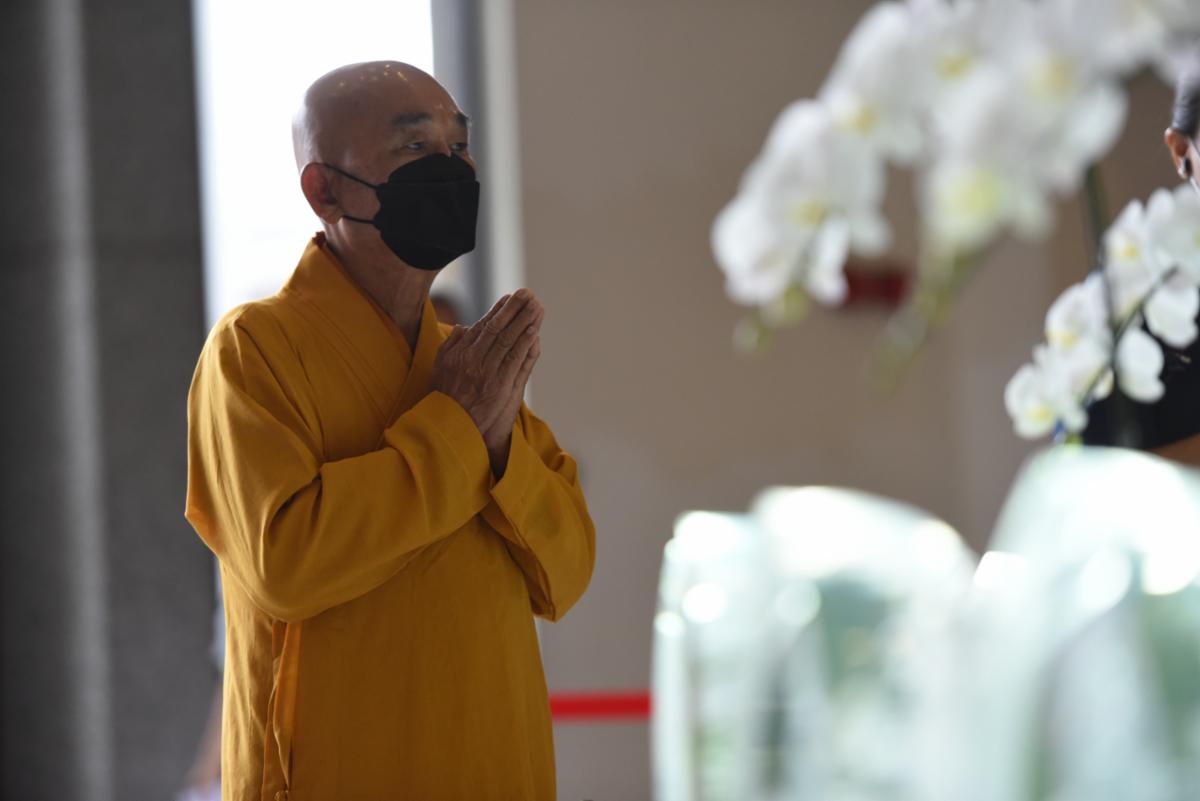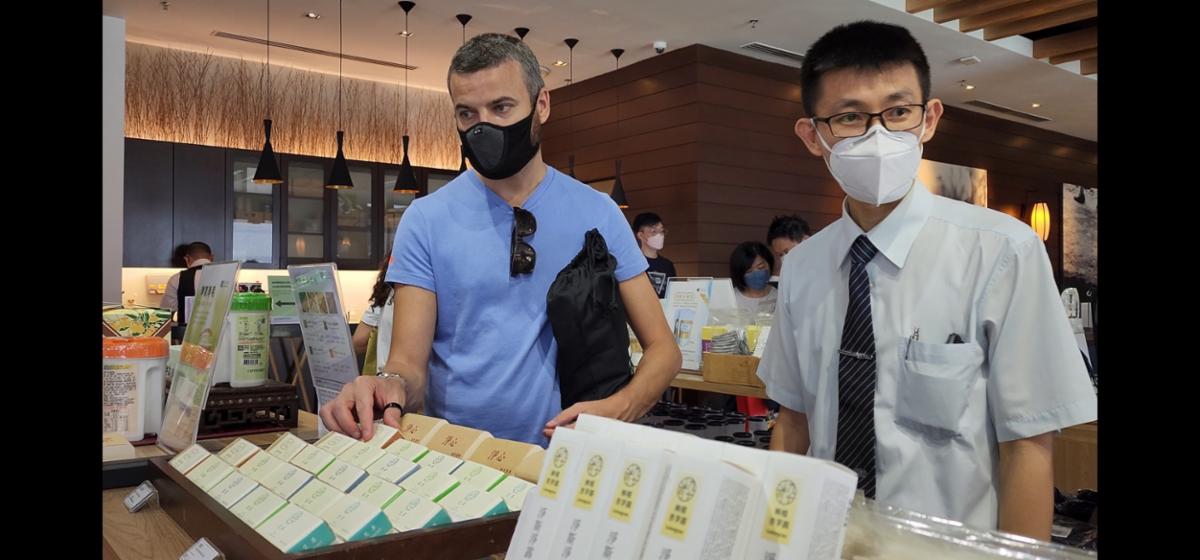 ◎ Appreciating the spirit of Buddhism
Venerable Dong Miao who drove more than 100 km from Port Dickson, Negeri Sembilan, to participate in the Buddha bathing ceremony.
Being his first visit to Jing Si Hall, Venerable Dong Miao listened attentively to the volunteer guide recounting Tzu Chi's origins and journey, and was full of praise for Master Cheng Yen's forward thinking.
"I am impressed with Master Cheng Yen's compassion to establish Tzu Chi. Today, Tzu Chi is present all over the world, with hospitals and schools in some countries. They are all very well established. There is also this big group of patient and kind volunteers relieving those who are suffering."
Venerable Dong Miao's uplifting words were a timely encouragement for all volunteers to carry on the noble work.
Matias Castellano, First Secretary of Argentina Embassy in Malaysia, made his first visit to the Jing Si Hall and was impressed with the Buddhist ambience and the exemplary model of the Tzu Chi International School Kuala Lumpur (TCISKL).
He was amazed at Tzu Chi's broad vision, which extends from charity to education. Castellano felt the four missions—charity, medicine, education and environmental protection—are interlinked and equally important. While financial aid may provide temporary relief, education can transform lives.
His wife, Wang Huixia, said, "I know many people around me who want to give, but do not know the channels." A Chinese Buddhist, Huixia is keen in the home visit activities, and will share about Tzu Chi with her friends so that more people can contribute to society.
●
The ceremony was a sobering one for many, resurrecting seeds of convictions and compassion while sealing the firm intention to live a life of service to others. Hopefully, the pandemic and the Russia-Ukraine war will be over soon, and that we could once again come together in the next Buddha Day to pray for a blessed society.