Bahau is situated in Jempol, Negeri Sembilan, only an hour's drive from Tampin. Its economy is mainly based on agriculture and lumber industry, and the older generations have mostly worked as farmers or rubber tappers.
Tham Yok Seng, station master of Tzu Chi Taman Satellite Bahau Recycling Centre, has been promoting environmental care and farming at the Recycling Centre, which is like a second home to the senior citizens.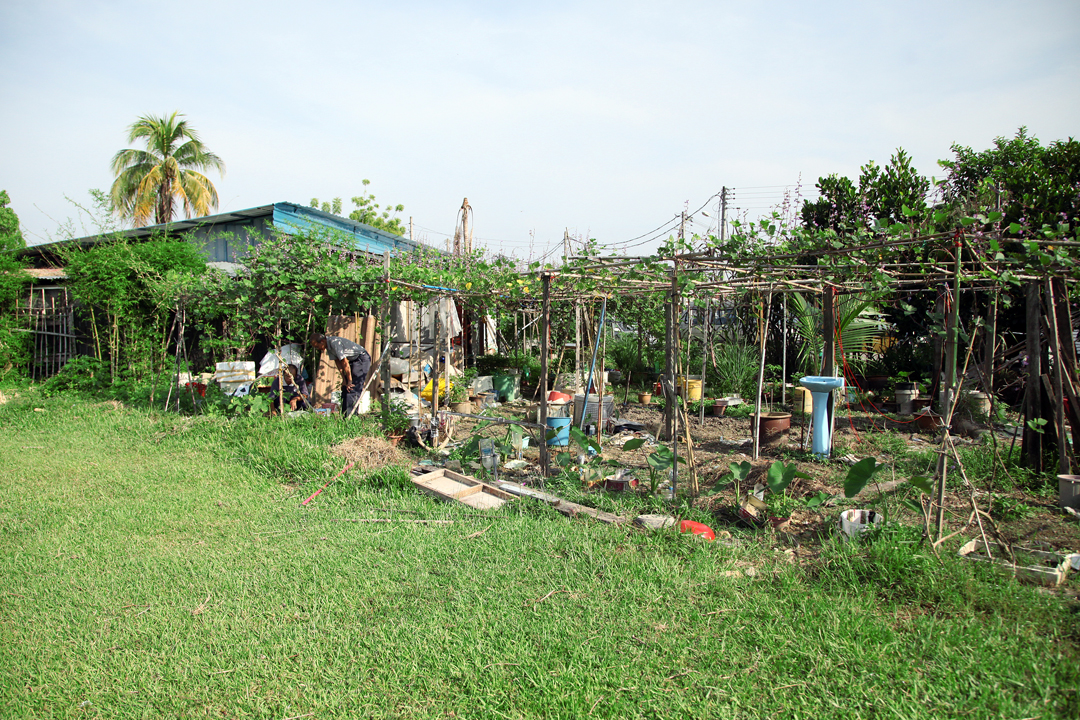 In 1999, after the 921 Jiji Earthquake, Master Cheng Yen called for the initiation of Project Hope and rebuilt 51 schools within a short time frame, enabling the children to resume their lessons. It deeply moved Tham Yok Seng, who hailed from Bahau, and motivated him to volunteer with Tzu Chi in 2000. Although he missed the opportunity to contribute towards Project Hope, Yok Seng believed that promoting environmental protection is also a way to educate. Thus, he decided to set up a recycling centre in the community. However, the process was peppered with twists and turns.
"There was not enough space to keep the piles of recyclables and we had to send them to the vendors on the collection day itself. We also received complaints from the authority as we were unable to clear the huge amount of recyclables in time. We then managed to rent a shop lot but it was later sold. After that, someone offered us a place in Taman Satellite, yet we had to relocate a few times due to overloading of recyclables," recounted Yok Seng. He recalled that the recycling centre had been relocated for at least five times before finally settling down in Taman Satellite in 2004.
In 2003, Ong Ka Ting, then Minister of Housing and Local Government, actively promoted recycling. He built a community hall in a residential area in Bahau and entrusted Yok Seng, who lived nearby, to use some of the allotted space for that purpose. A year later, Jaganathan a/l Sinna, an active Indian local leader, sought Yok Seng's consent to set up tuition classes for Indian students at the venue. In exchange, he would build a 150 square feet storage space on another field for Tzu Chi. With that, the Taman Satellite Bahau Recycling Centre finally had a permanent place to call "home".
As the kindergarten operated by Yok Seng and his wife was opposite the Recycling Centre, he naturally became the station master. In that same year, Wong Kim Chin, who stayed in Mahsan, made herself known to Yok Seng upon noticing that the Recycling Centre was in need of helpers. She, along with her husband, Lee Koon Woon, joined as recycling volunteers and gradually improved the appearance and orderliness of the Recycling Centre.
The Recycling Centre was also extended in stages. In 2013, volunteers built a second storage room on the levelled land, while the local government built the awning. With the extra spaces, volunteers began to organize various activities at the Recycling Centre, making it a gathering point among the local community.
Fifteen years on, the number of volunteers contributing at the only recycling centre in the community does not increase significantly. However, each and every one of them is cherished.
Yok Seng said, "I remember Brother David Liu once said: 'There are no fixed rules, yet certain rules ought to be observed.' I find his advice useful. For example, there are things that I'm less capable of, like making connections with others, so I'll leave it to the female volunteers. As for making wooden stands, I'll leave it to volunteers who are good in carpentry work, while I myself will spend more time in farming. Having said this, there are some ground rules that each of us ought to follow, such as, being mindful of our speech and be courteous in our interactions with others. All in all, we should just do it because realization comes from doing."
An environmentally-friendly farm
When the Recycling Centre was first established, it was loaded with recyclables and surrounded by weeds. To avoid complaints from the authority, Yok Seng, who was keen in farming, took time to start a vegetable farm.
He said, "I wanted to further my studies at Universiti Pertanian Malaysia (now known as Universiti Putra Malaysia). In fact, I was offered a place, but I had to give it up due to financial constraints, and worked as a rubber tapper instead." Even though he later ventured into the education industry, his enthusiasm in farming remains.
It was not easy to start a vegetable farm. Due to the soil conditions at the Recycling Centre, the drainage system was poor, leading to standing water after rain. The yam that Yok Seng planted grew fast with plenty of rainfall. However, when it came to harvesting time, Yok Seng discovered that most, if not all, the yams were badly infested with worms.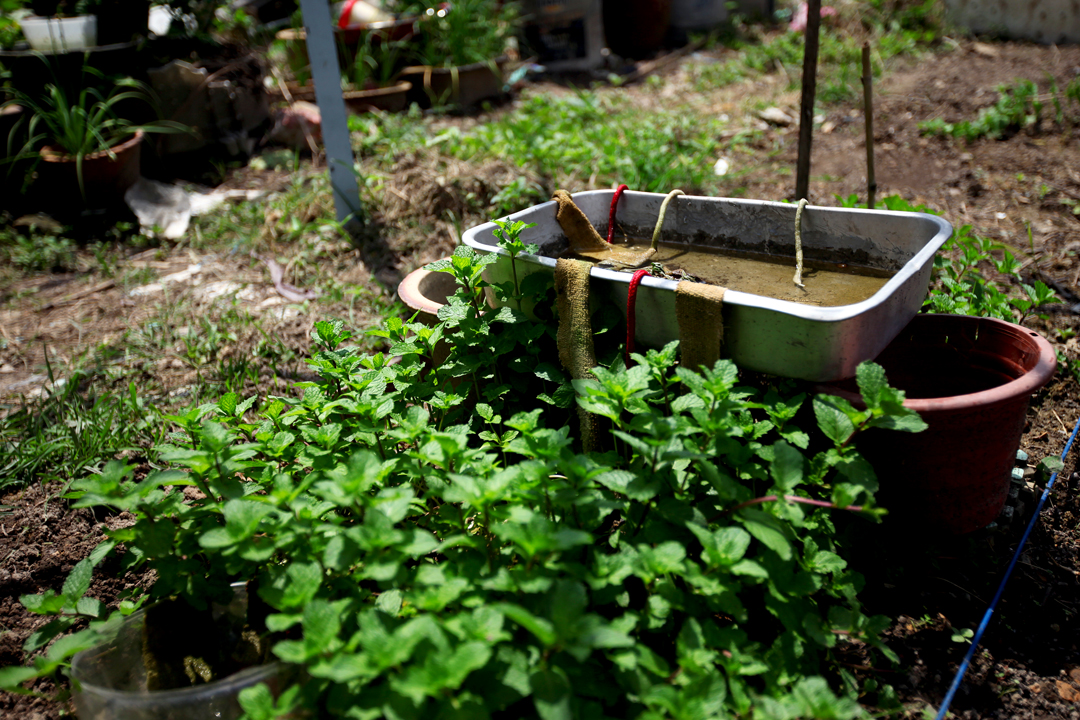 Knowing that the problem lied in the soil quality, Yok Seng attended seminars and asked for advice from others, in an attempt to improve it. He divided the land into several zones and grew different types of vegetables on each. Yet, it was to no avail. He also tried using fertilizers, but it only attracted more pests. Then in 2010, when he heard of the benefits of enzymes, he tried to make fruit enzymes to get rid of the pests, but that also did not improve the soil quality.
Despite the failed attempts, Yok Seng was undeterred. On one occasion, his neighbour Ng Ah Ying, who has some farming experience, visited the farm out of curiosity. She brought from home some dark coloured soil, and made layers with weeds and chicken manure. She then watered it and left it to grow in nutrients, before repeating the steps again. It was later that Yok Seng realized what Ah Ying did was composting – a method of enriching the soil and bringing the barren land back to life.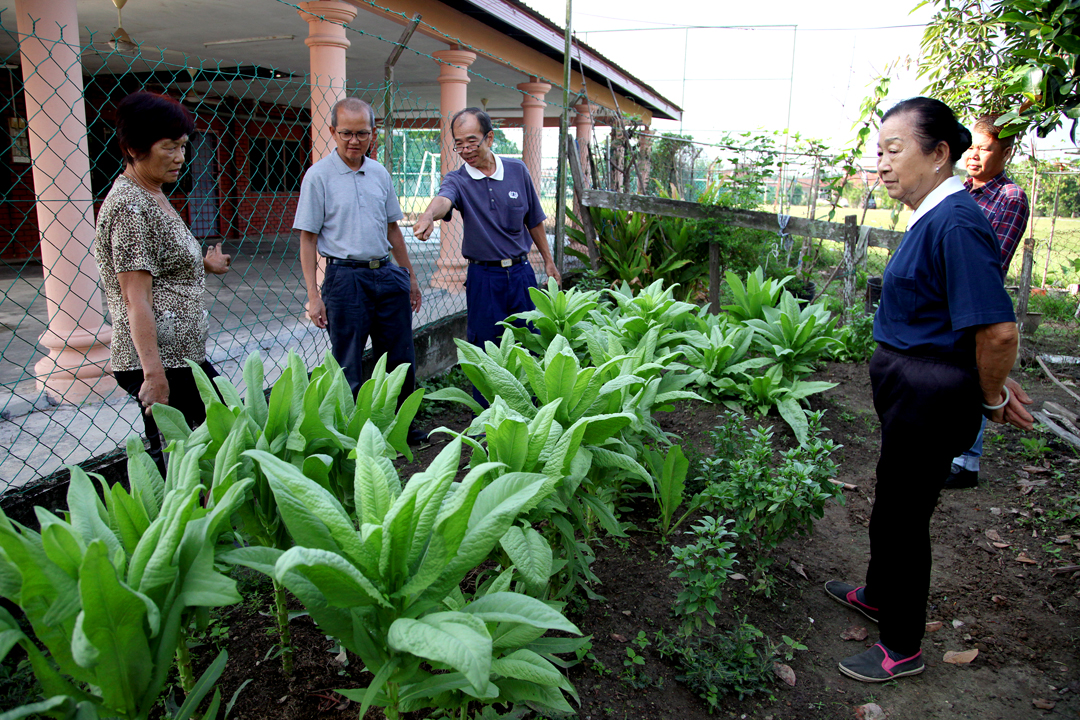 The hard work paid off
When the soil was ready for planting, Yok Seng began to grow various crops. He harvested lemongrass five to six years ago, and a good yield of mint leaves four years ago. The success that came after a decade of hard work had filled him with excitement. He remarked, "Master said, the soil is akin to human body. When it's in bad condition, the crops will not grow healthily. We need to let the soil rest in order to recover its fertility."
Half of the crops in the farm are watered using PET bottles connected to an automated plant watering system, while another half are kept moisturized with water sipping into the soil through strips of cloths dipped in water.
In addition, Yok Seng also shaded the mint leaves from direct sunlight using PET bottles on a wooden stand. He also tied PET bottles to the fence around the Recycling Centre in an effort to promote the concept of reuse, while reducing heat from sunlight. This also helps prevent the iron fence from being cut open.
Now, there are more than ten types of crops, including chickpeas, chillies, yams, mint leaves, lemongrasses, basil leaves, chives and passion fruits, grown on the 4,000 square feet farm land. Each crop is planted in small quantity and on a rotating basis. The improved environment and healthier soil also attract various micro-organisms, creating a more balanced ecosystem.
Yok Seng's positive experience at the vegetable farms at the Jing Si Abode in Taiwan has inspired him to adopt a natural and eco-friendly farming method, as practised at the Abode. Through his personal experience in the past decade, he realized the profound wisdom in the phrase "just do it", as learning and comprehension come from personal involvement and experience.
From farming, Yok Seng understood that each crop has its characteristics and growth conditions. Likewise, each individual is unique in character and personality. Hence, one must be skilful in nurturing talent in each individual.
Although the crops seemed to be planted randomly, it is actually not the case. Yok Seng cited the sugar canes and pandan leaves planted on the same plot for example. He explained that the sugar canes grow towards the sunlight and thus, tend to be slanting. The pandan leaves, on the other hand, require a well-shaded and ventilated environment. Hence, such plant combination allows them to complement each other and thrive together.
The 10-plus years of farming has not only rewarded Yok Seng with agricultural knowledge, but also wisdom in life.