Is it true that charitable contributions only happen when one is healthy and wealthy? Ramassivaran, a care recipient of Tzu Chi Klang, faced financial difficulty due to his illness. However, when his life became stable, he participated in recycling activity, fully demonstrating the spirit that "giving is not the privilege of the rich, but that of the sincere".
Early in the morning, Ramassivaran a/l P. Nallapovari dropped a big plastic bag into his motorcycle basket, while his wife, G. Rajamany a/p M. Govindasamy, got on his motorcycle. They then began their "tour" around their neighbourhood to collect recyclables, such as aluminium cans, plastic and glass bottles. Whenever a recyclable item is spotted, Rajamany would get down from the motorcycle to pick it up. Ramassivaran would join her if there were too many items to pick up. They would only return home when the plastic bag is filled; and their three children would join them in sorting out the recyclables whenever they have free time.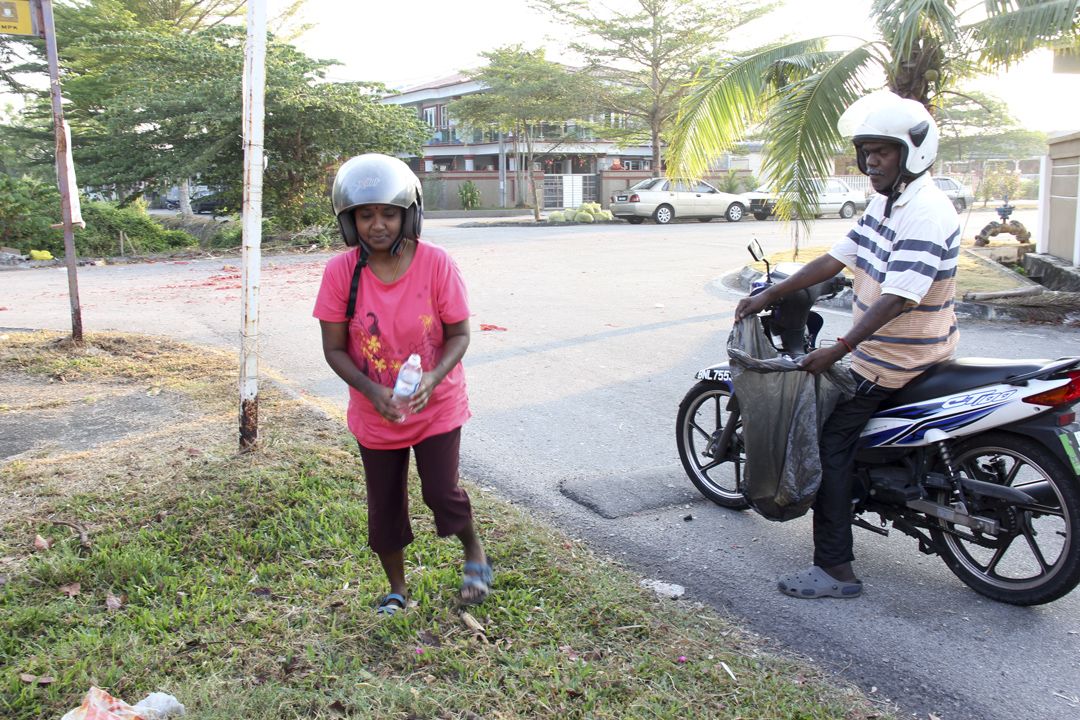 From receiving to giving
Due to his failing kidneys, which necessitate dialysis treatment, Ramassivaran is unable to involve himself in recycling regularly. However, he would bring his whole family to participate in recycling activity together whenever his health condition allows. Ramassivaran revealed that his family's financial standing was fine before he fell ill. His family lose their financial pillar following his inability to work, and could only rely on disability pension for livelihood.
It was not until four years ago that the family's predicament was reported to Tzu Chi through the teacher of Ramassivaran's child. Volunteers visited the family to understand their situation and Tzu Chi has since been providing them with financial assistance, including study aid for Ramassivaran's children through Tzu Chi Study Grant.
"Sometimes, I feel that Tzu Chi is like our second parents…," said Rajamany as she recalled the volunteers' company and how they came to the family's timely aid when they were in dire straits.
Volunteer Ong Wat Hon remembers the gloomy atmosphere when she first stepped into Ramassivaran's house four years ago. She related, "Their mood was low due to their predicament. Sometimes, Rajamany would turn sorrowful briefly in conversation." All the volunteers could do was to listen to her and let her know that she was heard. The volunteers' listening ears besides the provision of financial aid from Tzu Chi on their monthly visit had eased Rajamany's emotional stress.
Reciprocating kindness and love
When life became more stable, Ramassivaran took the initiative to contribute at Tzu Chi's recycling centre during weekends. As they sorted out recyclables together with the volunteers, a closer bond had formed between them. "They started to join us for lunch and would chit-chat with us now," said Wat Hon.
Last year, at volunteers' invitation, Ramassivaran shared about his volunteering experience at a distribution event held for Indian care recipients. He called upon the attendees to chip in their efforts in recycling. Moreover, Ramassivaran and his wife have also started to attend volunteer training to learn more about Tzu Chi, and they are now uniformed volunteers.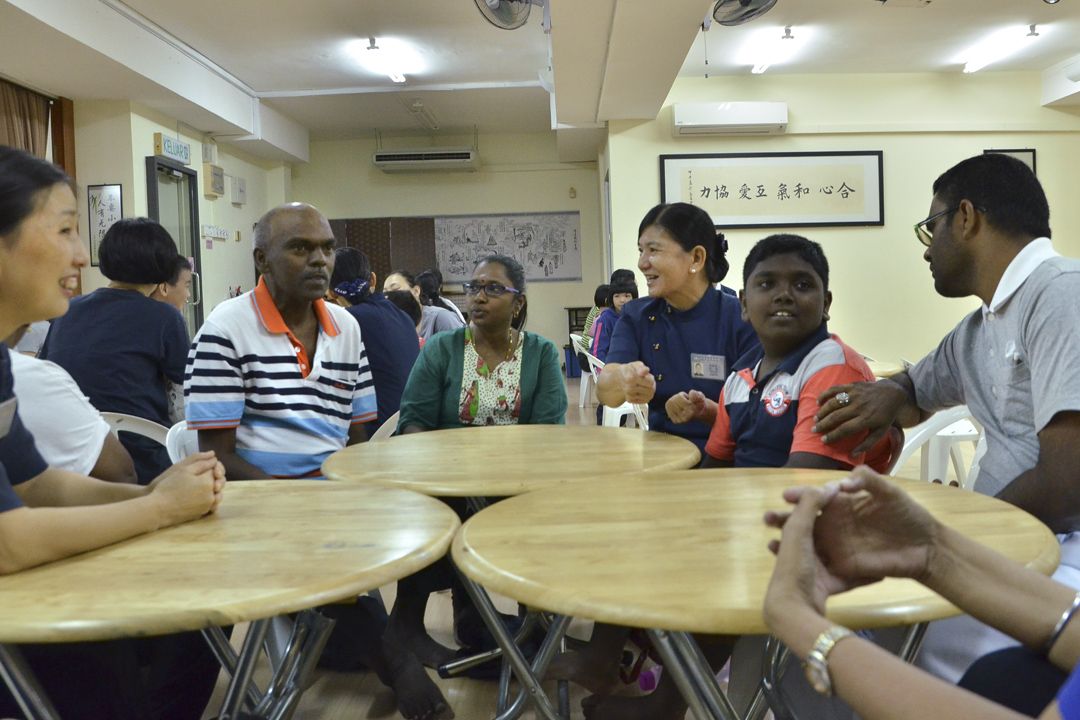 Speaking of their positive changes, Wat Hon remarked, "The family's atmosphere feel more relaxed now. I could feel their spiritual joy, especially when the whole family are contributing together."
Although Ramassivaran's health condition has improved, he still needs to get dialysis treatment in Shah Alam thrice weekly. However, that does not hinder him from giving. He shared, "I had participated in charitable activities before I fell sick. But following the unexpected event (of falling ill), I'm incapable of deciding many things in life."
Ramassivaran's passion in charitable work has led him to collect recyclables from his neighbourhood despite his sickness. He mused, "Tzu Chi has given my family so much help. Hence, I hope to do something in return, like collecting recyclables from the streets and fields. Although they are not something valuable, but through Tzu Chi, they allow me to carry on my intention to help others."  When asked whether he would mind how others may view him collecting recyclables, he replied, "I'm doing it because I feel happy doing it. So I'm not worried of how others may think of me."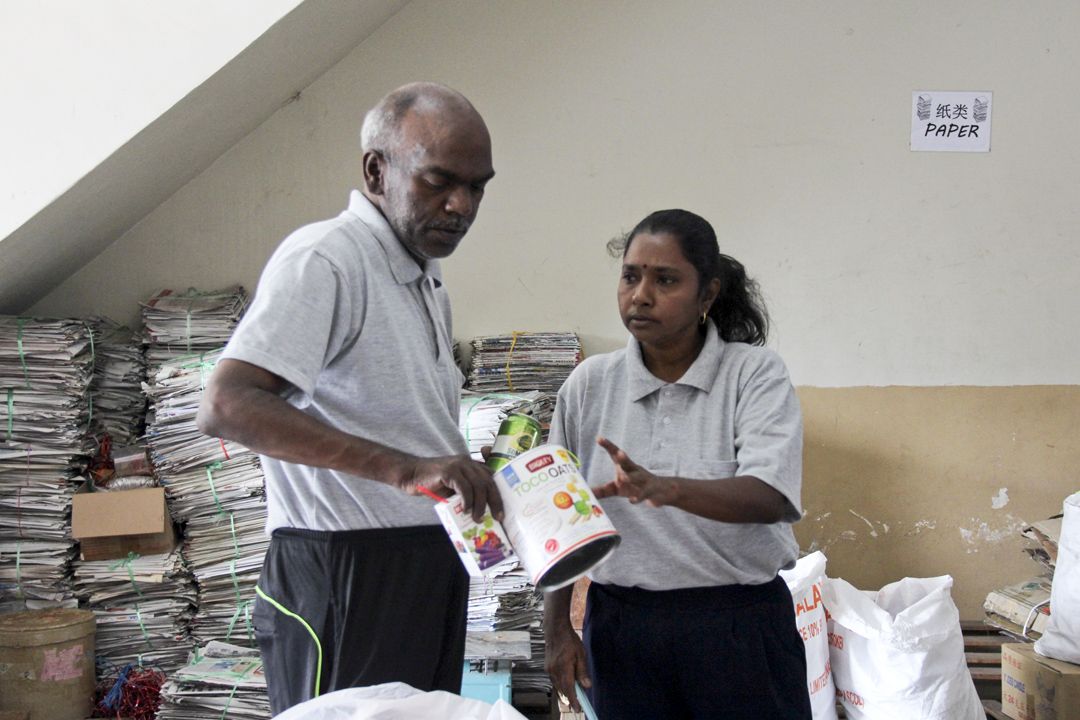 •
When poverty and illness strike, many tend to put aside doing good deeds, but knowing that his conditions will not be restored to its previous state within a short term, Ramassivaran seizes the present to contribute towards protecting Mother Earth.