It was a farewell where sorrow was replaced with gratitude and hope. She believed that with well wishes from the kind souls, she will be able to overcome all the challenges ahead and be greeted with a much better life on a foreign land.
Standing before a tableful of dishes and a cake prepared by Tzu Chi volunteers, 46-year-old Pakistani woman, Anjum Ara and her eldest son, 16-year-old Abdul Wahab Abbasi, prayed with their hands folded and their heads bowed. Amidst their serious expression was a tinge of hope – that all the misfortunes will pass and life will improve.
The day finally comes
Anjum and her two sons' applications to resettle in the US were approved in June 2019. Upon learning the good news, volunteers decided to throw a celebration for them on June 15, to share the joy and wish them recovery from their illnesses following proper treatments in the US.
As the rented flat was small and had faulty lamps and fan in the living room, Anjum arranged for the farewell to be held in a vacant room instead. She informed that the room was previously sublet, but since she would be leaving for the US at any time upon receiving the notice, she requested the tenant to move out.
Although the room was stuffy with only a small fan running, the 11 volunteers did not mind, for their purpose was to send their heartfelt wishes to the family. Anjum felt regrettable that her younger son had to miss the farewell due to a sports event at school, but she was grateful for what the volunteers had done for her family. She could not help but turn teary reading the English lyrics of the song, "We Are Family" and seeing the lyrical sign language rendition by the volunteers. But a smile soon formed on her face as she felt the warmth.
As soon as the volunteers finished their presentation, Anjum expressed her feelings, "We're a family. Regardless of our religions, identities and nationalities, we're a family!" She then thanked the volunteers and Tzu Chi for the timely assistance in time of difficulty, which had allowed her and her children to persevere till they received approval to resettle in the US.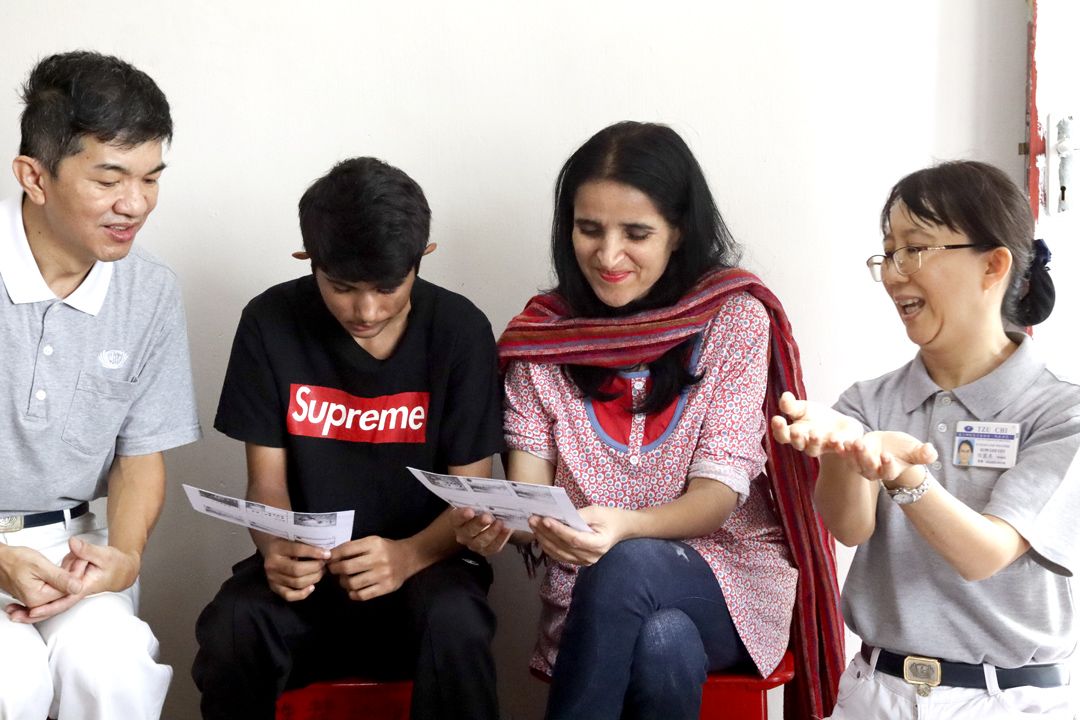 The bitter life of a refugee
"I borrowed money from my relatives to purchase air tickets and came to Malaysia with my sons in 2012. We became refugees and due to our identities, we could not work and live our lives like normal people." Speaking about her past, Anjum was reminded of the bitterness she had endured as a refugee.
She shared that she came from a humble family, but she managed to complete her university degree in religious studies despite the fact that her father had retired from the army because of the affordable tuition fees in Pakistan. She later married and had two sons. Her life took a drastic turn in 2012, when she received death threats following some conflicts with her husband's family, forcing her to flee to Malaysia.
Although Anjum and her sons could temporarily stay in Malaysia with the refugee cards issued by the UNHCR, she could only work illegally. For fear of being arrested by the authorities, she had to change job once every few months, and besides going to work, she would just stay home with her sons. Over the years, she had worked in restaurants, factories, and a nursing home.
She related, "I've to work for the sake of my children and livelihood. I can't ask for help from my family in Pakistan because I've lost contact with them. I even lost touch with relatives who helped with my air tickets."
Anjum had relocated several times in the past several years. She relocated to Sentul in 2014 so that her sons could receive education in a church school. She was content with her life despite the hardship. Unfortunately, in August 2017, she was diagnosed with rectal cancer. Besides a removal surgery, she also had radiotherapy and chemotherapy, as well as an ostomy surgery to create a stoma in her lower abdomen for a pouch to collect faeces.
The colostomy bag had not only affected her life, but also caused pain in her wound. But what really threw her into despair was that she needed to undergo another surgery after the radiotherapy and chemotherapy, as the growth was not completely removed.
She said, "I'd exhausted my savings in the first surgery and could only settle my medical bills with assistance from my friends, employer and the church. As I had no money left, I had no choice but to seek help from the UNHCR."
Anjum did not expect UNHCR to refer her case to Tzu Chi, in the hope that the latter could subsidize part of her medical cost. In fact, she was clueless about Tzu Chi and doubted if the Foundation would truly help her when the volunteers visited her in July 2018.
Please pray for me
During the first home visit, Anjum confided to the volunteers and shared with them her predicament. When a volunteer enquired about the sarcoma near the colostomy bag, she explained that the doctor had advised her to rest well and avoid lifting heavy objects post-surgery. However, she still went to work to make a living. It was not until the pain at her wound became unbearable that she stopped working.
After nine months, she again used up her savings and had outstanding rental. When the volunteers visited her, they discovered that she was weak and her sons looked malnourished. Upon learning that for some time, they only had chapati to fill their stomachs, the volunteers immediately brought them rice, cooking oil, biscuits, and other food items to relieve their hunger.
Anjum was deeply moved and revealed that she had contemplated suicide together with her sons because she would not be able to sustain her living if her illness was untreated. Feeling her predicament, the volunteers comforted her and advised her not to worry about anything else but to focus on her treatment.
In August 2018, Anjum had her second tumour removal surgery with financial assistance from Tzu Chi. Besides the medical expenses, Tzu Chi also subsidized her living expenses so that she could recuperate at home without the worry of putting food on their table.
Since taking charge of her case, volunteer How Lee Yen has been paying her monthly visit along with fellow volunteers, to extend their care and understand the family's needs. Lee Yen was initially curious as to why Anjum would always tell her, "Please pray for me to be safe and well," when they bid her goodbye. She later realized that to Anjum, blessings from kind souls are the most powerful, and she regarded the volunteers as kind-hearted people.
"You're a strong and brave mother. You can surely overcome the hardships for your children's sake." A heartfelt blessing from Lee Yen eased Anjum's mind. She also drew strength from the volunteers' well wishes each time they visited.
A new understanding of Buddhism
To Lee Yen, Anjum is not only a good mother, but also a grateful person. For example, when she learnt how small kindness, when accumulated, can go a long way to help others, she requested for a bamboo bank from the volunteers and began saving coins of 10 or 20 cents in it. Her sons also emulated her kind deed.
Anjum was also keen to participate in recycling activities after learning from Lee Yen that it is a way to save the Mother Earth. However, out of concern that her wound might get infected, volunteers advised her to put it on hold until she has fully recovered. On the other hand, Abdul Wahab volunteered to join the volunteers in recycling and other Tzu Chi's activities.
Through Abdul Wahab's sharing of his experience participating in the activities, Anjum's interest in Tzu Chi grew. She had perceived a Buddhist organization as one that people are engaged in sutra chanting, but to her surprise, Tzu Chi turned out to be a charitable organization as well.
As Anjum was not completely cured of the cancer, the doctor suggested that she undergoes another surgery. After much considerations, she decided to apply to UNHCR for migration to the US, which will not only grant her the chance for treatment but also legal resettlement.
With blessings from everyone, Anjum's application was finally approved. However, it was later discovered that Abdul Wahab has a heart condition and might need to undergo surgery.
Anjum shared that Abdul Wahab has never been healthy. His ears and nose were slightly deformed at birth and needed a corrective surgery. But as she could not afford the treatment cost, they were left untreated. Her worries about the son's heart condition was relieved only upon learning that he will be able to receive treatment in the US.
A habit of saving for good deeds
In the few months of accompanying Anjum, Lee Yen was pleased to see that Anjum was able to accept her illness and actively sought treatment. When Anjum expressed her wish to visit the KL Tzu-Chi Jing Si Hall before her family leaves for the US, Lee Yen quickly made an arrangement and brought them there on April 19.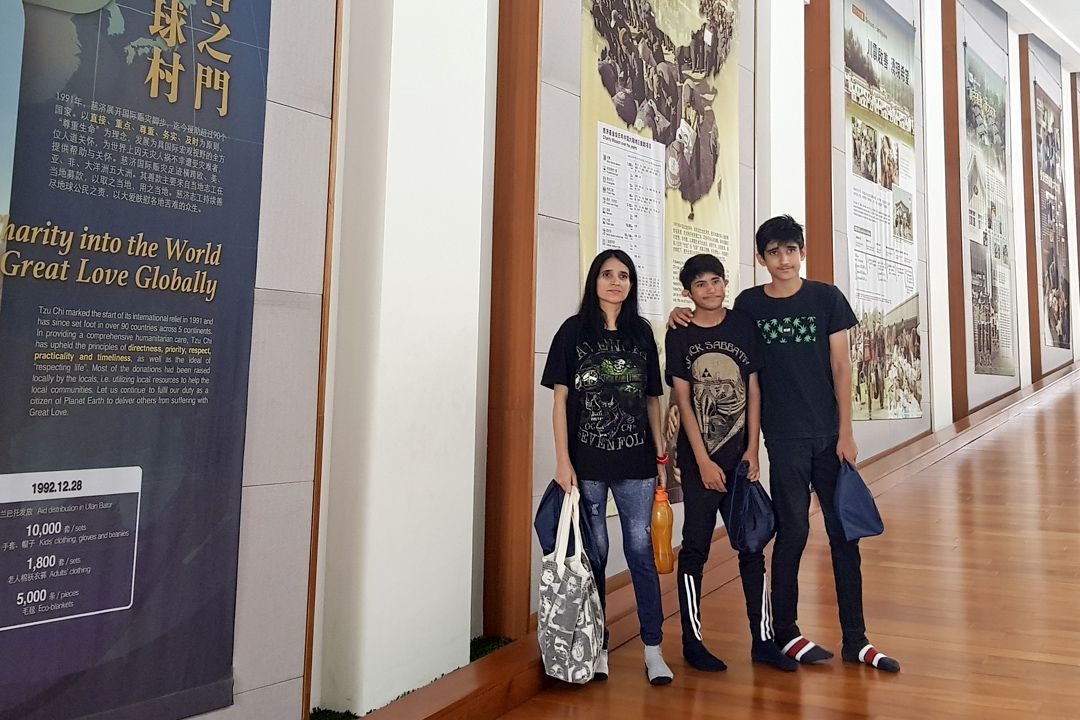 The visit was unforgettable for Anjum. From the exhibition panels, she learnt that Tzu Chi has spread its footprints across the world, including her home country, Pakistan. She could not help but feel deeply moved.
"Tzu Chi is a really great organization! I feel calm and at peace when I'm here in the Jing Si Hall." Anjum and her sons walked around the Jing Si Hall. Through the displays, exhibits and videos at the Exhibition Hall, they gained a better understanding towards the origins of Tzu Chi, the Bamboo Bank Era, as well as the Foundation's various missions from charity to environmental protection. While touring the Exhibition Hall, Abdul Wahab and his brother also donated some coins in the large bamboo bank – something that they are used to do and also a way to reciprocate the kindness their family has received.
Anjum commended that Tzu Chi is well-organized and was impressed with the way it provides assistance, which does not only include material aid but also emotional and mental support. She related that in the past few months, Tzu Chi volunteers did not only help her to cope with her medical and living expenses, but they also shared with her knowledge and information on health care. She found such comprehensive care very helpful.
•
Anjum was moved by the volunteers' warm gesture in arranging the farewell. She expressed that she prayed for her son's and her recovery and hopes that she can become a Tzu Chi volunteer in the US.
She said, "It's my childhood wish to help others but I haven't had the chance to do it, not until I met you all and began saving in the bamboo bank for donation. It feels so good to be able to help others." She also requested the volunteers to keep in touch with her.
Before leaving the house, volunteers went to Anjum and her son to offer their well wishes. Embracing her, Lee Yen and fellow volunteers wished Anjum recovery from her illness and a new, hopeful beginning. Their sincere wishes and love filled Anjum with the courage to face the uncertainties ahead of her.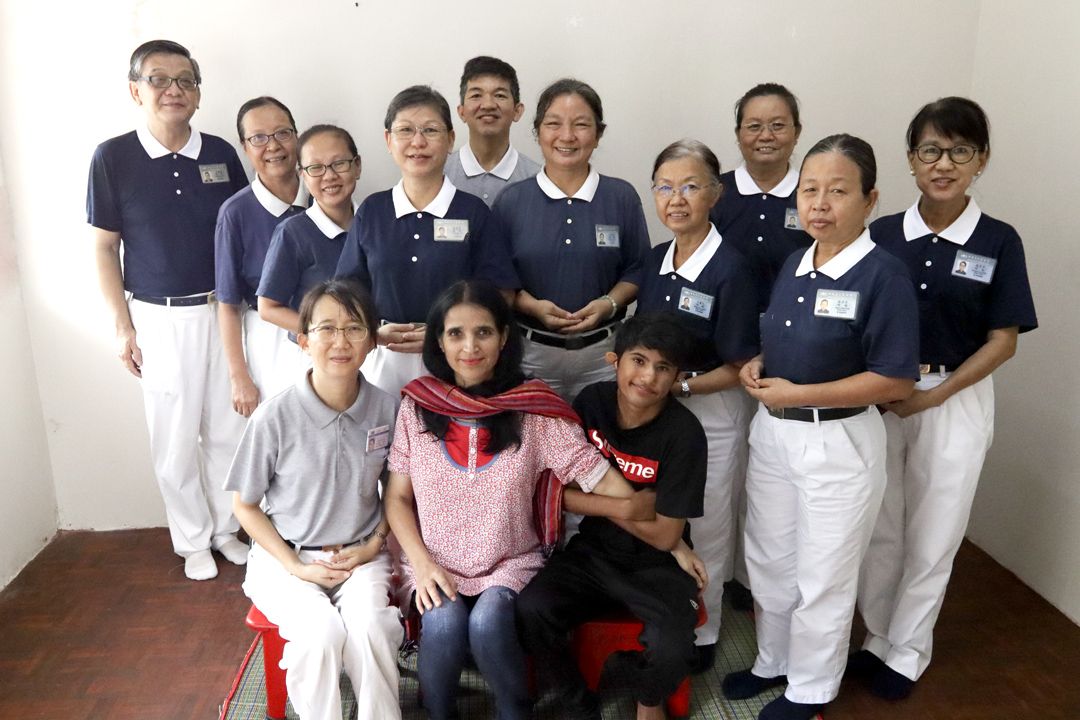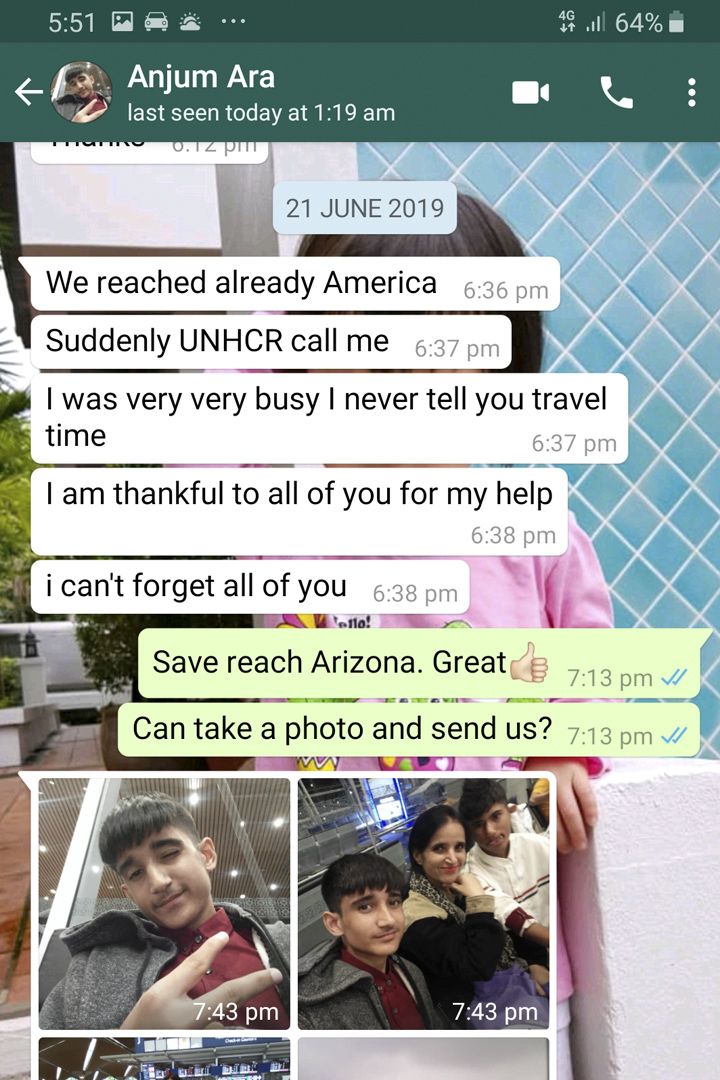 (Anjum and her sons departed for the US on June 21, 2019. She informed Lee Yen of their safe arrival and once again thanked the volunteers for all that they had done for her – a memory that will forever be etched in her heart.)