A young sapling, if given enough nutrients and cared for properly, will grow up to be a tall, strong tree, providing shade for all.
To motivate children of Tzu Chi care recipients to be hardworking, cultivate good habits and practise filial piety despite the hardships in their life, Tzu Chi KL & Selangor introduced Tzu Chi Study Grant with four types of awards, namely "Perfect Attendance Award", "Filial Piety Award", "Academic Progress Award" and "Excellent Performance Award". The student beneficiaries are granted financial aid, which reduces their families' burden at the start of the school year.
In addition, the Foundation also offers monthly incentives to underprivileged students with excellent academic performance, enabling them to focus on their studies, build a strong future for themselves and contribute to society in the future.
On December 2, 2018, Tzu Chi KL & Selangor hosted the Tzu Chi Study Grant & Incentives Presentation Ceremony at the KL Tzu-Chi Jing Si Hall. More than 200 attendees, comprised of Tzu Chi care recipients and their family members, students and teachers of Unity School for refugees, and Tzu Chi volunteers, witnessed 96 students receiving their study aid on stage. The students came with aspirations of continuing their efforts to do well in school and carve their paths to a promising future.
Blossoming and growth of the sapling
The ceremony started with a lighthearted game with the Malay song, "Rasa Sayang", which brought the hearts of everyone closer together.
Following that, 43 refugee students from the Unity School, which is run by Tzu Chi and UNHCR, performed a silent skit on "Global Warming & Save the World". Through the skit, they reminded everyone of the recent climate changes, global warming and various natural disasters. These refugee students performed the same skit in the earlier Graduation & Prize Giving Ceremony for UNHCR Tzu-Chi Education Centres, and it was very well received. Hence, they were invited to perform it again at this ceremony. Their lively performance successfully delivered a strong message to everyone about the importance of recycling and caring for Mother Earth. It drew loud applause and cheering from the audience as well.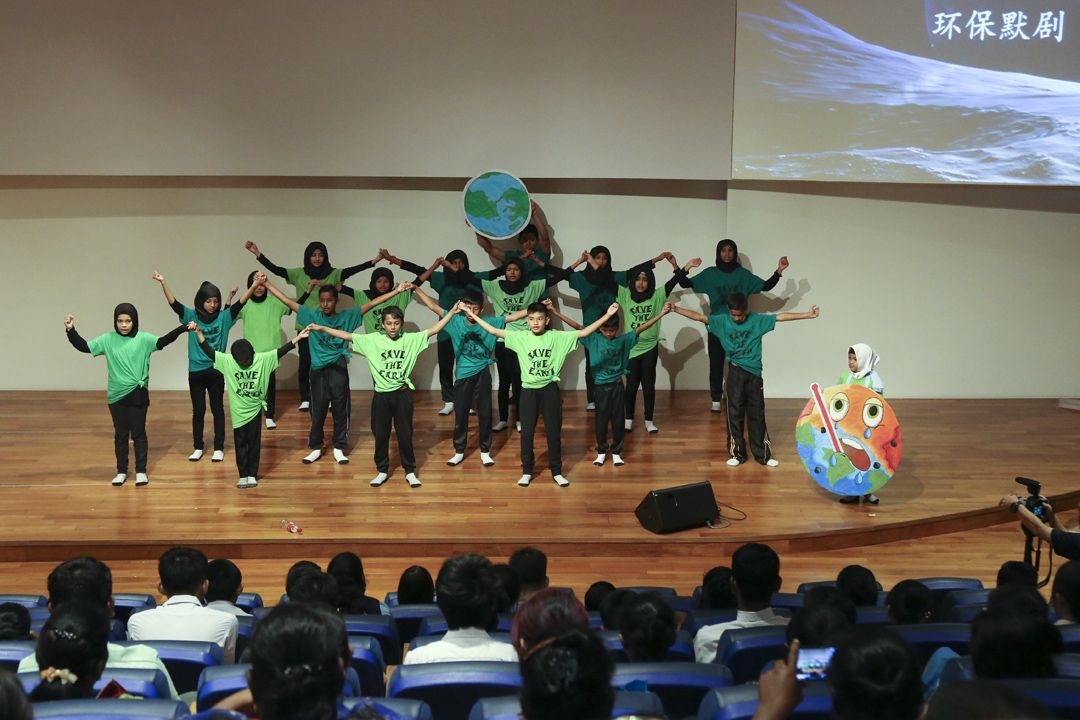 During the ceremony, a video entitled, "Lighting Up the Dark Areas", was screened. It showed how stateless children in Kampung Titingan of Tawau, Sabah, struggled to obtain education. It encouraged the audience to realize how blessed they are, to cherish what they currently have and to do good deeds. These children with unknown futures touched the hearts of the audience, with some being so overwhelmed with tears.
Three former beneficiary students of Tzu Chi study aid, who have demonstrated good conduct, were also invited to share their own stories and success in their studies. They are, Chin Yan Mei, Gan Yin Siang and Ang Joe Yin.
Yan Mei is a third year undergraduate student studying Civil Engineering. Although from a poor family, she has never bowed down to her circumstances. While being a student beneficiary of Tzu Chi Study Incentives Programme, she felt the warm accompaniment of volunteers. She said that the encouragement and strength given by the volunteers had motivated her to achieve her dream of enrolling into a university, which was something she never thought she would have the opportunity to do.
She encouraged all the students by saying, "Do not be held back by the circumstances of your situation. Do your best and be brave in chasing after your dreams, and miracles will follow."
Gan Yin Siang, daughter of a Tzu Chi care recipient, also shared her story on stage. For many years, the assistance provided by Tzu Chi had inspired her desire to work hard. Through her hard work, she managed to achieve good results and even received the "Academic Progress Award". Now, she is studying Special Needs Education in a local university. She said, "I chose to study Special Needs Education because I want to be able to help and educate my brother and sister, both of whom have special needs. I also hope to become a responsible teacher in the future so that I could educate more special needs children and ensure that they are not neglected by society."
After watching the difficulties faced by stateless students in receiving education, Yin Siang was deeply touched and felt blessed to have all that she has now. She said, "I feel very blessed. Even though my family is poor, I do not have to face such difficult environments and situations. Their spirit and desire for education is something that we should all learn from."
Another former recipient of Tzu Chi study aid, Ang Joe Yin, also reminded everyone of the importance of working hard at their studies. Not only will this improve one's knowledge and horizons, but it is also to lay a strong foundation for the future. He shared with the audience that when he worked part-time during school holidays, he had witnessed how his supervisor, who was illiterate, had to ask around for help to read an official letter. It alerted him that only with education can he change his own future.
Joe Yin is in his final year in university. He encouraged everyone not to give up because not everyone has the opportunity to go to school and receive education. He reminded everyone of how parents work hard for them and hopes that they will treasure their time and study hard in order to take care of their parents in the future.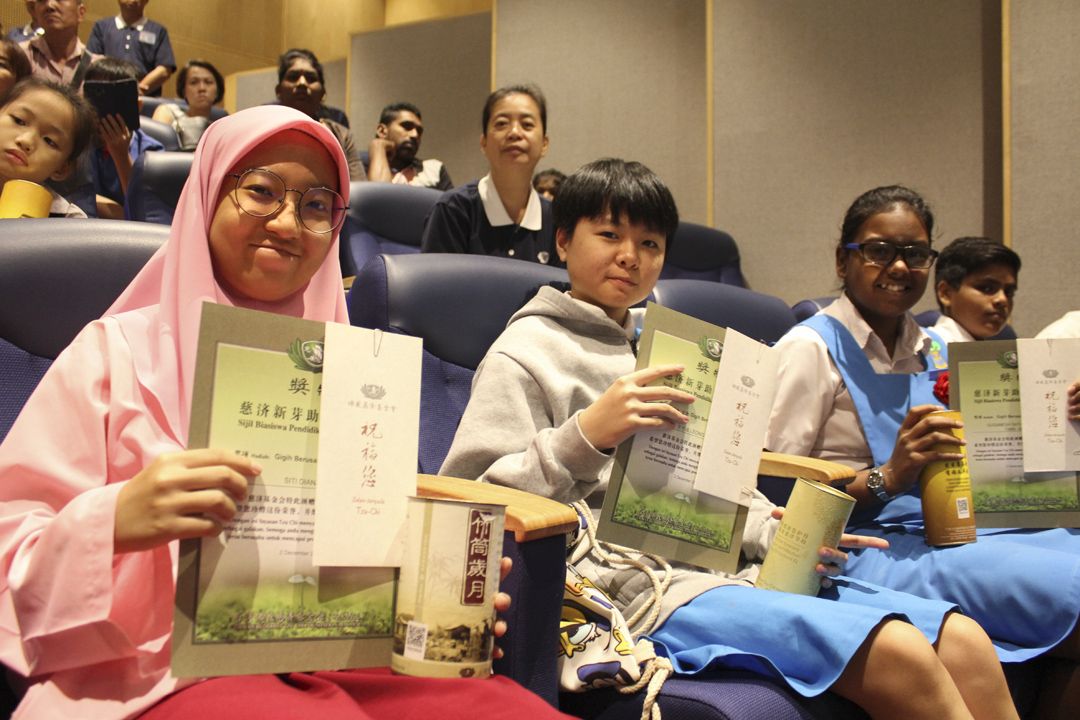 Diligent students and filial children
Fifteen-year-old Alvin Daniel is a Malay who can speak fluent Mandarin. He studies at SMJK Confucian and is a beneficiary of Tzu Chi Study Incentives Programme. Daniel's parents set up a roadside food stall near their home, selling noodles and drinks to support their family of seven.
Daniel has an older sister with impaired vision and a younger brother. His parents placed high hopes on him and always encouraged him to study hard so that he would be able to improve the family's finances. A mature boy since young, Daniel did not disappoint his parents. Not only does he do well in his studies, he also helps his mother at home by monitoring his brother's studies, helping with household chores and assisting his grandmother to care for his grandfather, who is bedridden.
He is very grateful for Tzu Chi's assistance that allowed him to pay for school fees and purchase additional reference books, which lightened the family's financial burden. As they do not have additional money for him to attend tuition, he could only work harder than other students. Other than paying attention during classes, he would also stay back in school to seek further guidance from his teachers.
Actions and behaviour of teachers are the best role models. Daniel's teachers always encouraged him. Hence, he also wishes to be a good teacher in the future. He said, "I hope to be able to teach students just like my teacher. I want to encourage students not to give up in their studies and give them a better future."
The video on "Lighting Up the Dark Areas" left a strong impact on him. Other than feeling touched, he also felt that he was blessed. He used to think that his situation is bad, but when compared with the children in the video, he does not need to worry about food and is able to go to school. He suddenly found that he is very blessed and is inspired to study even harder to achieve his goals.
Danusha a/p Krishnamoorthy is a recipient of the "Filial Piety Award". Four years ago, her mother was involved in an accident that resulted in her being bedridden. At a young age, Danusha not only had to handle her schoolwork, but also had to bravely assume responsibility in caring for her mother. This brought certain stress to Danusha and she shared saying, "At the beginning, I would always hide in a corner to cry. Luckily, my grandmother was with me and she calmed me down. She talked to me and solved my worries. Together with Tzu Chi volunteers' help, I slowly cried less and less."
Upon realizing how the stateless children in Tawau were unable to attend school, Danusha was concerned. In reflection, she felt blessed to be able to receive Tzu Chi's assistance and has aspired to use the study aid well for her educational purposes.
Charity is not only for the rich, but also for those willing to give. Volunteers guided the children in saving coins in the bamboo bank daily, to accumulate their love to all others in the world. On the day of the ceremony, 17-year-old Danusha also brought her bamboo bank filled with money to donate and help others in need. She hopes to be able to reciprocate society like how Tzu Chi volunteers do.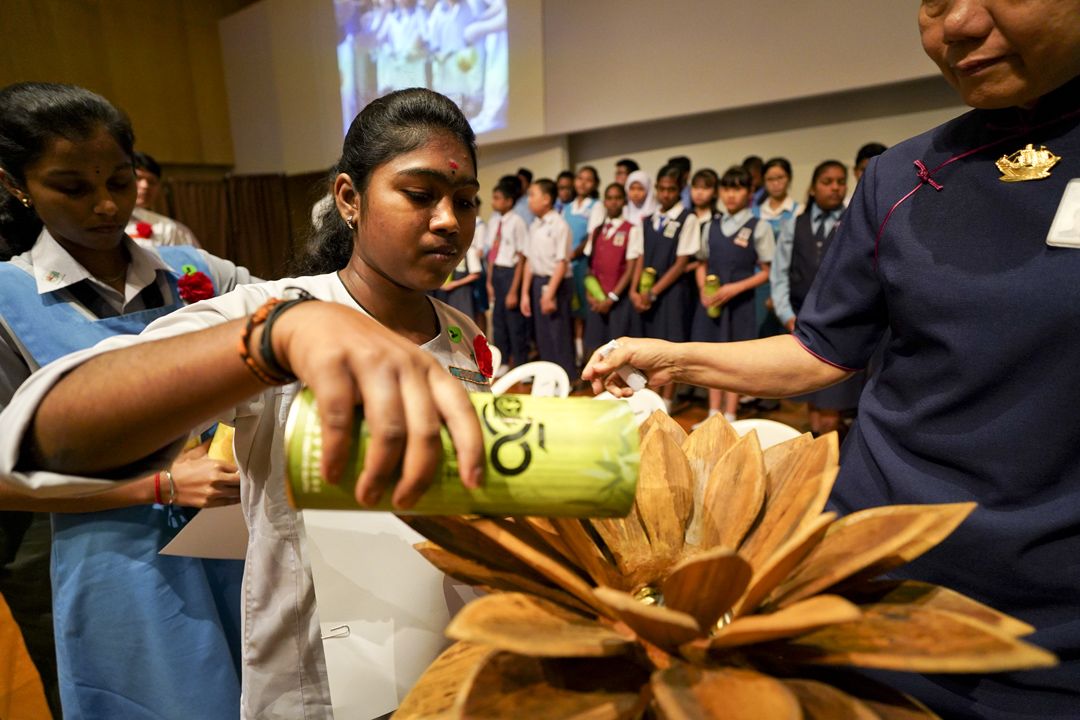 Sixteen-year-old Ong Zi Qian is a well-behaved and kind student from Tsun Jin High School. His father was paralysed due to an accident. After his demise a year ago, Zi Qian and his six siblings are cared for by his mother single-handedly. He was very excited to receive the "Excellent Performance Award" after winning the gold medal at the Mathematics Olympiad in his school, as well as maintaining good results. He said, "I will pass the aid from Tzu Chi to my mother to manage."
Other than being hardworking at school, Zi Qian is also a good assistant to his mother. He would help with household chores, care for his siblings and even prepare meals for his family. Although his family's situation is difficult, he would still save up his leftover pocket money into his bamboo bank in order to do charity.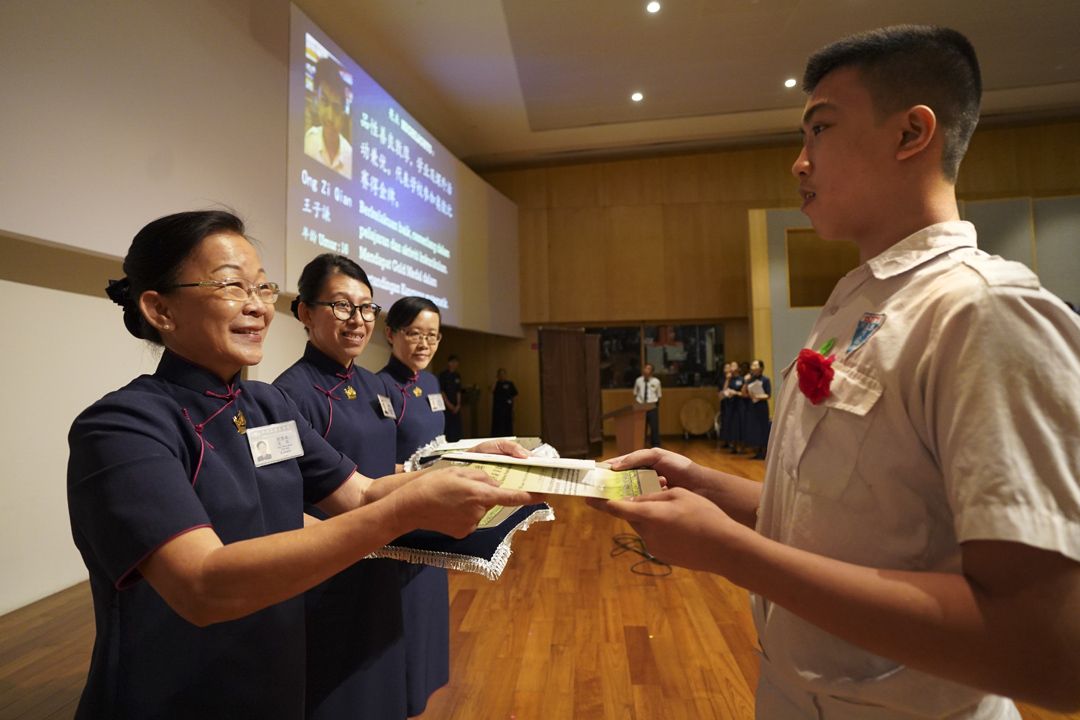 Zi Qian's 14-year-old sister, Xin Lu, has been diagnosed with systemic lupus erythematosus, which leads to various health conditions, such as cataracts, high blood pressure, and more. However, her health does not affect her desire to receive education and she was overjoyed to receive the "Filial Piety Award".
Like others, Xin Lu was also touched by the video of "Lighting Up the Dark Areas". She found that although she is weak in health, in comparison to others who are suffering, she is still safe and blessed. Through it, she learnt that those in peace should care and pray for those in need. She hopes that when she grows up, regardless of her medical conditions, she wants to be a Tzu Chi volunteer to help others in need.
Eagles stretch out their wings to soar high, but still rely on the assistance of wind. Children are the future of our country and Tzu Chi has managed to provide the assistance they need in their hardships. The saplings of today will grow to be shades of tomorrow. We hope that despite their environment, they will have positive and righteous attitudes in order to bravely stride towards their own futures. By achieving success, they will also be able to give back to society.