At the year-end distribution event, some attendees bravely shared their heartfelt sentiments on-stage, while others presented a "Thank You" card as a token of gratitude to those who matter in their life. A loving hug wipes away tears and bitter memories of the past that have been long kept to oneself. The company of others helps us to better deal with the low points in our life.
On January 6, 2019, Tzu Chi Malacca held its annual year-end distribution event, bringing together volunteers and care recipients to celebrate the dawn of the new year. Early in the morning, 61 tables were set up at the dining hall where breakfast was served. Spring festival couplet calligraphy, free haircuts, medical services and a pre-loved item giveaway were included in the programme for the event.
The "God of Prosperity" made an appearance to encourage vegetarianism, besides delivering blessings. Members of the Malaysia Solid Waste Corporation (SWCorp) were also actively promoting recycling efforts to save the Earth.
Some participants have been attending the event yearly for the last 10-plus years, whereas some joined for the first time. Joyful greetings were exchanged between familiar faces. Time flew by so quickly that it has turned a child into a teenager and left the elderly with white hair aplenty.
The event was attended by 541 people and 470 volunteers were on duty to provide attentive, nearly one-to-one service. The event was graced by Malacca Health and Anti-Drug Committee Chairman and State Assemblyman, YB Low Chee Leong, who attended on behalf of the Chief Minister. Guests from various organizations were also present in addition to media personnel from several newspapers and TV stations who came to report on the virtuous occasion.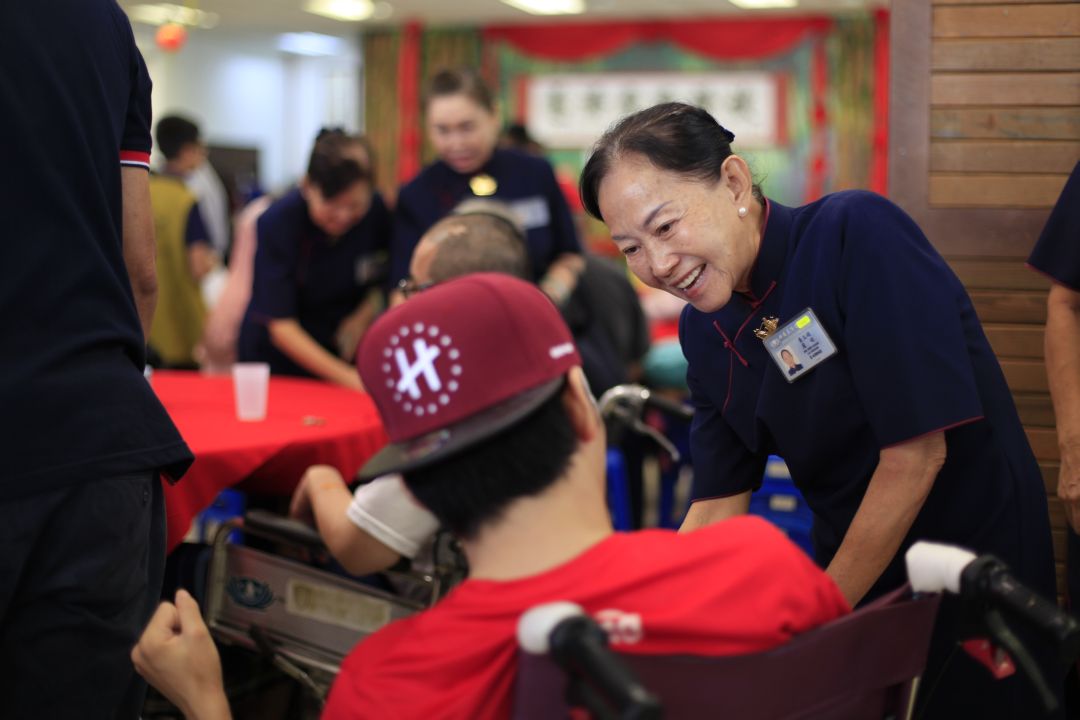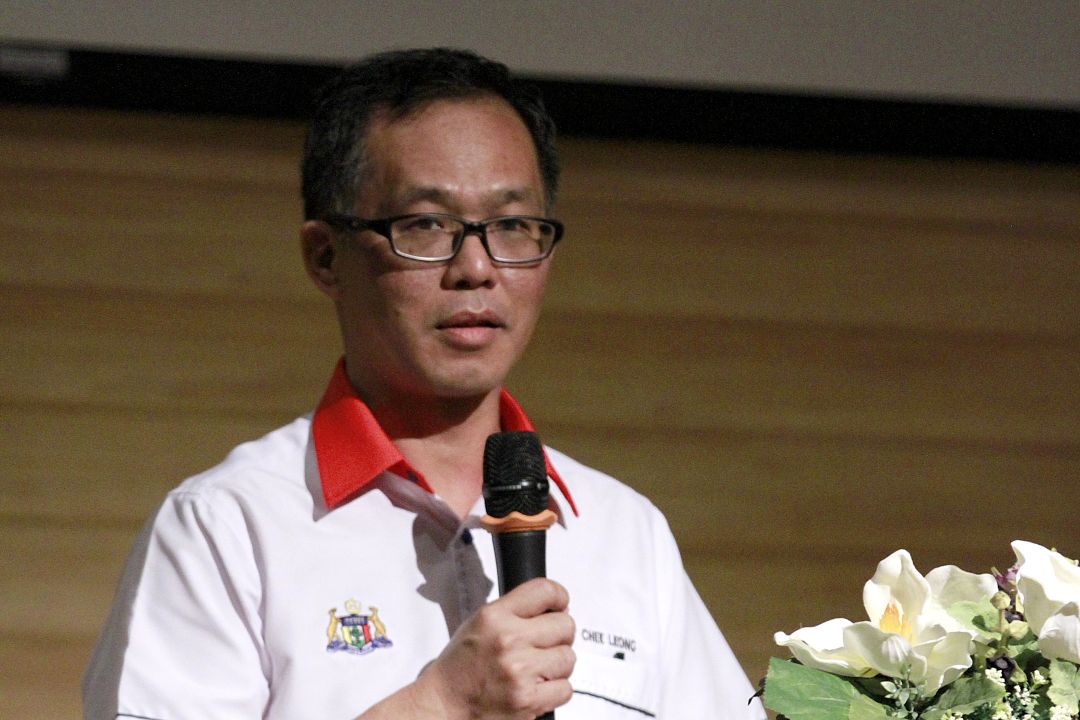 Grateful for a helping hand in times of adversity
Apart from the screening of the "Tzu Chi 2018 Year in Review" video, other stage performances were presented, including a drama performance by the volunteers to advocate for vegetarianism, as well as dance, martial arts and lion dance performances.
There was an additional "Giving Gratitude" segment in this year's event for care recipients to write a message of gratitude to those they wished to thank. Some of the messages read: "Thank you for improving our living conditions, alleviating our burden and influencing my daughter to be more sensible and well-behaved. For that, I am grateful, and I thank Tzu Chi with all my heart."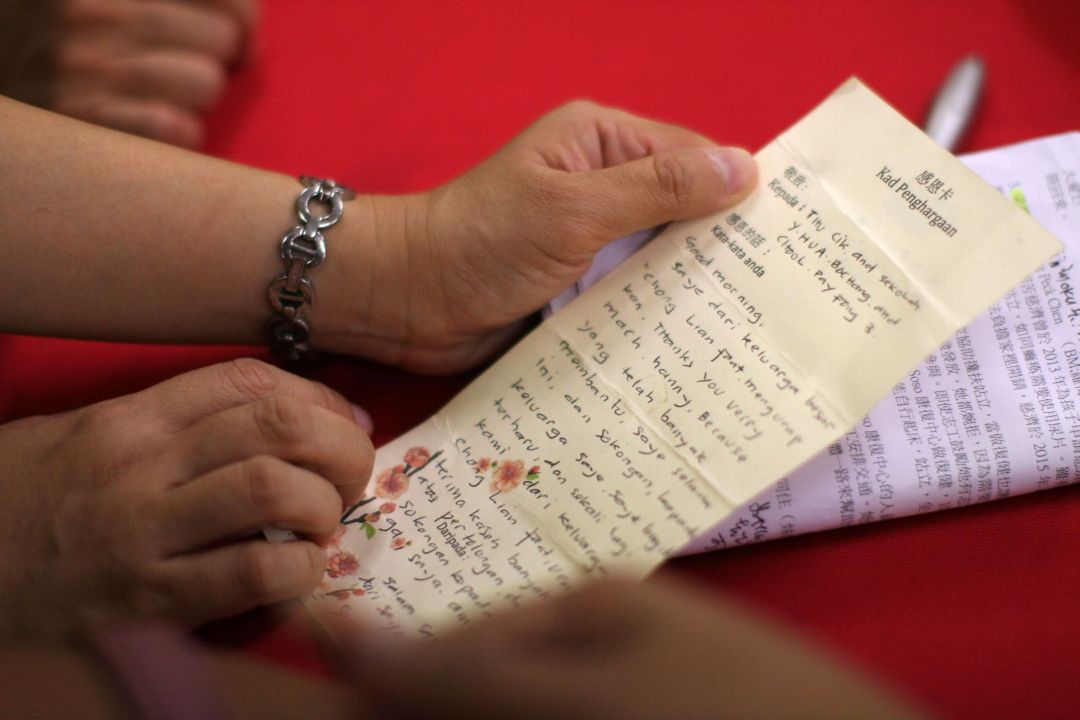 "Thank you for your help and care. I am very grateful for your frequent visits and I truly feel very happy."
"Thank you for your continuous help, care and suggestions on improving our life…"
In the low points of life, understanding and support from others motivate us to keep moving forward, while waiting for the light at the end of the tunnel.
Holistic care for a stroke patient
Wheelchair-bound, 58-year-old Ho Thian Lai attended the event for the first time and was uplifted by the festive atmosphere.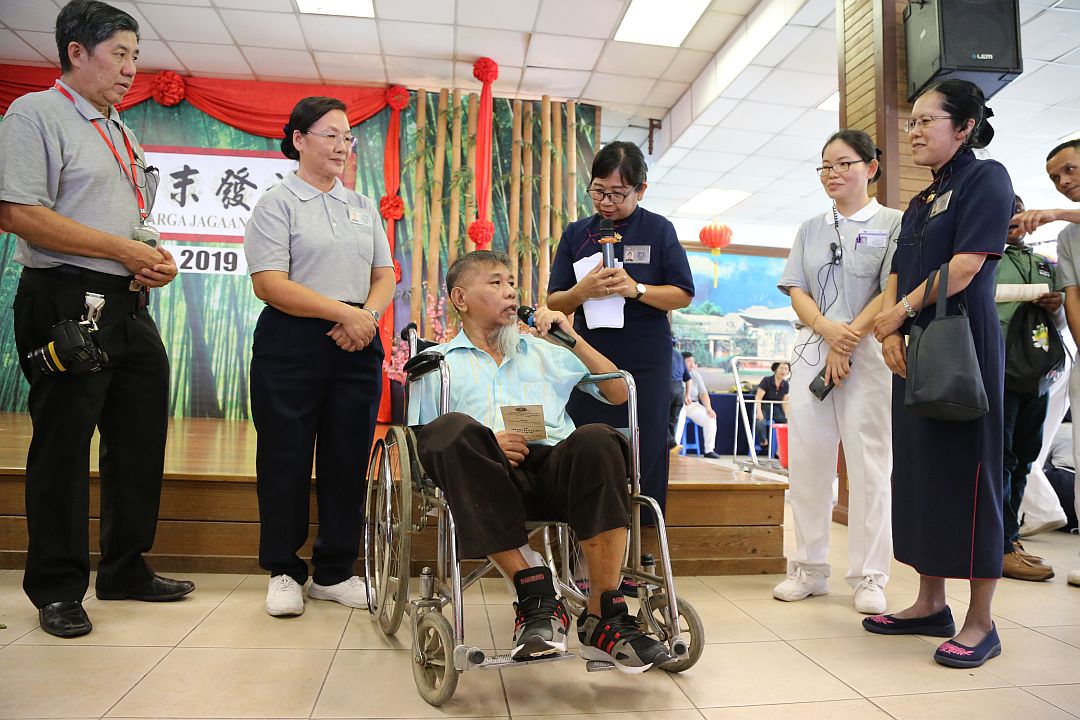 "Tzu Chi helped me immensely by guiding me towards the right path. Without them, I would be lost…"
    
More than a year ago, Thian Lai suffered a stroke and became bedridden, causing his family to struggle for their livelihood. As breadwinner of the family, he felt like all hope in life was lost. However in 2018, a friend introduced him to Tzu Chi in a time of need, bringing hope to his life.
He wrote on the card: "Thanks for turning my life around from when I could not walk to where I can take care of myself independently. Thank you very much."
Besides taking it as a form of rehabilitative exercise, working at the recycling point opened up his heart. With gratitude, all three of his family members became Tzu Chi donors and adopted a bamboo bank each. Thian Lai hopes to give back to society when he recovers.
Appreciating simple happiness through renewed affinity
"I knew about Tzu Chi since 15 years ago." Recounting his affinity with Tzu Chi, Lee Leong Meng still remembers Tzu Chi's help in his time of need.
At that time, his uncle suffered from brain cancer and blindness. Tzu Chi subsidized his nursing home expenses. In March 2018, Leong Meng almost lost his left leg in an accident when working at a construction site. Luckily, he managed to keep his leg after four rounds of surgery but was unable to work due to his limited mobility. With the government's welfare handouts and Tzu Chi's subsidy in living expenses, the family's financial burden was relieved.
Difficult times hit the family hard. Volunteers installed Da Ai TV in their home so that Leong Meng and his mother could gain positive strength from the programmes. When the doctor informed Leong Meng that he needed at least six months for recovery, he accepted it with an open heart.
Leong Meng was very happy to celebrate the New Year with many people of different races. He said, "After seeing so many people in wheelchairs too, I feel blessed to be able to walk soon, but some of them might never walk again…" Counting his blessings, he silently wished, "I hope to recover and get a job soon to live in the moment."
A close companionship built on mutual kindness
Care recipient Roslina binti Ahmad made her way to fetch Norila binti Bujang to attend the year-end distribution event.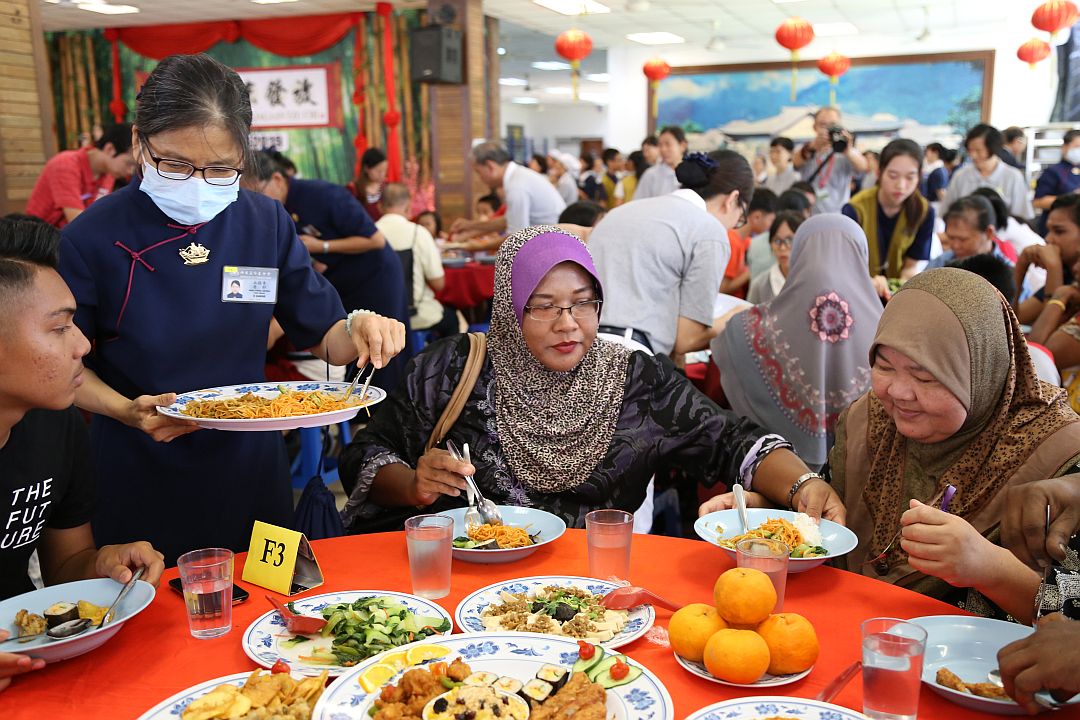 The joyful singing, encouraging applause and the entertaining "God of Prosperity" brought a smile to Norila's face. She said, "I am not welcomed anywhere else but here, I feel accepted, and people of various races are present. I am so happy."
Norila's legs were amputated due to diabetes. She lives with her paralysed sister, Azizah binti Bujang, as both their husbands had passed away. They had been care recipients of Tzu Chi Tampin since 2011 and when they moved to Malacca in 2018, they were transferred to Tzu Chi Malacca. Both are very grateful to Tzu Chi volunteers for cleaning up their house after a flood once.
"We have been receiving Tzu Chi's aid for nearly ten years now. They are very sincere in helping us and even arranged for a friend to fetch me here. I am very thankful for the volunteers' home visits and care. Thank you very much."
When Roslina learnt from the volunteers that Norila spends most of her time staring out the window from her bed due to her disability, she offered to fetch Norila to the event out of kindness. She then discovered that Norila is a friend of hers from many years ago.
Roslina said that her husband also lost one of his legs and received Tzu Chi's help throughout his dialysis treatment. Even though her husband had passed away, she still keeps a wheelchair ready in her car to help others. "I have benefitted from others, hence I hope to repay the kindness by helping others as well."
Norila and Roslina thought that they were likely the only people of a different race at the event, but the volunteers ensured that they were not left out; and they were surprised by the lively atmosphere of the event. Moved by the positive energy around her, Norila even expressed her wish to be a volunteer.
Comforting the soul matters more than material relief
During the "Giving Gratitude" segment, Norlizawati binti Selamat willingly went on stage to share her story.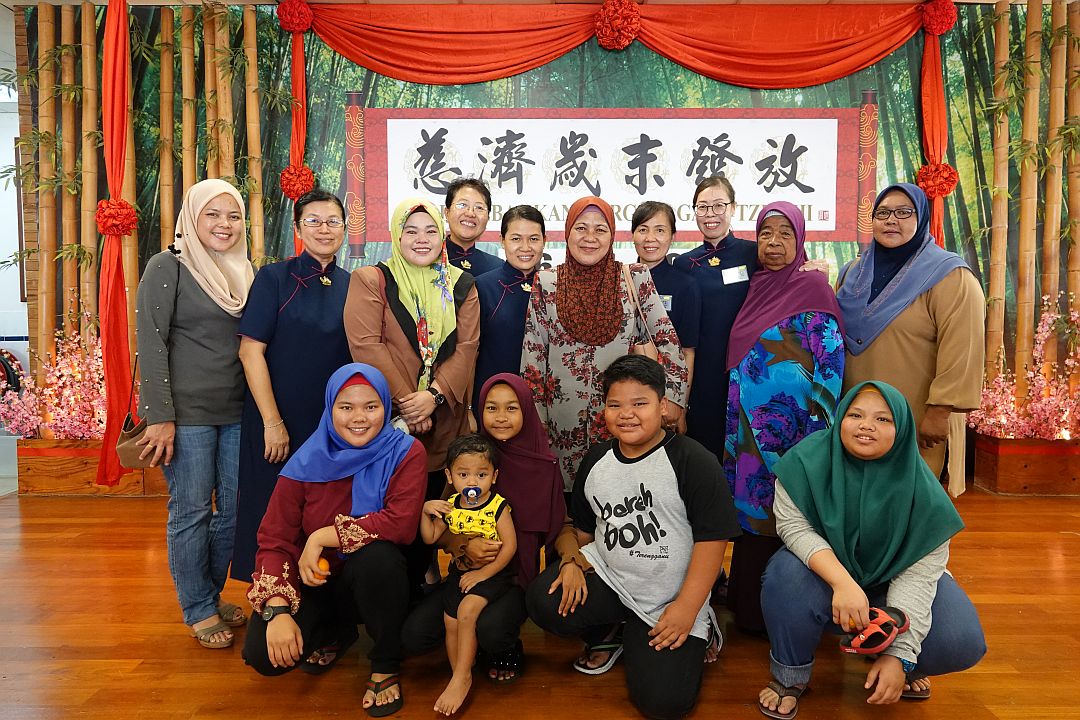 With her and her husband's meagre income, Norlizawati struggles with the expenditure incurred in taking care of her parents-in-law, who suffered from stroke, even with the help of her mother, who is living with her, and the compassionate love of her sisters. To meet her needs, Tzu Chi provided her with a ripple mattress and contributes a monthly supply of adult diapers.
She expressed her gratitude, "Thank you, Tzu Chi. I feel so fortunate to have Tzu Chi's support and motivation regardless of race or religion. This is not easy. Although the aid provided is not likely to cost much, it matters a lot to me."
She asked Tzu Chi to stop providing aid after her father-in-law passed away, and single-handedly borne the care-giving costs involved in tending to her mother-in-law. Today, she brought all her family members to the event and took the opportunity to thank not only the volunteers, but also her mother and sisters.
"I do not know how to repay my family's kindness. I want to take this opportunity to say thank you and introduce them to the organization that has helped us." Her mother was hesitant to come initially, but eventually felt that attending the event was worthwhile.
Overcoming obstacles to fulfil vows
Some attendees expressed their gratitude on-stage, some presented "Thank You" cards, while others translated gratefulness into action. Despite his limited mobility, Yong Ah Chee from the Machap Baru Old Folks Home attended the event in his wheelchair with a filled bamboo bank and an additional RM200 for donation.
"I spend less and donate the rest, however little I have, to Tzu Chi." It warms his heart that the volunteers clean his room, trim his nails and express concern for him every month. He also learnt about the volunteers' disaster relief efforts from the news. He wished to repay the volunteers with gifts but was guided towards performing charitable deeds instead. Despite being a Christian, he believes that all religions teach people to pursue the virtuous path and be kind to one another.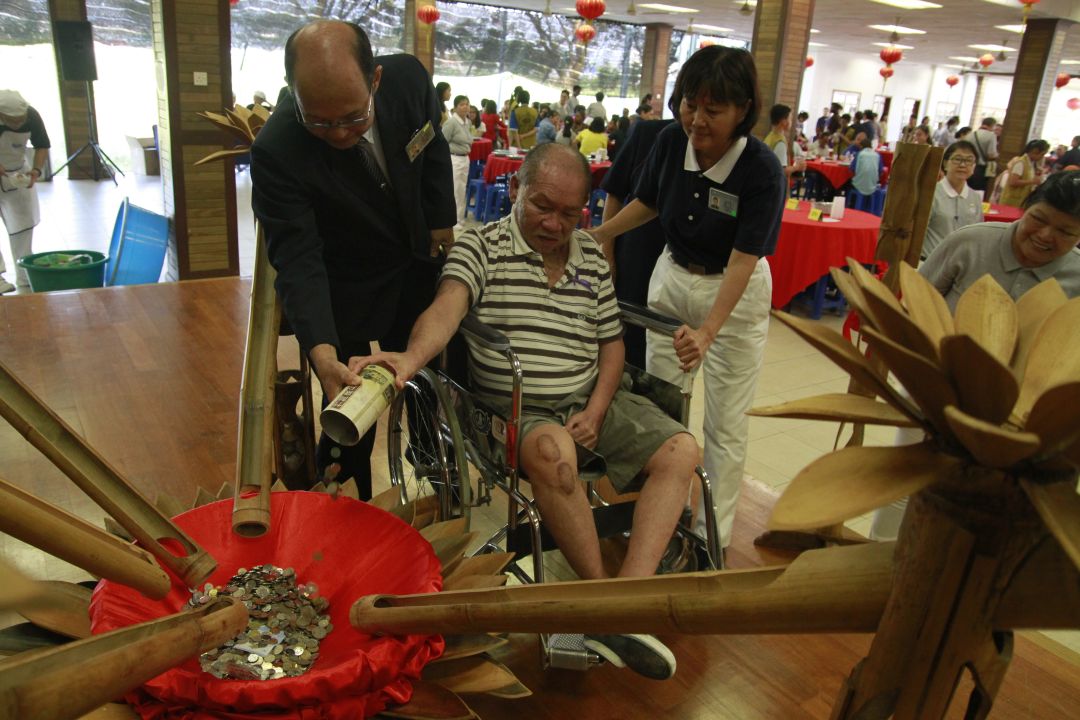 Ah Chee lives on government welfare handouts and public donations. He only spends on necessities and saves the rest into the bamboo bank. Whenever he contributes to the bamboo bank, he wishes that the small sums of kindness can be used to help the needy. "Others have helped me, so I need to do the same in return. This is called giving back," he said.
Bui Thi Ngan, a Vietnamese mother brought along her 6-year-old child to donate a fully filled bamboo bank. As a care recipient and a Tzu Chi donor, she learnt to be grateful after witnessing many others who were worse off than herself at a year-end distribution event. She adopted a bamboo bank and told her daughter, "Save up slowly. Many people are poorer and are suffering more than us, so we should do our best to help."
With a pure heart, the daughter kept her mother's words in mind: "Help those who suffer more than us." Whenever her mother comes home from shopping, she says to her, "Please give me some loose change to save into the bamboo bank." Before long, the fully filled bamboo bank has been returned to Tzu Chi.
•
Tzu Chi Malacca has helped approximately 300 households and benefitted nearly 17,000 people in the past year through its charitable efforts.
YB Low Chee Leong acknowledged Tzu Chi's advocacy work in the charity, medical, education and humanistic culture areas. He said, "Regardless of how developed a country and its society is, underprivileged groups still exist. We need strength from Tzu Chi volunteers." He thinks that Tzu Chi sets a good example in bringing warmth to society, and hopes that Tzu Chi continues to spread the spirit of Great Love to every corner of the world.