The Cancer Support Group of Tzu Chi KL & Selangor has been providing hope and strength to cancer patients for the past nine years by promoting courage, love, and gratitude. Their unwavering dedication shines a light on the path forward, illuminating the way like the sun breaking through the clouds.
"With my little heart and a flower I present to you, as you have touched my life in so many ways. You are the angel guiding me along the way. As time passes and life changes, am singing my love for you. Hear my thanks, as you warm me through the seasons; hear my gratitude, my world is filled with beauty…"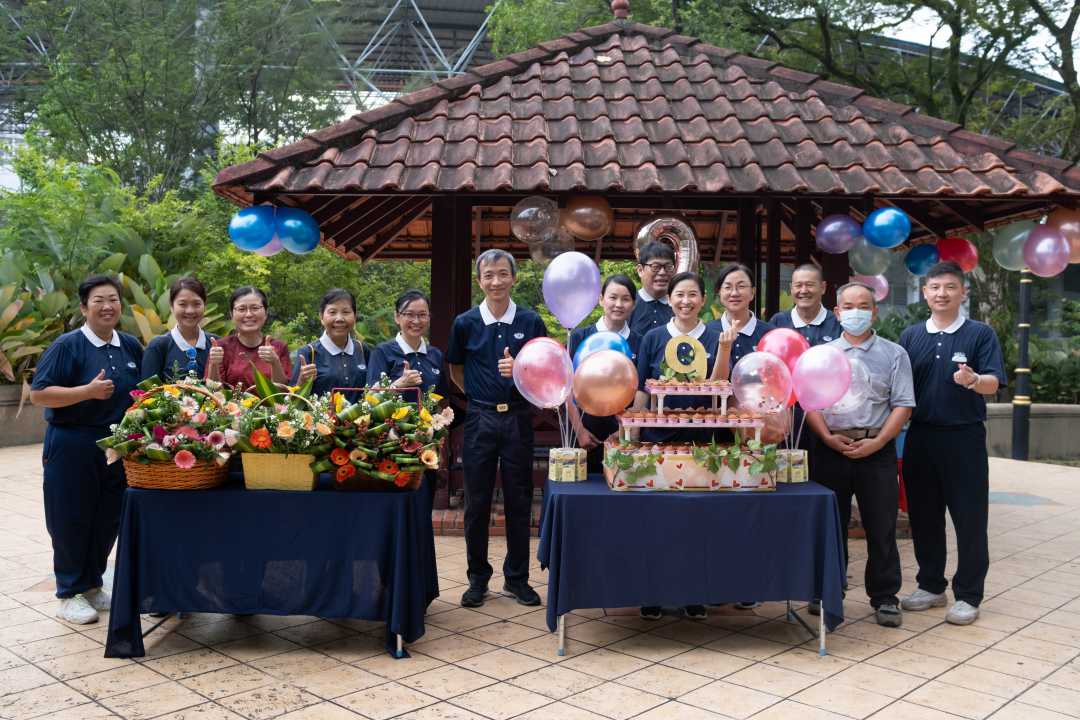 Singing along with the song "Hear My Thanks", the cancer patients in red shirts made heart-shaped gestures and bowed deeply, expressing their heartfelt gratitude towards the volunteers from the Cancer Support Group (CSG, note 1) of Tzu Chi KL & Selangor, as they gathered to celebrate the ninth anniversary of the CSG at Taman Tasik Permaisuri on November 27, 2022.
Their melodic voices glided through the surrounding trees and floated around the lake, even the resting white birds on the trees seemed to be flapping their wings and took flight in time of every rise and fall of the tune. Many morning joggers cast curious glances on the joyful group; in total, there were 79 cancer patients and their family members, some of them came from as far as Segamat, Johor.
The CSG Caring Team leader, Kuan Mun Jen, glanced through the familiar faces she had been missing, and was moved to tears receiving repeated words of thanks from the patients.
"I am very moved seeing all these smiling faces. It has been very hard for all of us in the past two years fighting against illnesses during the outbreak of the Covid-19 pandemic. On top of all that, we are yet to face the unpredictability of the presence of impermanence; so I hope that everyone has been able to draw strength from our CSG and continue to get the support that you need during adversity. I hope we can all make it through these difficult times and see brighter days ahead."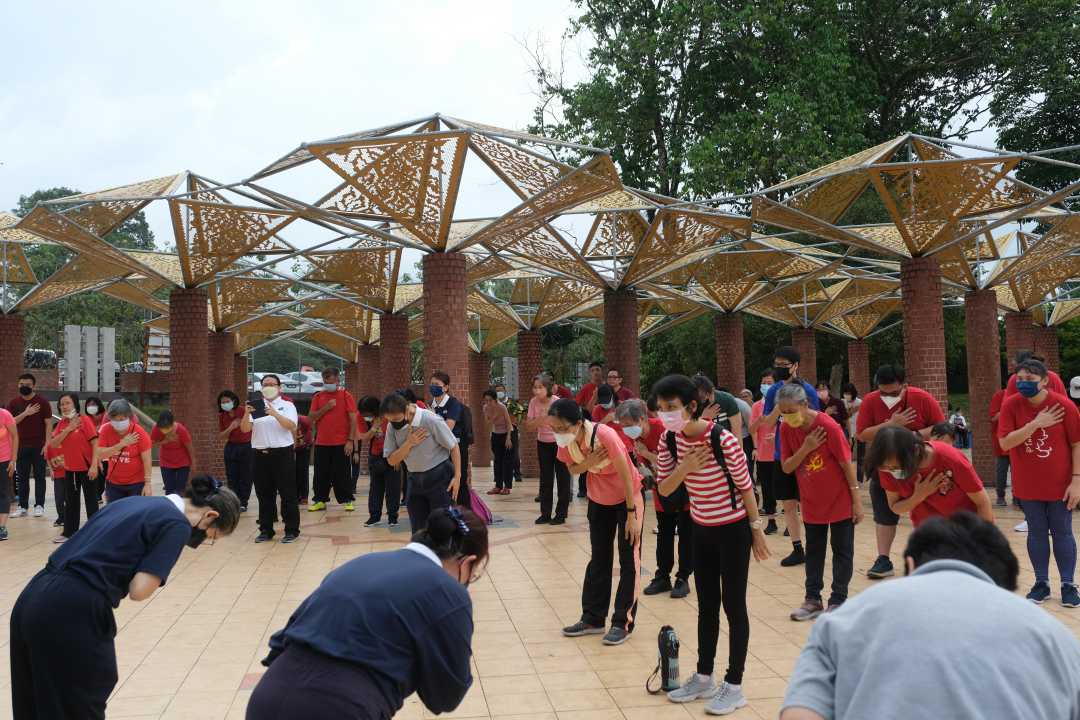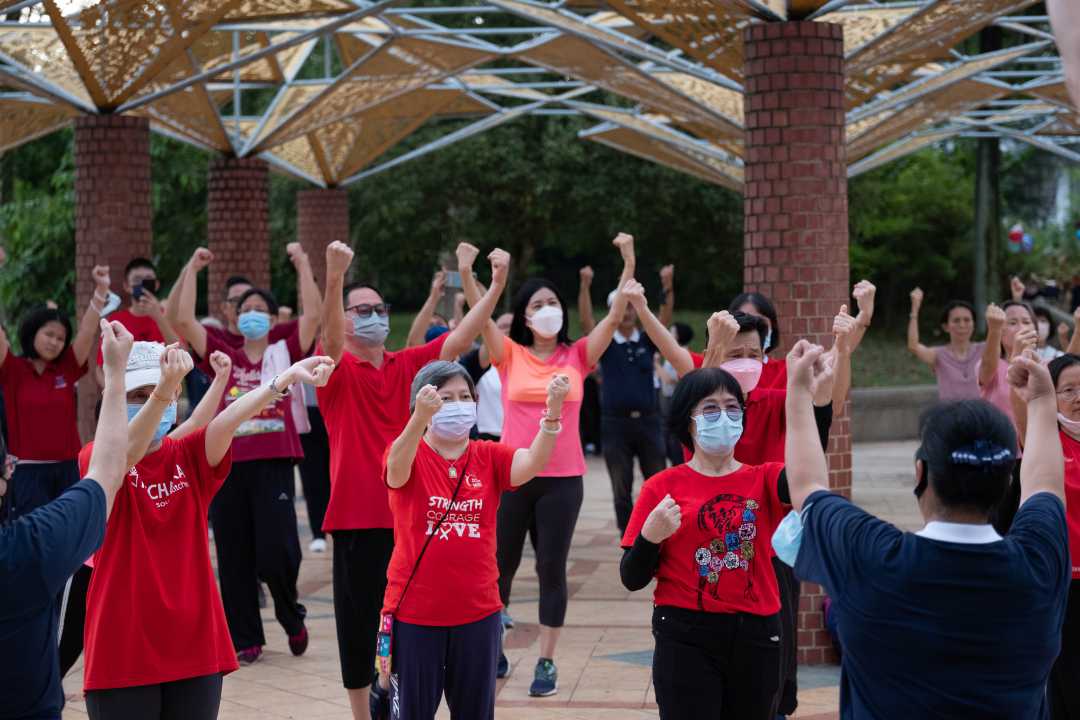 Mun Jen, a breast cancer survivor, assumed the role as the leader of the Caring Team since the establishment of the CSG by Tzu Chi International Medical Association (TIMA) KL & Selangor nine years ago. Throughout these years, even though she witnessed the passing of many cancer patients, there were also many who successfully won the battle against the disease.
Mun Jen firmly believes in having the CSG as the platform for cancer patients to access cancer-related information and updates, in addition to providing mutual support to one another and boosting their spirits in times of despair. During the pandemic outbreak when physical activity was not possible, CSG persevered to organise online monthly activities, so that cancer patients could continue to acquire medical information, nutritional facts, and other supports where necessary, remaining strong and gaining courage through the positive sharing of the group.
Mun Jen was grateful for the establishment of the online programme, whereby those from as far as Penang, Johor, and East Malaysia were also able to take part at the same time. The CSG's online presence now continues to cast a wider network of support for cancer patients and their family members nationwide.
On this day, CSG resumed its physical activity. Mun Jen invited four cancer patients onto the stage to receive their name tags and gifts as the Sunshine Ambassadors (note 2). The Ambassadors were deeply appreciated for their selfless contribution in caring and comforting fellow cancer patients.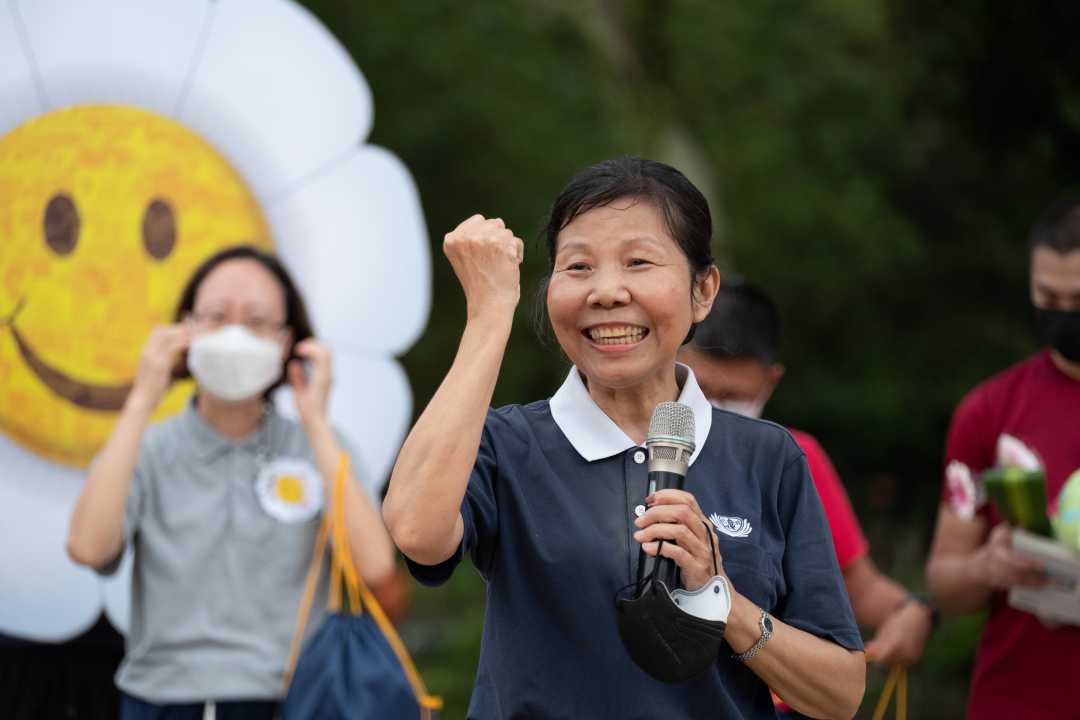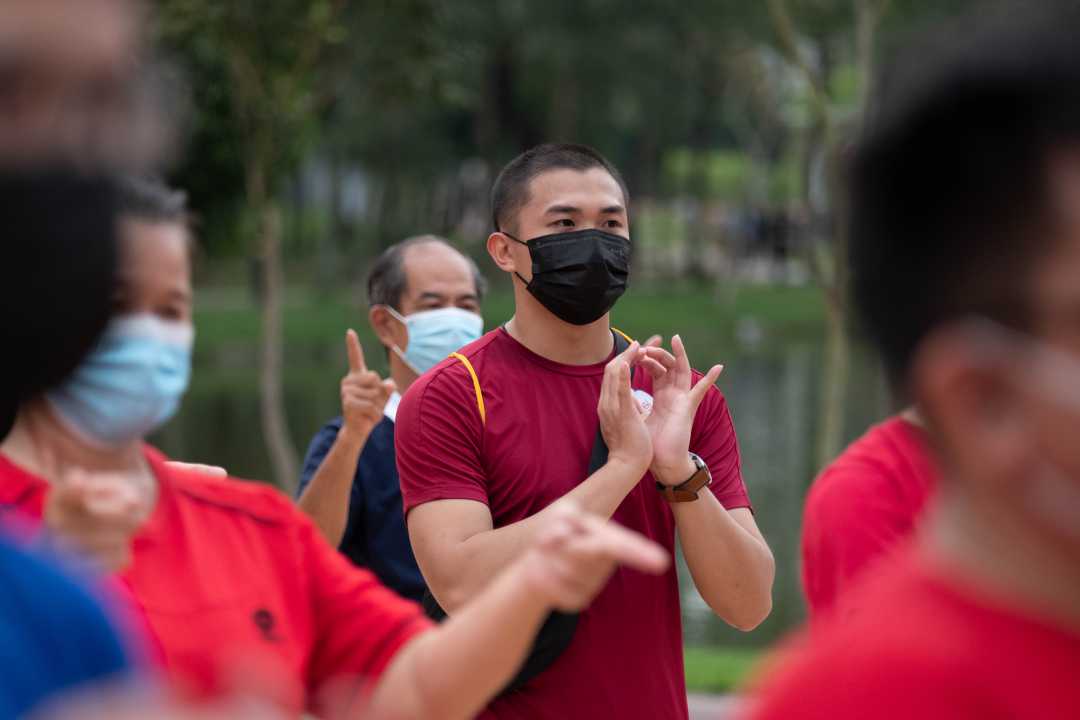 ◎ Living in joy every day
Leng Mun Thong, a Tzu Chi Collegiate Youth during his undergraduate days, has served as a teacher in Johor Bahru for 15 years. Standing on stage as a Sunshine Ambassador, he shared calmly, "I was diagnosed with stage-four colon cancer in 2014 and have been living with cancer for nearly nine years now. I just had my 14th surgery five months ago and had three rounds of radiotherapy last week..." His composure showed an understanding and acceptance of life and death.
Mun Thong was only 36 when he was diagnosed. Although completely stunned, he only took a day to process the bad news, then pulled himself together and willed himself to fight the cancer head-on by actively seeking appropriate treatments with support from his family. He thought he would soon recover after all the treatments, unexpecting the cancer cells to spread from colon to liver and then to the lungs.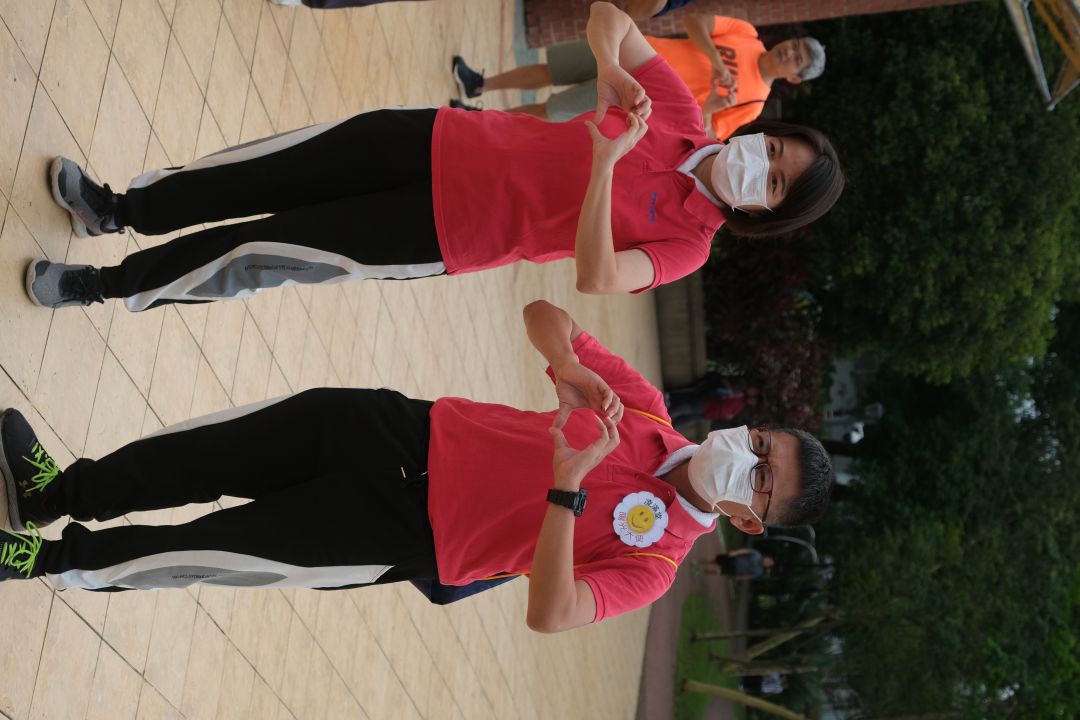 Mun Thong revealed that he was utterly helpless and exhausted during his third and fourth surgeries, wondering if he should just give up. However, his sense of responsibility towards his wife, mother, and younger sister shifted his mind. "It is okay. It does not help to complain and cry. Instead, it will only make things worse. I will face it positively, do the treatments and undergo surgeries as required, so that I can live longer and be there for my loved ones."
Even when he experienced cachexia, which may increase the risk of cancer recurrence, he accepted the diagnosis and faced the tribulations with the utmost positivity.
Mun Thong recalled that in 2018, when the cancer spread to his lungs, he had to transfer to a hospital in Kuala Lumpur, where he underwent three surgeries. During his treatment period, Tzu Chi volunteers in Johor Bahru informed the KL & Selangor counterparts about his condition, and that was how he met Mun Jen and learned about the CSG.
He was very grateful for the sharing among the CSG members, which helped him to relax and face his treatments more calmly. Over time, he became aware of the lacking in similar welfare or charitable organisations like Tzu Chi CSG in the country for cancer patients. Often, many patients struggle to cope with the devastating negative emotions, leading to overall breakdowns. If similar charitable organisations like the Tzu Chi CSG were to be more commonly available to cancer patients, it would greatly reduce their fear and anxiety levels, through accessing the platform for information as well as getting to the support they need.
Mun Thong's approach to his treatments was to fully understand his treatment plans. He would ask why he was prescribed a particular medicine or treatment, the effectiveness, how his body would best tolerate the medicines, and the best way to ensure sufficient nutrition, etc. Subsequently, he gained a lot of medical knowledge while understanding and managing his illness. He would often share his knowledge and experiences willingly with others who might be new to the illness or find it hard to manage their treatments.
"A doctor once said that I have become a 'Master of illnesses', but actually, I only hope to give other cancer patients positive energy and the understanding that having cancer does not mean complete hopelessness; it should be viewed as an opportunity for self-reflection that allows us to endeavour to elevate our lives to a higher plane."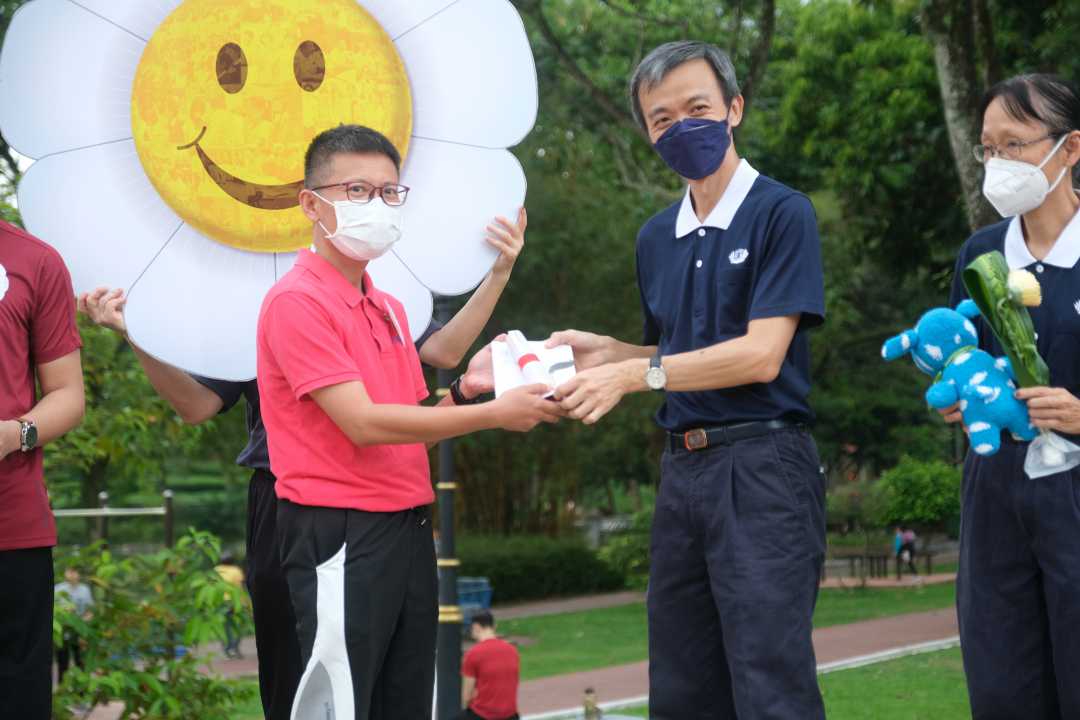 There were scars left on Mun Thong's body from many years of fighting cancer. His hip would hurt, causing his legs to tremble when he stands for long. Despite the pain, his spirit could not be dampened, nor his courage diminished.
He said, "For the past nine years, I have focused on experiencing joy instead of dwelling on what I have lost. For many people, joy means simple happiness. It is an attitude towards life, to always be grateful and content. No matter what challenges or difficulties we face, we must believe that every day is a new beginning, full of hope. I am grateful that I am still alive and that I can still love and protect the people whom I care about. It is this gratitude that keeps me going…"
Mun Thong expressed his hope that the CSG would not only celebrate its 9th anniversary, but also its 19th and 29th anniversaries, and continue to serve its roles in the years to come. He also hoped that there will be fewer cancer patients and diseases in the world, making it a better place for everyone.
●
Towards the end of the activity, CSG's theme song, "My Name Is Bravery", was sung in high spirit, celebrating CSG's marching towards its tenth year. On this special day, everyone also sang the birthday song cheerfully before a small cake, wishing for better health, breaking free from the pandemic, and a better world for everyone.
Note 1: The Tzu Chi CSG was established on October 13, 2013, by the TIMA KL & Selangor upholding the patient-centred concept and the tenet to safeguard health with love. Get-together sessions are held on the second Sunday of each month, with hope to extend spiritual support through caring efforts from volunteers, and to inspire cancer patients to find meaning in life again, in spite of adversity.
Note 2: Sunshine Ambassadors are appointed each year by the CSG to motivate cancer patients to overcome their despair and face their circumstances with a positive attitude while spreading love and strength to fellow members.